Introduction :
This truly is the "Age of the Customer."
The business environment has undergone a fundamental upheaval as a result of a perfect storm of technology and business model disruption.
Digital ecosystems were created as a result of digitalization and its rapid technology.
Most firms must contend with competition. The greatest of the best invest enormous resources in providing the best service possible while dominating their markets.
The mindset of business growth is where the true difficulty resides, though.
Maintaining the customer-centric approach you first started with is challenging as your business rises up and exponentially grows in all directions.
The extraordinary choice, access, and control that consumers have over how and when to consume goods and services is one of the hallmarks of the digital age.
The majority of firms are aware of how one of the fundamental value disciplines, customer intimacy, has changed significantly in the digital age.
What is customer intimacy?
In order to better understand your customers and clients and the goods and services they require from your company, you should connect with them on a regular basis. This is known as "customer intimacy."
In order to gain your customers' trust and cultivate lasting connections, customer intimacy focuses on providing exceptional customer service, adopting a customer-focused mindset, and involving your customers and clients in your business.
Every component of your organization is often covered by the ideal customer intimacy approach, although some areas are more crucial than others.
Why is Customer Intimacy Important?
The most effective customer-centric business model is one that prioritises building close relationships with the most valuable and lucrative clients. It's challenging to accomplish, though.
Being customer-centric is typically more of a transformation than a transition for firms.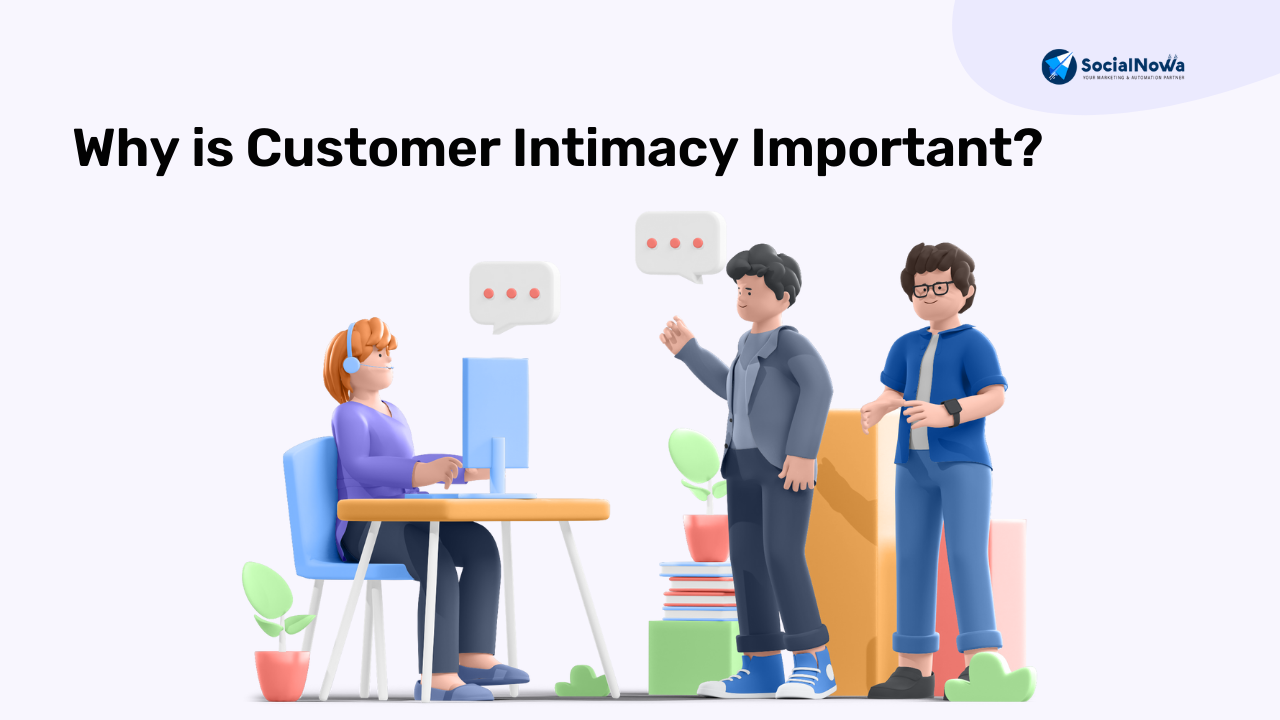 It entails a fundamental reversal of the accepted "logic" of business, followed by a large organisational transformation.
The following are the main justifications for why client intimacy is crucial for any business:
Rise conversions:
There is an increase in sales when you make an effort to understand your customers' needs and align your products and services with their demands.
Boost customer relationships:
When companies put consumers and their expectations first, a lasting relationship eventually results.
Increase customer lifetime value (CLV): Customers are more likely to pick you over your competitors if your products or services are more geared toward addressing their needs.
Increase customer loyalty:
With well performed marketing initiatives, you can keep consumers, lower turnover, and boost earnings.
There is no one, all-purpose solution that will enable you to achieve this aim given the complexity of the digital environment.
Instead, you must constantly create outstanding digital experiences if you want to drive consumer intimacy in the digital era.
To drive customer intimacy, a holistic, 360-degree strategy is required. Below are some of the essential tactics that will enable you to succeed in this value discipline:
Recognize the path taken by customers
Understanding the stages a consumer goes through with a product or service is one of the biggest obstacles firms encounter when trying to improve customer intimacy.
More than just a funnel leading to a single purchase can be shown in a customer journey map. Actually, it might involve a journey across the consumer experience.
Let's look at Starbucks to make a comparison to a real-world scenario.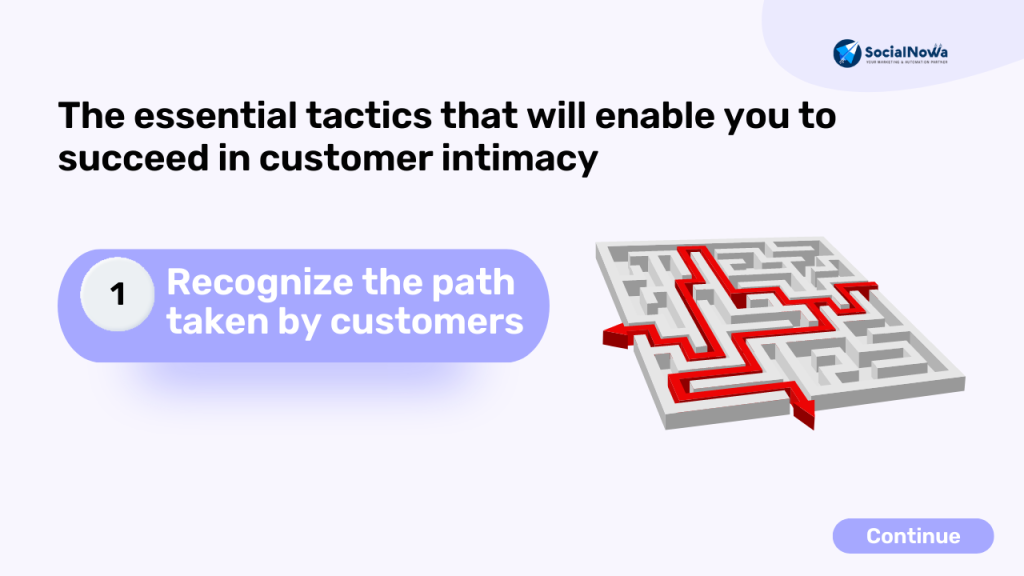 The adventure begins as soon as consumers walk into one of their 30,000 chains: From the aroma of roasted coffee beans that awakens your senses to the cosy lighting.
If you're a frequent customer, the pleasant barista is familiar with your name and order.
Additionally, the background music is played at a volume that enables quiet work or light conversation.
A journey map is one of those essential tactics when building long-term relationships with customers as part of customer intimacy.
Additionally, mastering the ability to predict client wants will enable you to spot trends and offer specialised goods and services.
2. Adopt a customer-centred philosophy
Being very attentive to service is crucial today more than ever.
88 percent of CEOs, according to KPMG, are worried about customer loyalty and understand the importance of mastering the consumer agenda.
Businesses that prioritise their customers reap long-term rewards.
establishing customer service practices that are beneficial to and assist customers in maximising their use of your product or service.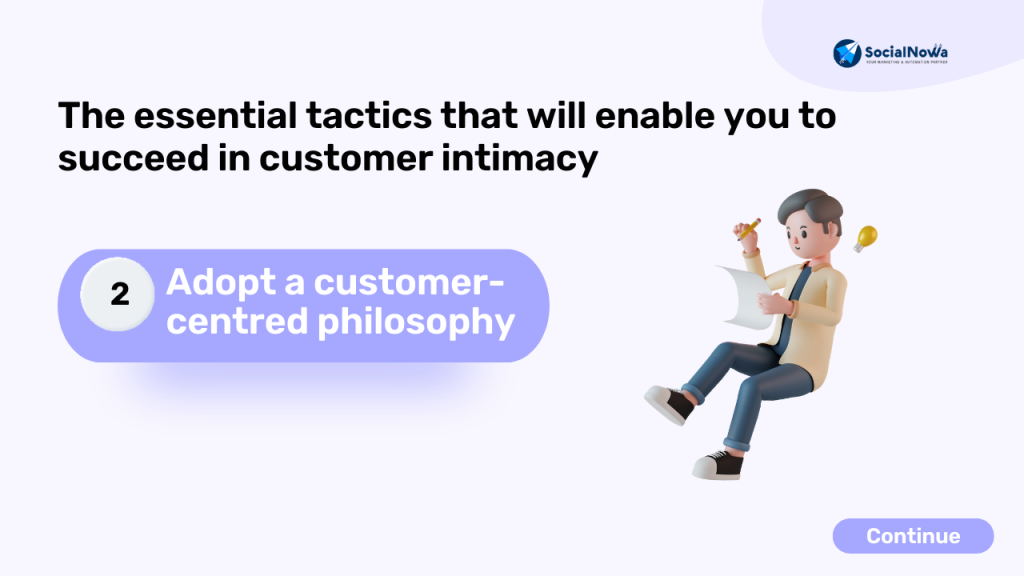 It takes more than merely claiming the consumer is top of mind to be customer-centric.
It involves fully understanding them in order to foresee their desires, requirements, and communication preferences, to produce memorable experiences for them, and to establish enduring relationships with them.
Being a firm that puts the needs of its customers first, Zappos has outstanding policies like:
the freedom to return shoes for free if you don't like them
Free shipping both ways helps the buyer reduce risk.
365 days of return window
It actually demonstrates a great shift in providing a service that satisfied consumers' needs and stemmed from a dedication to hearing and addressing their wants.
3. Put the needs of the client first.
One thing you should consider is "why is my business here?" If your reaction is based on your incredible product offers, reconsider.
It's simple to lose touch with your consumers, who have been instrumental in your success from the start as your company expands.
Placing your clients at the core of your company culture can't harm if you want to survive in the dynamic world of modern business.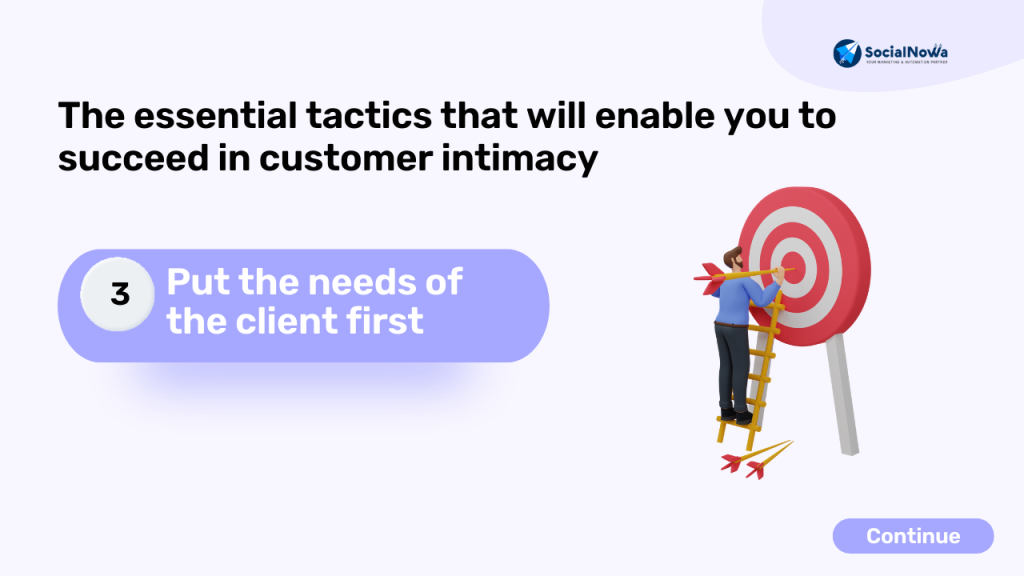 It's not surprising that businesses like Amazon priorities the needs of their customers in all they do. 
From talking about the client in every staff meeting to creating specialised tools for consumer input to raising morale generally But it goes further than that.
With their consent, of course, you can physically embellish your office space with photographs you took of customers at events and a guest book where they can leave a message when stopping by.
When you are always surrounded by clients, the battle becomes more worthwhile.
4. Provide prompt client assistance
Did you know that 66% of customers think that respecting their time is crucial to providing a positive customer experience?
Faster customer service resolution is essential to providing excellent customer service.
Therefore, companies that must offer 24/7 help should make use of digital platforms for client involvement like live chat and chatbots.
Customers are more satisfied when they receive exactly what they are looking for.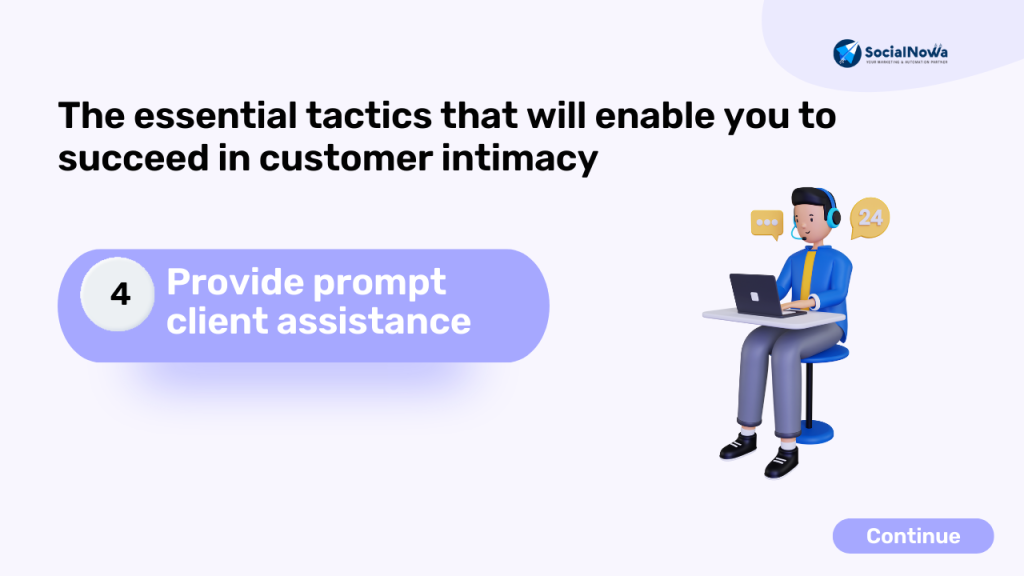 It will be a wise choice if you concentrate on making extra efforts to exceed customer expectations. With your prompt service, you'll be able to delight your clients.
How might digital tools strengthen your model of customer intimacy?
Deliver real-time support – You can use live chat to communicate with your customers and provide real-time assistance for sales and support issues.
Automate your customer service by using chatbots to interact with clients around-the-clock and quickly respond to their basic questions.
5. Make customization even more advanced.
You've taken the time to fine-tune your offers so that the final product satisfies everyone in your company. It's still insufficient. To be customer-intimate, you must make sure that your product or service meets the needs of your customers and engages them on a completely new level.
This can involve anything from designing a Facebook campaign with a certain audience in mind to enabling customers to customize your products. 
For instance, the bottle label for Coca-"Share Cola's a Coke" campaign featured over 800 well-known millennial names.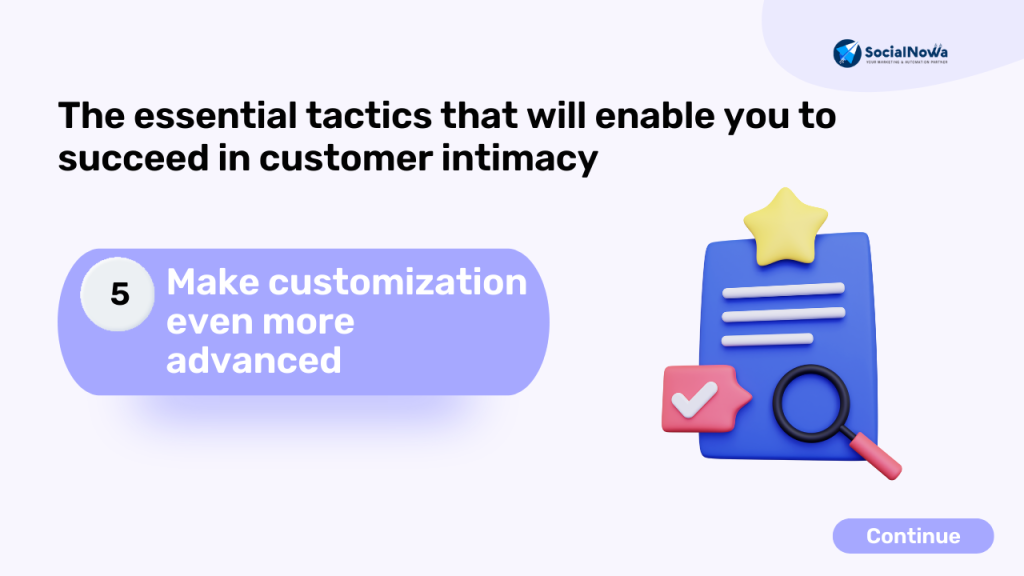 Who doesn't appreciate getting anything with their name on it? You can succeed if Starbucks and Coca-Cola can.
Target, a U.S. retailer, carries out behavioural research to comprehend clients' wish lists and subsequently grasp their routines.
Based on their research, they were able to modify their services in response to user searches.
For instance, they could deduce that the person in this profile was probably pregnant if they saw diapers, baby clothes, and toys in the car.
6. Work together with clients in real time
Imagine being in a situation where you need a solution right away but are unable to obtain one. It would undoubtedly irritate and frustrate me.
To streamline client communication throughout their journey and provide excellent service experiences, businesses should invest in cutting-edge visual engagement solutions.
You may provide real-time, individualized client care utilizing the video chat solution.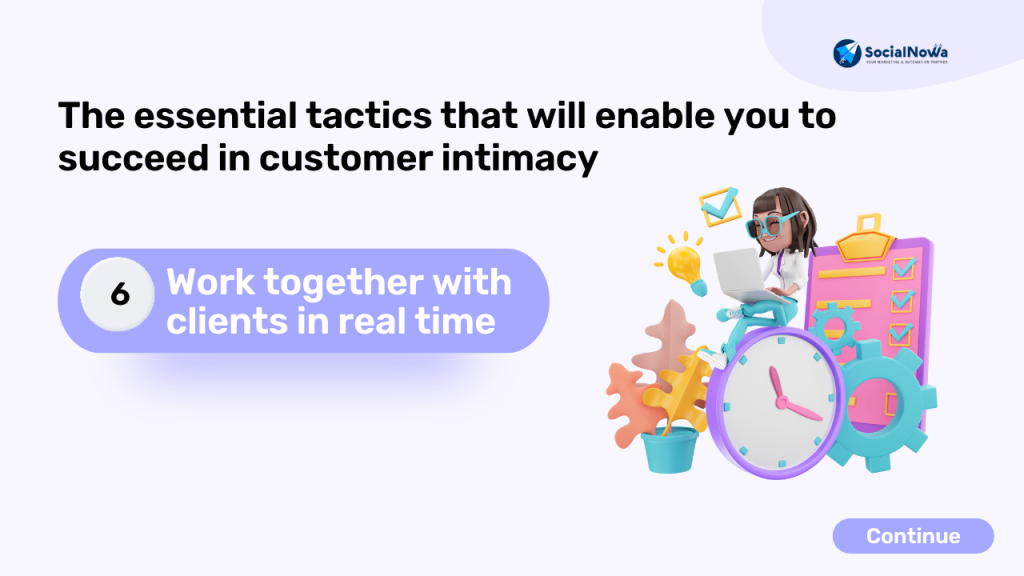 The number of touchpoints is decreased and it enables you to identify your customers' problems during the initial engagement.
Agents may work together with clients in real time on the website or mobile apps thanks to the sophisticated co-browsing solution.
You may actively direct them in the proper way by controlling their browser.
How do live interaction technologies promote excellent customer intimacy?
Faster resolution – Using video chat makes it easier to pinpoint the problem right away and offer more rapid and efficient solutions.
Personalised communication — When using video chat, the customer can converse to the support agent in a way that is more comfortable for them.
Enhance first contact resolution (FCR) – Cobrowsing makes sure to identify the precise location of the customer's problem and resolve it right away.
Fewer touchpoints – You can guarantee consumers' solutions during the initial engagement itself with the help of digital tools.
7. Rely on evidence to guide your decisions
Though speculating can be entertaining, have you ever heard of data?
In a highly competitive industry, using analytics in your customer intimacy approach is essentially the key to growing your business.
It's likely that you've previously gathered information to better understand your clients.
This unprocessed data is a crucial tool for increasing and enhancing client familiarity.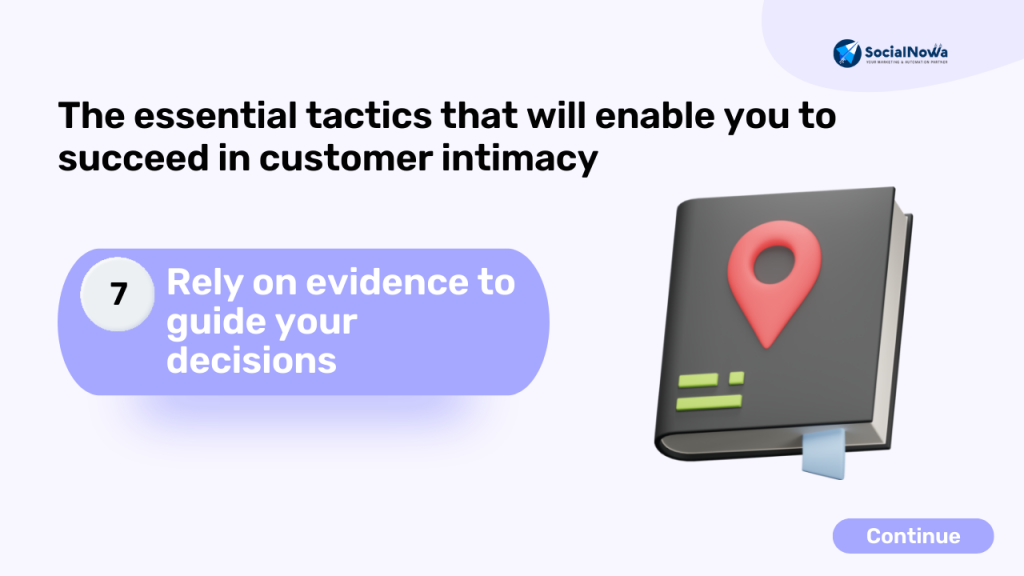 You have the chance to use this data to zero in on your audience and better serve them during every client engagement (such as live chat, phone calls, emails, surveys, email campaigns, and social events). 
The most popular pages or purchase history, for instance, can show trends, interests, and mood.
Customers will feel more connected to your brand and more likely to receive what they want when they least expect it as your strategy becomes more concentrated.
8. Invest more in personalization.
Good stuff, but insufficient
Price that is reasonable but not only
Businesses must go above and beyond all of this to offer a fantastic example of customer-centricity.
You must make sure your product or service meets the expectations of your customers and addresses their needs in order to be customer-intimate.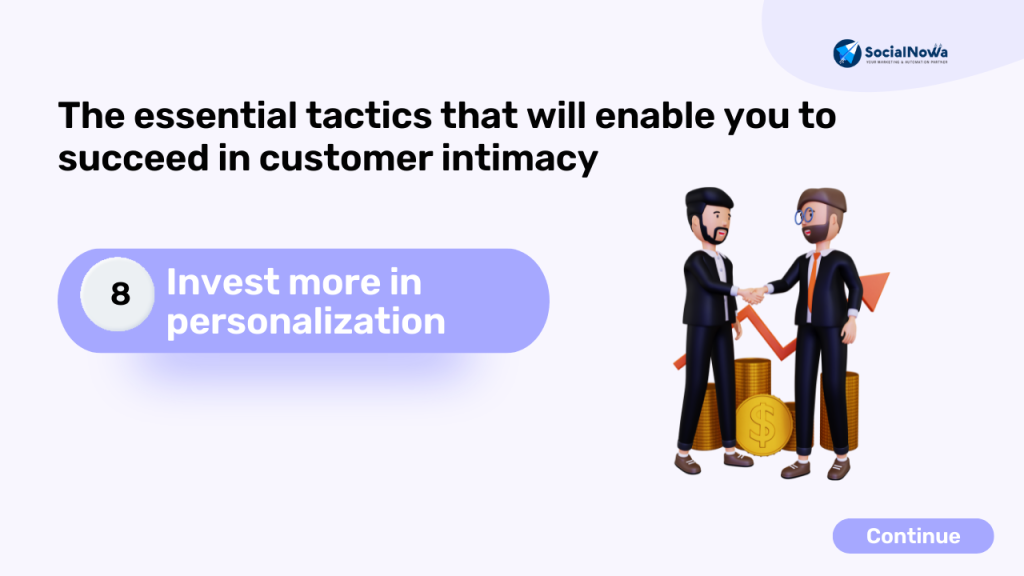 You can experiment with a variety of things, like developing a Facebook campaign with a targeted audience to let customers tailor your products.
Here is a good illustration of a customer-centric company: Coca-"Share Cola's a Coke" campaign featured over 800 well-known millennial names on the label of the bottle.
Who doesn't appreciate getting anything with their name on it? Target, a well-known American store, also studies consumer behaviour to comprehend shoppers' wish lists and subsequently adopt their habits.
9. Hold client events
With the use of technology, whether it be an iMessage or your help desk software, international firms can now instantly communicate with customers.
However, meeting your clients in person is the most direct approach to develop intimacy.
Plan and organise gatherings like a bimonthly lunch or dinner around your frequent business trips or conferences.
 These approachable events provide a close-knit and individual method to get to know your clients and introduce them to the people behind your business.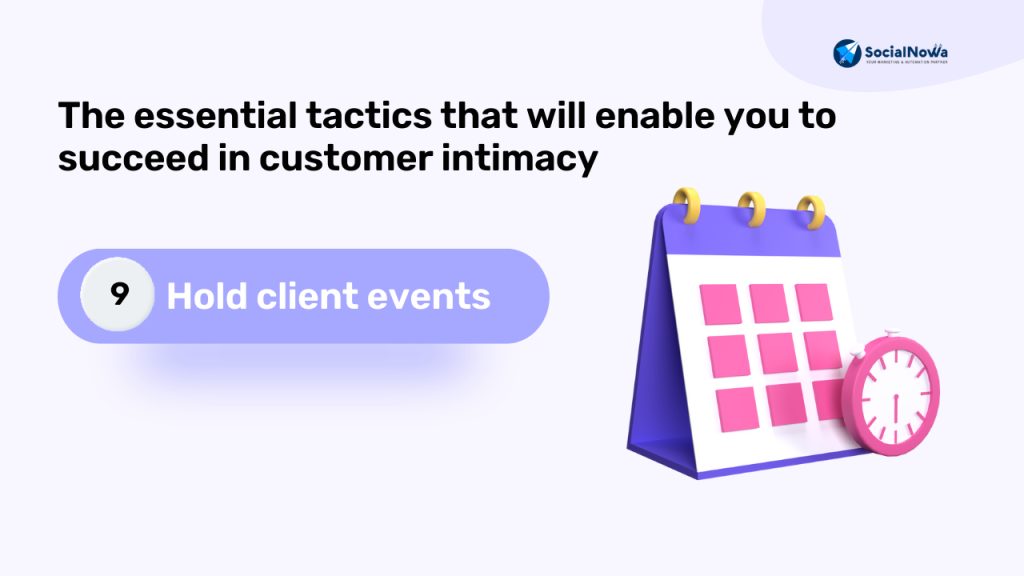 Hosting customer events can become intimidating, expensive, and time-consuming as your business expands, but you shouldn't let that deter you.
Set up webinars where your consumers can share their experiences using your product or service, new features, and comments.
Encourage your customers to invite friends as well. Why? First of all, these might be prospective clients.
Finally, word-of-mouth advertising is a potent strategy. In actuality, 72% of individuals receive news through friends and family.
Final Reflections
Customer intimacy is still a fundamental driver of value creation for businesses and a cornerstone tactic for achieving product excellence.
To flourish in this vital value discipline, it is critical to reimagine what customer intimacy means in the digital era and adopt a holistic, 360° strategy.
To help your consumers where they need it, use Socialnowa . For a 30-day free trial, sign up right away.