Introduction
Starting a business is an exciting and rewarding experience, but where do you begin?
There are numerous approaches to beginning your own business, but it is critical to examine your business idea, how much time you have, how much time it will require, and how much money you want to invest before making any decisions.
Follow along to learn how to create a small business to help take the guesswork out of the process.
The concept of success in business has evolved, and the environment we live in today has changed…a lot. Starting a business on a "regular" day is difficult enough.
Before You Begin: Establish the Correct Mentality
Because they make for interesting headlines, media outlets routinely report on overnight successes.
It's rarely that easy since they don't see the years of planning, building, and positioning that go into a significant public launch.
As a result, try to stay focused on your business journey and not compare your success to that of others.
You can avoid this in your business efforts by taking your time and planning out all of the necessary processes. Whatever type of business you wish to establish, utilizing the nine tips below can help you be successful.
9 Tips For Successful Business
1. Refine Your Business Idea
Most business advice urges you to monetize something you love, but it overlooks two critical factors: it must be profitable and something you're good at.
For example, you may enjoy music, but is your company idea practical if you aren't a fantastic performer or songwriter?
Maybe you enjoy manufacturing soap and want to create a soap shop in your tiny town, but there are already three nearby—it will be difficult to monopolise the market when you're producing the same product as other neighbouring stores.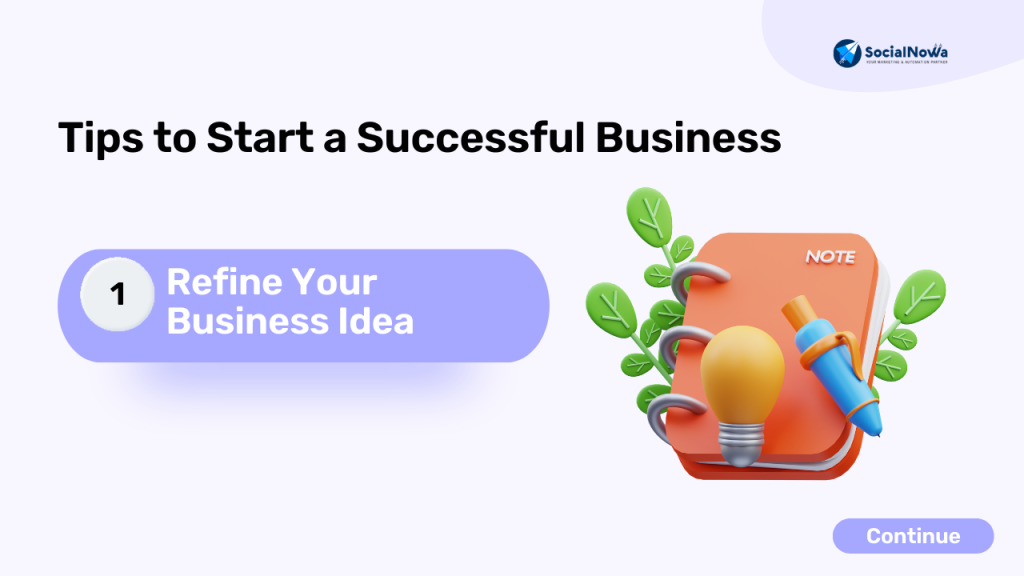 If you don't know what your business will entail, consider the following questions:
What do you enjoy doing?
What is it that you despise doing?
Can you think of anything that might make those tasks less difficult?
If you already have an idea about these questions they might be able to assist you develop it further.
Once you've decided on an idea, consider if you're competent at it and whether it's profitable.
It is not necessary for your business idea to be the next Scrub Daddy or Squatty Potty.
Think about why ?
Are you having trouble coming up with a viable company idea? Think about your "why."
To be successful, you must have a clear goal in mind while starting your firm.
This "why" should go far deeper than merely making money; it should be something you're passionate about, so you can persevere through the ups and downs of business.
Some instances of business "whys" include:
Assist to others in achieving their goals
have a good environmental impact
to fill a gap that is currently unfilled
2. Organize Yourself | 9 Tips For Successful Business
To be successful in business, you must be organised.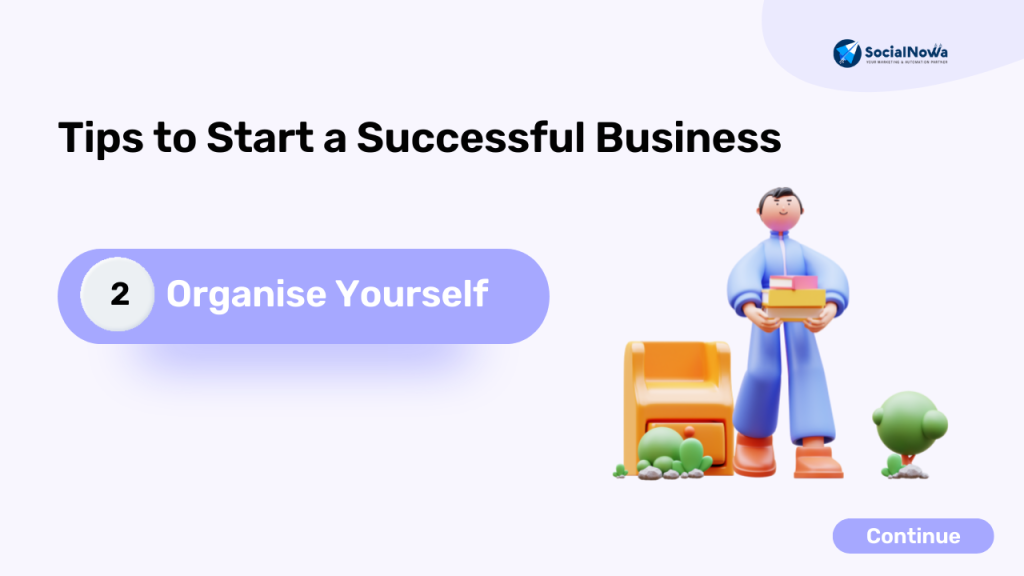 Making a to-do list each day is an excellent approach to stay organized. This will ensure that you don't overlook anything and that you do all of the duties that are critical to the existence of your organization.
3. Understand Your Competitors and Market
Most entrepreneurs devote more attention to their products than to learning about their competitors.
If you apply for outside investment, the potential lender or partner will want to know what distinguishes you (or your business idea).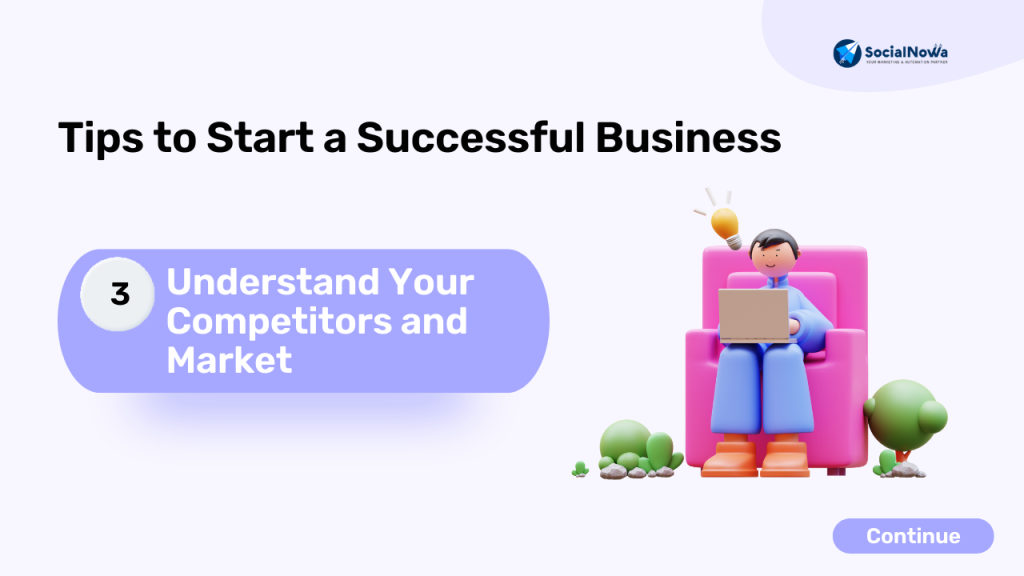 If market research suggests that your product or service is oversaturated in your location, consider an alternative approach.
Consider housekeeping—rather than providing general cleaning services, you might specialize in pet-friendly houses or garage cleanups.
Primary Investigation
The initial part of any competitiveness study is primary research, which comprises gathering information directly from potential customers rather than relying on historical data.
You may learn what consumers desire by using questionnaires, surveys, and interviews.
Unless they are your target market, it is not a good idea to poll friends and family.
People who claim they'd buy something and those who do are not the same.
The last thing you want is to put so much faith in what they say, make the product, and then fail when you try to sell it because everyone who said they'd purchase it didn't because the product wasn't something they'd actually buy.
Secondary Investigation
When conducting secondary research, use existing sources of information, such as census data, to acquire information.
Current data can be investigated, collated, and analysed in a variety of ways to meet your needs, although it may not be as extensive as primary research.
4. Maintain Consistency | 9 Tips For Successful Business
Consistency is essential for producing money in business. You must keep doing the things necessary to succeed every day.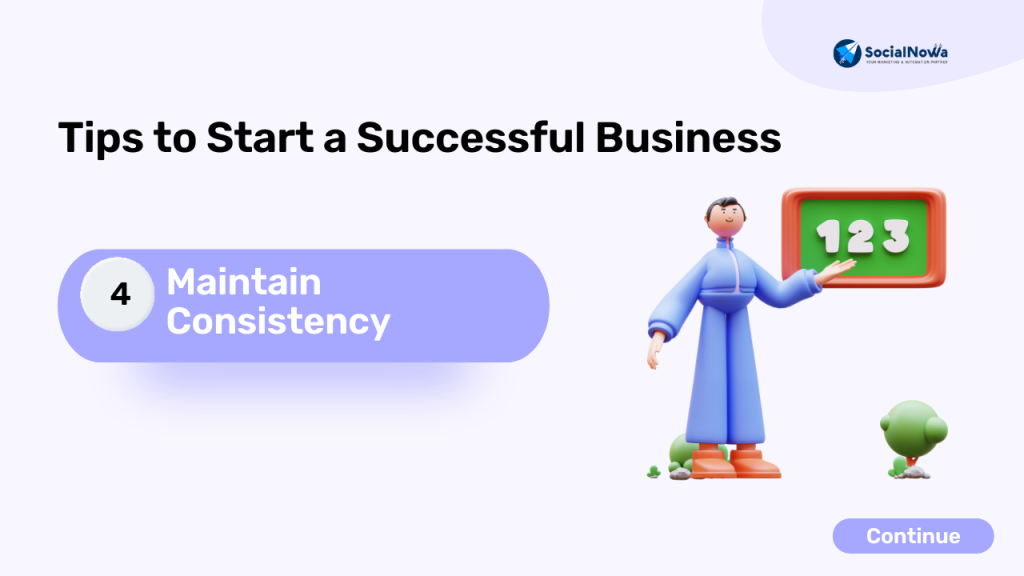 This will establish long-term favorable habits that will assist you in making money in the long run.
5. Make a Business Plan
A business plan is a living document that serves as a road map for starting a new company.
Even if you plan to self-finance, a business plan can help you flesh out your concept and identify potential issues. A comprehensive business plan should include the following sections:
The executive summary should be the first section of the business plan, but it should be written last.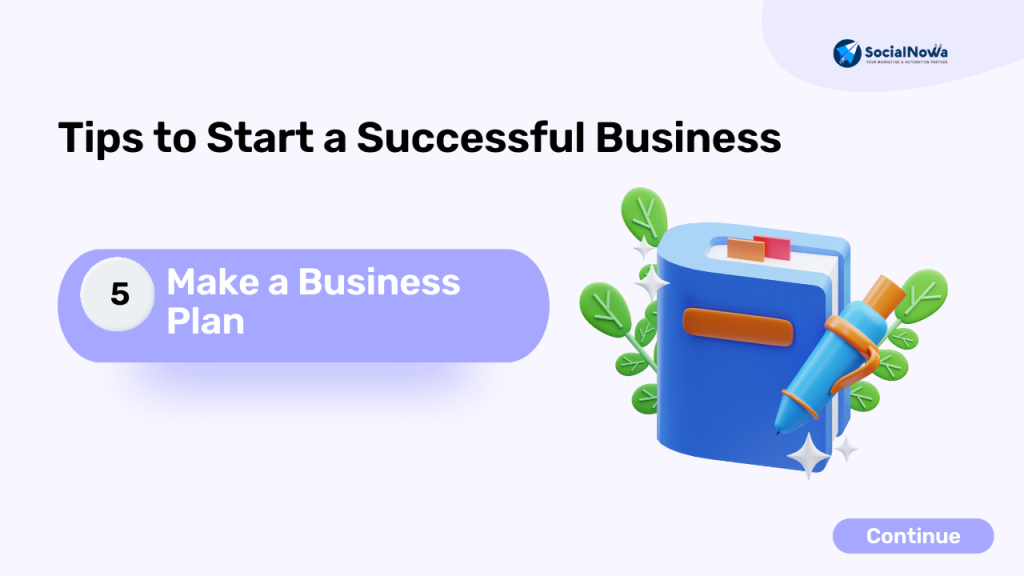 The company description explains what problems your product or service solves and why your business or idea is the best.
For example, perhaps you have a background in molecular engineering and have used that background to develop a new type of athletic wear—you have the credentials to create the best material. Also Read Best Software for archers
6. Determine Your Business Structure | 9 Tips For Successful Business
It is critical to evaluate how each structure affects the amount of taxes you owe, daily operations, and whether your personal assets are at risk when establishing your firm.
A limited liability company (LLC) minimizes your personal accountability for commercial debts.
LLCs can be owned by one or more individuals or businesses and must have a registered agent. These owners are known as members.
Limited liability partnership (LLP): Similar to an LLC, an LLP is often used for licenced business professionals such as an attorney or accountant.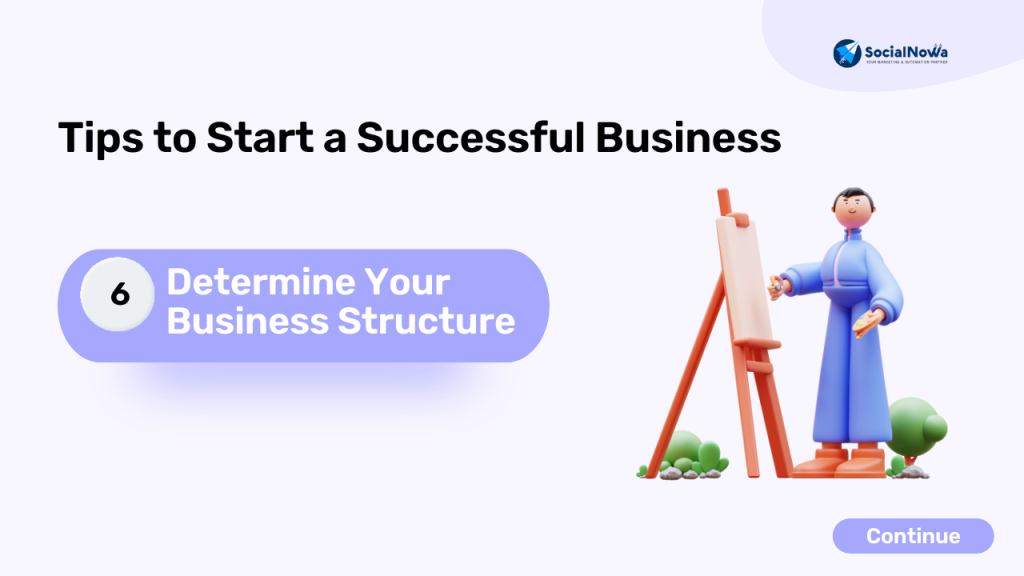 For legal and tax reasons, the corporation and the owner are regarded as the same entity. The business owner accepts responsibility for the company.
Corporation: A corporation, like an LLC, reduces your personal liability for corporate debts.
A corporation may be taxed as either a C corporation (C-corp) or a S corporation (S-corp) (S-corp).
Pass-through taxes are available to small corporations that meet specific IRS conditions. Larger corporations and startups seeking venture financing are typically taxed as C-corps.
Discuss your position with a small business accountant and possibly an attorney before deciding on a business structure, as each business form has different tax treatments that could affect your bottom line.
7. Be Innovative
Always be on the lookout for ways to advance your business and make it stand out from the crowd.
Recognize your limitations and keep an open mind while considering new approaches to running your company.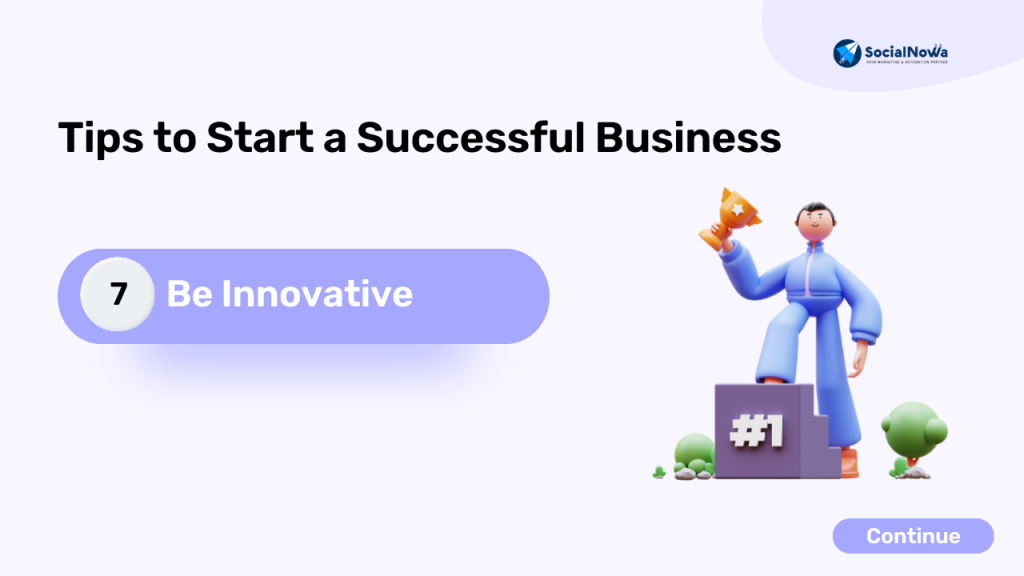 The company began as a bookshop and has since grown into an eCommerce behemoth.When Jeff Bezos stepped down as CEO, the head of Amazon Web Services was appointed as the new CEO.
8. Find the Best Flow to Expand Your Audience
If you haven't heard of Chat Marketing yet, it's time to start. It is rapidly transforming the way people interact with your business online, allowing you to engage with your audience, create leads, and drive conversions.
Companies like ManyChat use the correct communication tools to help businesses scale by taking new techniques like deploying Messenger Marketing.
This strategy, as described in our Facebook Message tutorial, uses messenger apps like Facebook Messenger to get people interested in your products or services.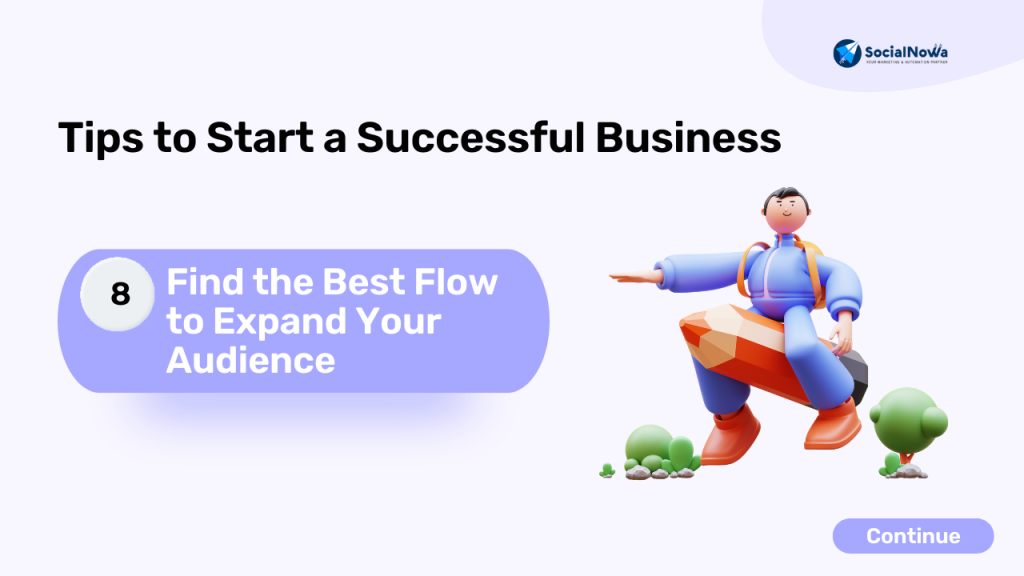 A company is only a company if the right end-user is identified and is aware of its existence.
Bots are permitted to take over in Chat Marketing, which is a good thing. That's fantastic.
Businesses are specialists in their fields, but not always in marketing.
This means that most firms may use some assistance with campaign launches, lead acquisition, and funnel optimization.
However, hiring someone to correctly design all of these marketing aspects might be costly.
Chat Marketing completes the task based on your demands. SocialNowa has terrific free video training to get you started.
You'll discover how to leverage your access to chatbots, SMS, and email marketing to expand your audience and business.
All of this is done to provide your clients with better tailored experiences.
Get a step-by-step tutorial of how to create a highly engaging and effective chatbot structure that answers questions, gives value, and promotes your product or service.
9. Maintain Concentration | 9 Tips For Successful Business
Starting a business doesn't automatically mean you'll start producing money, though. Concentrate on achieving your immediate goals since establishing your identity takes time.
Many small business owners don't even make a profit for a few years while they recoup investment costs.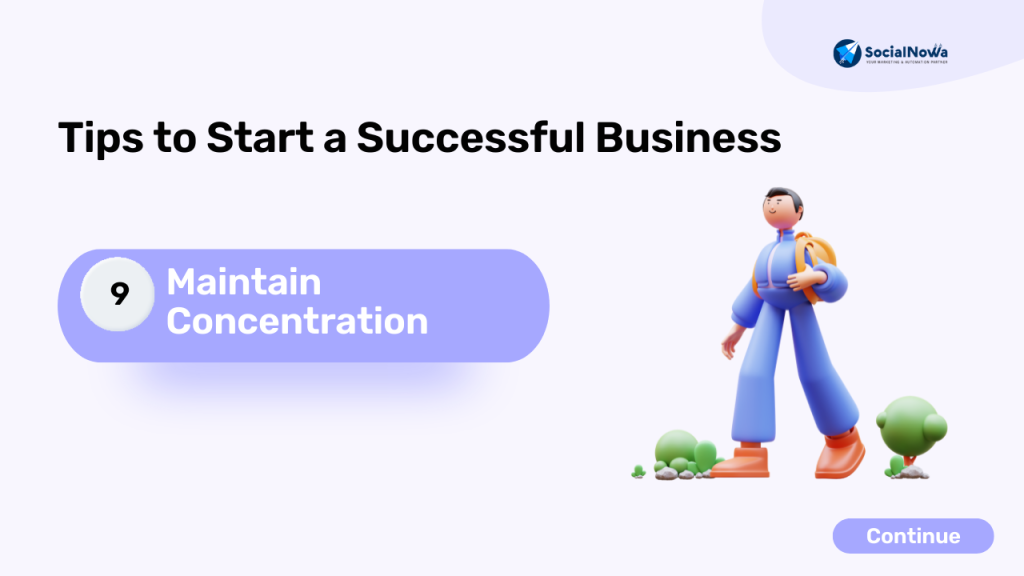 This is referred to as being "in the red." When you are profitable and earn more than you need to meet your debts and payroll, you are said to be "in the black."
Having said that, if a firm is still not turning a profit after a sizable period of time, it may be worthwhile to look into any product or service defects, market viability, or other potential problems that might limit or prohibit the company's expansion.
Final Thought :
Small business startup requires patience, perseverance, and time.
But it can be a terrific way to fulfil your aspirations and objectives if you're prepared to put in the necessary effort.
Do your homework, write a strong business strategy, and make adjustments as you go.
Once your firm is running, remember to maintain your focus and organization so you may expand it.