What is a chatbot?
A bot is simply a computer program that automates certain tasks; it's also called humanless conversion.Chatbot Marketing Strategies is one of the most important factor now days.
Chatbot is an artificial intelligence based programming tool, also known as virtual assistant or digital assistant.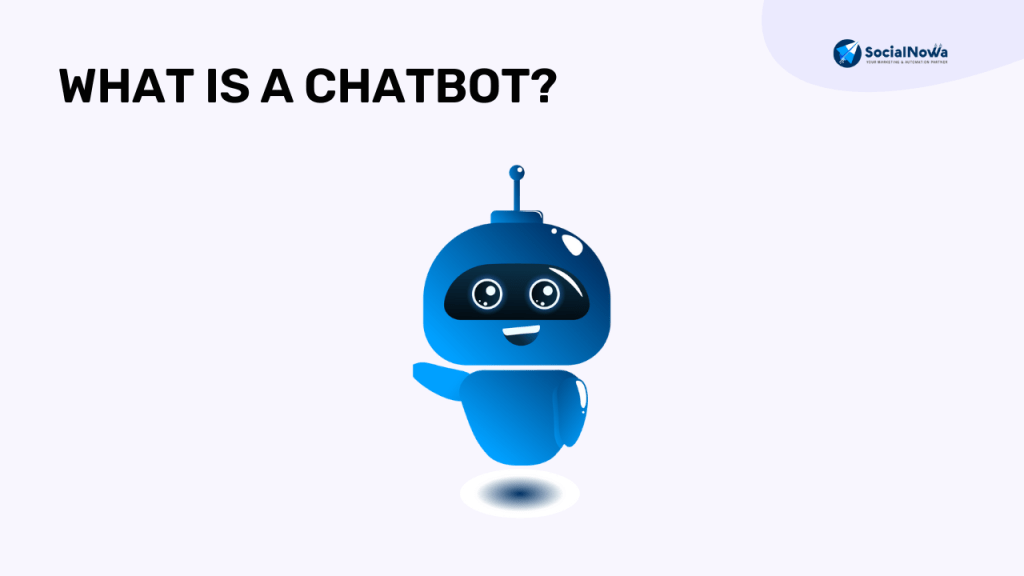 Today's chatbots reply with text, audio, video, images, GIFs, as per you name it.
Even the chatbots have grown exponentially in now days people experienced bots in chat apps like Messenger and Instagram, WhatsApp as well as on many websites with the little button in the corner asking if you need any help.
What is Chatbot Marketing?
Chatbots are an innovative approach to employing computer programs to automate interactions with marketing prospects and increase revenue. Used to qualify and engage with leads round the clock regardless of whether the marketing and sales team is available online
The purpose of bot marketing is to answer support questions and initiate conversations with website visitors when needed. It can help businesses promote their products or services with targeted messaging to increase customer engagement and increase brand visibility.
Businesses implementing a Chatbot Marketing Strategies for digital marketing should know its three key components-
Understand the context of each conversation to make it effective.
Personalise every interaction to make customers feel connected to your business.
Leverage the concept of chatbot marketing by engaging with customers in real-time with a human or a bot.
Benefits of chatbot marketing –
Although some believe that the rise of the robot may inevitably lead to the destruction of human jobs, the revolution is ultimately beneficial from a business perspective.
More importantly, chatbot marketing also brings good news for consumers.
Ideally, anything that can help you improve user experience and build brand trust and loyalty.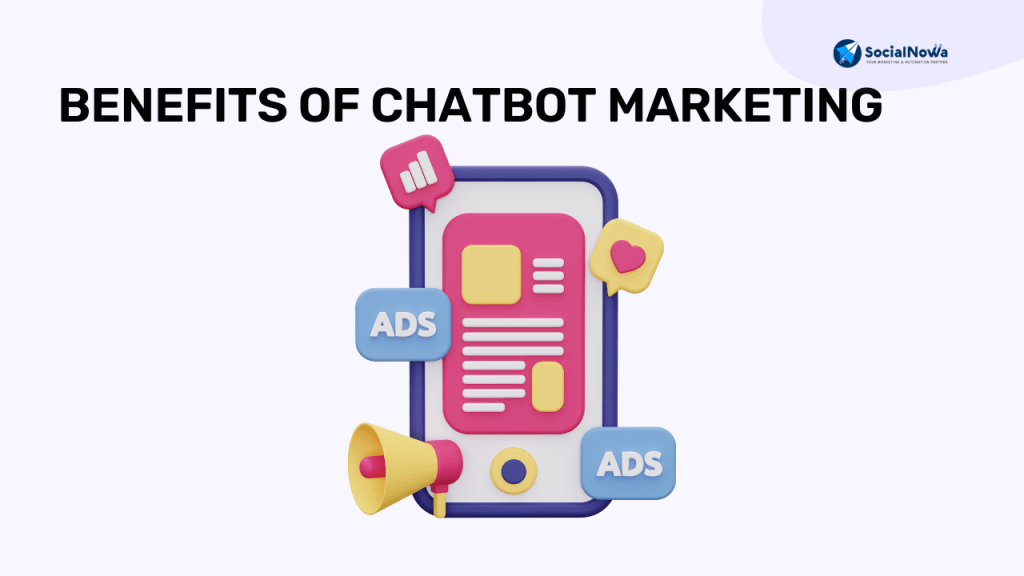 This bodes well for any brand that wants to be an industry leader and succeed in the industry.
Also, here are some of the benefits of using chatbots in your digital marketing strategies:
1. Save Time and Money :
First, you'll find that implementing a fully functional chatbot is faster and cheaper than building a cross-platform application for everything.
As of writing this post, companies already have hundreds of conversational marketing services that you can use.
This software is developed by Microsoft, Facebook and other major IT companies.
You just need to find the right chatbot that perfectly integrates with your website, and you should be good to go.
Because chatbots are automated processes, they allow businesses to handle multiple customer interactions at once.
So, by using chatbots to complement your human agents, you will not only save on customer service costs but also avoid issues that can be caused by human errors.
2. Boost Customer Engagement :
Keeping your customers happy and engaged with your brand is always important.
Businesses that engage with customers through social media have seen a significant increase in client spending by 20% to 40%.
However, integrating chatbots into your system is also known to further increase customer engagement.
Sometimes, a great sense of humor is all it takes to get a user to engage more with your website and potentially convert into a lead.
Chatbots also give users only snippets of information, thus driving even greater engagement from users.
This is why you will hardly feel bored with customers because they received irrelevant or unnecessary information.
Instead, customers will stay longer on your platform and keep the content flowing.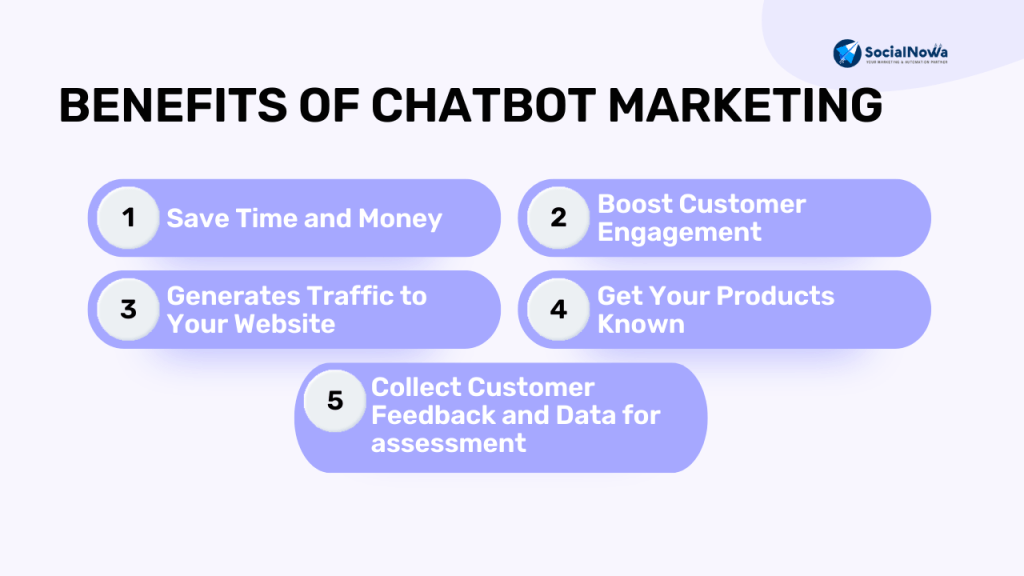 3. Generates Traffic to Your Website :
Chatbot marketing is one of the best digital marketing strategies that is very effective in getting more leads and predicting the customer's purchase journey.
Businesses can use bots to collect customer data such as location, gender, features, price range, and more.
This saves both your business and the customer a lot of time as it helps in identifying target customers.
You never have to waste time or resources collecting buyer personas about your new customers.
Chatbots can engage your potential clients and ensure that your leads stay engaged after the initial contact.
You can use these programs to ensure that your content flow is always in the right direction for higher conversion rates.
4. Get Your Products Known :
Bots provide businesses with a useful platform that allows them to broadcast product updates to reach a potentially wider audience.
You can use chatbot marketing to keep friendly and agreeing customer contact.
This throw out clients irritation from incomplete emails or cold calls.
Think of chatbots as a digital marketing strategy that forms the basis of push notifications that showcase your products/services.
The best thing about using bots is that they only send notifications to the right clients based on their interests.
Customers will feel appreciated and interested in your product/service instead of being annoyed.
Chatbot marketing enhances customer relationships and experiences using your products, thereby increasing brand loyalty.
Facebook Chatbot is one of the apps that often comes with product recommendations.
Over 44% of consumers have admitted to making a purchase from a business after having a personalized shopping experience with those businesses' bots.
5. Collect Customer Feedback and Data for assessment:
Feedback bots collect and receive from users through simple questions, businesses can improve their products/services and even improve websites by adjusting low-converting pages.
You can also use chatbots to track your customers' purchasing patterns and other customer behaviors.
This data will help you determine which products/services to market differently, which to market more, and which to repurpose for relaunch.
Companies can now use bots to track their customers' commands and responses provided to chatbots, allowing them to predict their customers' reactions.
You can use this data to recommend more personalized products/services that customers find more convenient.
In other words, bots are great tools to help businesses figure out what can be improved and what should stay the same.
BiQ Content Intelligence is a powerful SEO tool that you can use to draft, modify and optimize your products/services to meet your customers' preferences.
You can use BiQ Content Intelligence to find more effective answers for your bots that are relevant to your customers' questions about your business.
4 Steps to Launch Your Bot Successfully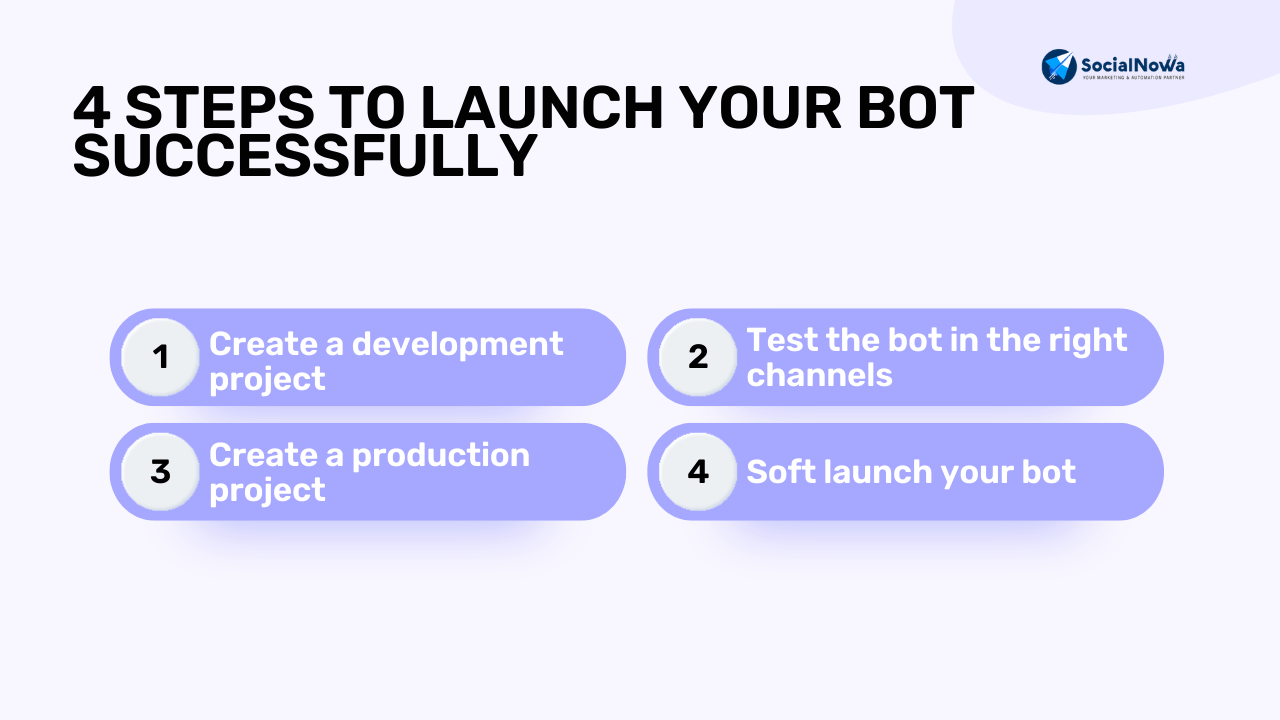 Create a development project
Test the bot in the right channels
Create a production project
Soft launch your bot
How to build your own chatbot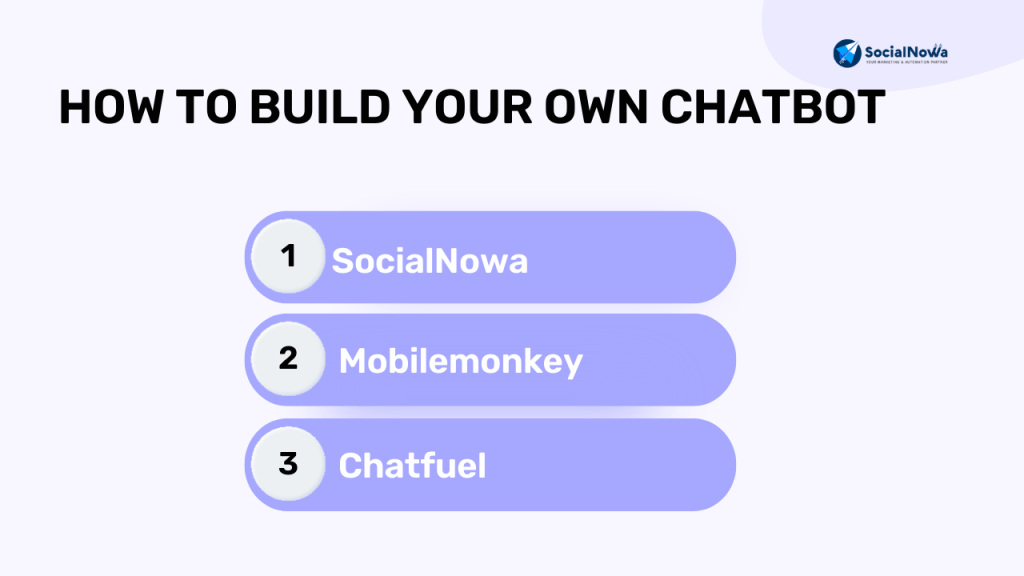 The official page of Facebook Messenger offers to create your own bot directly through the landing page of the platform. Above this also provides the best chatbot in the market with some extra features like template and easy to set chatbot with multiple features.
1. SocialNowa
Socialnowa is the World's Leading chatbot provider in the market, Which provides this feature like Instagram Reply, Instagram chatbot, Analytical Marketing, Facebook auto comment, Facebook Messenger Bot.
One of the best support team for SocialNowa, they help you all kind of problem and support for any issue very well.
2. Mobilemonkey
MobileMonkey is a platform that allows marketers to build Facebook ad bots, SMS bots and native web chat bots all in one place. It has millions of customer base, be they web chat, SMS, Messenger, Instagram and WhatsApp.
3. Chatfuel
Chatfuel is the chatbot platform for Instagram, Facebook, Messenger. You can make a chatbot as per your requirement, people can market your product with the help of bot,with the help of bot you can also solve the questions of clients.
How does chatbot work?
A chatbot is an AI (Artificial intelligence) that works by analyzing the programming that has been installed in it.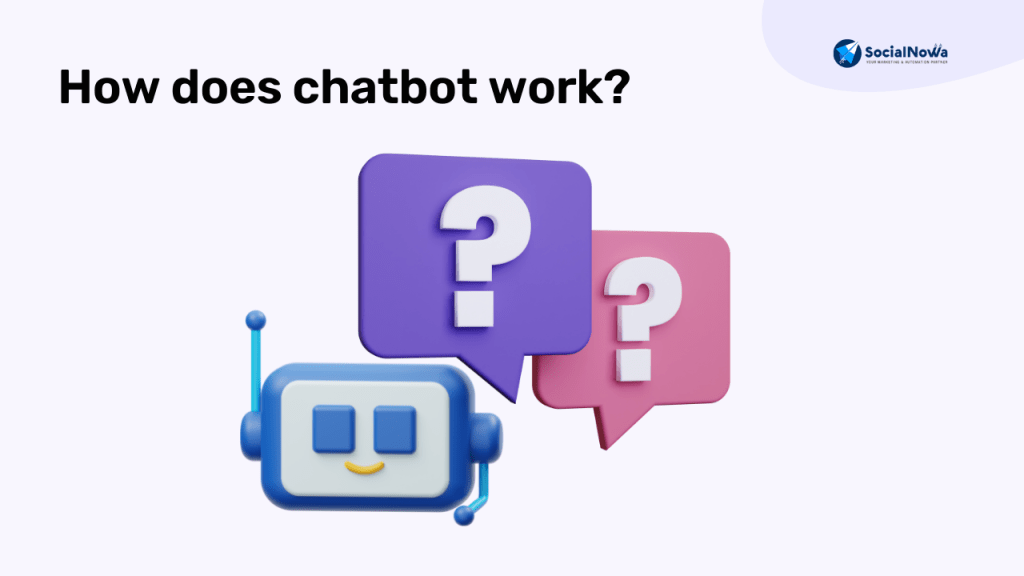 It analyses the intention of the user and responses according to that. This is how the main chatbots' whole process works automatically.
Tips for Chatbot Marketing Strategy
The reality is that the marketing team and the support team and sales team are making serious progress with their Chatbot Marketing Strategies.
In this, we will delve deeper into the world of Messenger bots to show you how to develop a best-in-class chatbot strategy. We'll answer your questions about how to get the most value out of chatbots on Facebook Messenger, Twitter, WhatsApp and more, along with best practises for a near-human chatbot experience.
9 Tips for Chatbot Marketing for your Business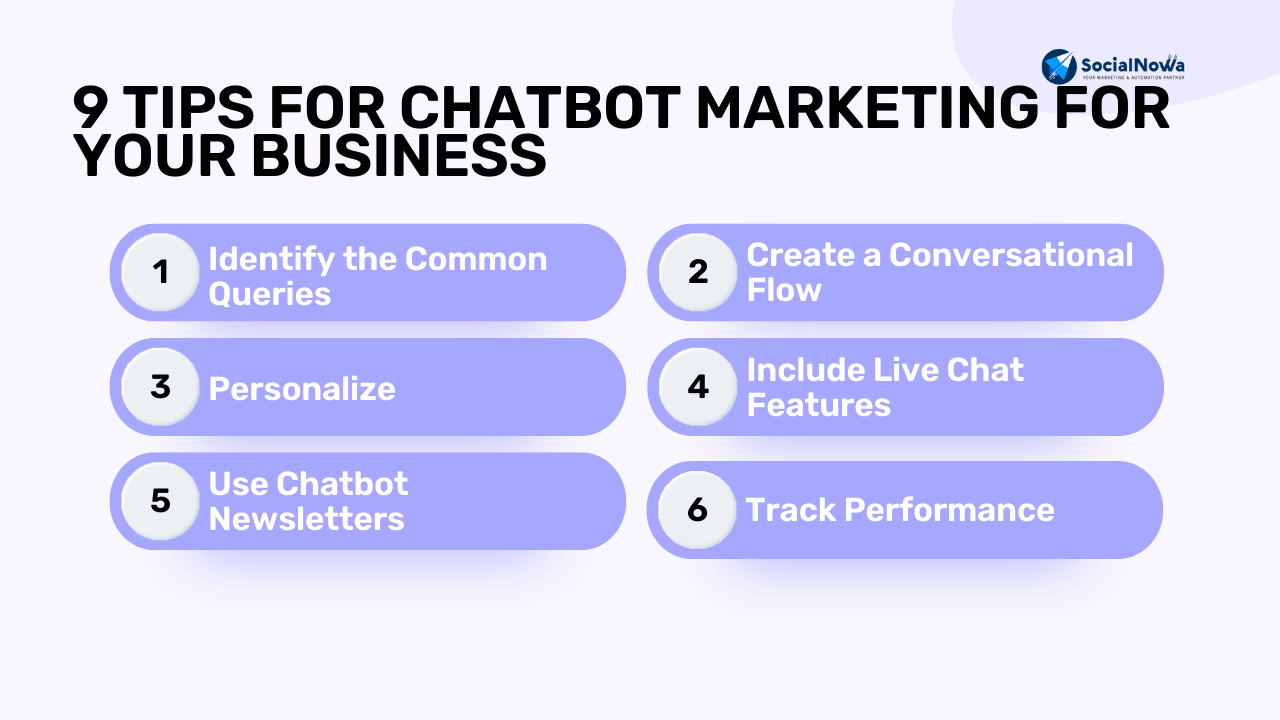 1. Identify the Common Queries:
These are questions that customers commonly ask. You can answer them with a chatbot to save time and collect leads at the same time. But first you need to know what these common query are.
You don't have to look very far to find that information. Their customer support team is a gold mine. They answer clients questions throughout the day, so they know exactly what questions customers are asking.
2. Create a Conversational Flow:
Bots work best if you set up properly. they have a specific set of questions to answer or you can set up as your own .Those questions should be based on what you find out about your customers and the questions they usually ask.
A conversational flow is like a flowchart where the customer receives a specific answer based on their answer.
3. Personalise :
To get the most out of your chatbot, use it to personalise the customer experience. The bot can guess certain details like name and location and input them automatically. This saves the time of the customers and gives them a premium service to customers.
You can personalise using your chatbot in other ways. Chatbots can be a mine of information.You can set up a chatbot as per your requirment.It can tell you about a person's interests based on the interactions with that person. If a person frequently asks about shoes from the chatbot, you can safely conclude that that person likes shoes.
4. Include Live Chat Features:
bots can solve basic questions, yet only humans can solve more complex problems more often. To provide the best service, you need a little of both.
so, how this will be work?
Well, if a customer asks a basic question, a chatbot can do all the talking. When something more complicated happens, your human agents can take over.
5. Use Chatbot Newsletters:
Chatbot newsletters are greaten addition they help you bring up your relationships with your clients. Plus, they keep them on your website or social media account for a longer period of time. The long you stay, the more likely they are to convert.
6. Track Performance :
This can help you make necessary changes to improve the service if needed. even if you have less chatbot activity, you can make interacting with chatbots more fun. If your human agents are still getting too many simple requisition, you can improve your bots conversation flow.
7. Avoid fully open-ended conversations :
Open communication can lead to confusion for your bot and a poor user experience.
If you don't have the luxury of advanced language processing, an open-ended question like "How can we help you today" can go either way.
One of our favorite chatbots is HelloFresh on Facebook Messenger.
One of the bot's first messages to the user offers a menu of choices: "Here are some common questions I can answer" options include things like:
The user can select any of these statements by tapping on them in the Messenger interface. Then the bot will respond with an automated response.
It infers from the bot's responses because it knows exactly what message it receives.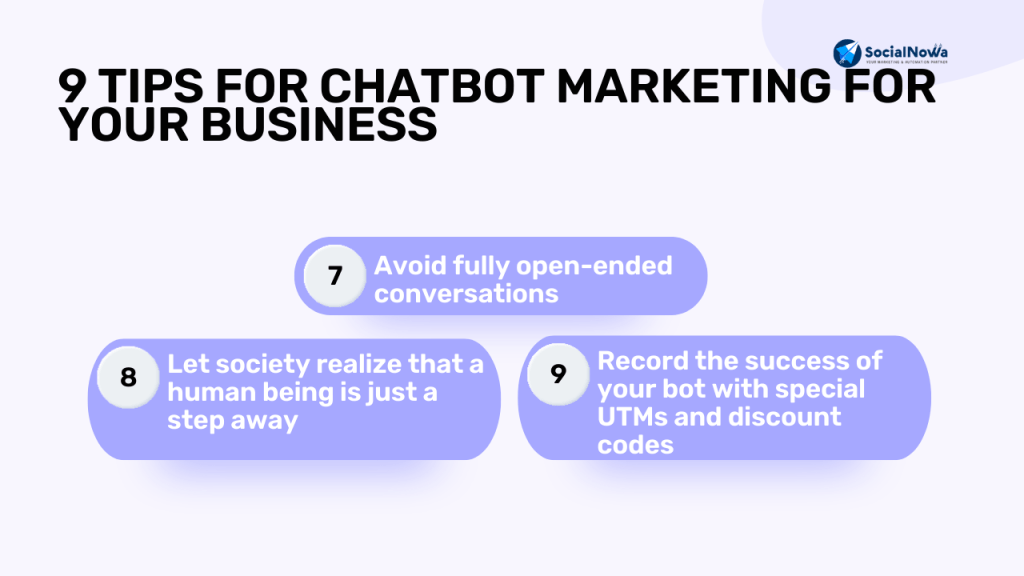 8. Let society realize that a human being is just a step away :
One of the most interesting statistics we've seen about chatbots is that people aren't as turned off by them as you might think.
69% of users prefer interacting with chatbots versus in-app support. People like quick answers to their problems.
That being said, that leaves 31% of consumers who prefer the old-fashioned way—email or social support.
It can also be baked into your bot experience.
Just let people know as part of the bot's welcome messages that the user is invited to contact a human at any time.
9. Record the success of your bot with special UTMs and discount codes :
The biggest question you will have with your chatbot is … is this thing working?
And "working" can mean many different things. If you're using chatbots to minimize your customer support volume, this is an easy metric to check.
If you want to measure the effectiveness of education, marketing, or sales, it can be invaluable to track chatbot success with measurable links and codes.
HelloFresh does this with their bot — including the word "bot" in their coupon codes (eg: FRESHBOT25).
Similarly, you can do the same with your UTM codes for content linked to your bot.
Give it a chatbot's UTM source and you can measure clicks and traffic from the bot, as well as track UTM throughout your customer journey.
Chatbot examples to boost your bot strategy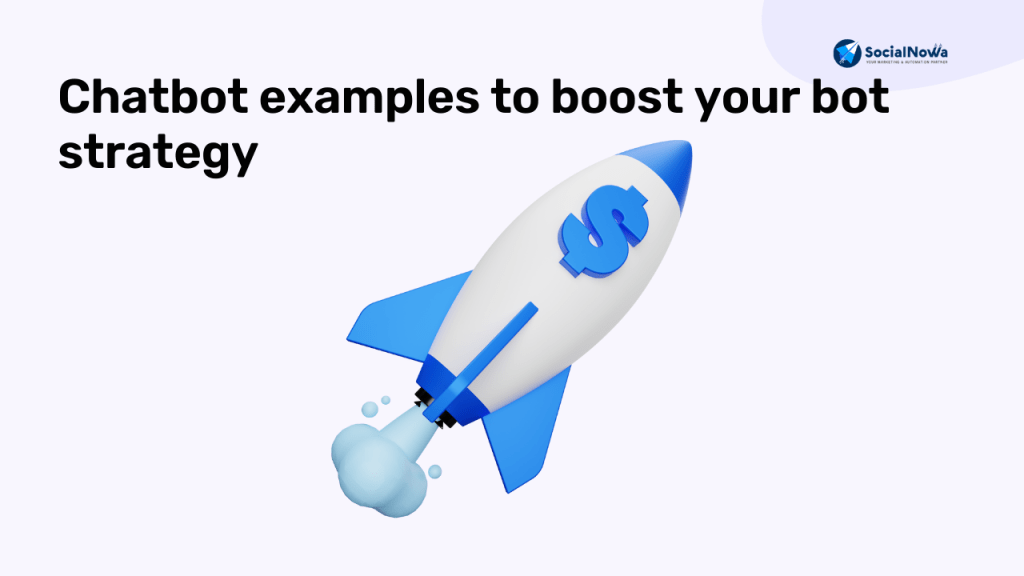 1. Ecommerce chatbot –
An e-commerce chatbot is an AI-powered intelligent virtual assistant solution that online retailers can implement to engage customers at every stage of their journey.
Example : Domino's Pizza –
With the rise of mobile and social shopping, brands are constantly looking for ways to increase revenue from their social channels.
Domino's has a chatbot for Messenger-carriers and their website. objecting to its brand voice, the chatbot is called Doom.
The bot allows users to order and customize their pizza within chat, making it easy to buy your favorite pie.
Dome has the ability to save and repeat orders and find your nearest store.
This is clearly one of the best examples of chatbot marketing to highlight how a bot can take something done by mobile and make it just as good (if not better) on social media.
While digital ordering is nothing new, ordering through a chatbot doesn't require a local download or signup to an app.
2. Chatbot Marketing –
Chatbot marketing is a marketing technique that uses computer programs to automate interactions with prospects and customers, on your website or in your app, with the goal of generating sales.
Example : Arsenal Football Club –
English soccer powerhouse Arsenal Football Club (FC) uses bots to follow with their clients while forwarding their brand.
A sports team is also a great example of timely content delivery and how you can use bots for more than just customer service.
Meet Robot Pires, the digital doppelgänger of the French soccer coach and former professional athlete.
Robot keeps football fans up to date with the latest news about clubs, upcoming fixtures, real-time match updates and more.
In addition, he can help you buy tickets to the next game, view player stats or find videos including player interviews and moments from some of the team's biggest victories.
Superfans can dive even deeper with reports, analysis and play-by-play match commentary.
A sports team also earns extra points for creating a personalized marketing experience.
Users can customize alerts, follow their favorite titles and players, and more.
This online bus is obtainable on Slack, Skype, Telegram and Messenger.
3. Customer service chatbot :
A customer service chatbot uses artificial intelligence (AI), machine learning, and natural language understanding (NLU) to do human-being speech.
Businesses are steadily adopting chatbots and incorporating them into their service models to answer customer questions and automate routine tasks.
Example : Sprout Social –
Last but not least, is our chatbot! We provide an instant heavy bot to provide customers with exactly what they need.
Customer support? Account problems? Features and pricing plans? It's fully there and just a tap or 2 aside.
And like most bots, we give our customers the option to speak directly with one of the lovely humans on our support team.
Even cooler than our own bot is Sprout's chatbot builder.
Despite popular belief, you don't need to be a technical wizard or a programmer to get started with social bots.
Sprout's Bot Builder gives a diversity of pre-built bot templates that make the procedure even easier.
You can advance your bot for client care, shopping and leads.
Reason why your marketing strategy must include chatbots?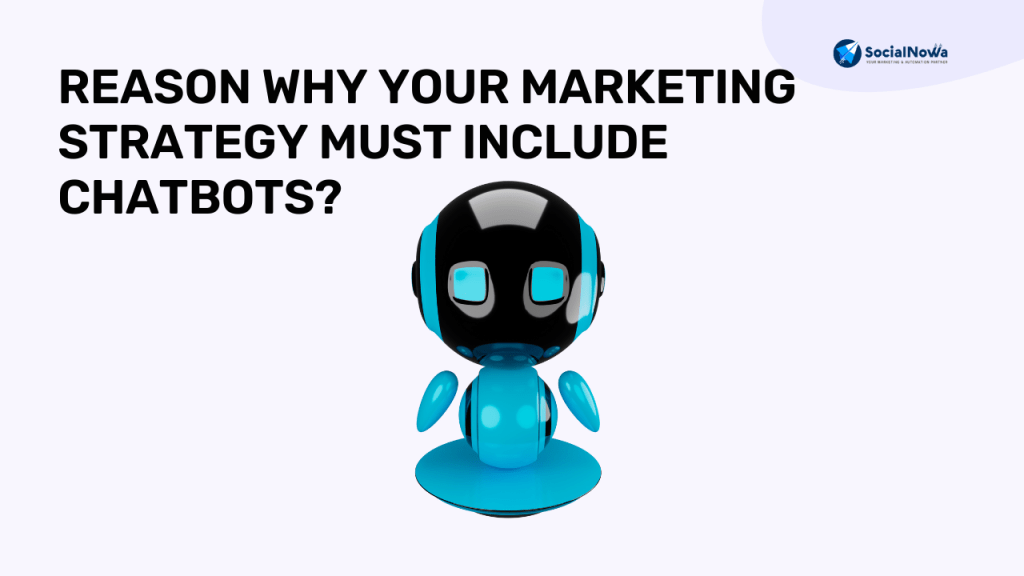 1. Automate Consumer Support with WhatsApp for Business:
You must be living under a rock if you believe that chatbots are exclusively useful for websites. Using the WhatsApp Business API, you can quickly link an AI chatbot with a WhatsApp for Business account. Automating the replies to frequent client inquiries has become simple with conversational AI.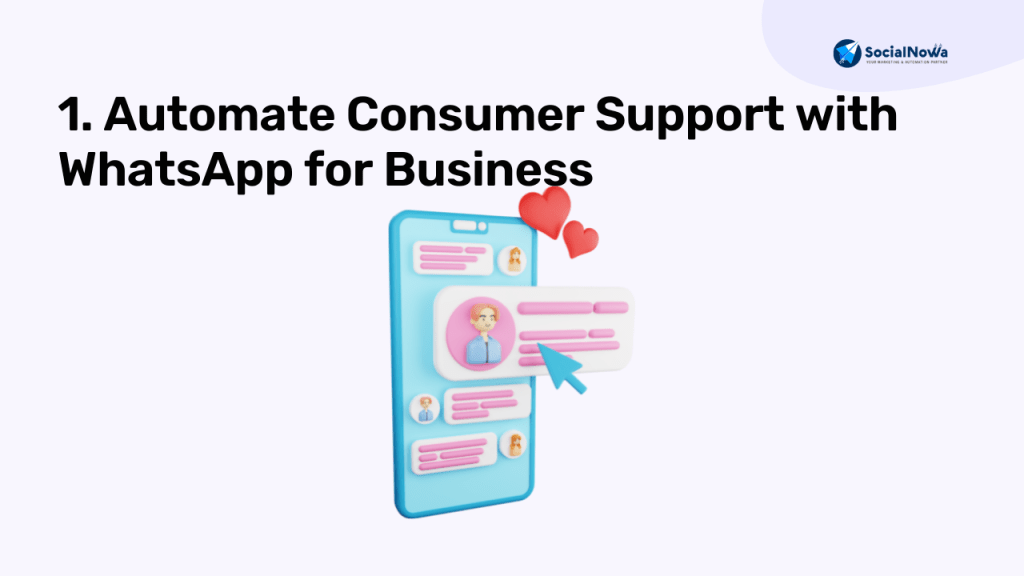 Most clients are familiar with WhatsApp, and WhatsApp for Business makes it simple to answer up to 80% of client inquiries. Customers frequently ask the same questions repeatedly. There is no need to use manual resources to repeatedly answer the same queries. Instead, automate these replies by integrating conversational AI.
It is always possible to delegate complicated queries to the specialists if an AI chatbot is unable to provide an answer. By doing this, you may create.
2. Use conversational AI to create and nurture leads:
The creation of leads and the subsequent nurturing of those leads are two of the most crucial components of enterprises. A significant information source is AI chatbots. This prospect-related information may be used to create a marketing strategy that is more successful.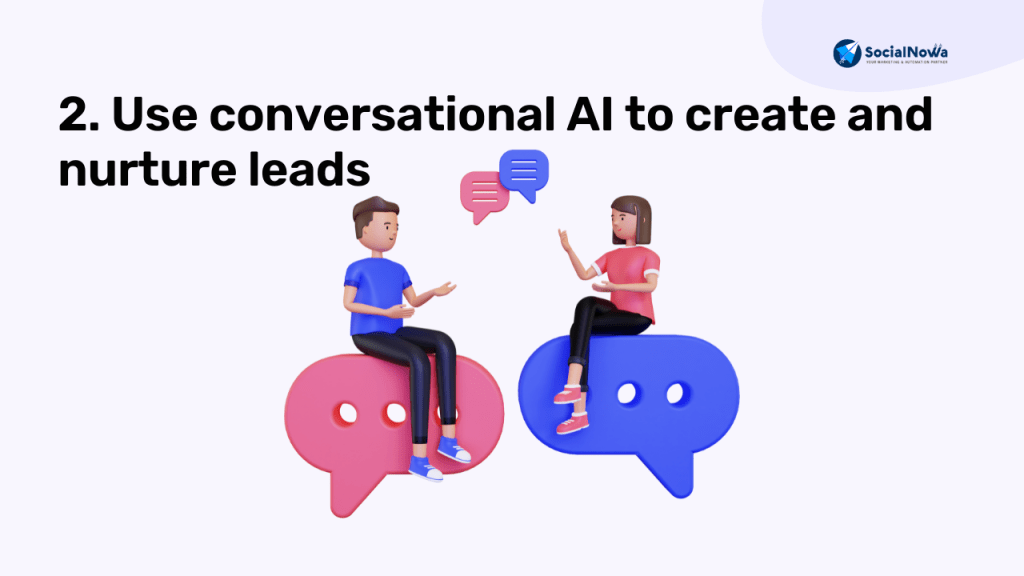 You may always develop customised messages to tempt the prospects, for instance by using the data offered by the AI chatbot. As a result, conversational AI has a significant role to play in creating and converting leads. In order to turn prospects into repeat customers, chatbots can drop triggers, notify them about discounts and gift cards, and remind them of an unfinished transaction.
3. Increased Customisation Will Boost Customer Satisfaction:
With the highest level of personalisation, chatbots may elevate consumer happiness. For instance, with an AI chatbot in place, your clients won't need to often visit your website to learn about the newest goods and services. They may access WhatsApp and start a conversation there.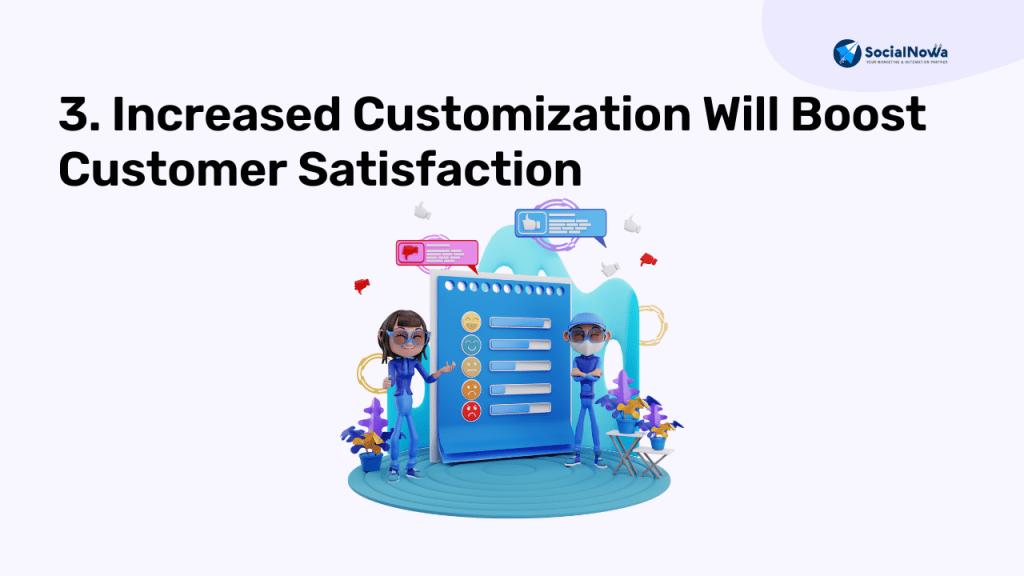 Because chatbots always adopt a tailored strategy, clients favour them over email recommendations. The secret to increasing client pleasure is customization. AI chatbots are effective at providing consumers customised product recommendations, reminders, and discount coupons. Additionally, chatbots offer live customer service around-the-clock and promote your business by generating appointments and purchases.
4. Using AI Chatbots to Increase the Power of Email Marketing:
An effective tool is email marketing. Traditional organisations may be reluctant to move to AI chatbots for business right away since they are too accustomed to using email marketing. However, there is an alternative thanks to conversational AI.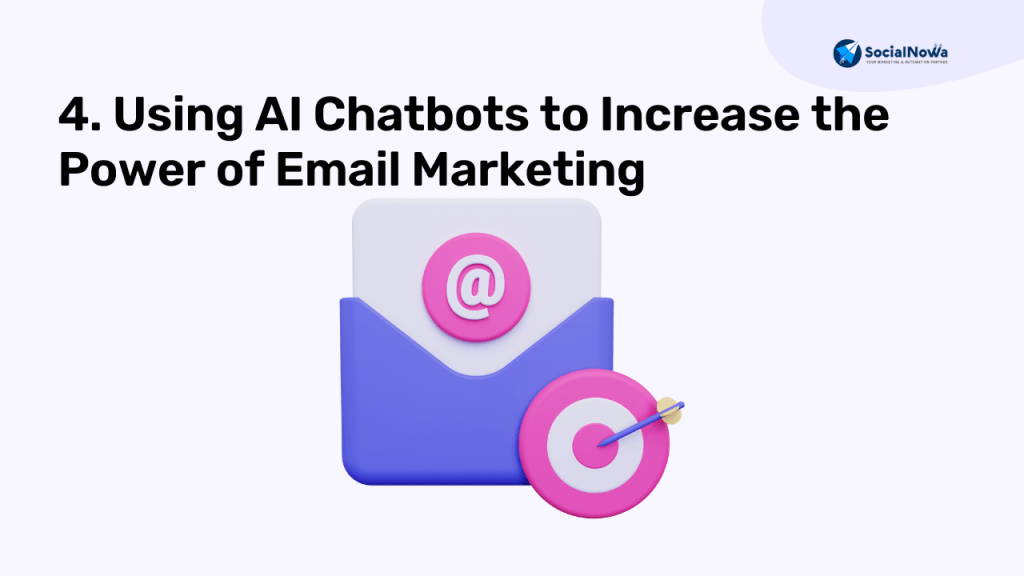 AI chatbots can boost email marketing's effectiveness. To attract prospects, it is simple to mix these two channels. For instance, you might include a "Send me an Email" button in WhatsApp for Business or a "Connect over a chat" button in your emails. Users will then receive two alerts at once in this fashion. This implies that a potential client or consumer is now more deeply involved with your brand.
5. Using Conversational AI for Omnichannel and Interactive Marketing:
AI chatbots aren't only for your website, though. Your consumers may access a variety of information using conversational AI through any channel, such as Facebook Messenger, WhatsApp for Business, etc. Any firm must have a strong omnichannel presence. Almost no other solution can offer an omnichannel presence to the same degree as this one.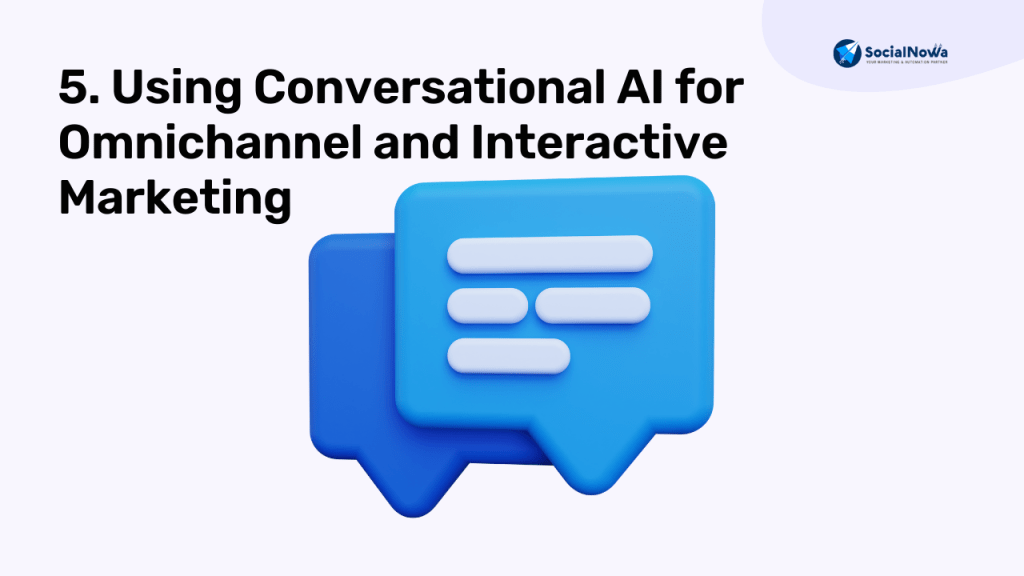 Business AI chatbots are also interested in interactive marketing. Passive marketing is never a concern with AI chatbots. Start an interactive marketing campaign and receive full assistance from AI chatbots. AI chatbots can broaden your reach and facilitate communication with the most number of potential clients.
In this Article, we'll go deep into the world of chatbot to give you the details on how to develop a best-in-class Chatbot Marketing Strategies. We'll answer your questions about best Chatbot marketing Strategy For beginners. .And give the more value of chatbot on Facebook Automessaging, Instagram, and more.