Introduction
I know you are searching for a chatbot creation for a website. But what if I tell you that you can build chatbot for a website without any advanced coding skills.
Don't you think it sounds exciting !!
Yes, It is. let's see how we can Build our chatbot most essay .
Today, anyone can create a chatbot with drag and drop editors. You don't need secret skills or any other awesome power.
And still
Most people are afraid of this process. It seems like a daunting task and it's not clear how to create a chatbot and where to start.
Well, you can start here and now.
We'll show you how to easily create your chatbot. We said it would be fun too?
Chatbots have become an essential tool these days as websites are now a major source of online support and guidance.
By using AI-based bots, you can reduce Clients frustration, such as too much wait times, and improve the user experience.
But before you get into the rules, you should learn the basics like what is a chatbot? And how does it work?
What is a chatbot?
A chatbot is an intelligent programming tool, also known as Virtual Assistance or Digital Help.
It stimulates human communication and moves in the right direction. Since it was already designed, it was well-organized. It understood human questions and then answered accordingly.
How do chatbots work?
Chatbots come in different levels of complexity, both stateless and stateful.
Stateless chatbots access each conversation as if they were chatting with a new user. In contrast, stateful chatbots can look at past interactions and form new responses in context.
Adding a chatbot to a service or business domain requires little or no programming.
Many chatbot service providers allow developers to create interactive workspaces for other business applications.
In this blog, we are going to show you how to create a chatbot without any coding skills in simple steps. Stay tuned !!
Find out the purpose of your chatbot
Firstly, decide where you want to set up ( Websites, IG, FB )
Select the chatbot platform wisely
Choose the triggers for your chatbot
Design your bot flow
Create objective sample
Test your chatbot
Train your chatbot
Add FAQs
Always monitor chatbot analytics to improve it
Now, we are all aware of each point of the chatbot. But did we ask why we should make a chatbot for our website?
Why worry? I have an answer for you. Let's see!!
Why should you make a chatbot for your websites?
Conversational bots are not a trivial matter that chatbot developers have come up with for various purposes. For example, chatbots may:
Customers enjoy quick answers to their questions
Have multiple conversations at once
Increase your sales by 67%
Make your site more interactive, attractive, and trustworthy
Collect feedback up to 90% of responses or retrieve abandoned shopping carts.
Help us explore the possibilities of the communication interface
They are as important for business as e-commerce stores.
A chatbot alone can solve 69% of customer questions from start to finish. This can lead to a 30% reduction in customer rewards.
Your chatbot provides you with:
Automation is highly dependent on any behaviour on your site
A deep connection to your long collection
Customer experience tailored to your audience
More control of the conversation process
Not surprisingly, customer interest in the recent bot implementation has grown by 160%.
Top 10 steps to build chatbot for a website
1. Find out the purpose of your chatbot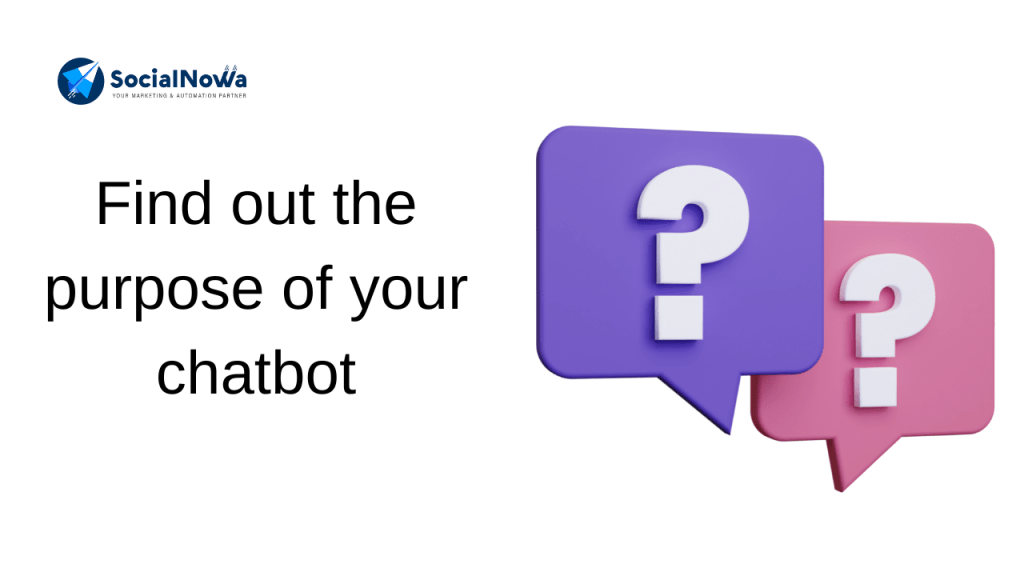 The chatbot you want to build for your website needs to work to your specific business needs.
Therefore, before creating it, it is important to identify your goals and determine your needs.
Determine what you want your chatbot to do. The more special you are, the better.
You can also start by asking yourself a few questions:
Why are you building a chatbot? Customer support automation, customer experience improvement, or lead generation? Or maybe all of the above?
What are your most popular customer use cases? Look at your questions and give some examples.
What is so important about a chatbot that you find useful? Answer questions on autopilot? Forwarding questions to support? Working with abandoned cars or leading in qualifying?
Once you get the answer, it will be much easier to determine what features and types of chatbots you need.
2. Firstly, decide where you want to set up ( Websites, IG, FB )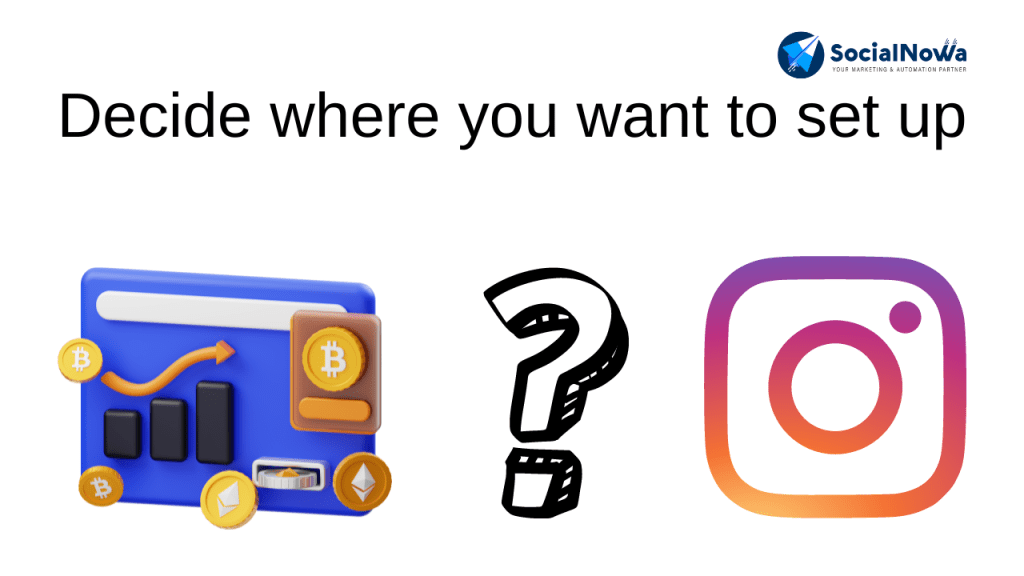 What is your primary communication channel? Do your customers interact with you primarily on social media or through a chat widget on your website?
Either way, make sure the ChatBot platform you choose is integrated with the tools you already use so you can serve your customers wherever they are:
Your website. Most chatbot platforms offer integrations with popular website providers such as WordPress, Magento, or Shopify.
Your social media channels such as Facebook Messenger, Instagram, and WhatsApp.
Other platforms and messaging tools in your stack (like Slack).
Alternatively, check if you can set up the integration manually using a code snippet or a public API.
Many chatbot development platforms offer multiple integrations so you can use chatbots across multiple channels.
3. Select the chatbot platform wisely | build chatbot for a website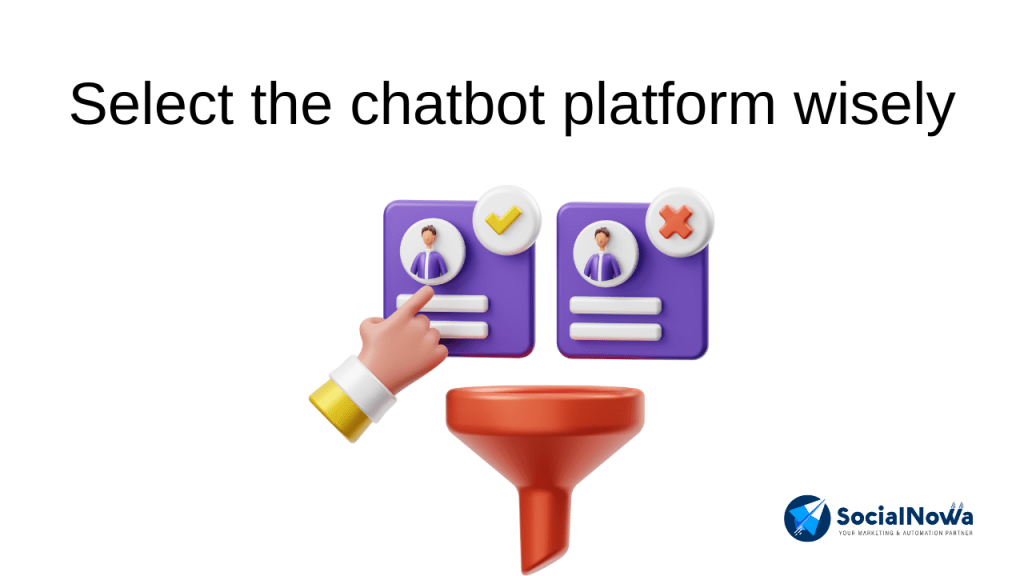 Now that you know what kind of chatbot options you want to create and which channels you want to reach, it is time to choose a provider.
You have two options: Framework or Platform.
Framework AI Framework chatbot frameworks (such as Google's Dialogflow, IBM Watson, or Microsoft Bot) serve as libraries for software developers building chatbots by privacy.
Chatbot platform. They provide easy-to-use chatbot builders that allow you to create chatbots from building blocks.
They are growing in popularity because they make it easier and less time-consuming to build bots while still delivering comparable results.
Needless to say, some platforms like SocialNowa Chatbot offer 30 days free plans!
Once you've chosen your provider, it's time to register, log in, and go to work.
This sounds amazing, right?
Now, your question will be what is SocialNowa Chatbot and why you should prefer that?
Wait !! Let me give you an answer.
What Is SocialNowa Chatbot?
In 2022, it will be very easy for your business to use the SocialNowa chatbot.
Because social networks are the most important moment of a marketing tool.
However, most business professionals don't have time to manage their social media accounts every day.
A good reason for this is that many brands are investing money and time in updating chatbots.
SocialNowa is one of the best social media marketing tools that help businesses plan and manage their posts, attract visitors, and grow their online business.
It is artificial intelligence programming that works very efficiently and smoothly according to our convenience.
Online service
24/7 availability
Cost-effective
No coding
Focus on the essentials
Easy to use
Excellent customer service
SocialNow Awesome Features
1) Posting on Instagram
Share photos or videos on Instagram. You can automate this task using our scheduled posting feature and more.
2) Responses on Instagram
Now your Instagram followers will never feel ignored. SocialNowa Chatbot can automatically reply to their Instagram comments.
3) Analytical marketing
Grow your business with SocialNowa's great analytics feature, where you can find Facebook pages and messenger analytics in a dedicated dashboard with graphical reports.
4) Contactless menu
Touchless QR code menus are here to stay and now you can create and sell virtual menus for your restaurant.
5) Integration with WordPress
Share content on WordPress, the world's most popular blogging platform, on your WordPress website or both.
6) Import of past clients
With just one click, you will be able to import all your previous Messenger subscribers to SocialNowa Bot.
There are many more features you can visit SocialNowa Chatbot and can explore features of SocialNowa Chatbot.
Why should you prefer SocialNowa Chatbot?
1- Online service
2- Human delivery
3- 30 days free trial
4- Contextual answers
5- NLP (Natural Language Processing) Ability to solve invalid queries.
6- Easy to use
7- User-friendly interface
8- Lifetime service at just $59.
After knowing these amazing things, I am damn sure you will create your chatbot most easily with the help of SocialNowa Chatbot.
4. Choose the triggers for your chatbot | build chatbot for a website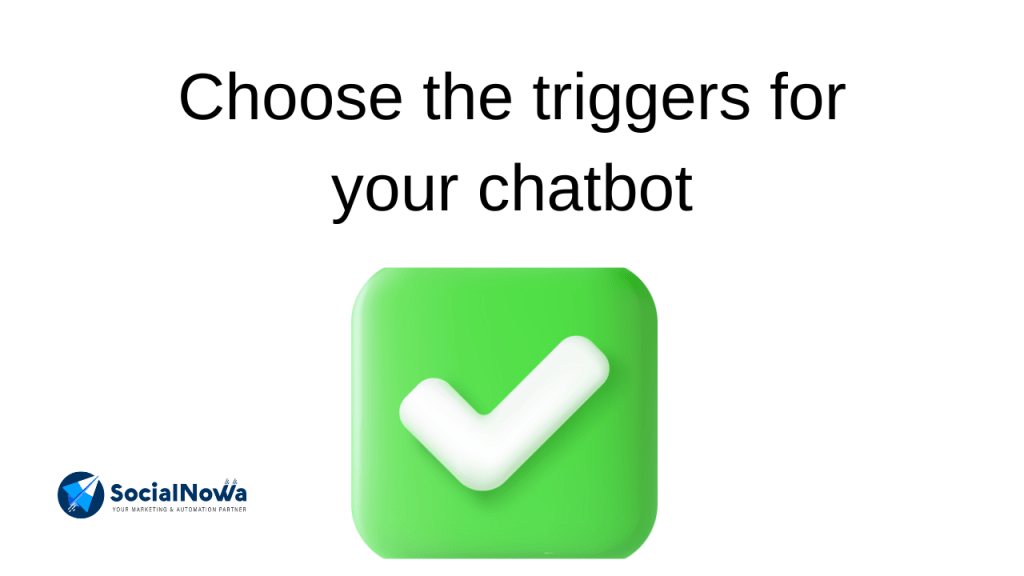 Chatbots will start the conversation when you decide.
You can set a bot trigger to start a conversation with a client.
The bot will be able to negotiate, depending on the type of trigger you choose.
You can call a bot for this;
(i) To All
(ii) New Visitors
(iii) Returning guests
(i) All- the bot will start calling all visitors to your site without any special conditions.
(ii) select new visitors- the bot will invite new visitors to your site by sending personalized welcome messages such as: "How can I help you?"
(iii) Choose returning visitors- the boat will call the same or repeat to the customer: "Good to see you! How can I help you today?"
You will also have other bot launch options.
Launch the BOT to click on the chat banner
the bot will only fire when the visitor clicks on the chat widget.
URL BOT Trigger
The bot will fire triggers when a visitor visits a specific page on your website.
BOT triggered by viewing period.
When a visitor stays on your website for a certain period, selecting this trigger event will activate the trigger. Assuming your visitor stays on the page with the price for more than 3 seconds, the bot will activate "Get 10% off today's registration".
5. Design your bot flow | build chatbot for a website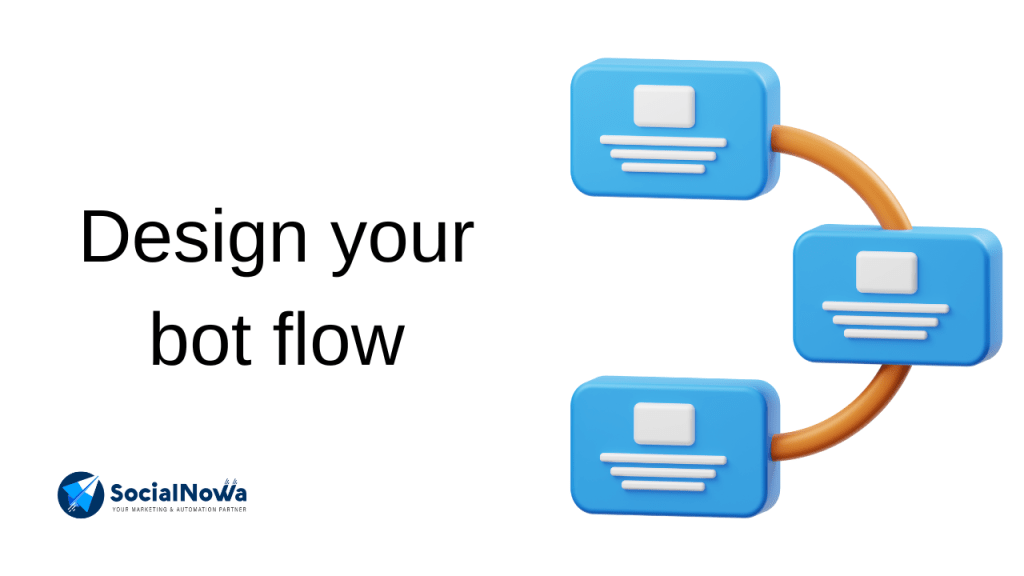 This is very important. Don't miss it out.
Creating a conversation flow will help you organise content and shape bot responses.
You define a bot flow with nodes and actions.
A node is a specific view or part of which you want to run the entire bot flow. It can be anything – a greeting or a product review. These messages are set according to the ship's flow.
Actions. Actions are defined as the interaction of chatbots with visitors. In addition to actions, you can add various elements to advance your conversation in a predetermined way.
You will need to connect new nodes through various activities to create a bot flow.
For example, enable the actions you need based on your business needs, such as text messaging, images, carousel, and video chat options.
The chatbot for your website can be AI or rule-based and depends on your chatbot strategy, so you need to carefully describe the flow of its conversations.
Before it runs, you can test it together by clicking the "Test" button. Once your bot is working properly, you can save it.
Once you click this button, the test website will open with a chat banner that will open with a navigation message.
6. Create Objective sample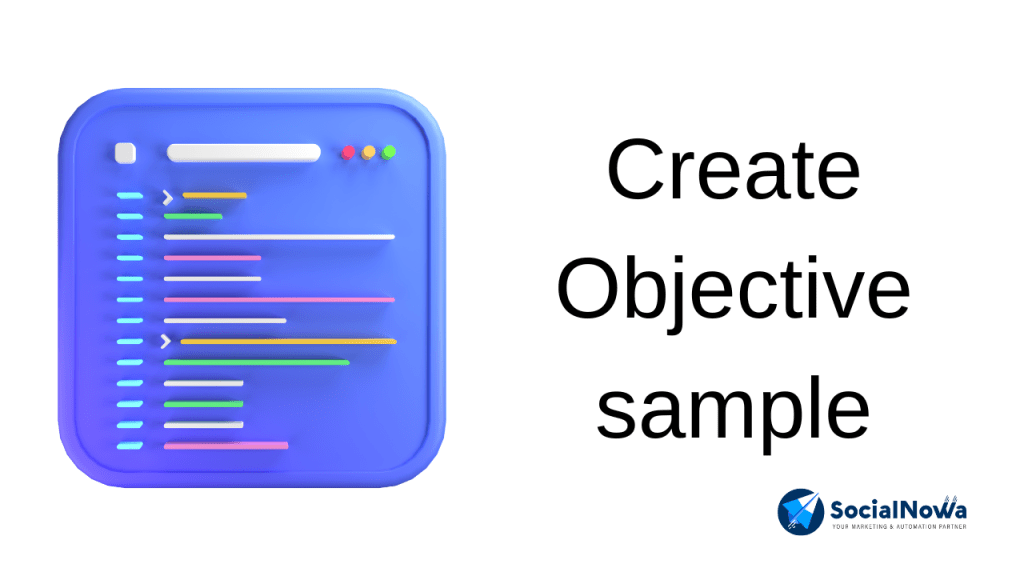 After understanding all these things, In the next step, You need to create an objective template – the objective reflects the user's objective.
This will help the chatbot understand the user's intentions.
This is the purpose of every message the chatbot receives.
But you should be aware that chatbots can use intelligence and machine learning to quickly identify a user's intentions.
You need to create a new node to create the intended value.
You need to submit a test question that has a specific meaning that captures the customer's intentions.
After submitting a sample request, a list of the bot is created to process customer conversations.
7. Test your chatbot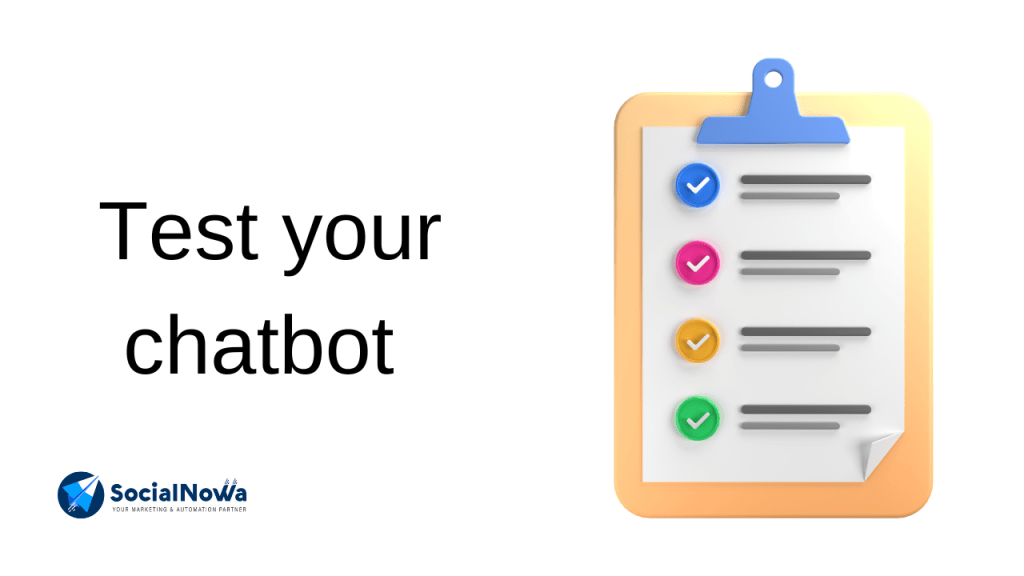 In everything, testing is very important. When you create something then you should test whether it's working or not.
Now is the time to check whether everything is working out as it should. To do this, click the Test button.
A window will appear indicating how the chatbot will view the end-user. Thanks for the review, you can go back to the editor and fix the stream.
8. Train your chatbot | build chatbot for a website
After completing all these easy steps your bot is ready now. You expect him to handle questions efficiently.
For this to happen, you need to train the bot to hone its capabilities in terms of better communication with users.
To train a bot, analyse your customer conversations and identify the most popular questions and common problems.
You can do it manually or use cloud keywords as a free word processor.
Then add words, phrases, and questions related to the selected topic (for example, about shipping) to the guest's mouth.
That way, you will have to feed an NLP engine for the chatbot to identify similar questions that may arise in future conversations. The more phrases you add, the better!
Congratulations! Your bot is successfully created for the website.
9. Add FAQs | build chatbot for a website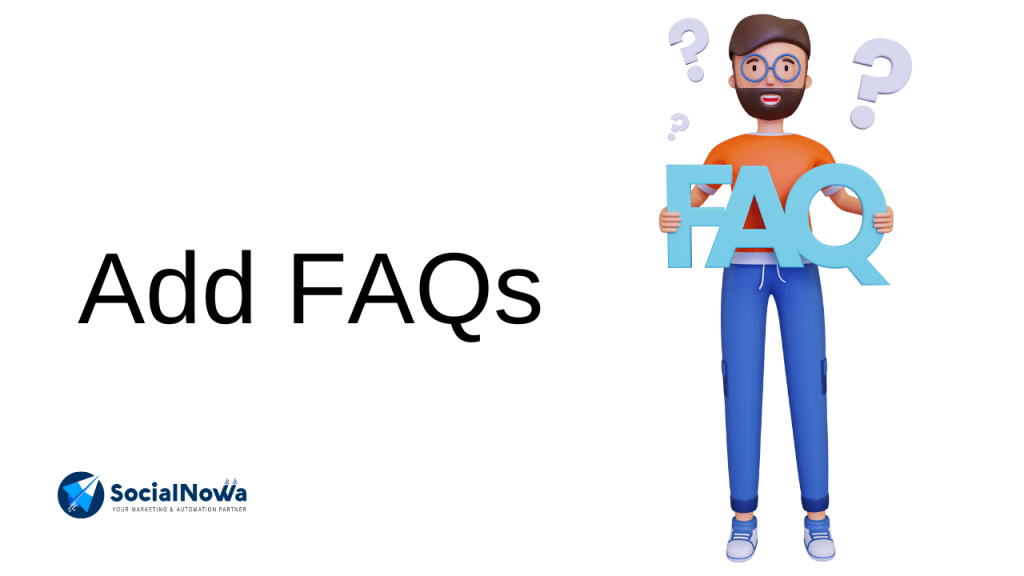 Are you still afraid that creating your bot is awesome? Just breathe and read. Here are some commonly asked questions about chat rules.
This will give you more information about the chatbot creation process.
How to create an AI chatbot?
To build an AI chatbot you need a database to train your AI model. But you can also try to use one of the development platforms powered by AI technology.
SocialNowa Chatbot is one of the most popular solutions offering chatbot tools that identify user intentions for free.
Is it easy to create a chatbot?
Creating chatbots is very simple and accessible to everyone.
There are many online boat design tools that you can use for free.
However, building a chatbot for a website can be a bit easier for beginners than building a social media bot.
How do I create my first chatbot?
You know that the best and easiest way to create your first chatbot is to use a ready-made chatbot template.
Just select the bot template you are interested in and open it in the editor.
You will be able to see how it is designed and change the messages or conversation flow logic to your liking.
SocialNowa Chatbot provides you with ready-made bot templates. You just have to edit as per your objectives.
How to build a chatbot for your website?
The easiest way to add a chatbot to your site is to install a WordPress chatbot plugin.
If you do not have a WordPress site, many chatbot answers can be linked-to sites on platforms like Shopify, Wix, Magento, or BigCommerce.
10. Always monitor chatbot analytics to improve it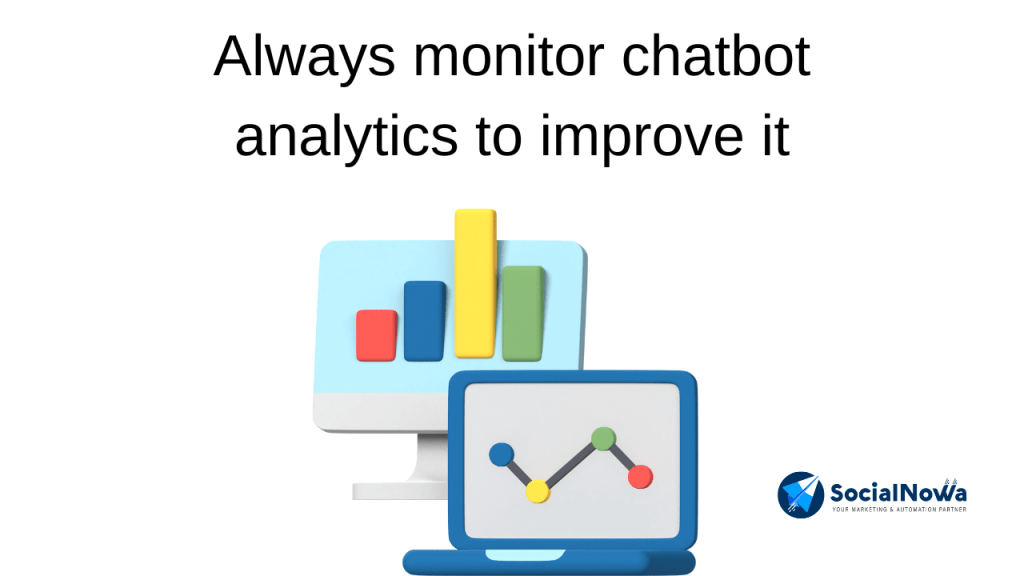 As we know, last but not the least, be ready to monitor the activity of your chatbot.
This will allow you to discover the types of chatbots that don't provide good customer service and don't work for your guests.
To make this easier, SocialNowa Chatbot allows you to track the number of bounces on specific message nodes:
Create a chatbot for your website and make your business more efficient
Chatbots have become an important part of business communication.
You can use them to perform many tasks related to shopping, support, marketing, and more and stay ahead of the competition.
In addition, you can quickly create a chatbot from scratch and boost the performance of your business.
You can choose a chatbot template or create your bot and add it to your chat to chat automatically and quickly respond to customer feedback.
Regardless of the method you choose, creating AI chatbots will always be easy and, when used, will help streamline customer communication.
Conclusion
In this blog, we saw how to make a chatbot for your websites in simple steps.
And I know it was fun too while making your chatbot.
Then why not we should take away some key points and recapture whatever we learned in this blog.
Creating an AI chatbot or even a simple chat seems like a complicated process. But if you think your employees will benefit from it, you must try it.
You can create your prototype with the shipbuilder and add it to your business website.
To create your chatbot:
Explain your business objectives and the needs of your customers
Choose a chatbot developer that you can use with the channel you want
Use bots to build a conversational style by using the right words
Check your chatbot and collect information to get more information
Use your customer data and feedback to buy your bot
Check out the most popular chat methods and modify them for the best user
experience.
All this work is done by SocialNowa Chatbot itself. You should give it try. The link below SocialNowa Chatbot
Are you ready to create your website chatbot through SocialNowa Chatbot?