One of the most efficient techniques for owners of ecommerce stores to increase sales is by far email marketing.
As one of the few marketing platforms where your audience is yours and you didn't pay to reach them, they have already chosen to hear from you.
It follows that email should be a top priority for many newly launched and expanding online stores.
However, it's all too simple to waste email as a useful and lucrative medium by sending uninteresting emails to the incorrect recipients.
Understanding the basic types of emails you may send to consumers is a fantastic place to start because great email marketing is timely, relevant, and personalised.
There are generally three types of emails that you can send. Transactional emails, which also contain post-purchase notifications and receipts
Promotional emails, such as newsletters, sales emails, and emails announcing new products
Lifecycle emails, which are sent based on a customer's actions (for as sending an email to clients who abandoned their shopping cart),
The process of producing and optimizing all of these potential emails can be intimidating for someone who has never built an email marketing plan from scratch.
And it's true that there are a range of emails you may send within each category—even a quick check at the campaigns run by well-known companies demonstrates just how varied is possible.
But it's crucial to keep in mind that the majority of the working "components" in the emails you send are the same—a subject line and preheater, body text, images, a call to action, etc.
You can start receiving better results from (nearly) every email you send by being aware of a few tried-and-true best practices
What is Email Marketing
Sending emails to a group of people—typically prospects and customers—to update them on company news or to sell them a product or service is known as email marketing.
Value and sales emails should be a part of your email marketing strategy and campaigns so that you may build real relationships with your customers while promoting your brand.
Sales emails concentrate on your company's products, updates, and sales, whereas value emails concentrate on the consumers and offer pertinent, useful information.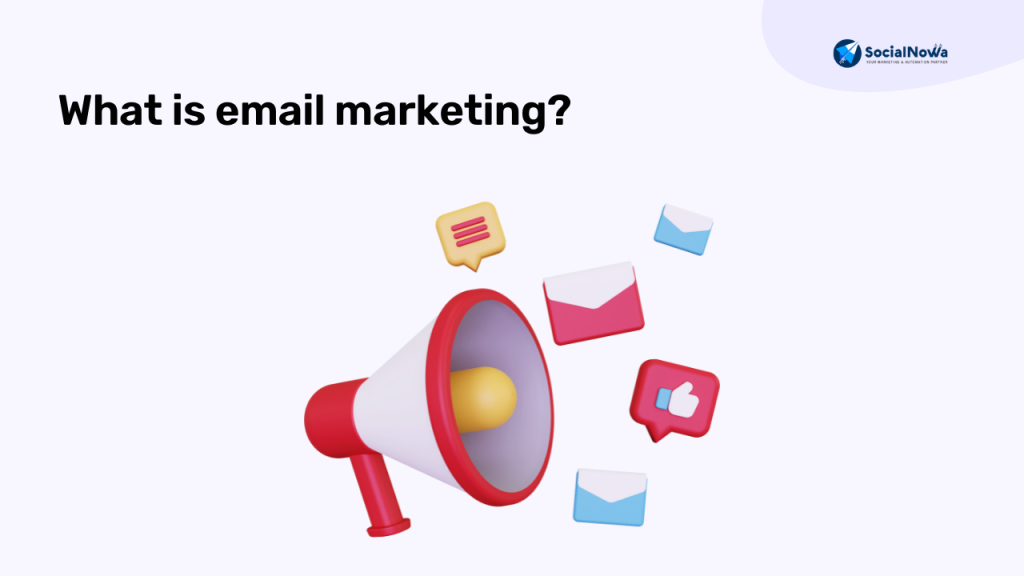 For the best email marketing engagement, follow the 80/20 rule:
80 percent value emails and 20 percent sales emails during each quarter.
Is an email marketing strategy the best option for my company?
The acceleration of digitization is one of COVID-19's most important consequences on enterprises. To hear from and reply to your customers, you must have at least one digital channel.
As one of the most effective owned marketing platforms for organizations, email tops this list. Additionally, it is economical and private. Email campaigns are sent by over 83 percent of business-to-business firms as part of their digital marketing plan.
Here are some measures to follow before deciding whether email marketing campaigns are appropriate for your organization.
Verify if your target audience is email-friendly. For instance, a technology company is more likely to have an email-friendly audience than a construction company (people who spend more time online and on email).
Inquire about the preferences of your clients. You can do this using your website, social media accounts, or in-person interactions.
When determining if email marketing initiatives will be successful for your company, getting input from the clients you serve will guide you in the right way.
To find out if your company can produce effective marketing strategies, look within your team. If no one on your staff is a great communicator, you can employ a freelance copywriter or outsource to a marketing firm.
There are no specific guidelines for determining whether to include email marketing initiatives in your company's marketing plan.
The best approach to determine if it's appropriate for your company is to give it a try. Segment your audience and run tests with small groups, much like an email marketing pilot phase launch, to reduce errors when you first start out.
The Benefits of email marketing for your brand –
Email is a marketing staple, and with good reason:
All marketing channels combined, email marketing offers the highest ROI, especially when done correctly.
Nevertheless, a lot of us choose for what seems quick and simple rather than opting for a more deliberate course of action.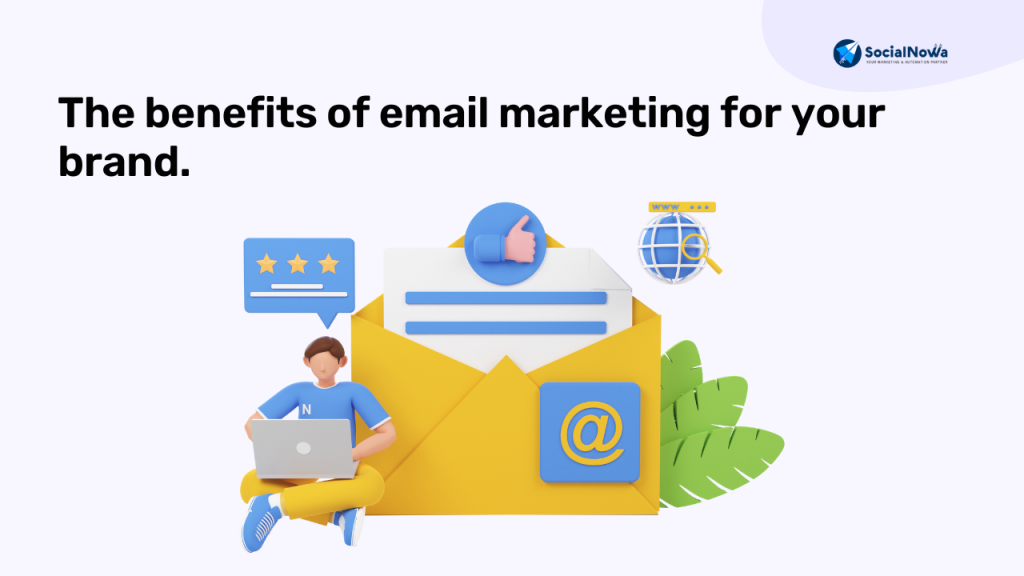 Even significant players will tell you that appealing to your audience immediately isn't always the greatest strategy.
Tara Chiarell claims that doing this frequently results in you spending more time and money in the long run.
Your brand can benefit from thoughtful email marketing, but how can you start making your email marketing efforts better? How do you begin?
Email Marketing Best Practices to Improve Your Campaigns
1. Avoid buying contact lists.
This first piece of advice shouldn't be news, but in light of the General Data Protection Regulation (GDPR), it is important to reiterate.
Email campaigns depend on a good open rate, and if you're sending emails to recipients whose information you purchased rather than earned from prior interactions, you'll notice a rapid decline in the effectiveness of your emails.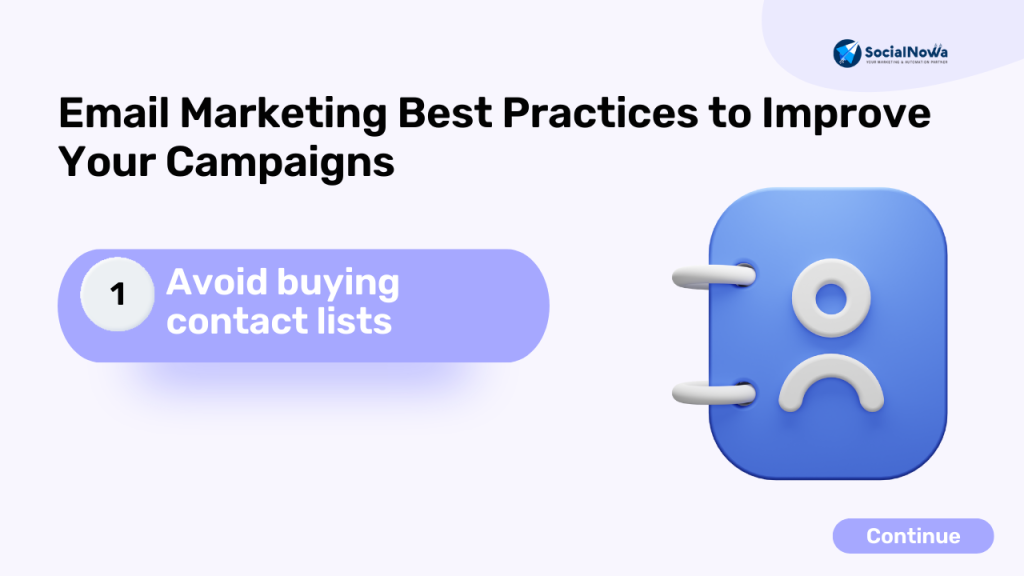 Additionally, in order to contact any European recipient,
you must have their approval under the GDPR, and purchased email lists frequently do not include this consent.
Versium Reach is a platform designed for B2B marketers that can help you own data about your target audience across numerous marketing channels. It can assist you in reaching your target audience.
2. when is the ideal time to email
Sometimes, the timing of an email is just as crucial as the content. Knowing your audience and doing tests to discover what works are the first steps in determining the best time to send email messages.
Discovering your peak buying hours is the greatest place to start for marketing emails for online stores.
When does your store sell the most goods during the day?
You may use that data to inform your email marketing approach because it provides you with a view into your customers' routines and availability.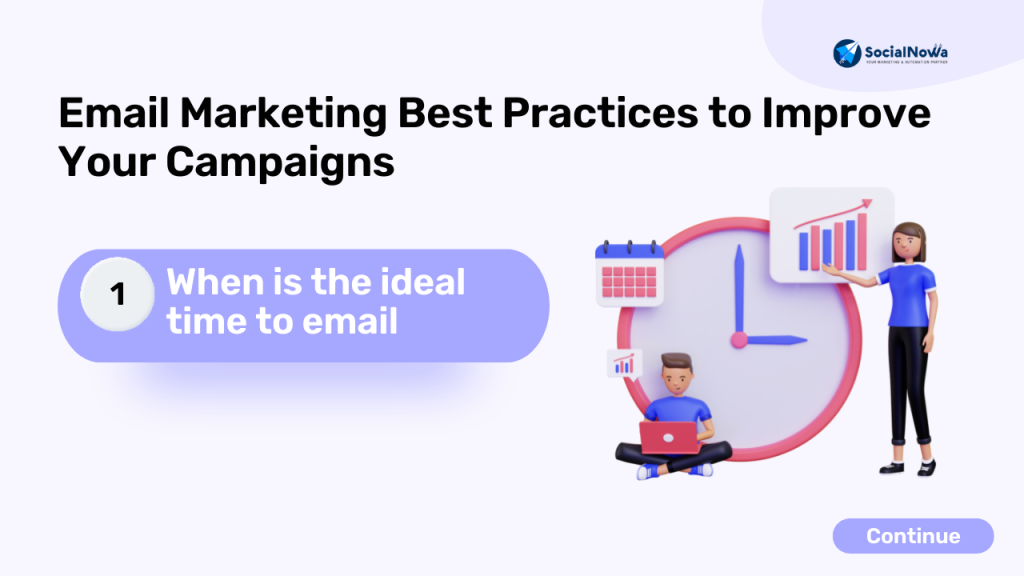 As long as you're set up for ecommerce, you can use Google Analytics to track peak buying periods. Check out our post on using Google Analytics for ecommerce if you aren't already.
It's best to send transactional emails—like an order confirmation—right away following a transaction. To get them right, lifecycle emails—which are sent in response to particular client behaviors—need a little more testing.
For instance, the ideal time to send an abandoned cart email can change depending on the cause of the abandonment and your order recovery plan.
3. Information gathering for email segmentation:
Include a preference inquiry in your welcome email,
Asking users to fill out a user profile, Existing subscribers should receive a fresh email asking them to adjust their selections.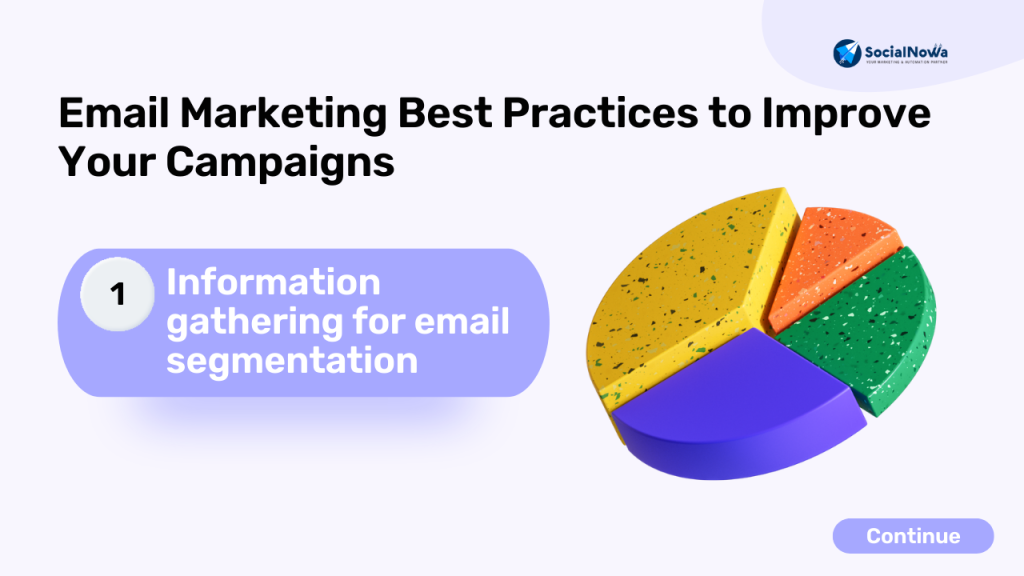 based on prior purchases segment.
Although this email may seem a little lengthy, it demonstrates how to ask your readers for more information with only one click.
4. Effectively estimate the success of your email campaigns to boost output
We frequently concentrate on the open and click through rates for each email when evaluating the success of our email marketing.
However, there are more accurate techniques to assess the success of your email marketing. For instance, click reach after opening it.
Here's an illustration: You could find out how many individuals clicked and opened your emails overall over the course of, say, the previous 30 days.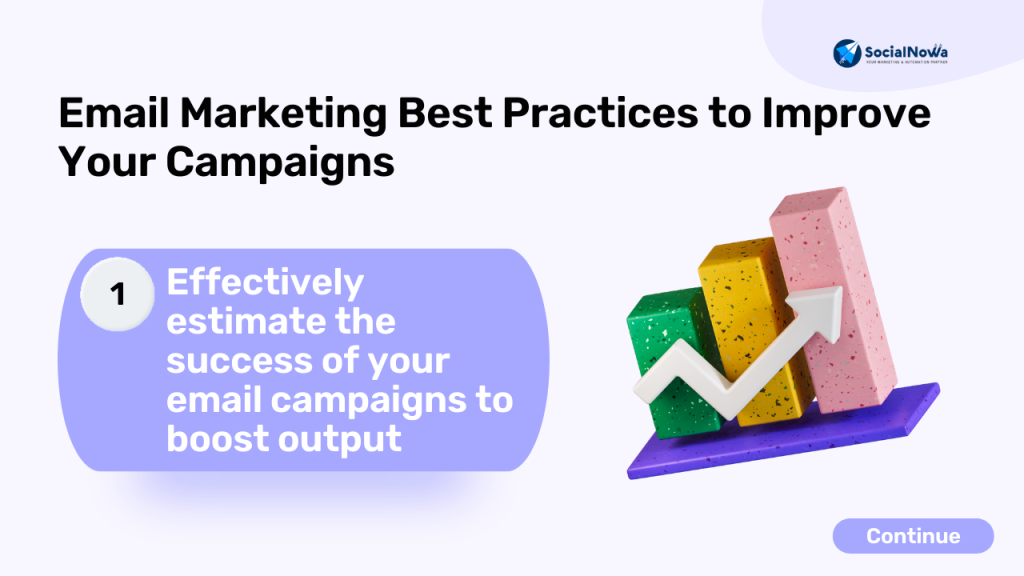 When you have segments based on active and inactive subscribers, you may use that information to customize your campaigns.
Open reach and click reach measure the overall efficacy of all your campaigns, whereas open rates and click rates simply assess the success of a single campaign.
Your click-to-open rate is another useful metric for gauging long-term interest (CTOR). The proportion of subscribers who click through after viewing your email is known as your CTOR.
The efficiency of your CTA and your content may be assessed using this statistic across several campaigns.
5. Ensure that your emails are mobile-friendly
According to research from Litmus and BlueHornet, 71% of recipients will delete an email right away
if it doesn't look right on their mobile device, according to Cynthia Price, vice president of marketing at Emma, a company that offers email marketing services and tools.
One professional advises that in order to prevent [your email] from going straight to the trash, you must concentrate on creating mobile-optimised email content that is appealing and compelling on a smartphone.
She counsels marketers to "use a single-column design that works nicely with the vertical scroll" in order to achieve this.
Use sizable graphics and provocative headings (although many marketers advise brands NOT to use sizable graphics).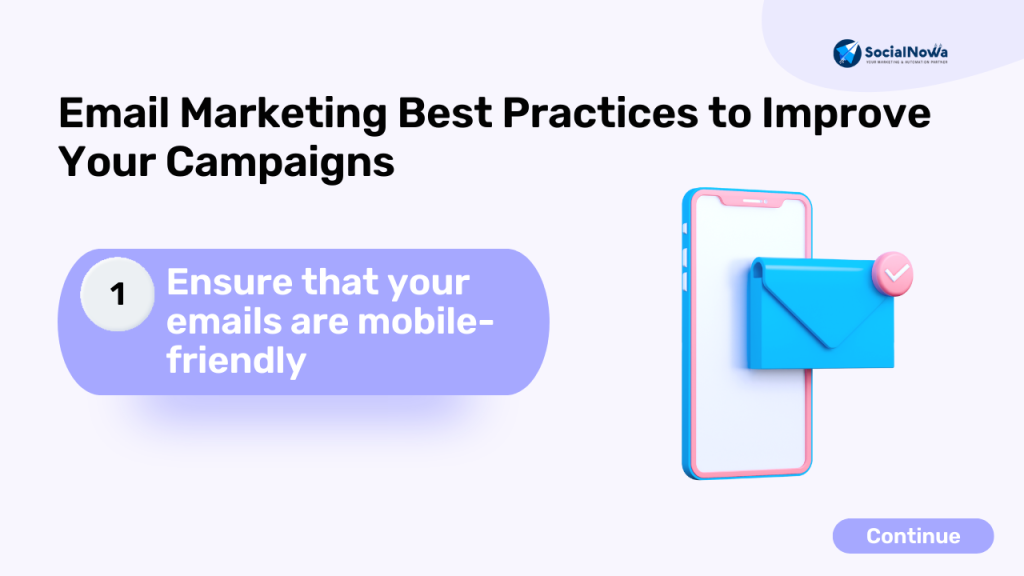 Include a lot of white space to make it simple to scan. Your topic lines should be brief. Additionally, make sure your CTA buttons are at least 44 pixels squared in size and easy to tap.
According to Vandenberg, "Email marketing services like MailChimp allow you to test how your messages look across a number of devices and inboxes,
such as Gmail in Chrome or Outlook 2011, and make sure that your designs display properly wherever they're delivered."
Use responsive design while creating your emails if you're not utilizing an email service that allows you to preview how your messages will appear on various gadgets.
According to Yes mail's most recent benchmark report, businesses with responsive design in all of their emails have a click-to-open rate on mobile devices that is 55% higher than brands without responsive design in any of their campaigns, according to Ivy Shtereva, director of marketing at Yesmail.
6. Make sure your subject line is both engaging and concise.
Make it as interesting as you can, advises Michael Weiss, cofounder & managing partner of C-4 Analytics, a digital marketing firm.
Your email's subject line determines whether you succeed or fail, he claims. "Either make a strong offer that will be difficult for your customers to refuse, like '50% off our most popular program,
or let them know about a spectacular event, like 'Duck a l'Orange is returning on Tuesday!'
If you have a segmented mailing list made specifically for your clients' individual purchasing habits, this is much more successful.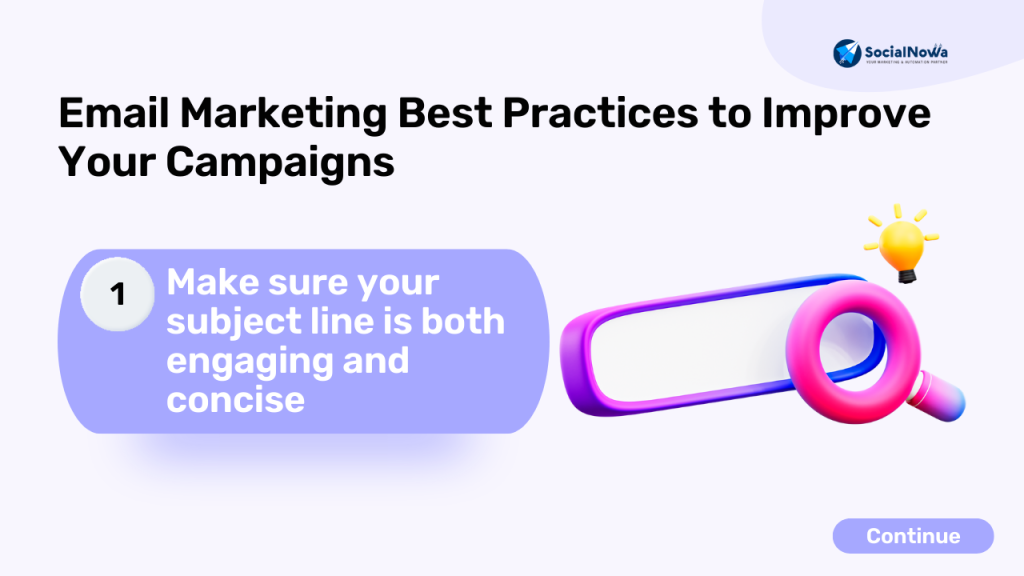 According to EJ McGowan, senior director & general manager of Campaigner, "Subject lines can make or kill a campaign."
"They ought to be engaging enough to entice recipients to read the emails and approachable enough to keep their interest.
Keep them short first and foremost since, in his opinion, anything longer than 50 characters runs the risk of being shortened. Less than 50 character lines have higher open rates.
Furthermore, "avoid being unduly aggressive, but make an effort to convey a sense of urgency in the subject line with an unique announcement or limited-time offer."
According to Sean Hay, director of retention at Sunglass Warehouse, "Short subject lines that convey urgency – [such as] 'Last opportunity!' 'Ends tonight!' etc.
get open." When we do this, we observe open rates that are up to 8% higher than usual. The email's ability to generate sales, however, "depends on the offer contained in the email."
7. Keep the key point and call to action prominently displayed.
The content that the reader may see before scrolling down is referred to as being "above the fold."
The above-the-fold material still attracts the greatest attention, despite new data suggesting that consumers scroll more than they ever did due to social media and vertical timelines.
Consumers spend 57 percent of their viewing time on material that is above-the-fold, according to eye tracking study from the Nielsen Norman Group.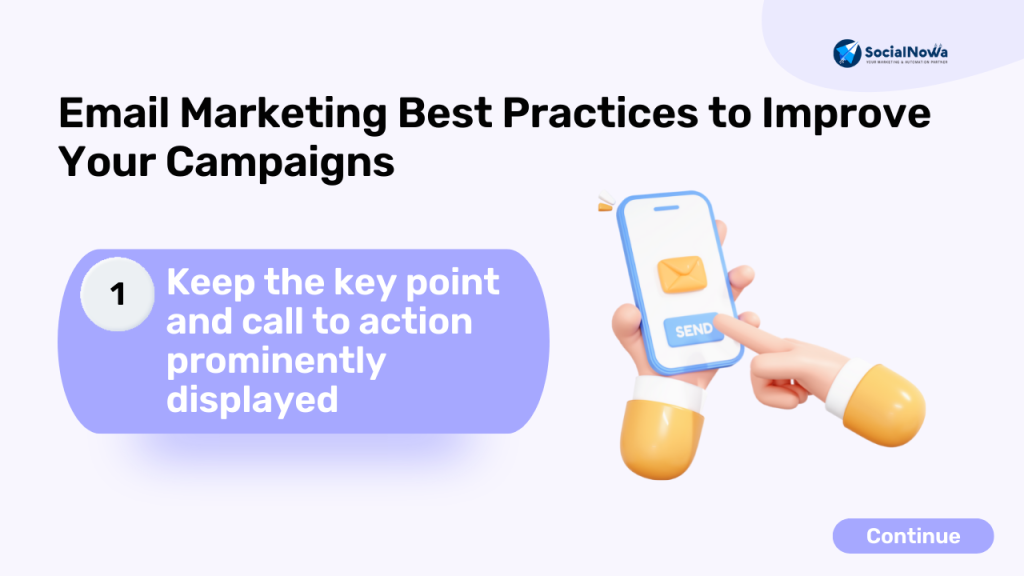 This percentage sharply drops to 17% of the second screenful and continues to fall as they scroll.
Place your message and CTA above the fold keeping this in mind. It increases your conversion rate because it will be the first thing your subscribers see when they open your email.
Additionally, you can perform an A/B test first to verify the theory and check whether it holds true for your emails.
8. Make the email salutation unique.
Do you frequently read emails that start with "Dear Member"?
The customer type they fall under (member, subscriber, user, etc.) can be used to categorise your email audiences, but it shouldn't be the first thing customers see when they open your company's communications.
By including the first names of your connections in the email welcome, you can immediately capture the reader's interest. This is known as a personalization token for HubSpot users, and creating one looks like this:
Then, by retrieving this customization token from the email's HTML,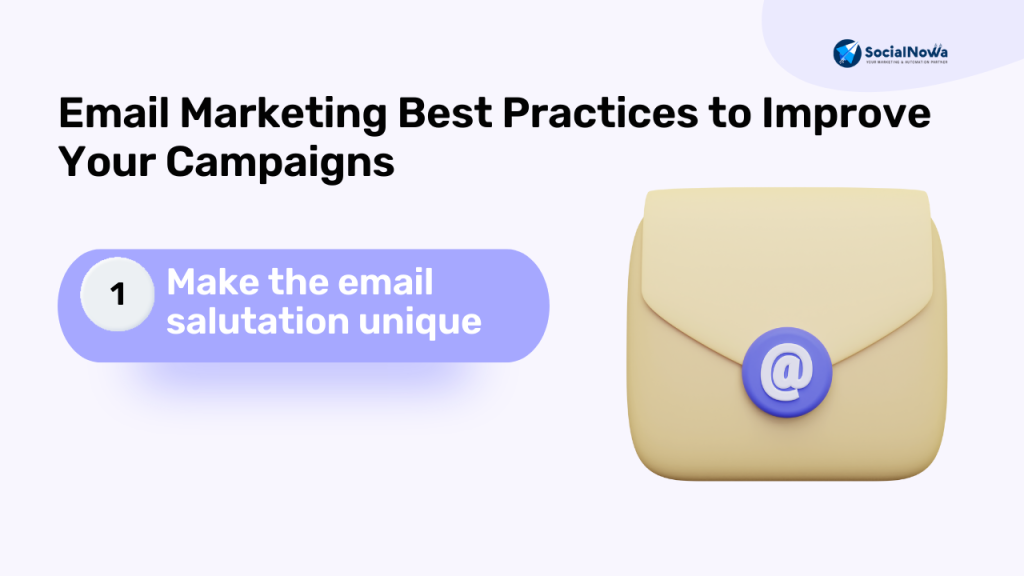 the address line of your email would automatically output the contact's first name, like in: Hi, !
You won't have to manually write and send 50 individual emails going forward,
if you personalize an email's welcome line with the names of 50 recipients.
The greeting of your email campaign may now be configured with the names of the recipients on your contact list using a variety of email marketing solutions,
ensuring that each recipient receives a customized version of the same message.
Conclusion
Even if consumers receive hundreds of emails every day, this does not mean that your emails should be ignored.
You can revitalize the types of emails you send by revitalizing your email marketing initiatives.
Use the strategies listed above to help you generate emails that are more engaging, strengthen your brand, and persuade them to buy from you again.