Introduction –
AI chatbot platforms have revolutionized the way users interact with businesses. More and more companies are taking advantage of interactive AI bots to enhance their customer engagement strategies. Every business has different requirements and they need to implement an effective chatbot strategy to suit their usage.
57% of businesses agree that chat bots provide a great return on investment (ROI) with minimal effort. Obviously, the bot ecosystem has changed for many businesses using chat marketing, and the goal is: Quick, creative and easy customer service.
Having the right chatbot platform helps you build a strong bot on your website or Facebook, engage users 24-7, and provide instant information whenever needed.
It plays an important role in designing the best AI chat bots for businesses that serve as a direct line between consumer issues and solutions.
In order to simplify your queries, we have choose the best bot building plans of plans of action out there.
What is an AI chatbot platform ?
A chatbot is a specialized computer program that uses artificial intelligence (AI) to interact with people, either through audio or text input.
Programmers make chatbots realistically mimic how humans speak as conversational partners.
Why should people use AI chatbot platforms ?
A chatbot can enhance and engage user interactions with less human intervention.
This eliminates bottlenecks in customer support that can occur when demand outstrips resources.
Instead of waiting on hold, users can get answers to their questions in real time.
List of chatbot platforms –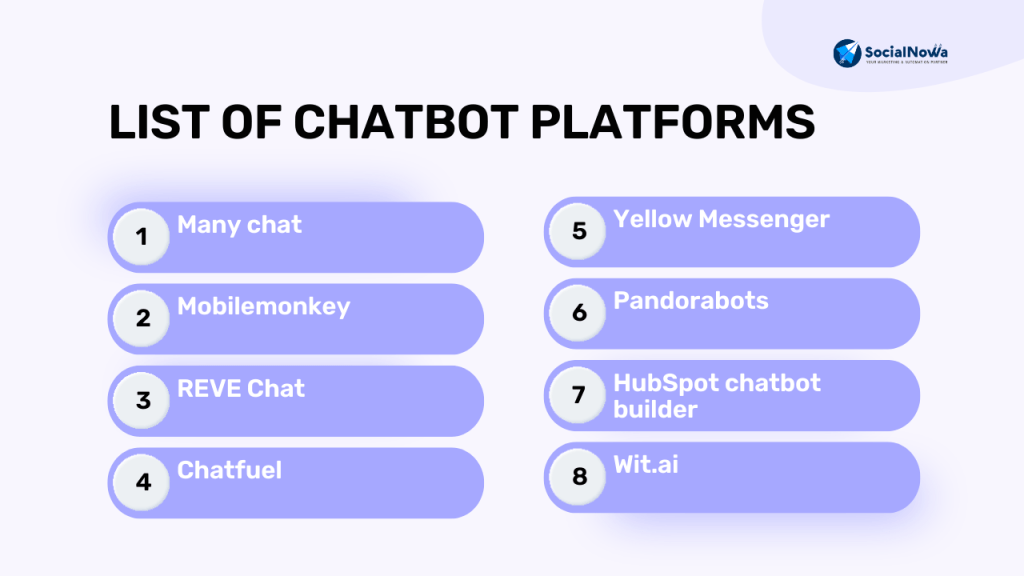 SocialNowa Chatbot
Many chat
Mobilemonkey
REVE Chat
Chatfuel
Yellow Messenger
Pandorabots
HubSpot chatbot builder
Wit.ai
ai chatbot platforms is the best bots platform on the market and a tool based on features. antique designs, and pros and cons, helping you make the right decision and then you can build a good chatbot.
1.SocialNowa Chatbot –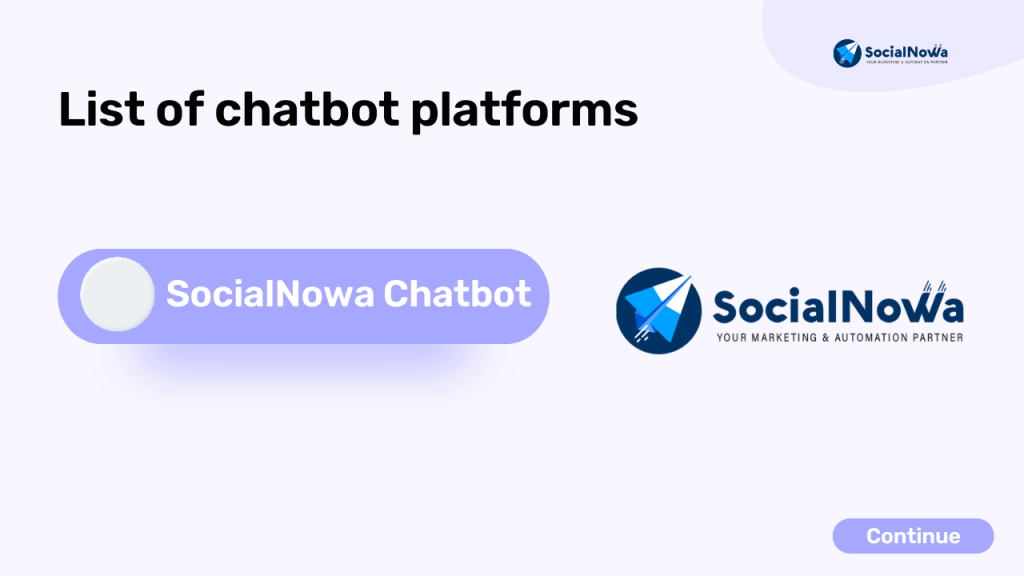 Key Features
1) Instagram Reply; Now your Instagram followers will never feel ignored. With the help of SocialNowa you can automatically reply to their Instagram comments.
2) Instagram posting; Share videos or images to Instagram. You can automate all the tasks by using our scheduled posting feature, of SocialNowa plus much more.
3) Contactless menu; Contactless QR code menus are here to stay, and now you can create a virtual menu for your restaurant and even sell.
4) Analytical Marketing; Grow your business with SocialNowa's amazing Analytics feature where you can get Facebook Page and Messenger Analytics on a dedicated Graphical Report Dashboard.
5) WordPress integration ; Share content across WordPress, the most popular blogging platform in the world, or on your WordPress website, or both.
6) Import previous subscribers; Just one click you will be able to import all your previous messenger subscribers to SocialNowa bot.
7) Facebook auto comment ; Auto comment on comments left on posts created by your Facebook Page.Comment based on keywords or use standard replies or make your own reply.
8) Facebook Messenger Bot ; Automate Facebook Messenger replies to customers' most FAQ, qualify leads, set up appointments, sell products and much more.
Pros –
Best technical support.
You can automate Instagram posting,Instagram Dm,reply,comments.
Contactless QR code menus.
Just one click you will be able to import all your subscribers (Easy to use)
Cons –
2. Manychat –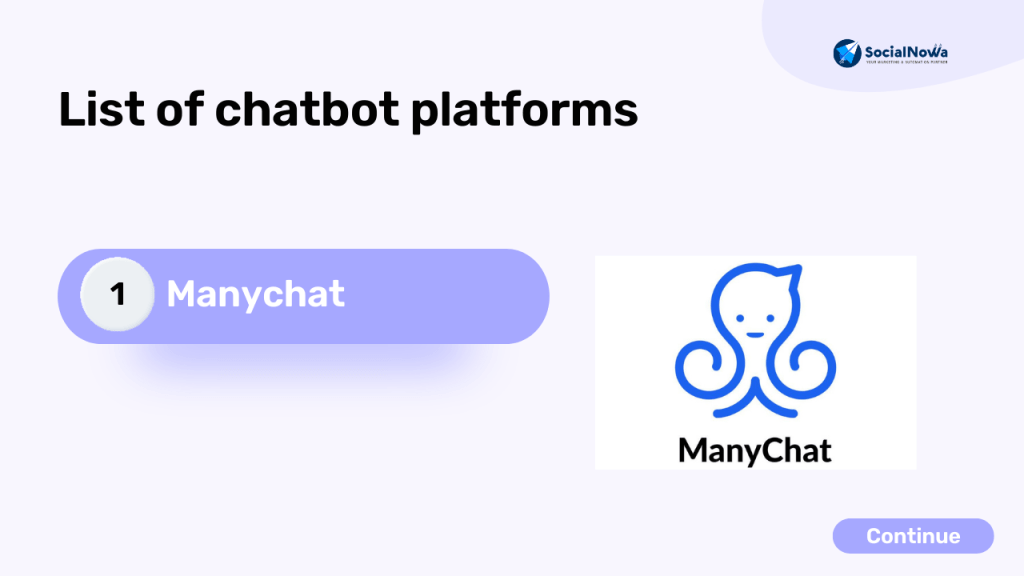 this platform is also one of the best tools that lets you create Facebook Messenger bots to market your brand .
ManyChat is a widely accepted ai chatbot platforms that automates & combines Facebook Messenger and SMS to grow your business.
It is an excellent platform to build your chatbot and deployed on Messenger for use cases on sales, marketing, and customer service.
Key Features
Automate conversations.
Segment your contacts.10 customer Tags
Email support, anytime
Pros –
Save time and money. Integrations to tools you already use
Make it your own. No ManyChat branding
Email support, anytime
Easily integrates with third-party tools.
Cons –
Poor technical support.
No WhatsApp support channel available.
Pricing –
Many Chat Provides free and paid plans.
The pro plan starts at $15/month for 500 subscribers, and at $145/month for 25,000 subscribers.
3. MobileMonkey | Chatbot Platforms (2022)
This chatbot is the World's Leading OmniChat platform MobileMonkey is the only platform that allows marketers to make Facebook ad bots, SMS bots, and native web chatbots in one place.MobileMonkey have ,millions of customer base they have Web Chat, SMS, Messenger, Instagram and WhatsApp.
Key Features
Instagram facebook automation
Bots work in web chat,SMS & facebook
MobileMonkeychatbot platform allows businesses to change chat marketing content across any chat platform.
Automate follow-up and lead.
Pros –
Easy to use with no coding needed for set up
Accept Paypal and Stripe
Get alerts on quality leads
Cons –
Normal reporting capabilities
It is limited to Facebook Messenger only.
Pricing –
MobileMonkey offers both free and paid plans. The Pro plan starts at $14/month, and $50-$500/month Agency Chatbot Fees, Team plan at $199/mo.
4. REVE Chat | Chatbot Platforms (2022)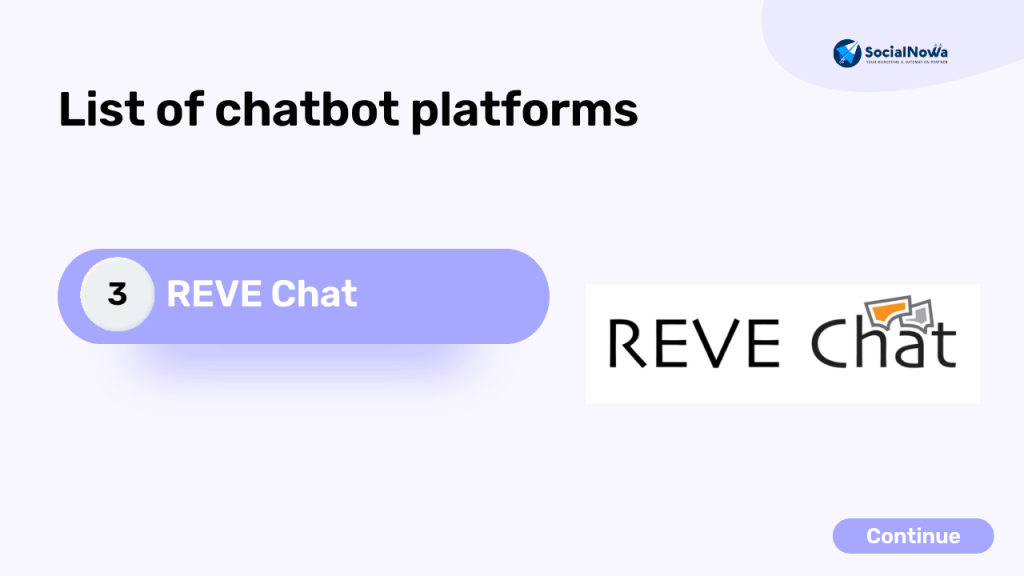 Chatbot is a multi-channel cloud based live chat software which helps us to assist our customers virtually with co-browsing live chat support.
This chatbot provides visual flow builder,human handover,Auto Triggers.
Key Features
Visual Flow builder
FAQs
Human handover
Sentiment analysis
Fallback option
Pros –
Target your website visitors with the right messages at the right time with proactive chat triggers based on the URL.
Training your chatbots with normalisation and bulk machine learning
REVE Chat Allows connecting with your Google calendar to book appointments & meetings in an easy way.
Cons –
Not available on WhatsApp channel. but under progress and will be available soon.
Pricing
Standard plan start with13.5$
Advanced plan 22.5$
Enterprise 45$
5.Chatfuel | Chatbot Platforms (2022)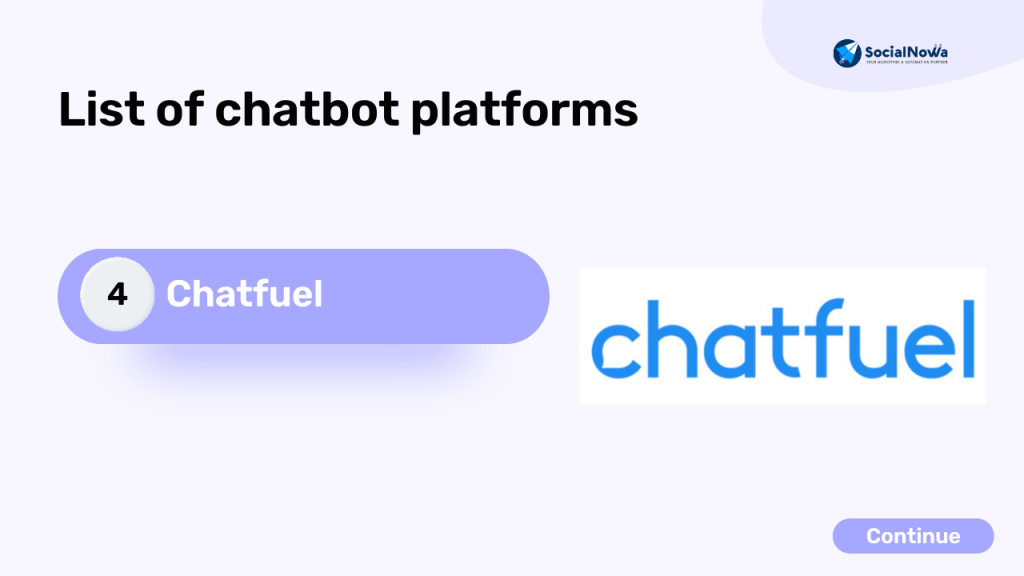 Chatfuel is leading chatbot platforms in the market for Instagram,Facebook, messenger.you can build chatbot as per your requirement,people can market their product with help of chatbot with help of chatbot you can solve customer queries too.
Key Features
Automate FAQs and reduce costs
Easy to use platform for building chat
Increase sales with a bot drip campaign
Automate FAQs and reduce support costs
Pros –
Easy to use platform for building chat
chatfuel provides support in almost 50 languages.
30-day refund for all our paid plans
Cons –
The pricing are too high
Strict validations for pre-defined sequences.
Pricing –
Chatfuel provide trail plan for Free 50 conversations,Entrepreneur
Plan cost 10$Startup plan cost 40$ small business plan cost 125$ this is the pricing of chat fuel.
6.Yellow Messenger | Chatbot Platforms (2022)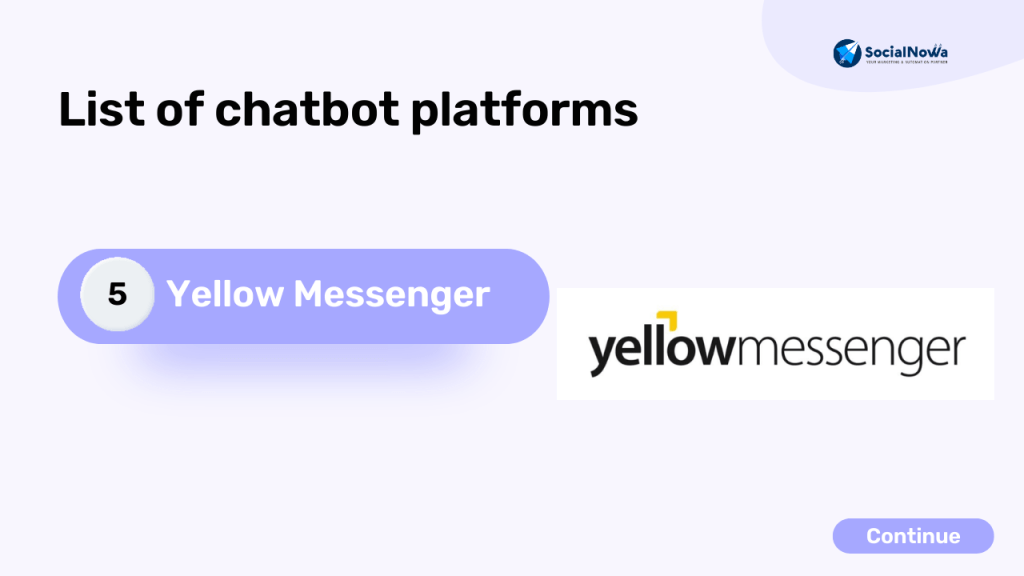 Yellow messege carrier is a platform that builds virtual assistants ast scale to positively impact and also help in growth. It is good for any conversational team you have working in your operations team, i.e. customer service, service desk, etc.
Key Features –
Yellow messenger have WhatsApp automation
They provide Customer support
Pros –
Offers live chat takeover
Push notifications when generating engagement
Cons –
No location-based marketing
Lack of documentation.
Pricing
For pricing, yellow messenger you need to request a demo to get pricing of yellow messenger.
7.Pandorabots | Chatbot Platforms (2022)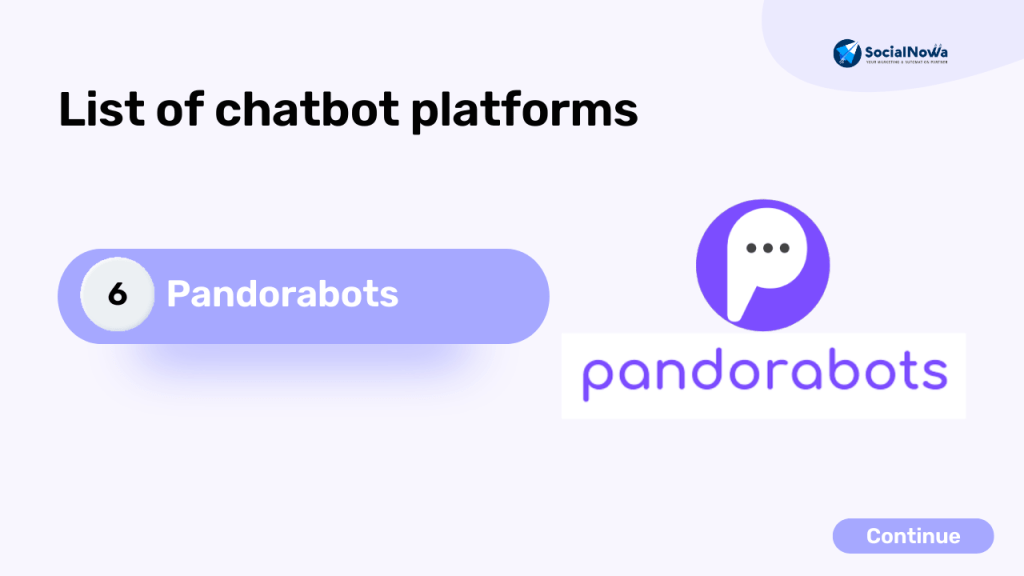 Pandorabots is an ai chatbot platforms which allows people to build there chatbot on website,mobile applications and messaging apps,The Pandorabots chatbot framework is based on Artificial Intelligence.
Key Features
Clever than your average decision
Easily add speech-to-text and text-to-speech
Write AIML scripts in any natural language
Pros –
No platform lock in own download your cod
Deploy to messaging or voice channels
Cons –
Pandorabots utilise their own language
Pandorabots cannot licence and download
Pricing
Pandorabots have 2 week free trial amd monthly plan start 19$,
Pro plan cost round 199$ and for enterprise you have to contact them
8.Hubspot chatbot builder –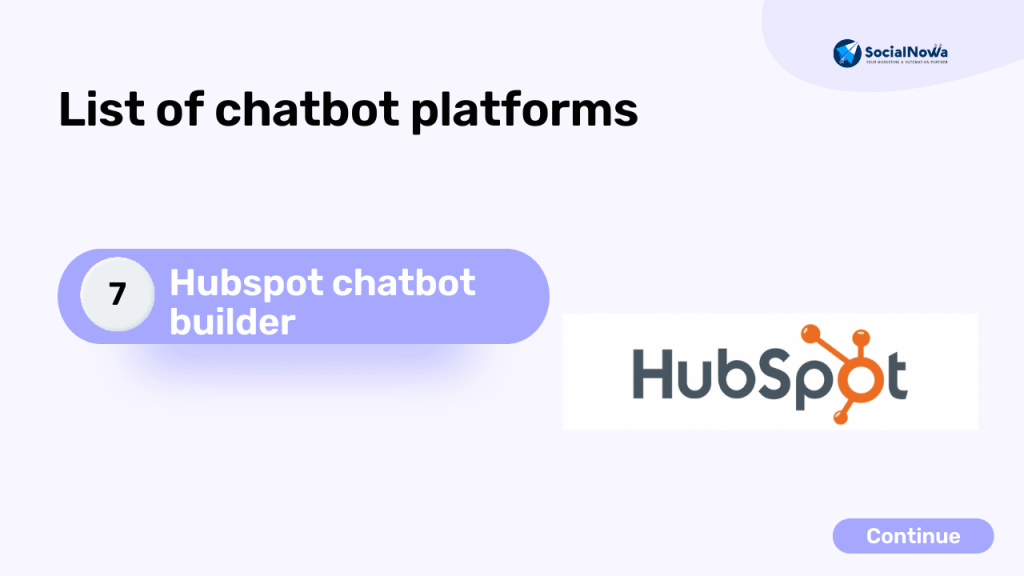 Hubspot is a marketing service, a CRM platform which offers live chat chatbot for your website.The chatbot platform is integrated with HubSpot's free CRM tool, which means your bots can deliver more personalised messages based on the information you already have about your customers.
Key Features
Certainly HubSpot has the best key feature that is automatically sync all the data collected by the bots .
HubSpot, chatbot dont give robotic feel to customer
Pros –
Hubspot Provide easy bot setup with just a click
You can make your own customise bot without coding
Cons –
Hubspot have High price of plan
Chat interfaces can be difficult for visitors
Pricing
Starter 45$ month
Professional 800$ month
Enterprise 3,200$ month
9.Wit.ai –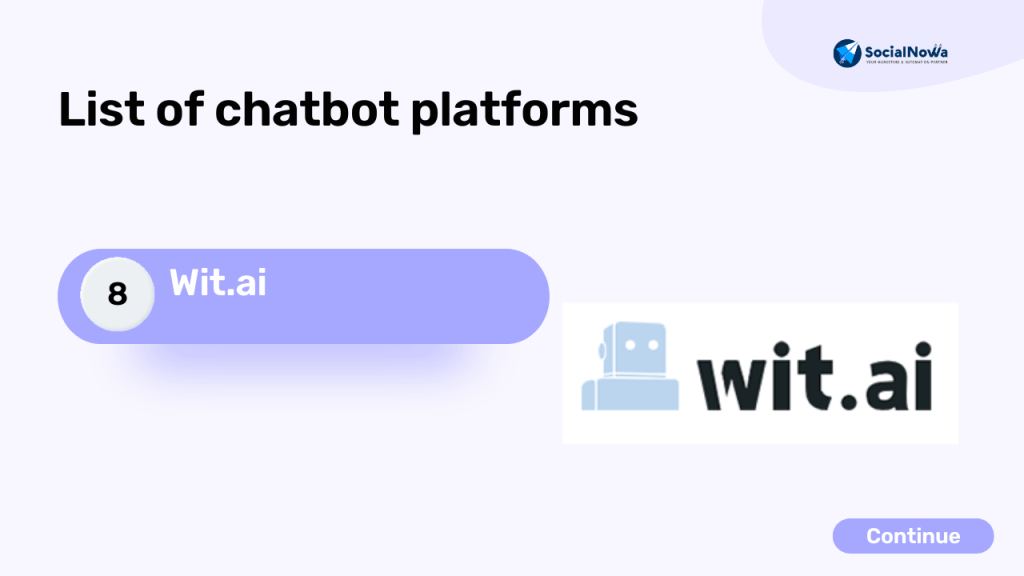 Wit.ai is a free chatbot software in thai you can easily create text or voice bot on your preferred messaging platform wit.ai make multimodal interaction available to anyone.
Key Features
Create customizable experience for people where are they
Build intelligent chatbots for social channels
Wit.ai chatbot know as many languages
Pros –
Easy setup and deployment
Lagar in community
Cons –
Lacks the required slot
Pricing
Wit.ai is a free chatbot platform. You can create a Wit.ai account by logging and you can use it as per requirement .
Some Other AI Chatbot Platforms in 2022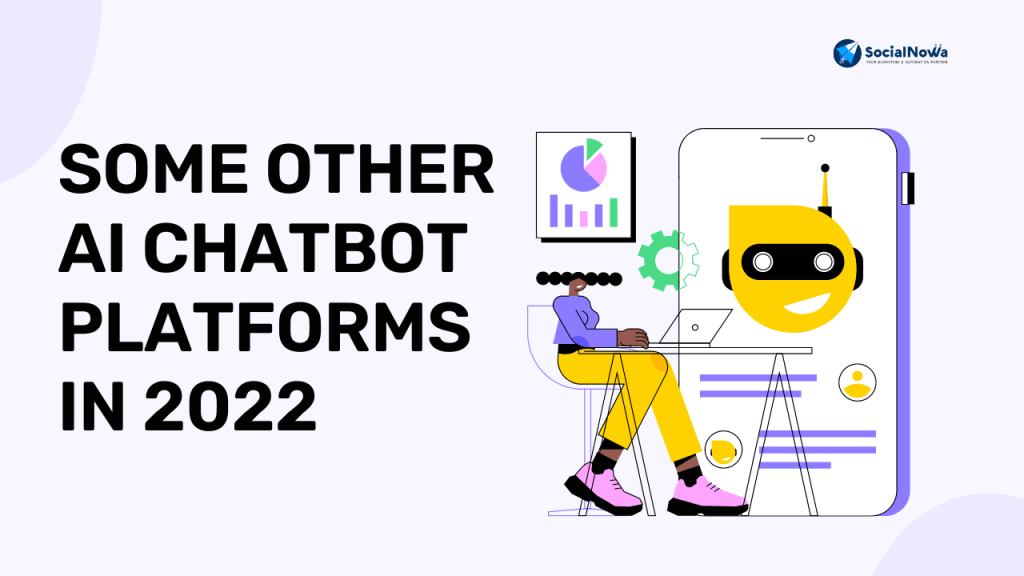 1. Aivo –
Aivo was launched in Argentina in 2012 when its founders were looking for a way to reinvent communication between companies and their customers.
Today, with offices in nine countries, it is one of the largest and most successful AI chatbot platforms in the world and has had more than 120 million conversations worldwide in 2018 in English, Spanish and Portuguese.
Their customers involve Visa, Uber, LG and General Motors.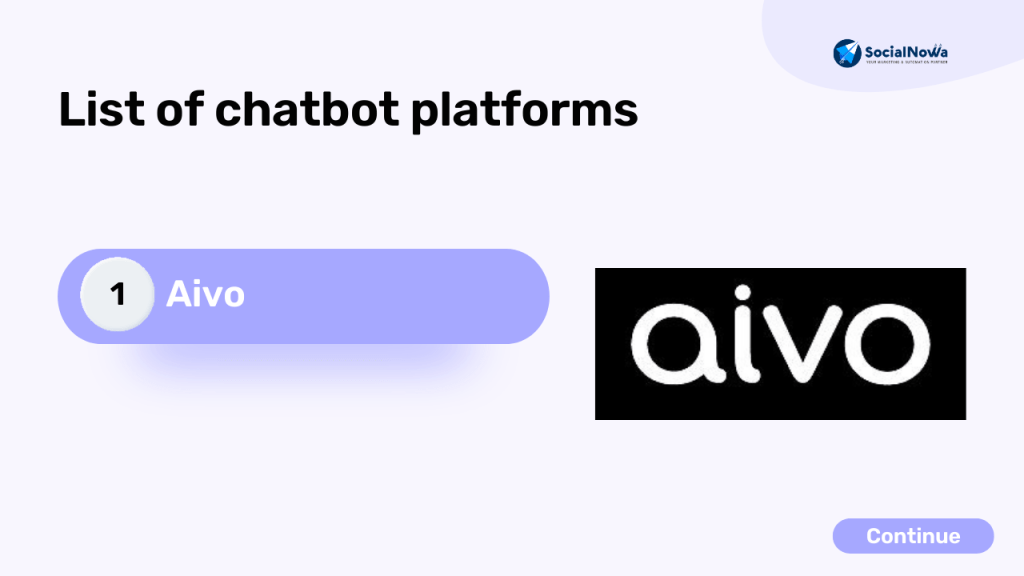 Aivo creates bots for organizations of entire shapes and sizes.
Their bots are AI-powered and allow your business to respond to customers in real-time with text or voice, and can be configured to understand different rules for each channel, then automate accordingly.
Adapt to present answers. It integrates easily with a number of third-party tools, including Salesforce and Zendesk.
Pricing for Aivo's AgentBot starts at $75 per month, which includes 1,000 monthly sessions.
Additional sessions cost $26 per 100. It further comes with a 30-day free test.
2. ItsAlive | Chatbot Platforms (2022) –
This French startup has become one of the best AI chatbots for Facebook Messenger.
It helps businesses reduce response time to frequently asked questions by detecting keywords in Facebook Messenger and responding directly through chatbots.
As most AI chatbots are worth their salt, you can hand over the conversation to a human when needed.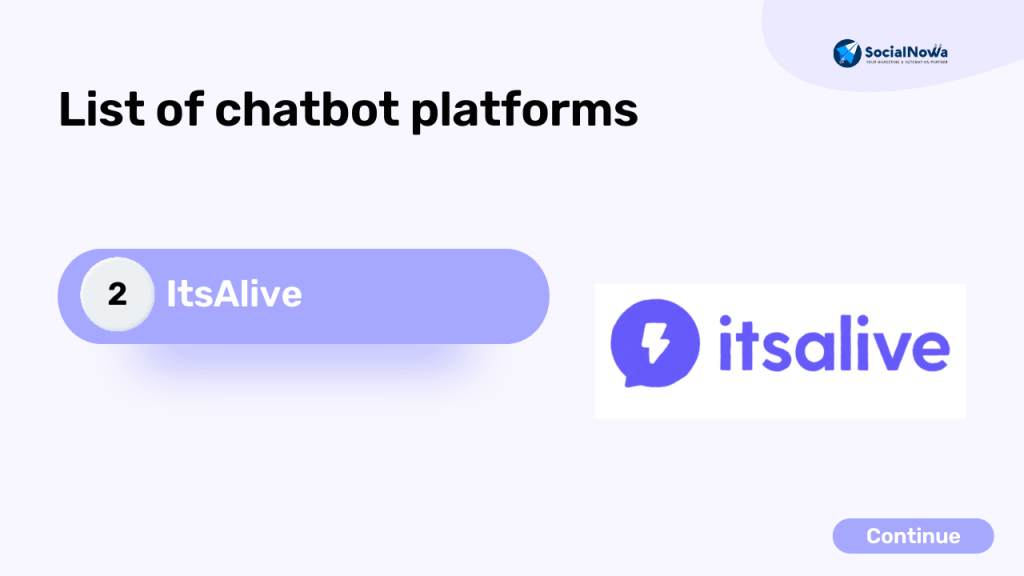 ItsAlive is a bit more tech-oriented than counterparts like MobileMonkey and Chatfuel, though it goes to great lengths to ensure that non-tech users can use it as well.
Its bots work with keywords it learns from users to answer their questions in the future.
It also uses recipes to automatically respond when users use specific keywords or phrases.
You can add as many recipes as you want and turn them on/off as you wish.
Major clients include Coca-Cola and Johnson & Johnson.Its free plan lets you send 1,000 messages per month.
Its Pro plan is $99/month and includes full analytics and KPIs, as well as lead generation and intercom support.
3. Imperson | Chatbot Platforms (2022) –
Imperson is one of the leading agencies in enterprise chatbots that support text, audio, video, AR, and VR across all major messaging platforms.
Its full-service creative studio deploys and hosts your bot, and provides an advanced analytics dashboard including real-time insights to optimize performance.
They also monitor your chatbot's performance and constantly customize it based on user behavior.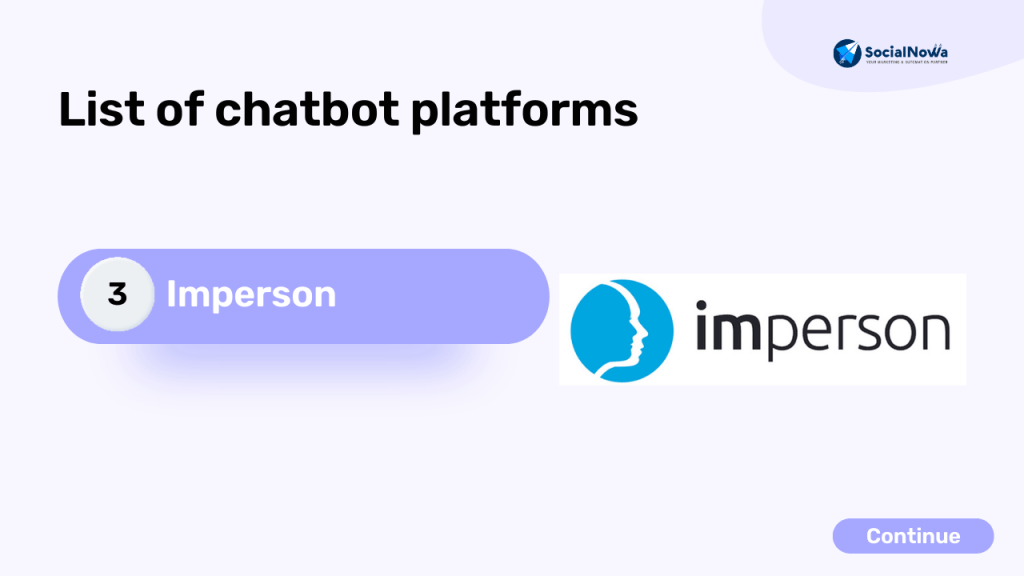 Conversation Navigator uses relational memory, NLP user intent, and deep conversational context to guide conversations.
And an AI moderator helps users achieve their goals.
According to its website, Imperson strives to develop its bots to use natural language that matches the authentic voice of each brand to create connections with consumers that translate into relationships.
Its partners and customers involved Disney, Microsoft, Amazon and National Geographic.
4. Bold360 | Chatbot Platforms (2022) –
As the industry's most tightly integrated agent and bot solution, Bold360 uses AI to make agents more efficient and provide a seamless transition from bots to agents.
What makes Bold360 unique is that it patented its natural language processing technology to help brands build chatbots that can understand their customers' intent without the need for keyword matching.
Its conversational AI can interpret complex language, remember the context of an entire conversation, and respond to users with natural responses.
Customers can also purchase your products through a chatbot.
You can further give your chatbot its own character and run it on almost all messaging channels.
Bold360's clients involve companies such as Intuit, Edible Arrangements, and Vodafone.
5. Meya AI | Chatbot Platforms (2022)-
Meya AI helps you build sophisticated bots or 'cognitive applications', as they call it, without getting stuck on the basics.
Its cognitive framework contains everything you'll need to build an AI bot and lets you build, host, and train your cognitive application/AI bot in one place.
Its bot studio has an encrypted editor, test chat, live correcting and visualizer.
It integrates seamlessly with third-party applications and lets you easily scale your bots to take advantage of the largest population.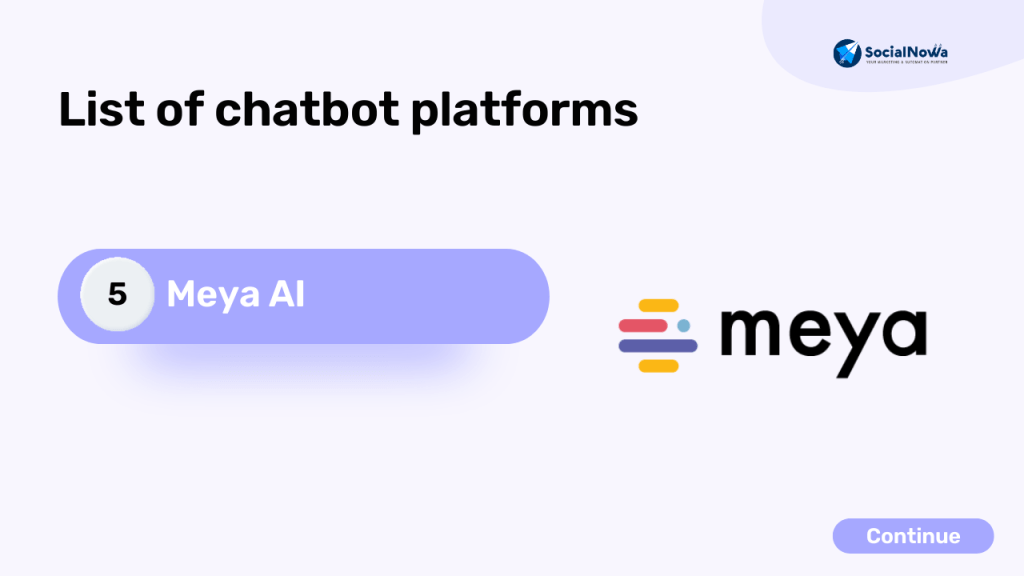 Meya has a dedicated customer support manager with whom you can communicate through a private Slack channel.
You can expect to receive a response to any question within 12 hours.
Its cloud-based system lets you and your team work collaboratively by allowing them to connect directly to your business backend to send and receive data.
You will also be able to gather insights about your customers and keep them engaged with your business.
Mia offers a 14-day free trial. Its standard plan costs $99/month.
6. Botsify | Chatbot Platforms (2022)-
If you're in a hurry to get your bot set up and going, Botsify is the platform for you.
It is a very easy to use tool and you don't need any programming knowledge to use it.
For example, it lets you build intelligent chatbots for sites like Facebook Messenger, Slack, and others without coding.
It's as user-friendly as it comes, with customizable templates and a drag-and-drop interface.
The bot can be taught how to handle complex interactions in the future and allows a live agent to take over the conversation at any time, which can be very helpful if human intervention is urgently needed.
The platform introduces conversation forms that collect information from users through chatbot conversations and it offers plugins to integrate your platform with chatbots via JSON API or RSS Feed.
Their customers include Apple, Shazam and UNICEF.
Botsife's Pro plan costs $50 per month. It will give you unlimited chatbots, up to 30,000 unique users and unlimited messages. It further offers a 14-day free test.
7. Botscrew | Chatbot Platforms (2022)-
The BotsCrew chatbot platform is a perfect solution for mid-market businesses and enterprises.
The team can adapt the platform to your needs and guide you through the entire development process.
So it's a low-risk, low-effort solution that can be scaled and stored on your servers if you're security conscious. And on the other hand it is more valuable.
You can begin with the platform on your own. The platform was built with non-coders in mind.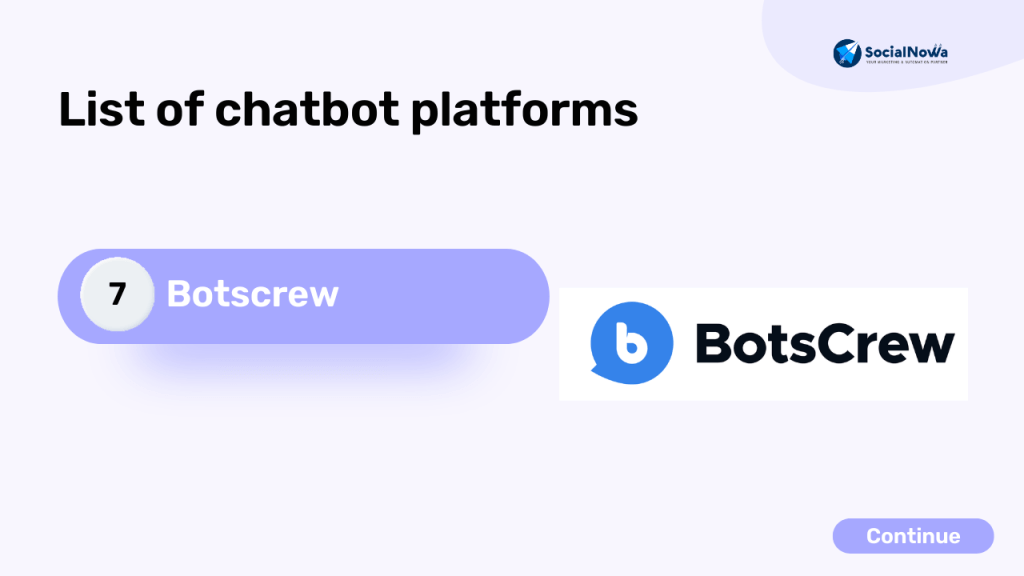 It allows you to create, update, train and analyze the results of chatbots on the go with a simple, user-friendly interface.
The platform currently offers multilingual bots with native integration with FB Messenger and website widgets.
You can connect to other platforms like WhatsApp, Twitter, Telegram etc. on demand.
The bot you build will live on multiple platforms and doesn't need to be replicated.
BotsCrew chatbot platform pricing starts at $600.00 per month, but pricing can vary based on the integrations, features, and customizations you want.
Setup fees typically start at $3K.
8. Zendesk –
Zendesk is a popular AI chatbot platform of choice for brands.
One of the most straightforward chatbot applications to install, it integrates naturally into all types of media: voice, chat, social networks.
The benefits of Zendesk are outstanding: advanced personalization, sales/conversion tracking, and real-time monitoring.
It allows you to keep a record of all information related to chats from a single screen, allowing setting of objectives and various follow-ups.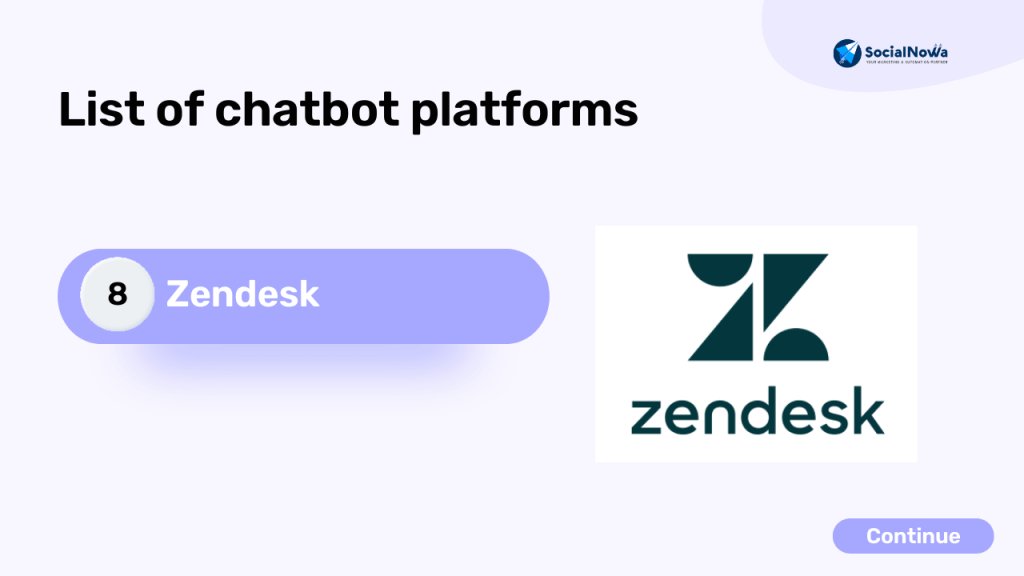 It is one of the best live chat tools for a wide range of businesses, be it small or big.
This may be suitable for 24/7 online service portals that require extensive knowledge base and FAQ searches.
Also, the free plan may be sufficient for smaller websites that only need one chat at a time.
9. Olark –
Olark is a great alternative for businesses that want to attract potential customers, increase sales and offer support.
Olark's advanced plans offer everything you need for optimal interaction and management: custom chat boxes, access to chat history, monitoring team performance, or conducting pre-chat surveys. possibility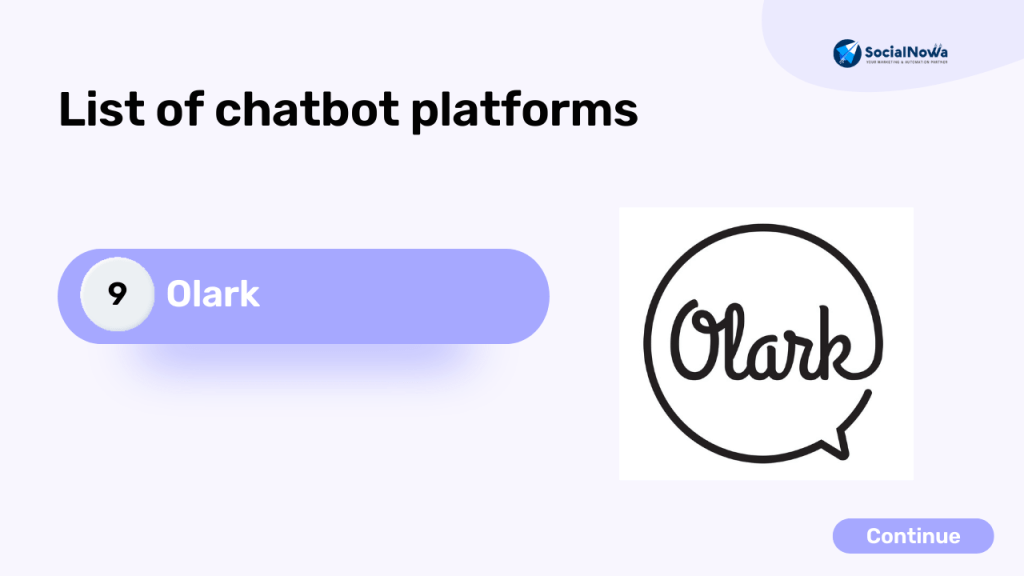 This conversational marketing platform is perfect for any business looking to grow, as it's designed to help you get leads, increase sales, and provide support.
10. Userlike –
UserLike is a chatbot application that can be applied on your WordPress site.
It stands out for its excellent design that enhances user experience: chat widgets, chatbots, and natural integration across platforms, CRM, and email.
It also enables analytics reports so you can improve conversation performance and optimization.
Eventually, they deliver GDPR compliant services, making them an ideal option for companies in the European Union.
It is recommended for medium-sized teams that need live chat that meets the needs of their users and allows for various integrations with their tools.
What are Benefits of business of using AI chatbots?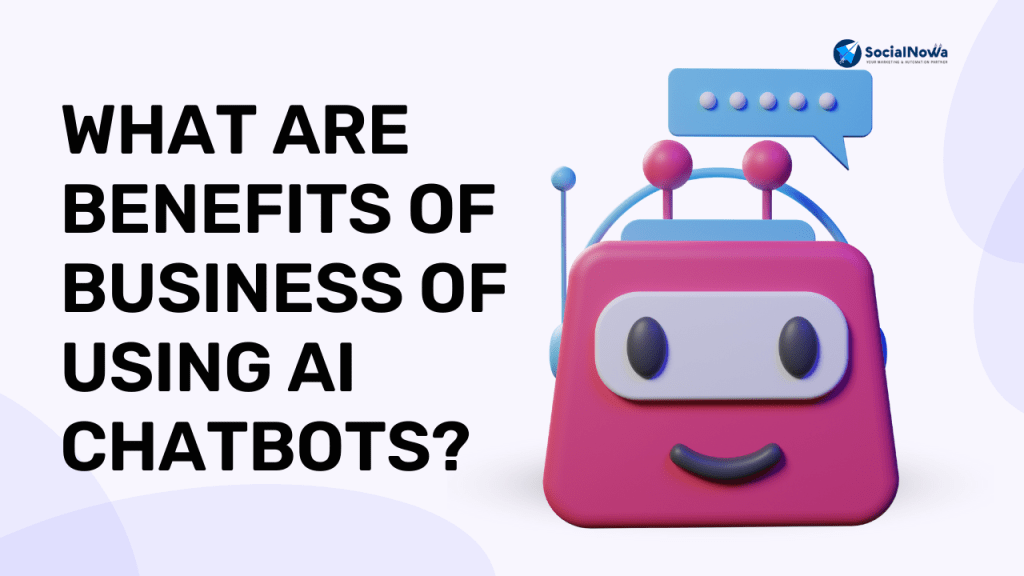 Be present across all platforms to reach your consumers:
Companies are now available on every channel imaginable, including the web, social media sites, and even mobile apps. If you can consistently communicate with your consumers across all platforms, having an omnichannel presence is advantageous.
Companies can create an omnichannel presence and maintain consistent interactions across all channels with the aid of conversational AI chatbots.
This occurs as a result of the customer support team dashboard that AI/CX provides, allowing the team to view all tickets from a single panel. Customer experience agents can quickly reply to tickets that need attention with the aid of this dashboard.
Building a well-rounded online presence is an essential component of brand marketing. You may simply attract clients from wherever. This therefore assists you in developing a high brand recall value for potential consumers as well as an increased rate of client loyalty and retention.
Fast & Efficient AI Chatbots for inquiry resolution:
AI chatbots are able to read, comprehend, and accurately answer user questions in just a few seconds.
When developing a chatbot for a business, it is essential to provide the chatbot with all relevant client information, business functions, and appropriate instructions. This establishes a foundation for the chatbot's ability to comprehend the nature of the client inquiry and possible solutions.
An AI chatbot can process all information given to it, understand user journeys, and assist with problem-solving depending on the best approach.
However, there is a seamless transition between the chatbot and the real person if a customer's question is complicated and cannot be answered by the chatbot.
AI chatbots are available around-the-clock:
The technologically advanced world of today cannot wait. You can be contacted by clients (and potential clients) day or night. You must be available at that precise moment.
Customers can contact many companies at once if they have access to the internet and are tech-savvy. Brands compete fiercely with one another, and winning depends on providing the best consumer experience.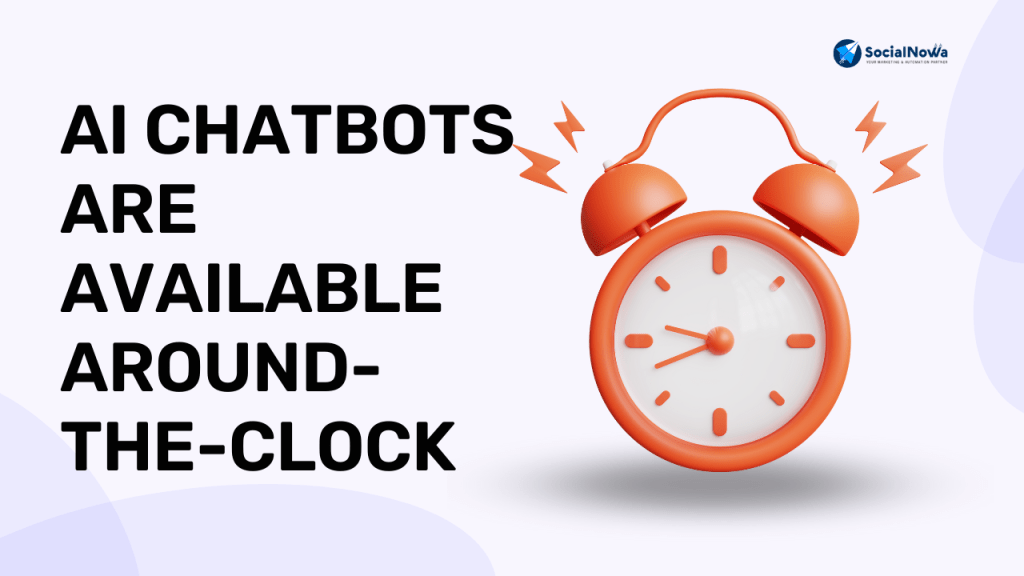 Customers view businesses who have a strong online presence and 24-hour customer support as having an advantage. AI chatbots can provide you the competitive advantage you need to succeed.
Customers that use your goods or service would also require immediate assistance. Brands that can deliver this level of customer care will dominate the competition for consumer loyalty.
Simple analysis and development:
AI chatbots have an analytics dashboard for getting more in-depth insights and useful data. Utilizing artificial intelligence, businesses may use this information to enhance the consumer experience.
It's crucial to comprehend the difference between a decent and outstanding client experience. A company may miraculously upend its CX game if it recognises this gap and takes action. AI Chatbots may be enhanced for better outcomes using simple analysis and a data-driven strategy.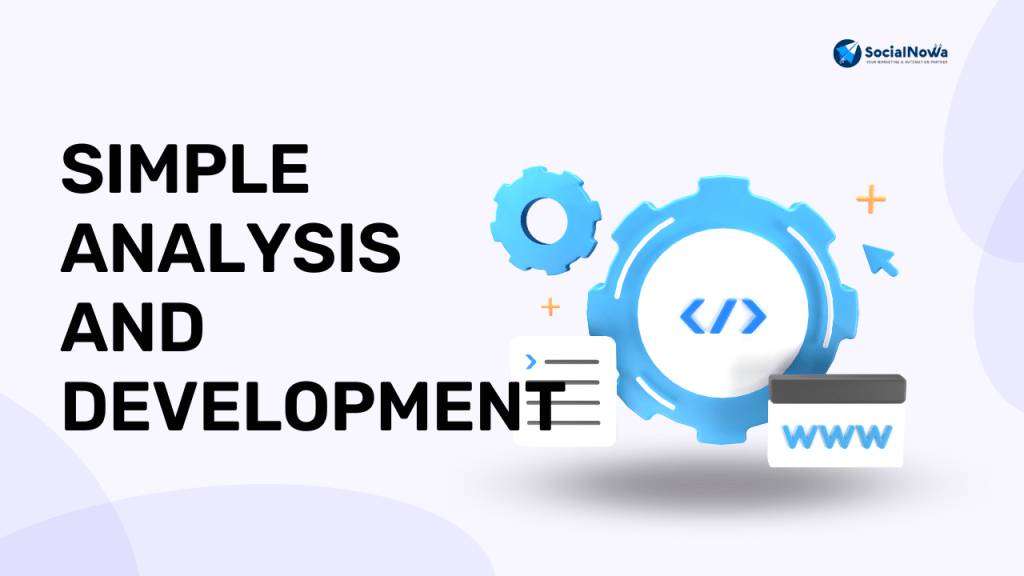 Chat volume, goal fulfilment rate, number of bots launched, bounce rate, fallback rate, retention rate, and satisfaction score are just a few of the data that may be captured for study. These are really cliched insights. You may also create custom analytics based on the needs of your business in addition to these.
Increase Support Volume with AI Chatbots:
Customer support is a very challenging and time-consuming activity, especially for large businesses.
When there are thousands of tickets, calls, and emails, providing customer service becomes impossible. Customers frequently ask for things like altering contact information, updating data, tracking orders, asking for exchanges, and assistance with technical problems.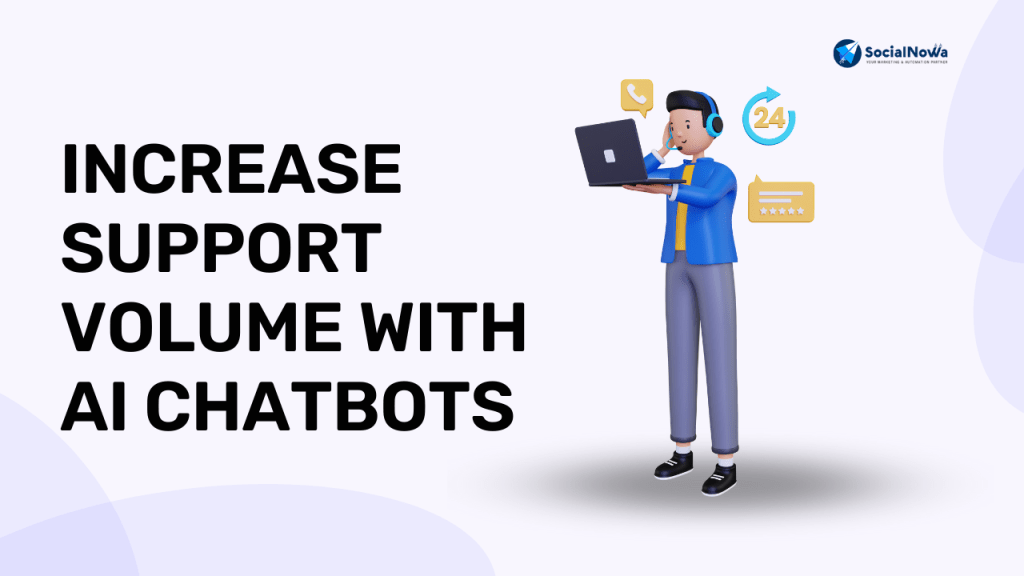 It takes a little time but is easy to handle these straightforward requirements. The purpose of AI chatbots is as follows.
Use AI chatbots to increase customer engagement
Business owners place a high importance on keeping clients interested. Customer interaction has various advantages for marketing and sales, including increased brand recall value, high-quality leads, and devoted clients.
The potential for AI chatbots to increase customer engagement is enormous. With artificial intelligence, businesses may customise to the point that customers feel at ease interacting with them as they would with people.
Most customers feel comfortable communicating with businesses and giving them their personal information as long as the firms utilise it to tailor their interactions with them rather than merely moving them through the sales cycle.
Businesses get an advantage over rivals by setting up AI chatbots for real-time answers. When dialogues with companies are important and interesting to them, customers prefer to stay online for longer periods of time.
Lead Generation through AI Chatbots:
An AI chatbot may not really generate leads, but it has been shown that it has the capacity to do so. The leads produced by AI chatbots are considerably more likely to be used for transactions.
This is due to the fact that customers often voluntarily reveal their personal information and needs with chatbots (far too easily compared to cold calls/emails).
AI chatbots can use a welcome message to create a good first impression. This may serve as an icebreaker to help a prospect start a conversation with a company.
Additionally, the chatbot's multilingual functionality contributes significantly to lead generation. It expands the target market and opens up opportunities elsewhere.
Benefits of AI chatbots for your Customers: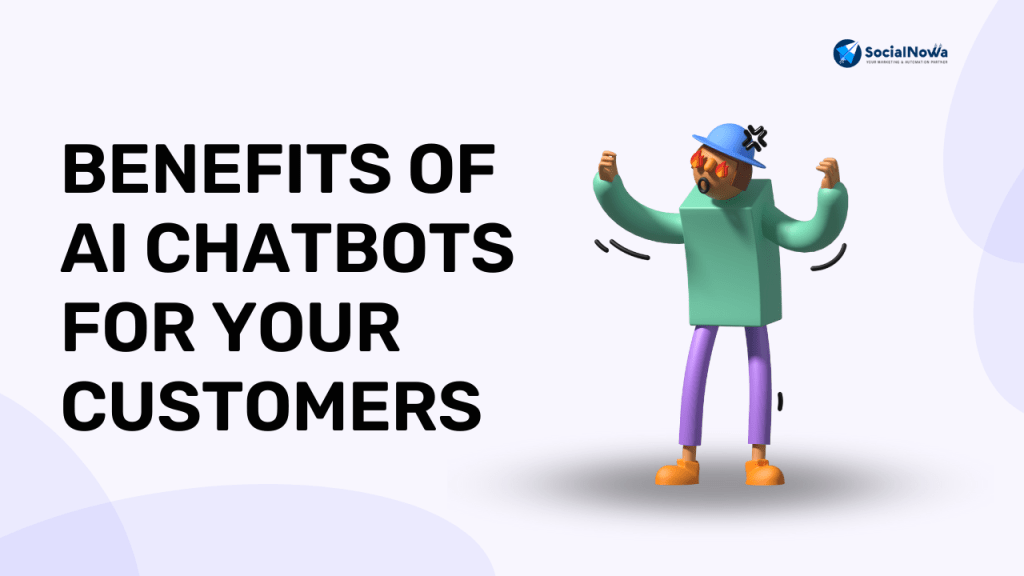 Continuous accessibility:
Developing a customer service strategy that prevents consumers from having to wait until the customer service representatives are next free. Utilizing AI Chatbot to the fullest extent possible and making sure it excels at inquiry resolution will make this simple to do.
Consistent Reply :
A company's consistency is a sign of its dependability and sincerity. Being consistent in chat is a virtue for the brand as well as for customers. AI chatbots may assist you in maintaining consistency throughout all of the discussions taking place in the name of your company.
Customization and Personalization:
Customers want brands to be fully aware of their preferences and purchases.
Businesses must be aware of options and regulations, even for up-selling or cross-selling of goods and services. Businesses may close this gap and fully understand (and remember) their consumers with the aid of AI chatbots.
Real-time responses:
Businesses with least average response time tend to gain more traction and trust from their customers. Customers are satisfied with businesses' customer experience initiatives when they receive prompt, real-time replies that make them feel important. AI chatbots are designed to respond instantly.
Self-service:
Customers and organisations alike may save a tonne of time and work by using self-serving questions. About 70% of self-serve inquiries may be resolved by companies using AI chatbots. This can help customers make decisions without any agent assistance. The AI Chatbot can handle all aspect of the customer's experience, including education, transactions, and even post-purchase support.
Conclusion –
Most importantly, as we have said before, have been made of necessity rather than of luxury. In today's technologically advanced traffic environment, ai chatbot platforms help your business accessible 24 hours a day without you having to invest heavily in hiring customer service representatives.
And if you don't have one, you can start building your first chatbot with SocialNowa chatbot.
SocialNowa boat allows you to opt for a free trial for 30 days which can later be upgraded as per your business needs and requirements.