Introduction
A customer is an individual or legal person who buys goods or services from another company. Customers are important because they increase revenue; Without them there would be no business.
Customers often prefer a brand that understands them well.
They love to be associated with a company that values them and offers them great experience.
Here , my simple point is that do you understand your customer well? If your answer is yes then it's great.
But what If you don't, how will you provide value to them, or how will you deliver great experiences?
This is the point where many businesses failed . They neither focus on understanding their customers nor take any interest to know their journey .
You should not make any of these mistakes , that's why I am here to discuss with you Customer Journey Stages: How to Deliver Value at Each Stage
In this blog I will discuss lots of interesting and greatest points to keep your customers happy and to give them value at each stage .
What is a customer journey?
When we talk about the customer journey, we literally mean the conversation a user has on the journey from first meeting you to becoming a customer.
Instead of focusing solely on when and how a consumer stopped selling, the customer journey looks at the entire customer experience.
This is helpful for marketers as they can better understand what each channel and piece of content plays in moving users along their journey.
What are the Customer Journey Stages?
Companies that understand the customer journey and focus on moving through the sales funnel outperform their competitors.
After all, your business is nothing more than your customers.
So one of the most important factors in your business is segmenting and augmenting the customer experience from the first interaction and beyond.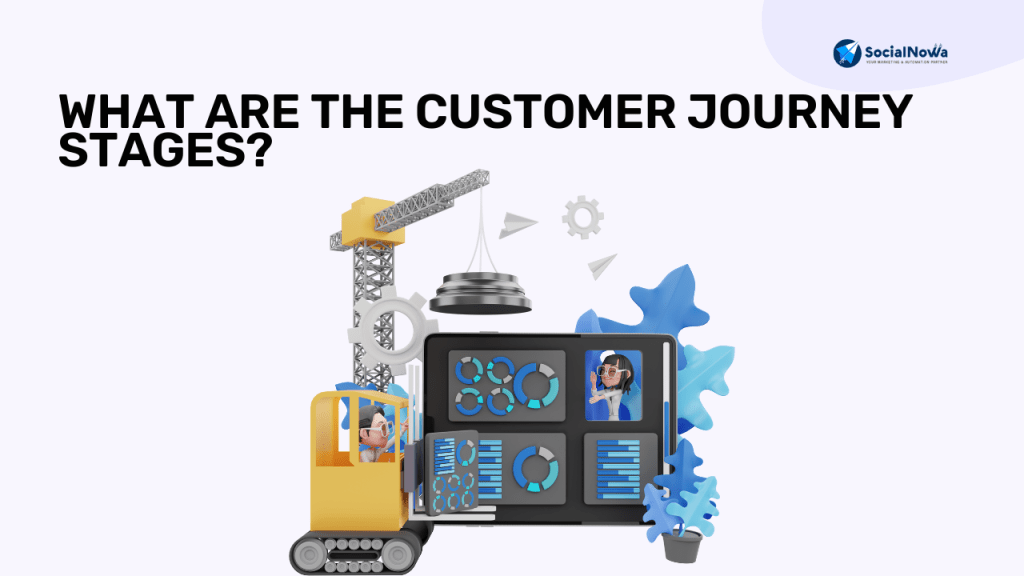 Nowadays 67% of the buyer journey is completely digital.
Surprisingly, many companies completely ignore the customer journey, which is a big mistake, especially when it comes to digital marketing agency efforts.
While your company is selling products or services that fall into the category of impulse buying, the customer journey should not be overlooked, in fact it needs to be carefully nurtured and developed.
The customer journey helps you better understand customer behaviour for your target audience, which can provide valuable insights for your team when developing a marketing strategy.
Customer journeys should be part of every digital marketing solution.
Leads nurtured with targeted content increase sales opportunities by over 20%.
From this point of view, satisfying a customer creates new customers in a circular fashion.
To better represent this, the modern customer journey is thought of as a flywheel rather than a funnel.
The stages of the flywheel cover all the steps of the customer's journey, before the sale and after the sale:
Awareness:
A potential customer becomes aware of the value offered by your brand and one of your marketing campaigns.
Thoughts:
A potential customer is interacting with your product to learn more about the value you offer.
Conversion:
Based on your brand value, make potential purchases and become a paying customer.
Onboarding:
Your new customer takes the first steps to experience the value they expect from their purchase, such as creating a username and password.
Implementation:
Your customer begins to get practical value from using your product.
Renewal:
Your customer decides if the price you specify allows you to renew your licence or subscription.
Expansion and Growth:
Your customer adds value to their initial purchase by implementing advanced features or purchasing additional products.
Loyalty and Protection:
The value your customers receive from your brand encourages them to remain loyal customers and share your brand value with others.
Your Communication Strategy for the Customer Journey Stages
As a marketer, it is your responsibility to reach out to potential customers at all phases of the customer journey and ensure that they have a positive experience with your company.
Providing extremely valuable and relevant content to customers at every point of their journey has a direct influence on sales and income.
Furthermore, once you've thoroughly developed and comprehended your customer persona, you'll be able to use that data to boost total client satisfaction and loyalty.
The journey is designed to be flexible, understanding that customers may engage in numerous stages at once rather than sticking to a particular sequence.
1. Awareness
The first step of the customer journey is the Awareness stage, in which your potential client recognises that they have a need or a problem and is actively researching information and finding solutions to address their problem or need.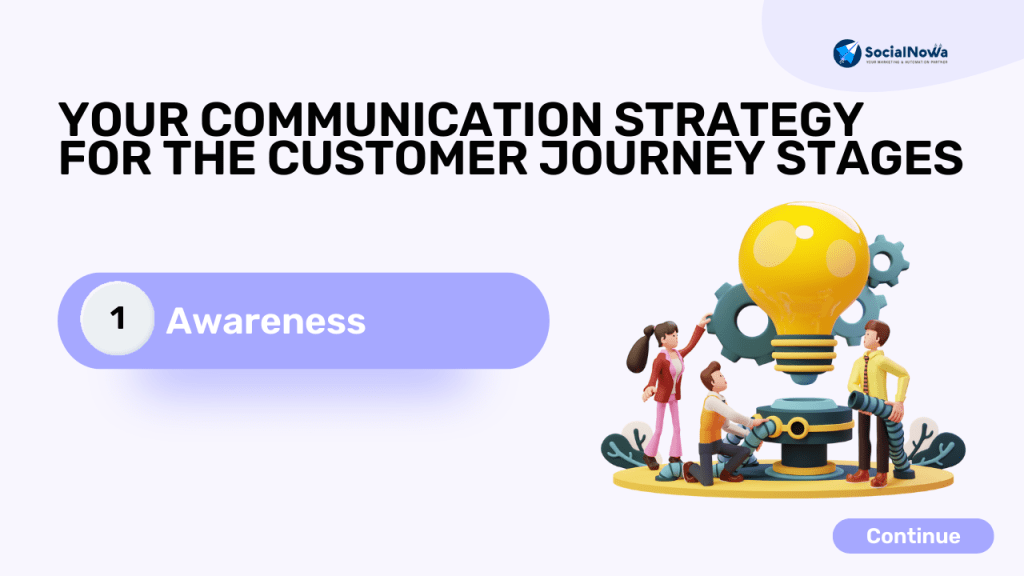 To create trust and relationships with your prospects, it's critical to deliver value during this stage. If you don't deliver well at the Awareness stage, none of the other stages of the client journey will matter. After all, how can you expect clients to buy from you if they are unaware of your existence?
Before making a purchase, 81% of customers undertake research online.
During the Awareness Stage, your job as a marketer is to: Demonstrate that you UNDERSTAND the prospect's situation by providing knowledge and resources that will assist them in resolving their issue or need.
Content to Deliver in the Awareness Stage:
How-Tos
Whitepaper
Industry Reports
Ebooks
Checklist
How-To Video
Reviews and testimonials mentioning your brand
Because you know your customer is looking for information at this point, you'll want to deliver it to them in an easily consumable style that's simple and quick to locate.
2. Consideration
The Consideration stage is the next step in the consumer journey. Your prospects have already done some quick research and are aware of some of the possibilities available to them.
The research phase, on the other hand, is still ongoing. They've restricted their choices, but they'll continue to look for more information.
They're comparing your product or service to other options on the market at this point.
This is where customers compare prices, read customer reviews, research competitors, and learn more about the specifics of your product or service to determine if it is, in fact, what they are searching for.
Knowing that your clients will be comparing you to other possibilities throughout this stage, it's crucial for you to take a step back and ask yourself if you're positioned the way you should be.
Before making a purchase, 65 percent of shoppers spend 16 minutes or more comparing products.
Here are some excellent questions to ponder:
Is the benefit of my product or service apparent and understandable?
Is it easy to find my brand or company on the internet?
Are my product or service's advantages obvious?
Is my product or service priced competitively with similar options in the marketplace?
What distinguishes my product or service from that of my competitors?
Is my competitive advantage communicated in a way that a buyer can simply locate and understand?
Prospective buyers will frequently contact you for more information during the consideration stage by filling out one of your forms, phoning the phone on your website, or connecting on your social media channels. Do not leave them hanging if this occurs.
This is your chance to step in and provide the relief they've been looking for to alleviate their current discomfort.
Potential purchasers will also be very interested in pricing and what their financial investment would be if they choose you as their option during this stage.
Many times, before making a decision, your potential buyers will need to run this information by others.
Content to Deliver in the Consideration Stage:
Product Webinars
Case Studies
Sample
FAQ Guides
Data Sheets
Demo Video
Conversion
In the conversion stage, you must persuade customers that the value your product provides is superior to that of competitors, effective enough to justify the purchase price and exceed any potential hazards.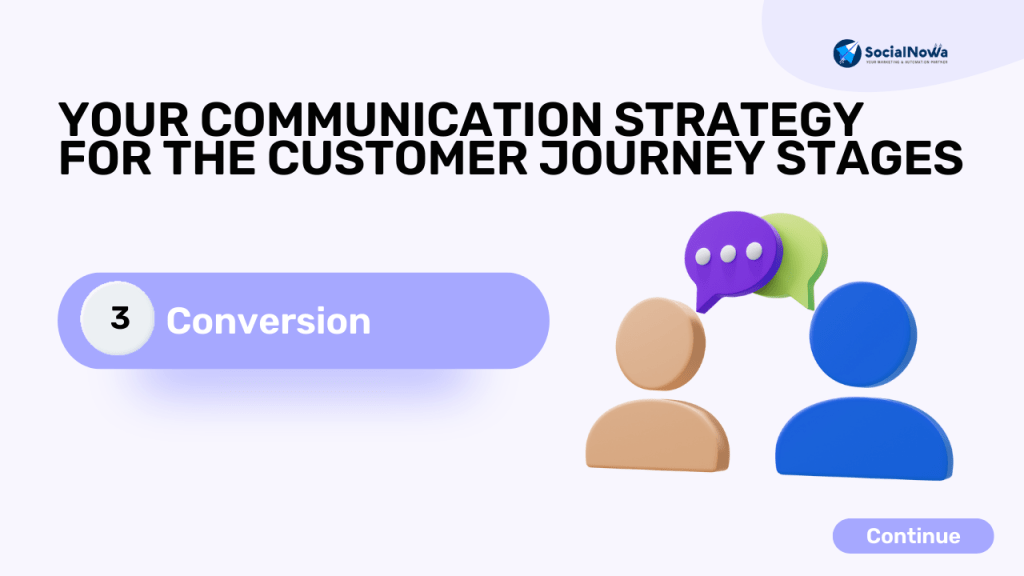 In order to make this point, a great freemium experience is essential. During the freemium experience, you can add value to a free trial by delivering personalized touchpoints and material that is relevant to the customer's specific needs.
The following are examples of content that can improve the freemium experience:
Content to Deliver in the Conversion Stage
Drip campaigns with how-to advice
Demonstrates of products
Video tutorials
Give free consultation
Use genuine testimonials
Onboarding
As the consumer transitions from the pre-sales to the post-sales process, the value you strive to give throughout the onboarding stage is empowering them to begin using their purchase.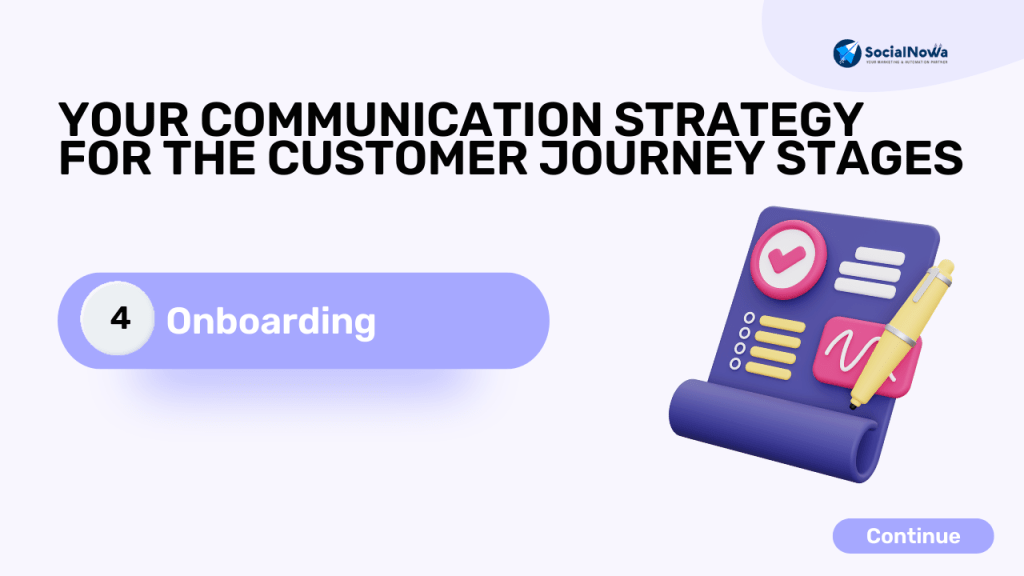 Content to Deliver in the Onboarding Stage:
Account managers are assigned to new customers.
Organizing a post-discovery call to establish customer objectives
Delivering directions to new clients on how to complete the onboarding
process so they are not confused about what to do next.
Providing time-based support materials, including demonstration videos, tutorials, and FAQ pages, to guide consumers through the onboarding process.
Following up with customers to see how far they've progressed with their onboarding.
Adoption
Onboarding is only the start of a customer's post-purchase experience with your company.
Customers either continue to connect with your brand as active users or lose interest due to a perceived lack of value during the adoption period. Take initiatives to provide value that encourages active use of your product, such as:
Customers' usage goals should be discussed with them to determine what they hope to gain from utilising your product.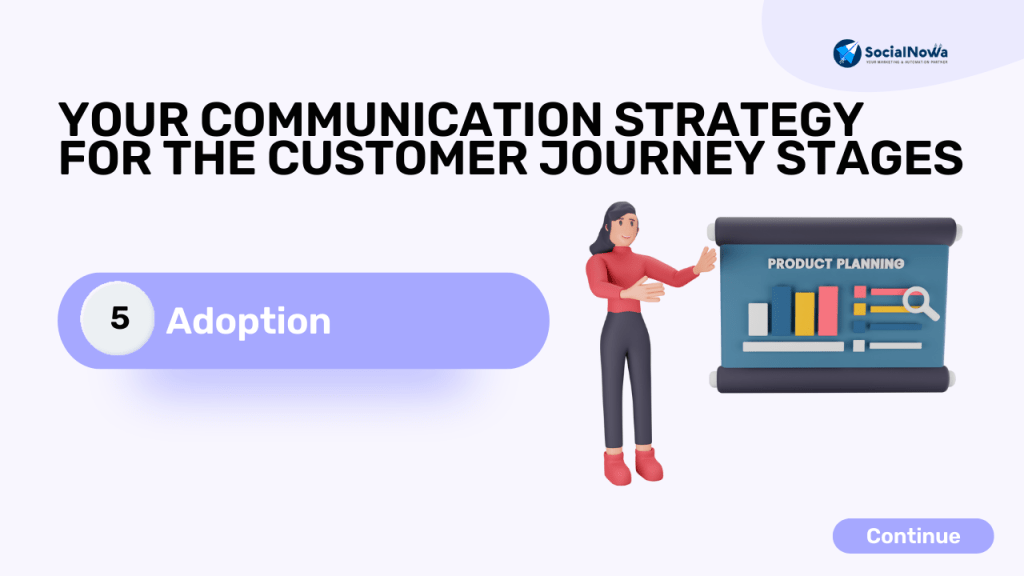 KPIs are used to track consumption and verify that customers are receiving the value for their money.
Creating material that focuses on your product's most important and enduring features
Developing how-to videos and seminars that address customers' most common issues and demonstrate how to use new features
Using multiple types of customers and individual customers to segment adoption engagement depending on their usage patterns and demands.
The Outcome Success Plans tool assists you and your customers in setting and tracking adoption goals that are mutually agreed upon.
Renewal
A well-crafted onboarding experience should naturally lead clients to renew their subscription or licences.
Many customers decide whether or not to renew their contract up to six months before it expires, thus efforts to promote renewal should start early.
You can encourage regeneration by providing value during this important period by doing things like:
Creating email drip campaigns to encourage auto-renewal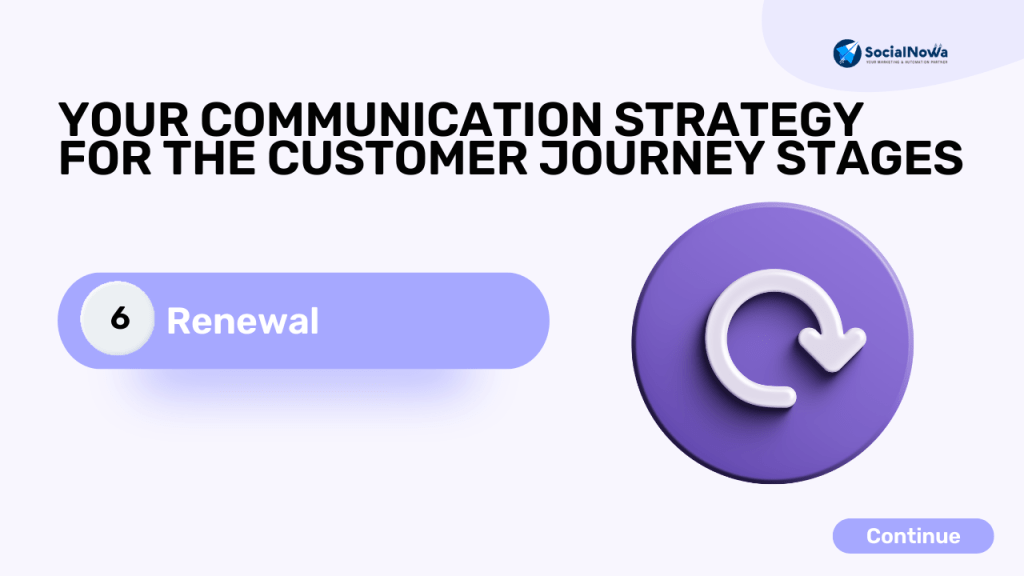 Examining accounts that are up for renewal in order to assess and assure a return on investment
During the renewal phase, keeping track of customer health scores and highlighting at-risk accounts for intervention
Sending surveys to customers to elicit feedback and remind them of the value they've received from your product
Providing consumers with support needs with personalised how-to guidance
Checking in with customers over the phone to see if they're happy
Getting testimonials from customers about the value they obtained from your company
Ensure Customer Renewal is a service that ensures that customers renew their subscriptions.
Expansion and Development
Customers boost the value they receive from your business throughout the expansion stage by embracing sophisticated product features and making cross-sell and upsell purchases.
Steps that enable customers to gain additional value from your brand should be included in a successful expansion strategy, such as:
Customer feature usage is being tracked to determine which advanced features are relevant to customers and alerting them to these features.
Providing whitepapers and tutorials that demonstrate new or advanced product features and how to use them.
highlighting how sophisticated features are linked to application cases that demonstrate their utility
Providing clients with personalised cross-sell and upsell offers based on their purchase and usage history and demands.
Advocacy and Loyalty
Customers that have successfully passed through the retention, expansion, and growth stages are in a position to become devoted repeat customers who will spread the word about your brand's value.
Take actions to improve value for customers at this stage to build loyalty and advocacy, such as:
Applying Net Promoter Score to find your most enthusiastic promoters and ensuring that these accounts are well-cared after.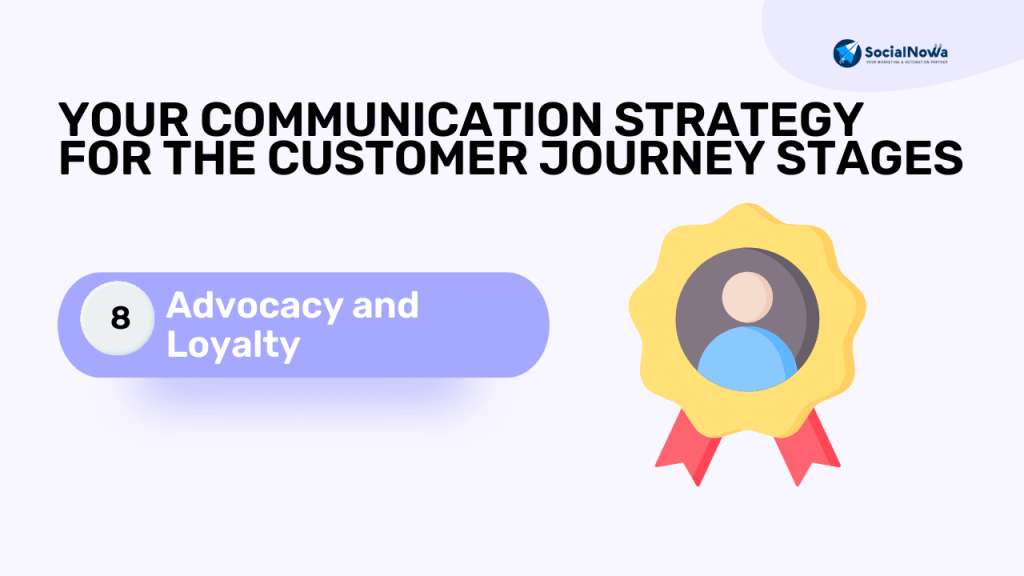 Trustpilot, G2, and Trustradius are examples of internet communities where customers can discuss their experiences with others.
Creating learning opportunities for members of the community to communicate with one another and invite newcomers
Providing incentives for attracting new customers
The Customer's Point of View on Success
BLOC is a tool that allows you to track customer sentiment and invite promoters to become digital brand advocates and references.
Mapping the stages of the customer journey in today's world
The SaaS business model has changed how we think about customer journey stages today.
The customer journey was traditionally regarded from a marketing and sales viewpoint before the development of SaaS, as depicted by the image of a funnel outlining the phases from brand awareness to a sale.
The pre-sales buyer's journey and the post-sales customer's journey were separated using this method.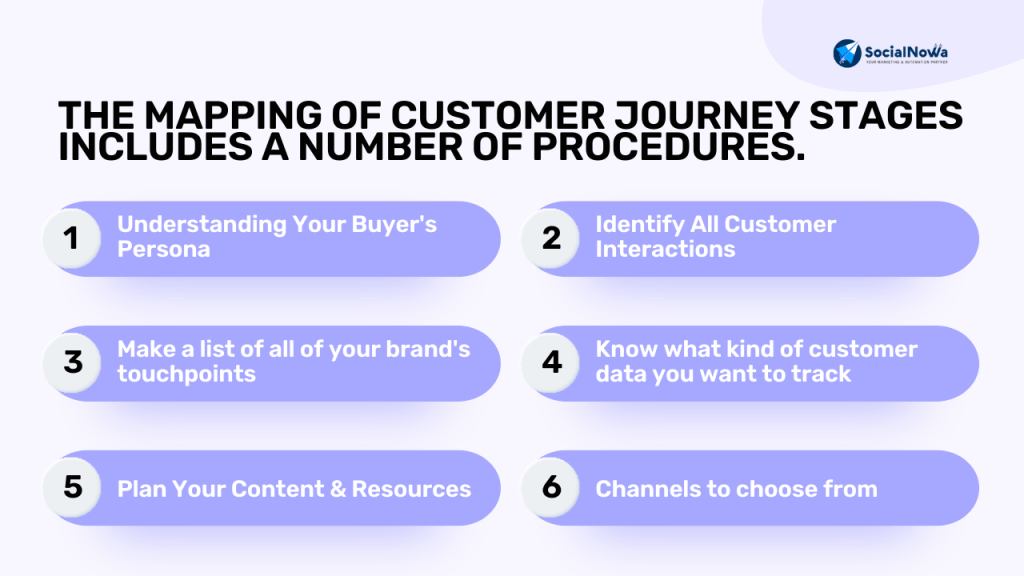 However, from the perspective of a SaaS customer, the pre-sales and post-sales experiences are all part of the same brand experience, and both factor into the consumer's choice to renew their subscription.
Simultaneously, a customer's overall impression of your brand influences whether or not they become a brand ambassador, promoting you to other potential customers.
The mapping of customer journey stages includes a number of procedures.
Understanding Your Buyer's Persona
The first step in customer journey mapping is usually identifying the target audience.
How can you offer value to your customers' experience with your brand if you don't know who they are? You must comprehend their actions and be aware of their expectations, requirements, and preferences.
It will always be easy to connect the dots and serve customers in the best way possible once you and your team have built a buyer's persona.
Identify All Customer Interactions
Your company should be able to identify all possible customer interactions, from the initial research stage to the purchase and post-purchase phases.
You can always arrange offers and meet them at the best point in the trip once you're aware of the customer analytics and understand their movement through phases.
Make a list of all of your brand's touchpoints
One of the most important components of customer journey mapping is knowing all of the touchpoints.
Each one will be a fantastic opportunity for your company to improve the consumer experience.
Once you're aware of the touchpoints, you'll be able to easily identify areas to improve and guarantee that customers receive value at every step.
Know what kind of customer data you want to track
If you want to improve your customer experience, you'll need actionable data.
All critical customer-centric data must be streamlined to allow easy access to all team members and departments, whether it is connected to purchasing history, demographics, browsing history, social imprints, CTRs, or anything else.
This information can be utilised to better assist consumers and improve their overall experience with your company.
Plan Your Content & Resources
Sharing relevant information at key points in the customer journey can ensure that the audience receives value.
You must organise the materials in a way that corresponds to the current stage of the journey. Make sure you offer a variety of content kinds to guide them through the process.
Channels to choose from
Make sure your company is accessible via multiple methods so that clients may reach out to you whenever they want.
To provide seamless, tailored interactions across channels, it's critical to develop an omnichannel communication strategy.
Giving clients the option to engage on their preferred channel can significantly improve their experiences.
How to Use SocialNowa Chatbot to Improve Customer Journey Stages?
Customers want to be able to communicate with businesses in a fast and effective manner.
They also want to get solutions to their concerns through the channel of their choice. Furthermore, the majority of them anticipate prompt responses to their inquiries.
At SocialNowa Chatbot, we understand how companies must provide value at every stage of the customer journey in order for them to remain loyal.
As a result, you can utilise our AI chatbots to help automate customer service and assure timely responses.
It's also possible to create several conversational styles for the bot to increase engagement at different stages of the customer journey mapping process.
In fact, you may use a smart chatbot to track the stages of a customer's journey and collect vital data.
Similarly, live chat software can assist in providing real-time support and interaction to improve your clients' overall experience with your company.
To improve the buyer's experience with your brand, optimize the stages of the customer journey.
To give value at each stage of the trip, a company must have a good understanding of the stages of customer journey mapping.
You may always consider implementing AI bots and live chat software to automate customer service, answer quickly, and ensure a smooth customer journey.
You can sign up using SocialNowa Chatbot here and take the first step toward creating your own bot or setting up your live chat.
It will always be simple to track client journeys of any complexity once you have the correct tools and software at your disposal.
Finally , we completed our customer journey stages here , Now tell me which strategy you are going to apply to know your customer journey stages ?