Introduction
When it comes to engaging with businesses, customers adore video chat. The majority of them favour it because it can quickly and directly address their problems.
Video chats are excellent for direct communication and a personalised experience, thus it would be a mistake to underutilise them. 
Nothing else actually makes it possible to interact face-to-face with clients as effectively as it does.
One of the most effective strategies for keeping teams in touch among a dispersed workforce is video.
The popularity of video conferencing isn't going away, whether you use it to catch up with pals during your free time or for business meetings.
By the end of the year, popular video conferencing platform Zoom anticipates a 40% growth in sales.
What is video chat ?
Several various online, visual interactions can be used as video chats.
A video chat is essentially an online conversation carried out via video and over the internet utilising a webcam or camera on a mobile device and special video software.
Video chat has merged into daily life, whether you use FaceTime to catch up with relatives or webinar software at work to present product demos.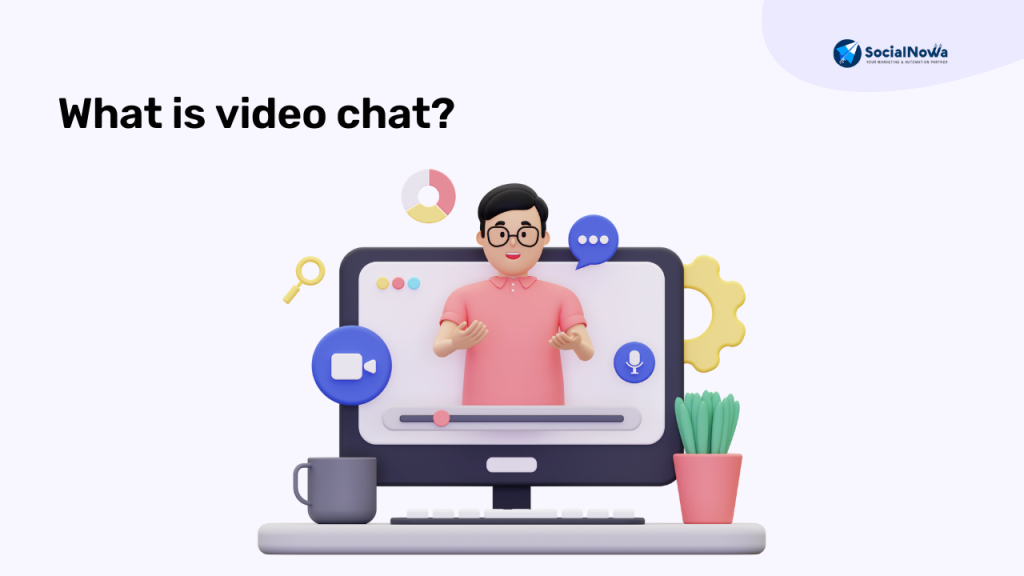 Families and friends have been using video chat apps like FaceTime, WhatsApp Video, or Houseparty during the past year.
Houseparty's downloads surged by 500% between March 2 and March 9, 2020. Many of us are accustomed to using cameras with modern devices and social media platforms like Facebook Messenger, WhatsApp, and Snapchat.
Video conversations are now a common occurrence in our daily lives.
Why Use a Platform for Video Chat?
Video chat is a fantastic technology that can improve a variety of corporate functions, including marketing, sales, and customer service.
When utilised in conjunction with other technologies for client involvement, its value increases even more. So much so that during the past two years, video chat usage in customer care has increased by an astounding 70%.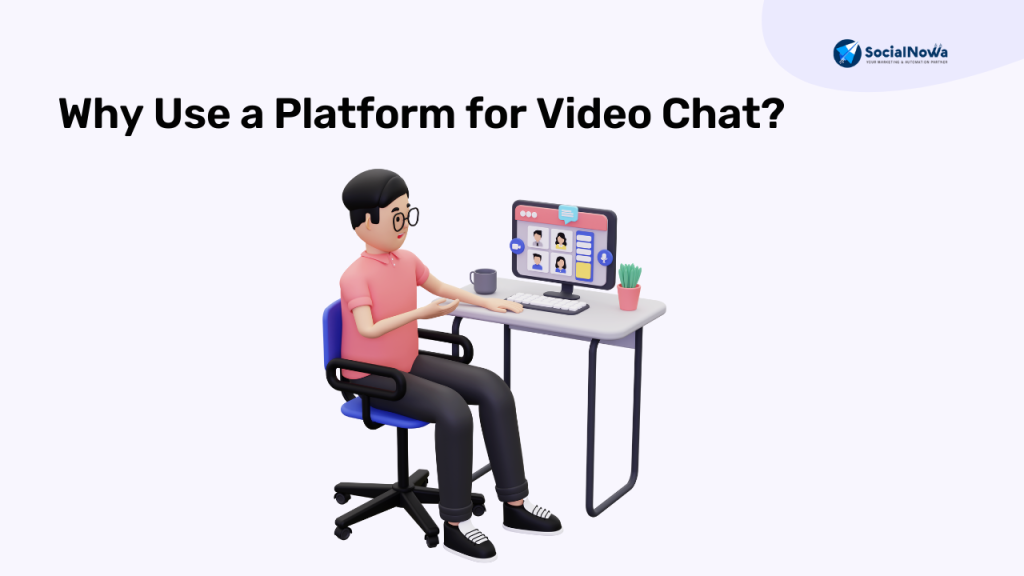 When a company uses a cross-platform video chat tool for communication, there are several advantages.
Live Engagement – Video chat enables companies to communicate with clients directly through their websites or mobile apps, increasing engagement significantly.
Faster issue resolutions – By combining co-browsing and video chat, it is simple to work in real-time collaboration with customers and resolve issues more quickly.
Cross-platform video chat can be quite useful for providing proactive help and engaging customers once you have learned more about their experience.
Top Best Business Productivity Video Chat Platform
We've outlined a few of the top video apps for businesses below. You'll have a better idea of which tool is best for you and your team once you've finished reading this list.
1. Google Meet | Video Chat Platform
The Google Workplace platform includes a video conferencing tool called Google Meet.
If you use Google, this will be quite helpful to you. It works with the other Google apps because it is a component of Google.
You and your attendees can utilise the Meet link you receive after scheduling a meeting in Google Calendar to jump on a call right away.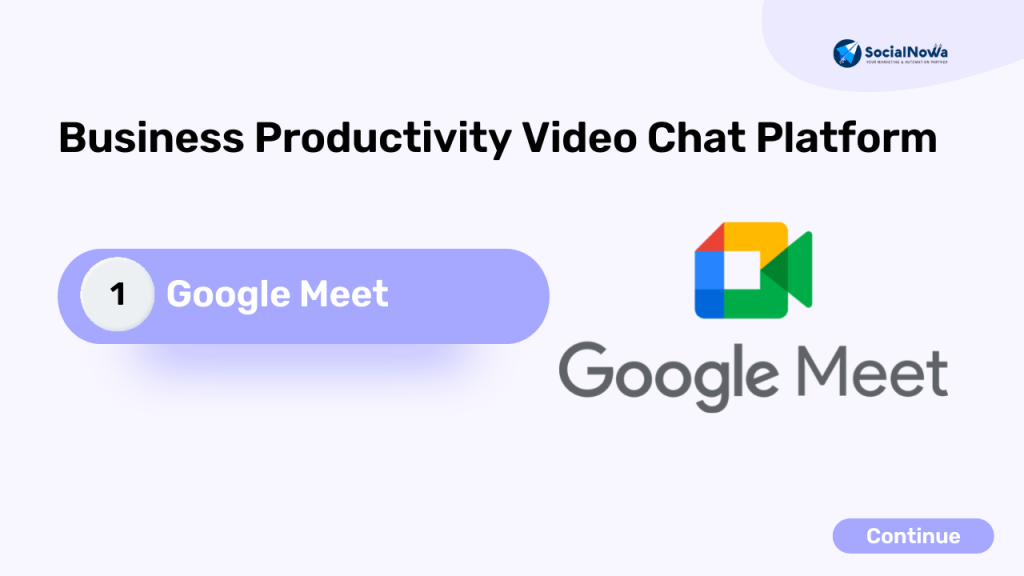 The issue is that Google Meet won't function unless you regularly utilise the Google Suite.
Choosing Google Meet as your video conferencing programme can be difficult if you're new to Google.
You'll need to collect email addresses and get used to the tools. Similarly, it will be challenging to include people in the discussion if you are video conferencing with people who don't use Google.
After that, let's return to the features.
Google Meet offers live captioning, which is quite advantageous for accessibility.
Although the English captions work pretty well, it is unable to discriminate between other languages used during a call.
The Chrome integration also offers a tab-sharing feature that is excellent for media sharing and streams a quick video in a group with very minimal lag.
Since Google Meet is purely web-based, there is no need to install any external third-party software.
On the other hand, browser-based apps frequently struggle during lengthy group calls.
At Meet, large calls frequently result in poor quality and loud laptop fans. In our experience, Meet doesn't gracefully downgrade calls when your internet connection is slow like Zoom does.
If you only require one or two people to give a presentation to a large group, it's a fantastic option to a complete video conference even though it restricts their ability to contribute.
If your company currently pays for Google Workspace, it is essentially free.The service of Google Meet is free. 
2. Chanty 
One of the most widely used team chat apps is Chanty. On its free plan, it provides services that are often only available through paid memberships.
As a platform for collaboration, Chanty has developed to include communication, task management using a Kanban board, audio calling, and video conferencing.
You can have one-on-one audio talks with anyone on the free plan, but group audio and video chats are only available on the commercial subscription.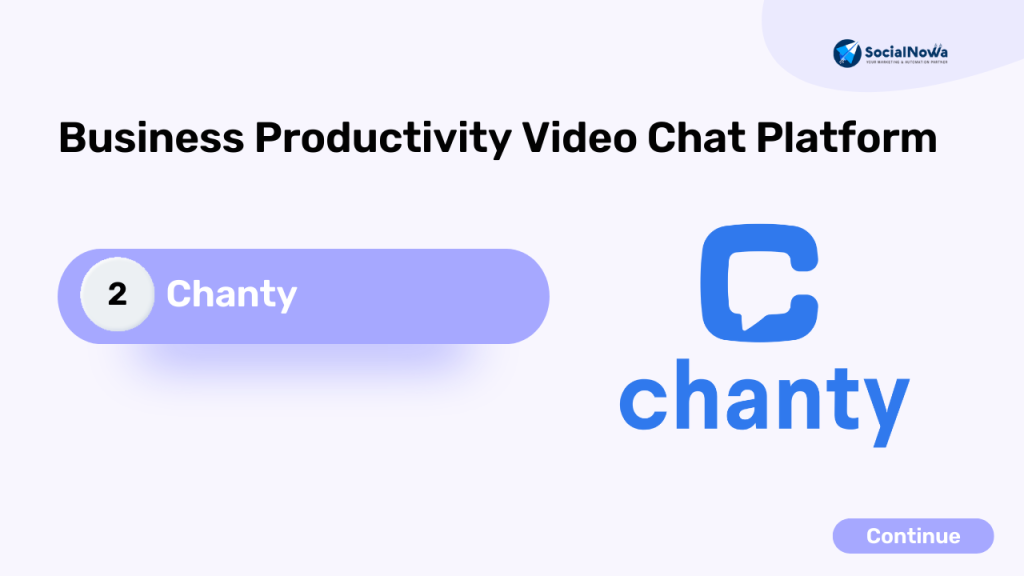 Given that the plan only costs $4 per user per month, it is important to note that the video call feature is only available to paid users. For everyone, it's still well within reach. Additionally, you can save money by paying your bills yearly, which is a 25% discount.
There are both group and one-on-one video calls available. It is possible to support screen sharing, which is excellent for presentations.
In addition, each premium team member receives 20 GB of cloud storage, which is one of the standout advantages.
Chanty supports a wide range of external applications, including Asana, Google Drive, Trello, Zapier, Dropbox, Onedrive, Bitbucket, Github, Giphy, Mailchimp, and many more.
Additionally, all communications and information are saved in the chat and are always accessible.
You may access all tasks, conversations, and shared files from one place using the platform's Teambook functionality.
Chanty provides two price plans. A team of up to ten persons would benefit greatly from the free plan.
The business plan, which starts at $4 per user and includes group video chats with screen sharing, unlimited integrations, and a dedicated support line.
When it comes to online meetings, Skype is usually the first thing that comes to mind.
It wouldn't be fair if Skype didn't make this list because it was the innovator of online meetings.
With the inclusion of Skype Meet Now, it is now possible to utilise it as business video software, but it originally served as a personal video chat service.
With Meet Now, you can hold meetings without needing to register or download any software.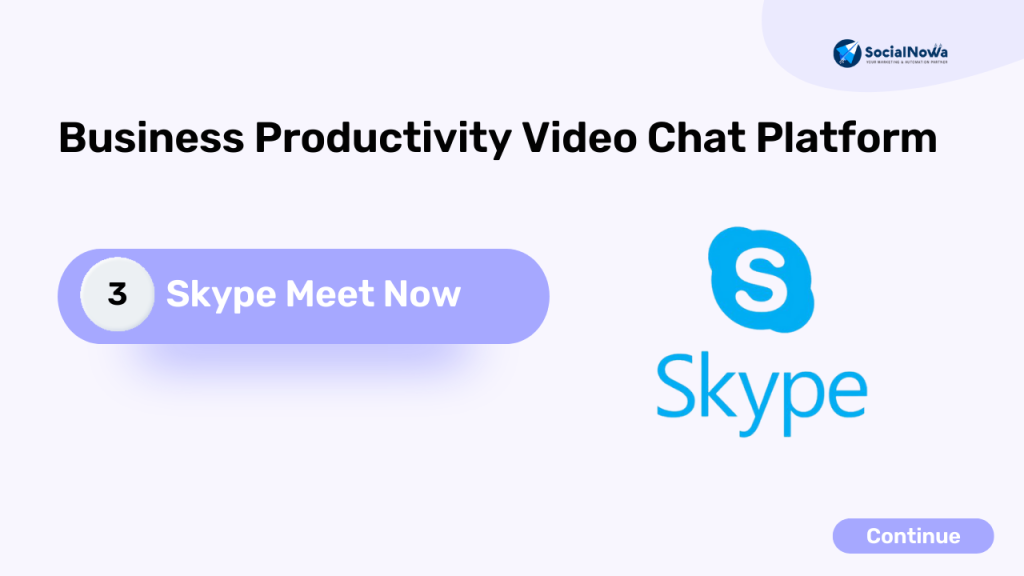 To invite others to the call, all you need to do is set up a meeting space and email them the link.
You can send GIFs, emojis, documents, screen shares for presentations, photos, or anything else you want for up to 300GB.
It contains everything you need to keep your calls moving well.
Call recordings with live, automatically generated subtitles are included in Skype Meet Now.
After the conversation has ended, you can visit the URL at any time to check any shared files and listen to the recording.
It integrates with Outlook, provides end-to-end encryption, and can instantly translate phone calls, instant messaging, and even video chats.
Additionally, it will forward your call to other users or place it on voicemail if you are unavailable.
In addition to allowing international calling and texting, Skype Meet Now is well known for connecting to basic cell phones and landlines.
Although calling or landline services start at $2.99 per month, the good news is that it is entirely free.
4. Brosix
One of the earliest team chat apps accessible is Brosix, which was introduced in 2006.
It's praised for being among the safest chat platforms out there, even more secure than Telegram.
For businesses that depend on trade secrets to make money, this is crucial.
The group management tools in Brosix are excellent, and it's simple to deliver messages to specific subsets of team members.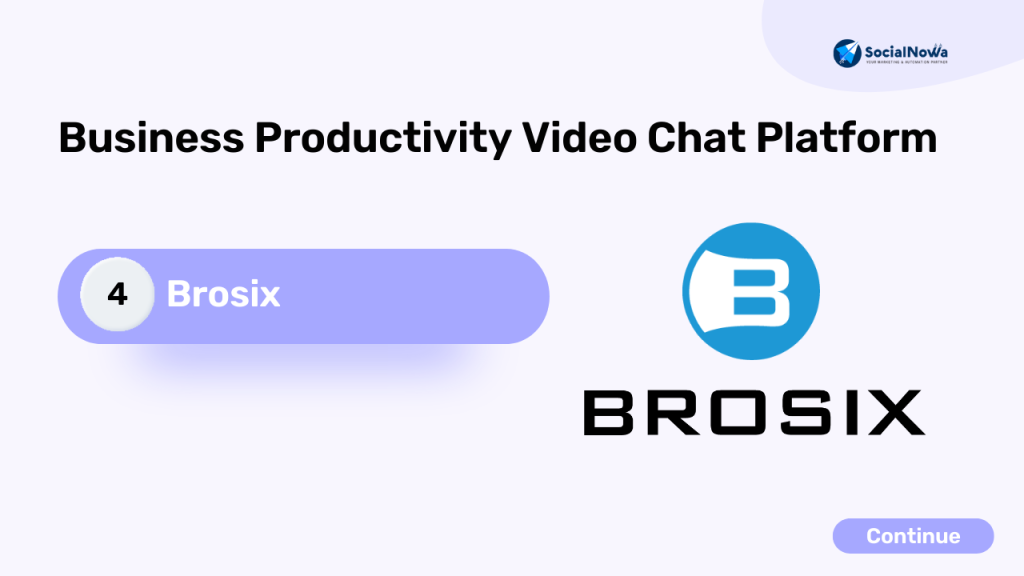 Simple navigation allows you to start a video conference from any text chat window with only one click on the video chat icon.
To ensure that you get the most out of your video calls, Brosix offers a number of tools.
You may utilise a whiteboard, send files, share your screen, and take screenshots during video calls.
It contains tools for dynamic communication and a user-friendly UI. It's easy to set up, so you won't have to waste time on technical details.
There are three price tiers available. The first one has no video or audio chat capabilities but is free for up to three members. With a corporate upgrade, which costs $4 per user per month, you can get it.
You can access the incredibly secure P2P file-sharing system thanks to the $4/month subscription, which is absolutely worth the money.
Since the UX is already 15 years old, it must be simplified at this stageThe premium upgrade, which costs $6 per user each month, is also available.
Everything from the corporate version is included in the premium edition, along with chat room control, group chat rooms, and user data access security levels.
5. GoToMeeting | Video Chat Platform
GoToMeeting is more than just a tool for internal communications and video conferencing.
Additionally, communication with partners, suppliers, and potential clients is important. With capabilities like screen sharing, video conferencing, and video chat, it is incredibly versatile.
One of the standout features is the approachable mobile apps for iOS and Android.
It is simple to start and join virtual meetings while on the go with both of these smartphone apps.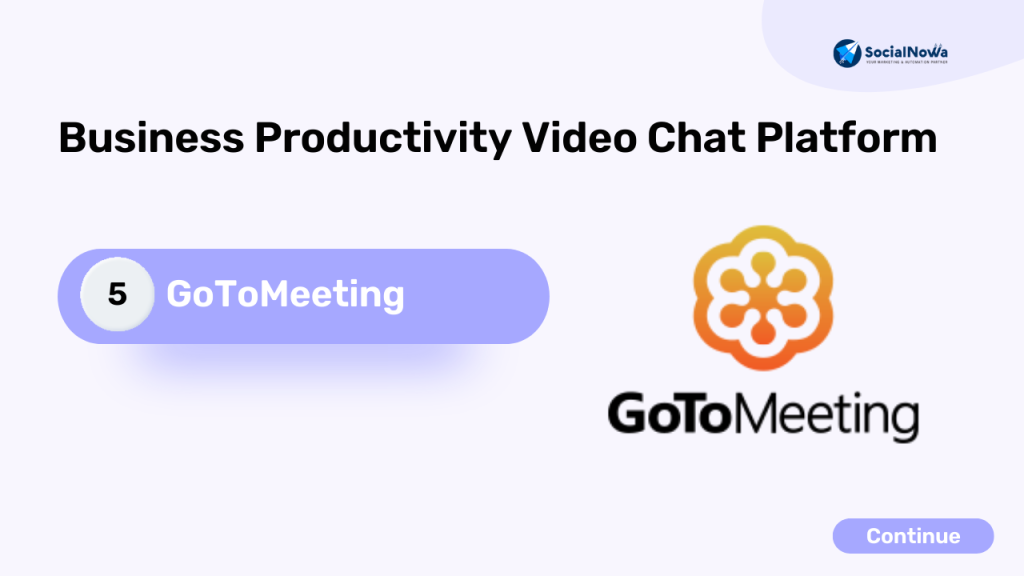 By just pressing a button, you may quickly go from chat to phone and seize leads before they disappear.
In addition to mobile features, the medical industry may take advantage of integrated scheduling, meeting recording and transcription, HIPAA compliance support, and end-to-end encryption.
Other great features of GoToMeeting make your life simpler. For later use, you can, for instance, record conference calls.
Thanks to sophisticated sketching tools, you'll feel as though you're in the same room as the others on the call.
You can also get automatic transcripts of the calls you've recorded!
The video call quality is outstanding regardless of how your team joins the session.
Use the GoToRoom option to transform your conference rooms into collaboration centres and take advantage of tools like raising a hand, polling, and other features to make your meetings more user-friendly.
Additionally encrypted and unhackable is the transmission.
For conducting live webinars, GoToWebinar and GoToConnect are additional GoToMeeting options.
For GoToMeeting, there are two paid subscription plans. The $12 monthly cost of the professional plan is for up to 150 participants.
Depending on the amount of individuals you need to help, plans can be scaled up or down.
Plans at higher levels have up to 250 members as well as more administrative resources. For larger enterprises, the Enterprise plan allows up to 3,000 members.
6. Zoom
It has probably already come to your attention. Zoom became the preferred video meeting application for users during COVID-19, providing up to 100 individuals with 40 minutes of free video chat time. 
Due to its extensive feature set and platform support, It is a well-liked option all over the world.
But how does the passion for Zoom among the general public affect business?Utilising it is pretty simple.
Everyone can join a Zoom meeting if you send the link to the group. Click on the link to join the meeting.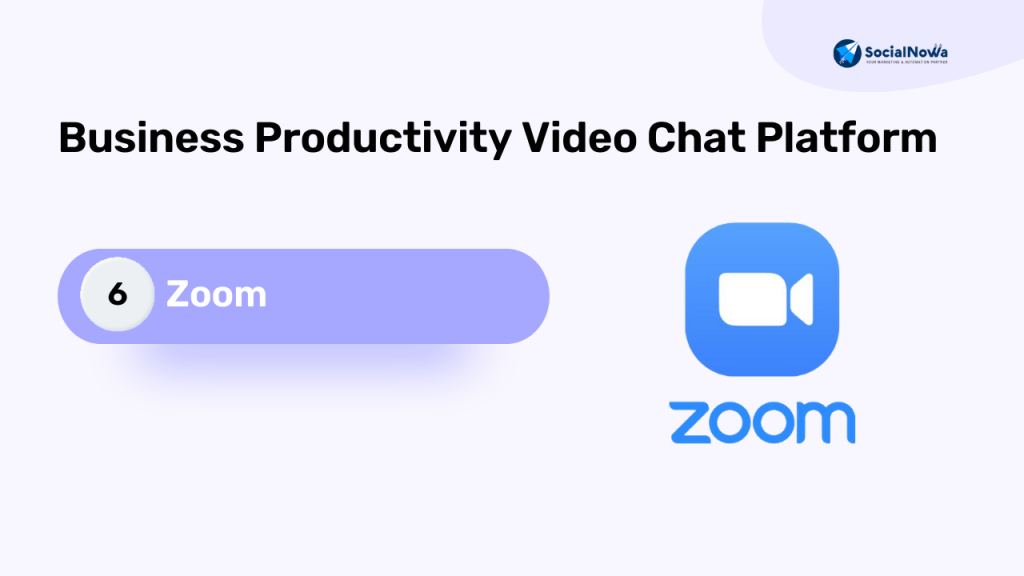 Zoom is also quite trustworthy. If your internet connection is poor, it will typically continue to play your video, albeit at a lower quality.
Features like screen sharing, digital hand-raising, and breakout rooms (where you can "split" into separate video chats) are all helpful for corporate meetings.
Participants can text chat with one another during calls in both group and private communications, and any call can be recorded as a full-length video.
Zoom enables you to connect to room conferencing equipment, schedule calls in advance, and communicate with any of your connections at any time. It's a nearly perfect team video app overall.
Unfortunately, It experienced numerous high-profile security issues in the early stages of the pandemic. 
It is no longer the main conference call platform for high-security organisations like the Pentagon as a result of this problem.
End-to-end encryption safeguards calls, new privacy-conscious notifications are accessible, and an amended privacy policy makes it clear who may keep meeting recordings and distribute them. There are numerous substitutes available on the video conferencing market.
Last thought
All of the apps we reviewed in this article are worthwhile, so you can't go wrong as long as you do your research.
You shouldn't be anxious about trying out several video chat apps to locate one you like. Remember that thorough research leads to an informed purchase decision.
Hopefully, this list has assisted you in determining which group video chat solutions can assist you in taking your business to the next level.