Introduction :
Do you want to use chatbots to make more sales? Not sure which chatbots for sales to use?
Did you know? In 2019, bot-only chats had an average satisfaction rate of 87.58 percent, and chatbots were able to handle 68.9 percent of chats from start to finish on average.
This means that even if the main reason people use chatbots is to get a faster response, they are getting smarter and can do things that people can do.
It makes sense to be sceptical of a sales pitch, especially if it comes from a machine. But as more people buy things through conversational marketing, they also become more comfortable with chatbots.
So, in this article, we'll talk about how you can use chatbots to help with sales and what the best sales chat tools are.
What is a sales chatbot?
Chatbots save waiting time by responding right away. They qualify leads while also relieving agents of frequent inquiries to address.
Your sales force can focus on prospects who show interest in your offers when chatbots create leads so that they can grow into devoted customers.
Top Features and Benefits of Using Chatbots for Sales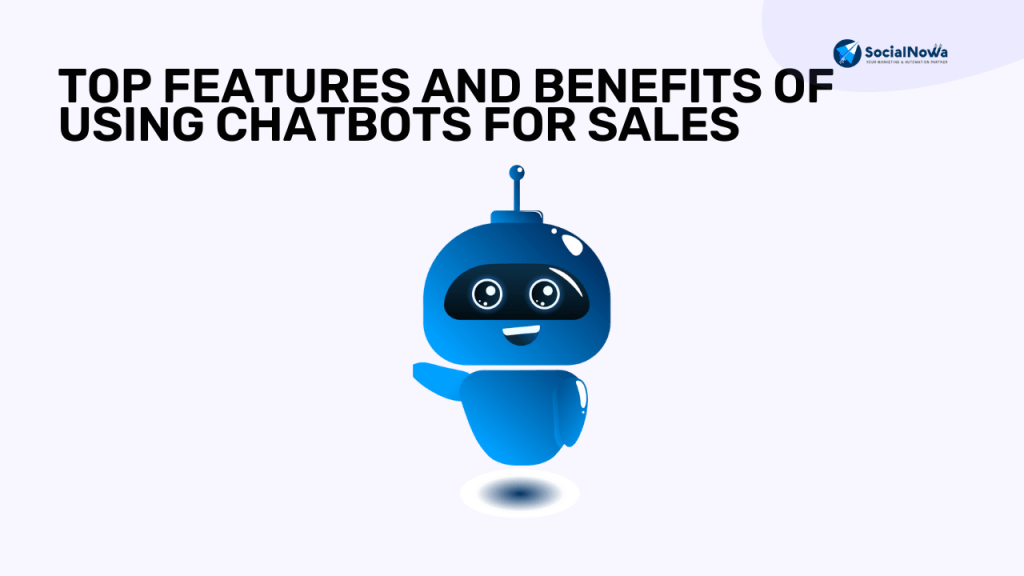 1. Do not let language become a barrier to sales.
International clients are already present in 58% of small enterprises.
As a result, your live chat support personnel may be conversing with customers from different nations and speaking different languages.
Chatbots can give multilingual chat support by real-time translating foreign languages into your language. You no longer have to abandon queries due to linguistic differences.
Proactive messaging can be used to pre-qualify leads.
At this time, all of us have been proactively greeted by a chatbot when we visit a website, such as: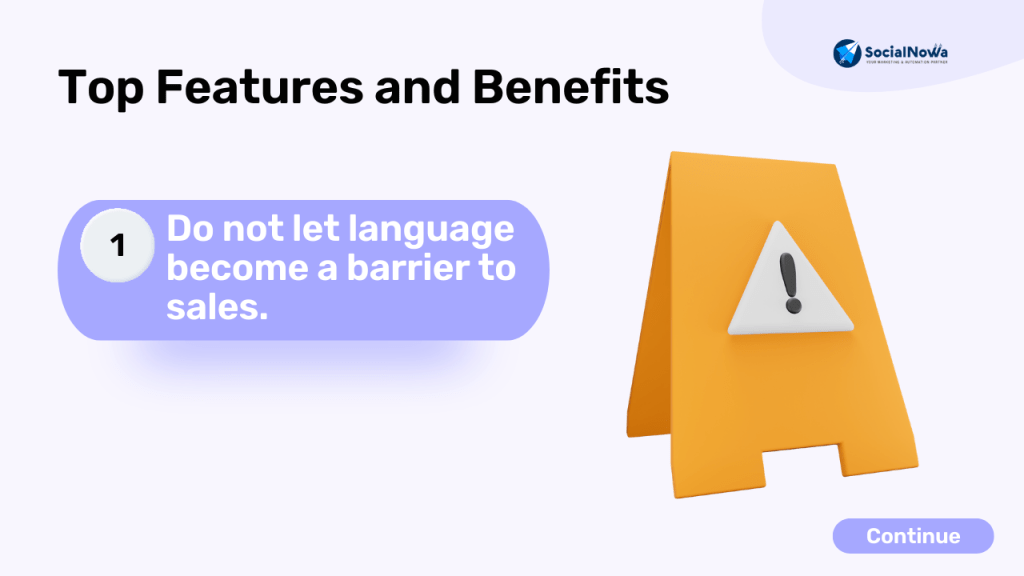 By allowing chatbots to appear and begin giving support to visitors even before they ask for it, proactive chat can literally turn strangers into qualified leads.
Create logical chatbot conversation flows that take into account the client journey and qualify leads for your company.
Remember to prioritise your queries since saying the correct thing at the appropriate moment is critical!
Use clickable answer buttons in the chat window as well for a lightning-fast chat experience. Something along the lines of:
2. Convert social media pages into sales machines
Did you know that social sales account for more than half of all income in 14 key industries? And we're talking about some big businesses here, like healthcare and logistics.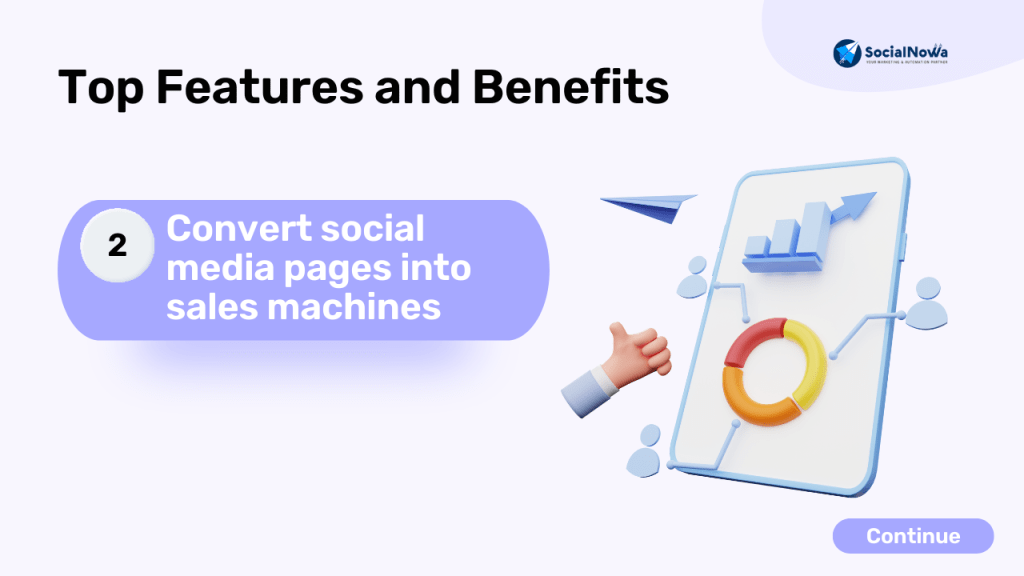 Adding chatbots to your social media pages can significantly increase your sales. Your consumers may get answers to their sales questions right on your social media page, without having to go anywhere else. Also, it can be used in many regular updates price lists for eg. Dollar General Penny List
Here's how Facebook Messenger is currently utilising chatbots for business:
3. Be available to your customers 24×7
According to research, the most popular hours for online shopping are 8 to 9 p.m. on Mondays and Thursdays.
So, if you thought that working during business hours would help your internet business thrive, think again. Furthermore, if you are selling worldwide, you must account for time differences.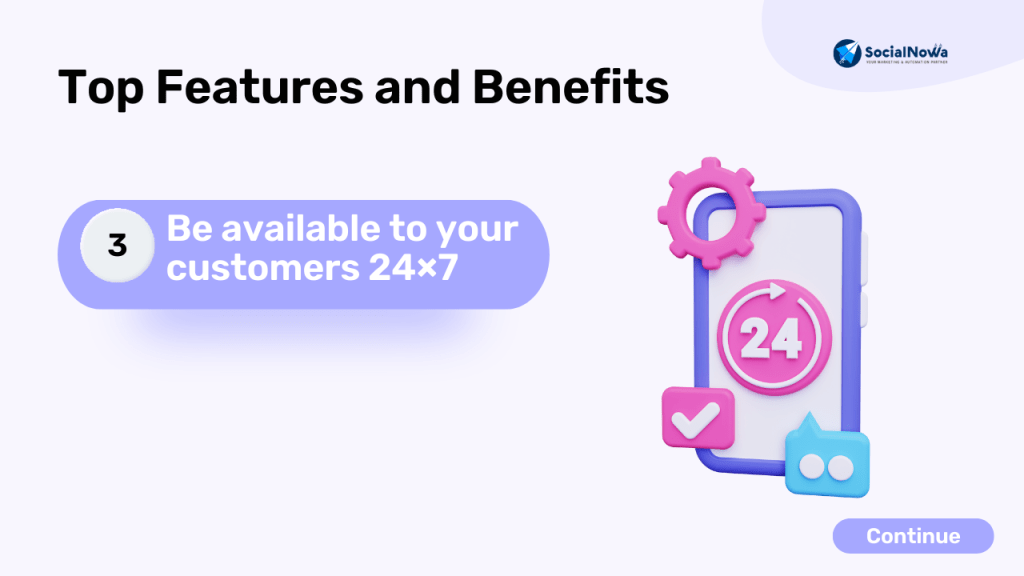 Today, a business that is available 24 hours a day, seven days a week is a winner. However, recruiting agents to work around the clock might be costly and impossible.
Even if you can afford it, why not save money by utilising technology wisely?
Chatbots allow you to be available for consumer engagement 24 hours a day, seven days a week without spending a fortune.
4. Use artificial intelligence to increase conversion rates.
Don't you just adore it when your favourite shopping sites propose things based on your preferences and previous purchases?
It feels more customised, streamlines your decision-making process, and saves you time navigating through a dozen product pages.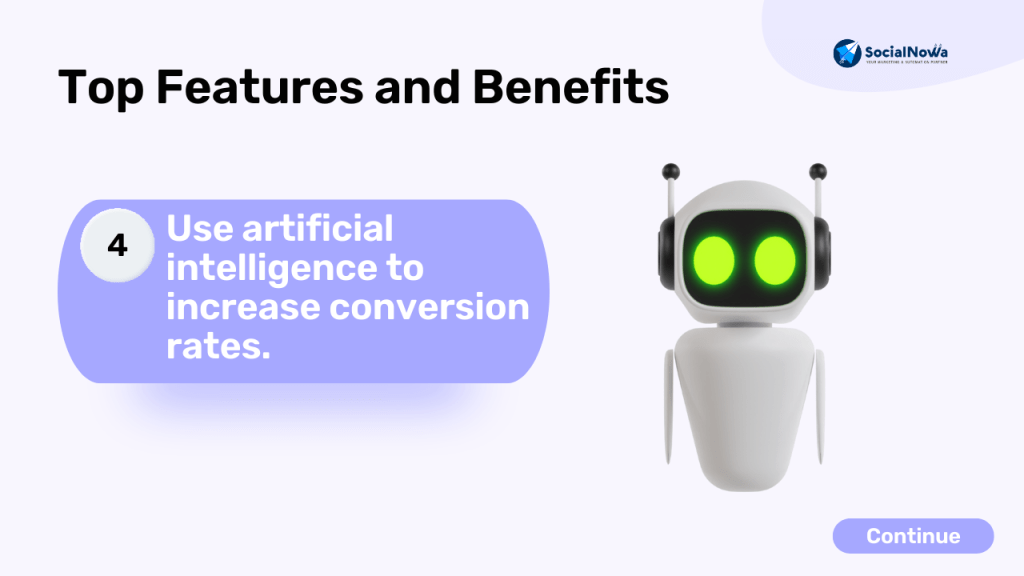 You may do the same for potential clients by using chatbots to recommend products.
AI Chatbots may ask people a few questions and provide them with precise recommendations to increase conversion rates.
Not only will you improve the consumer experience, but you will also gain valuable information that will help you grow a stronger business. Here's an illustration:
Chatbots can also recommend products based on price category, limiting the customer search considerably.
By adding chatbots on the pricing pages, chatbots may also answer pricing queries faster and improve the sales conversion process.
5. Encourage future sales
Consumer reviews are more significant in sales today than ever before. According to one study, 92.4% of customers are more likely to buy a product or service after reading a credible review about it.
But how many consumers take the time to post a review on their own? There aren't many.
But here's the interesting part: 71% of consumers will submit a review IF ASKED. Chatbots can assist you with this.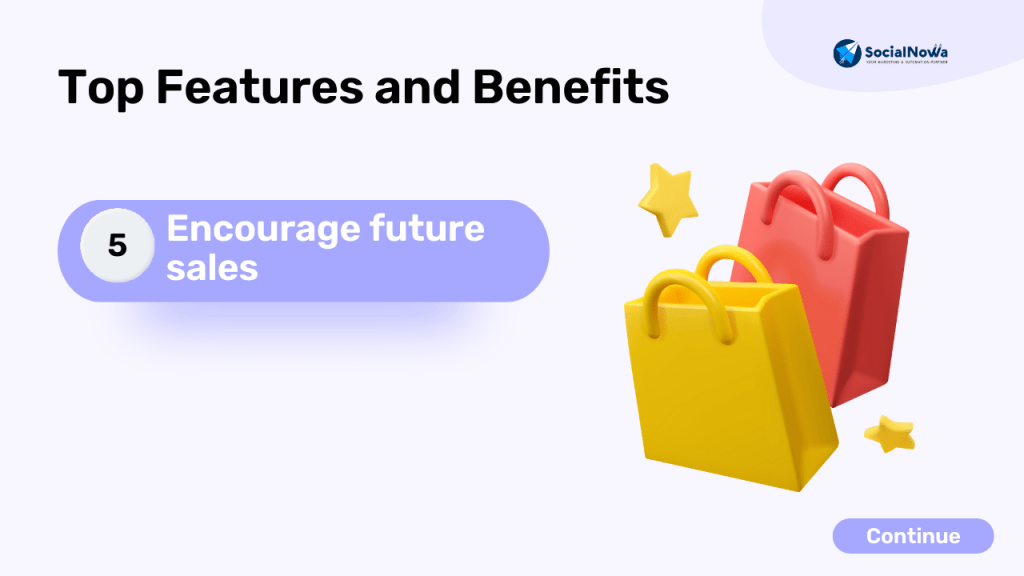 A chatbot can ask a customer to offer feedback immediately after a transaction. You can build the chatbot to collect input in a variety of ways, including:
Star rating buttons that can be clicked
For speedier feedback, use clickable buttons with pre-written responses.
A free-flowing text field for more subjective feedback
Discounts and coupons to encourage individuals to share comments, for example.
You may also connect your chatbot to email and have it send emails asking for feedback to clients. This allows them to answer at their leisure, which may suit some people better than providing immediate feedback.
6: Reduce sales cart abandonment.
Have you ever abandoned a shopping basket and then received push notifications for extra discounts?
People travel through the complete sales funnel and leave at the very end for a variety of reasons, like:
Additional expenses
Delivery is slow.
Checkout procedure is complicated.
Concerns about security, for example.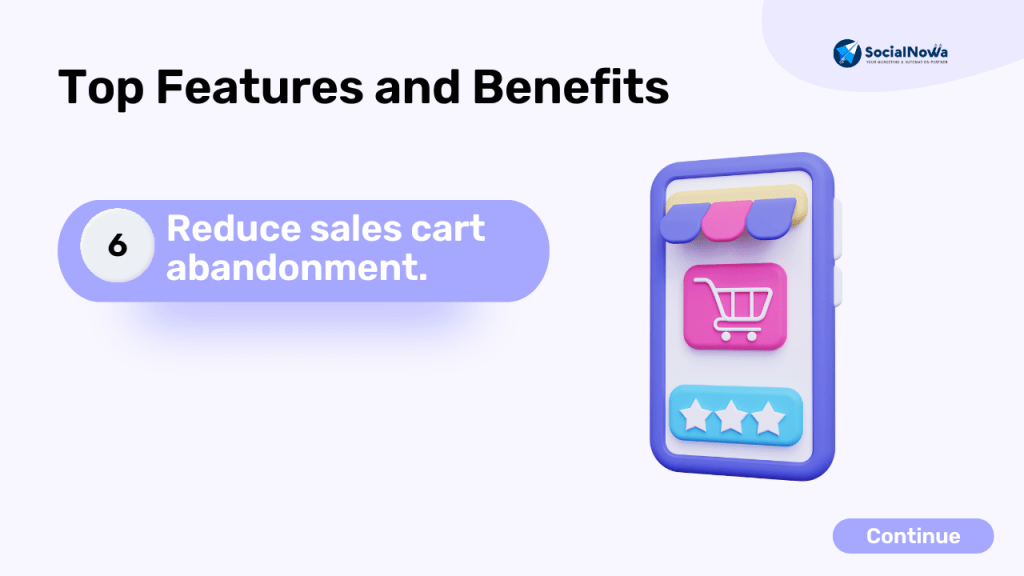 Organisations are constantly devising new methods to prevent shopping cart abandonment, simply because converting a potential client who has gone all the way should be quite simple.
And it is, with the correct instruments. All you need to do is create a compelling offer that they can't reject!
Chatbots are one way to accomplish this, and they do an excellent job of it by:
Responding to client inquiries
Providing discounts
Proactively assisting reluctant tourists
So, now that you know how to utilise chatbots for sales, let's look at the top sales chatbot tools available.
Take a look at these.
Best Chatbot Sales Tools for 2023
SocialNowa is a tool that every digital marketer and business owner must have.
It is one of the most highly regarded sales chatbot automation and analytics platforms for enterprises of all sizes, from small to large.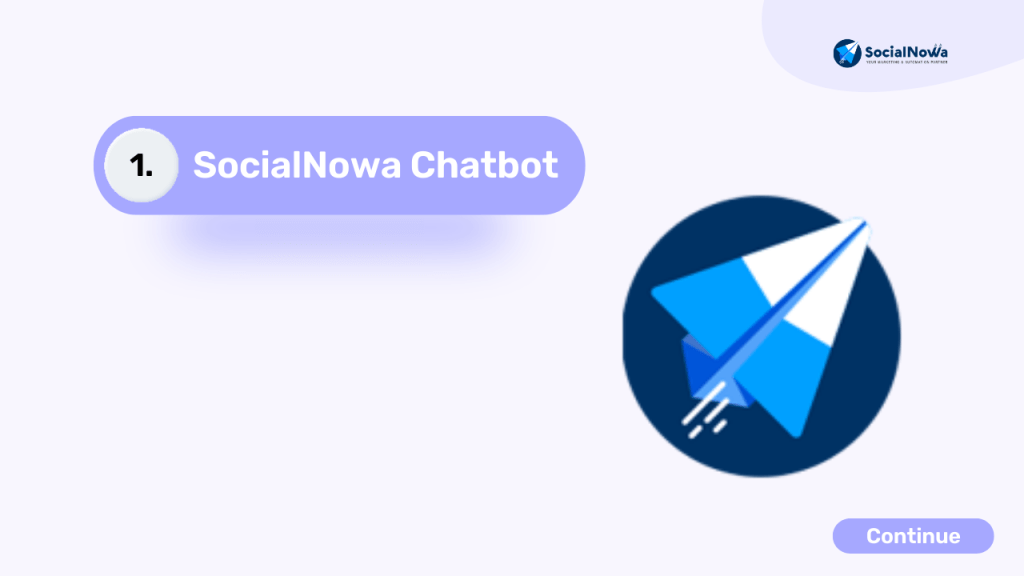 With this sales chatbot automation solution, you can expect to experience a multitude of capabilities, like Instagram DM automation, Facebook and Instagram auto-comment and response, live chat, and many others.
The International Business Times has ranked SN Chatbot as the number one lead generation service for 2022.
Why use SocialNowa sales chatbots?
Save time, money, and effort: by having SocialNowa Chatbot handle your customer service, pre-sale, and FAQ needs.
Boost engagement and trust: It is accessible 24/7 and uses automated comments and responses to accomplish this.
Increase sales and conversion : Create chatbot funnels that directly lead to conversion inside the chatbot to increase sales and conversion.thats why this is a best chatbot for sales.
Additionally, SocialNowa assists users in finding the ideal product within Facebook Messenger and Instagram DMs.
Sell : Sell to the internal manager.
React to support requests
Verify orders, then grow your company.
Most importantly, SocialPilot gives users access to a drag-and-drop visual flow builder, pre-made chatbot designs, an online store for digital items, subscription broadcast, etc.
Socialnowa creates product quizzes, responds to customer questions about the products, and guides customers to the point of sale automatically.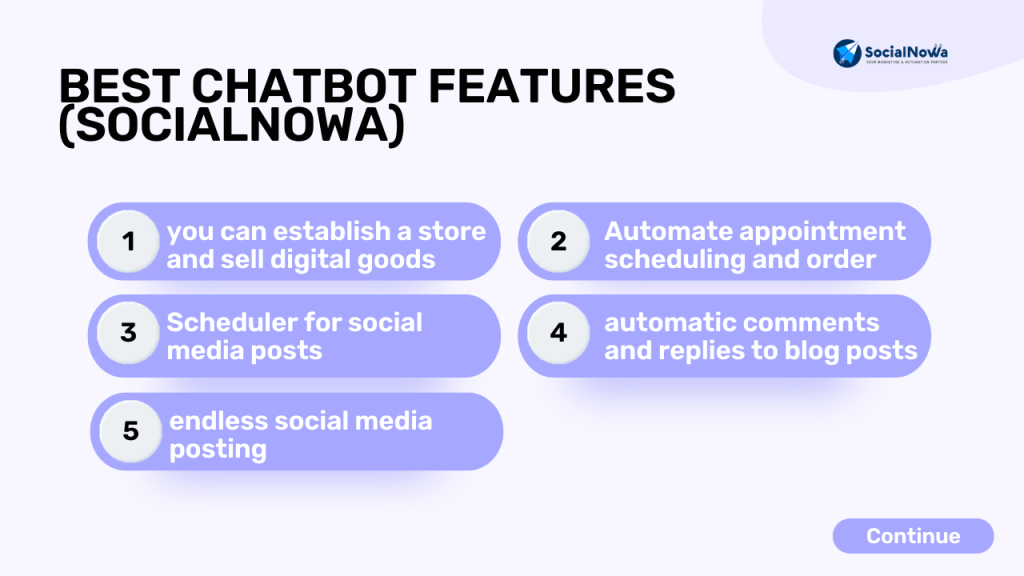 Core features of Socialnowa
Automate appointment scheduling and order collection
With Messenger ecommerce, you can establish a store and sell digital goods.
access to the SocialNowa Chatbot for all time
Scheduler for social media posts
automatic comments and replies to blog posts
Construct a Facebook Messenger bot.
blogging frequently on your social media profiles
Using Facebook's hidden interests tool
endless social media posting
You can sign socialNowa with a 30 days free trial.
SocialNowa Pricing :
Nowa Gold: $29 per month
Platinum Nowa: $69 per month
Nowa Diamond: $109 per month
$354.00 monthly for the agency plan
MobileMonkey is an all-in-one platform for chatbots that lets you use web chat, live chat, SMS, and Facebook Messenger bots for omnichannel marketing.
The platform is unique in that it includes extremely suited solutions for marketing and customer service teams, as well as clients at the small business and enterprise levels.it is best chatbot for customer service.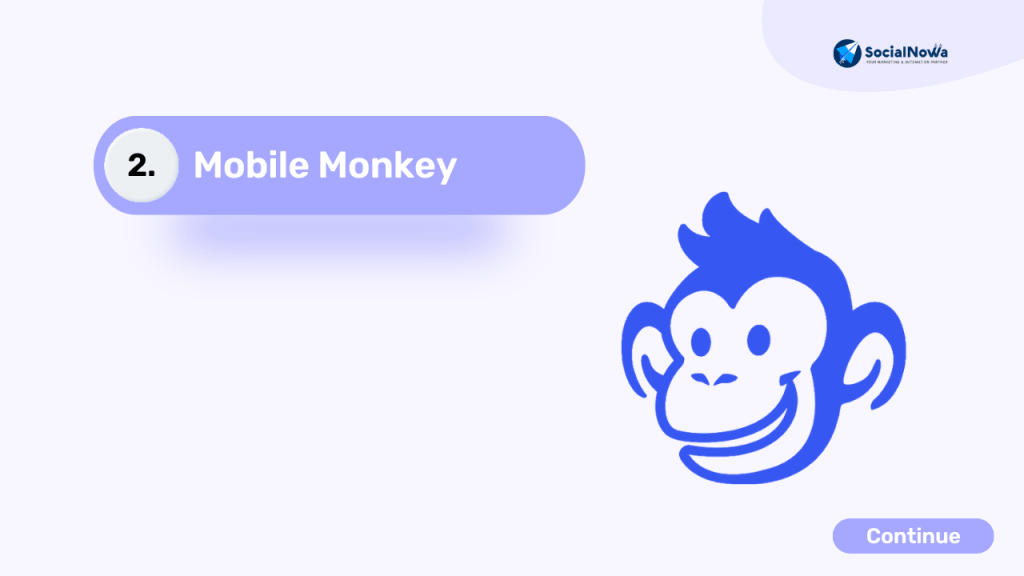 Mobile Monkey Features:
Platform for multi-channel chatbots on the web and mobile apps
Tools for SMS marketing, Facebook Messenger, and native web chat
Chatbot editor and builder with visual flow
Templates for chatbots
Multilingual
connections with Zapier and others
Always optimised for mobile
AI bots generate repetitive FAQs and route queries
customised live chat handoff triggers
reporting and analytics
MobileMonkey Pricing: A non-expiring version of MobileMonkey is free to use to start creating bots. Pricing ranges from $14.25 per month to $299 per month if you require sophisticated automation and integrations.
3. SmartLoop
SmartLoop is the best sales chatbot. You can create intelligent chatbots that can assist generate leads and nurture them with Smartloop.
The platform also assists in analysing user interaction with your bot, finding flaws, and improving the bot's functionality over time to enhance conversational flows.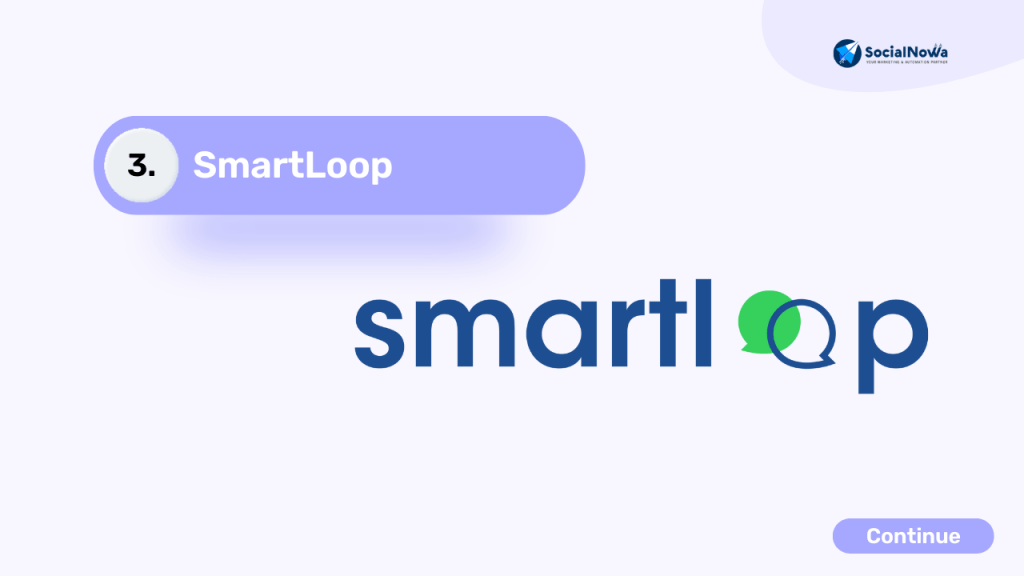 Features of SmartLoop:
built-in knowledge base for conversational AI
automated devices
Instagram Messenger
dialogue builder with point-and-click
human-to-bot handoffs
Viber, Facebook Messenger, web chat, or private channels
Live chat assistance
Using push notifications
Pricing for SmartLoop:
The SmartLoop pricing combines a free and Premium plan. With the Free plan, you can essentially just test out the platform's UI/UX before paying $10/month for up to 1K members.
After 1,000 members, you'll need to discuss pricing with SmartLoop.
4. Engati
The chatbots from Engati provide thorough customer service, automated sales and marketing, and intelligent HR management.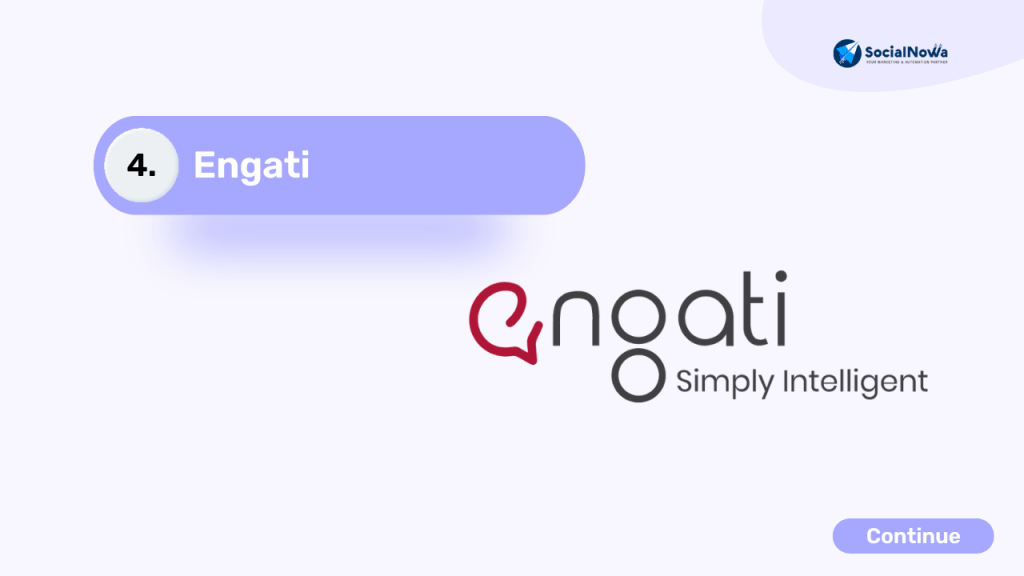 Features of Engati:
builder of conversational flows
proprietary NLP and machine learning
Multilingual
Web, mobile, live, and social media bots
template for bots
the administration of campaigns and broadcasting
Ecommerce resources
vocal robots
cellular SDKs
Analytics
Engati Pricing:
Up to 1K interactions, 2 bots, and 1 brand are permitted with the free plan. After that, a Professional plan with up to 10K interactions, 5 bots, and 1 brand starts at $19/mo.
Pricing for a business plan with up to 30K interactions, 20 bots, and 1 brand is $50 per month. If your needs go above those limits, you must speak with Engati about enterprise pricing.
5. Botsify
Using the Botsify platform, a company can make a chatbot without writing any code for Messenger, Slack, or a website.
For larger businesses, Botsify offers fully managed solutions, and its technology is adaptable enough to support enterprise-level clients.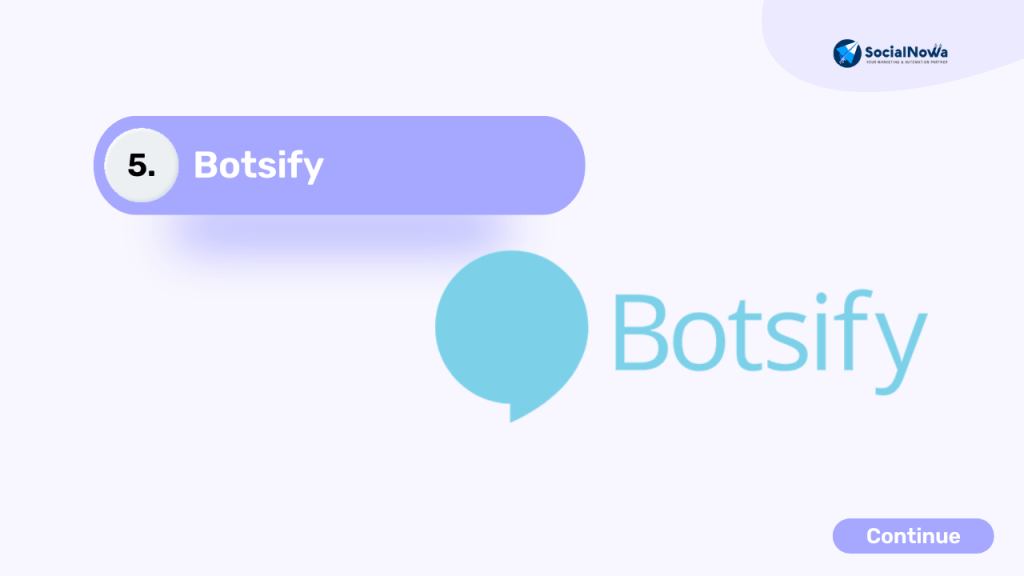 Features of Botsify:
An editor and builder for visual flow bots
Templates for chatbots
Save user information
Machine learning and AI
Automated keyword responses
Multiple-language chatbots
Activate email notifications from the bot
Bot voice of Alexa
the incorporation of additional business systems
Pricing for Botsify begins at $50/mo with up to 30K contacts after a 14-day free trial. After that, unlimited contacts cost $300 per month.
6. ManyChat
ManyChat is the top ai chatbot for sales. A Facebook Messenger bot-building tool called ManyChat combines live chat and chatbot functionality.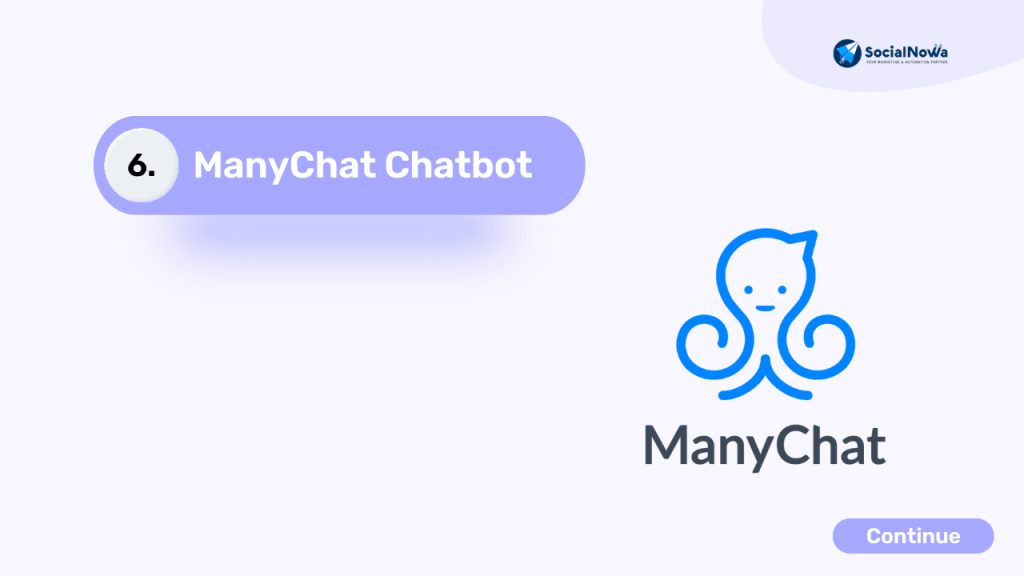 Features of Manychat :
Create chatbots with the editor and visual flow builder
Templates for chatbots
Save user information
Activate email notifications from the bot
Multiple-language chatbots
the incorporation of additional business systems
Pricing for ManyChat: You can try out the platform with a free account from ManyChat.
Pricing begins at $10 per month for 500 members if you wish to use it for business purposes.
There are 7 further pricing tiers, with the highest rate for more than 20K monthly members being $145/mo. Most medium-sized and large-sized businesses have more than 25K users each month, therefore you should chat to ManyChat about a price plan.
7. Freshchat
Freshchat is an omnichannel, AI-driven, self-service chatbot that can be used by both small businesses and enterprises.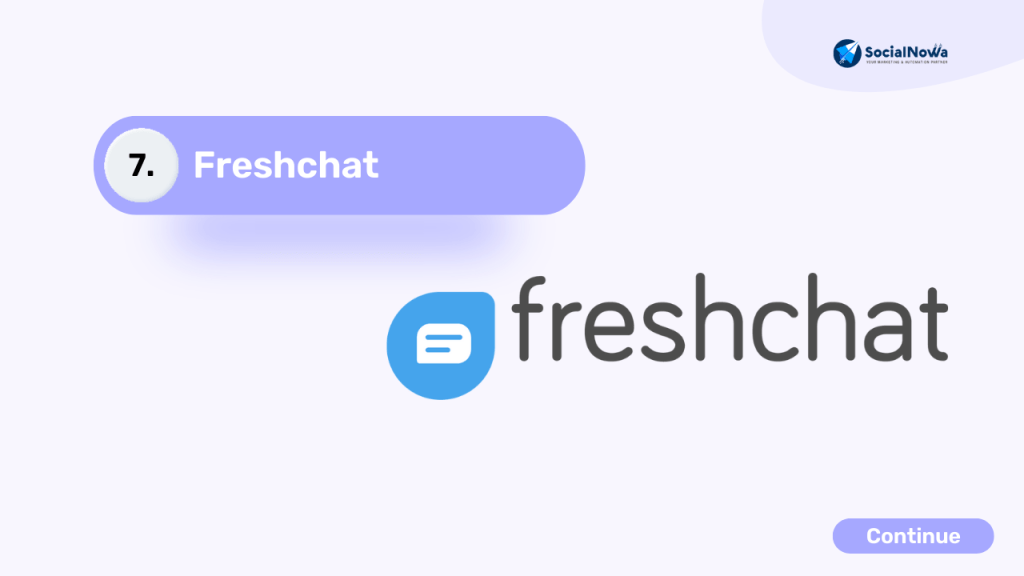 Features of FreshChat:
Support via email and chat
Self-service, AI, and omnichannel
SLA administration and custom ticket standing
Automatic responses
The dashboard includes user information, user profiles, and event timelines.
Analytics and reporting
(New) Use sales and support bots to automate acquisitions
Pricing for Freshchat: Freshdesk offers five pricing categories, the free plan being the entry level. The free plan gives you a good understanding of how the platform works but is insufficient to sustain a sales or support team.
Price after the free plan begins at $15 per agent per month (for instance, 2 agents equal $30/mo), and then increases to $109 per agent per month, which is their Enterprise level pricing.
You and your team will progress into higher pricing tiers as more features become necessary.
8. User.com
Compared to the other sales chatbot tools described, User.com is a little different.
User.com is a platform with a complete set of capabilities for support, sales, and marketing teams. They also have a good chatbot for sales, as just so happens.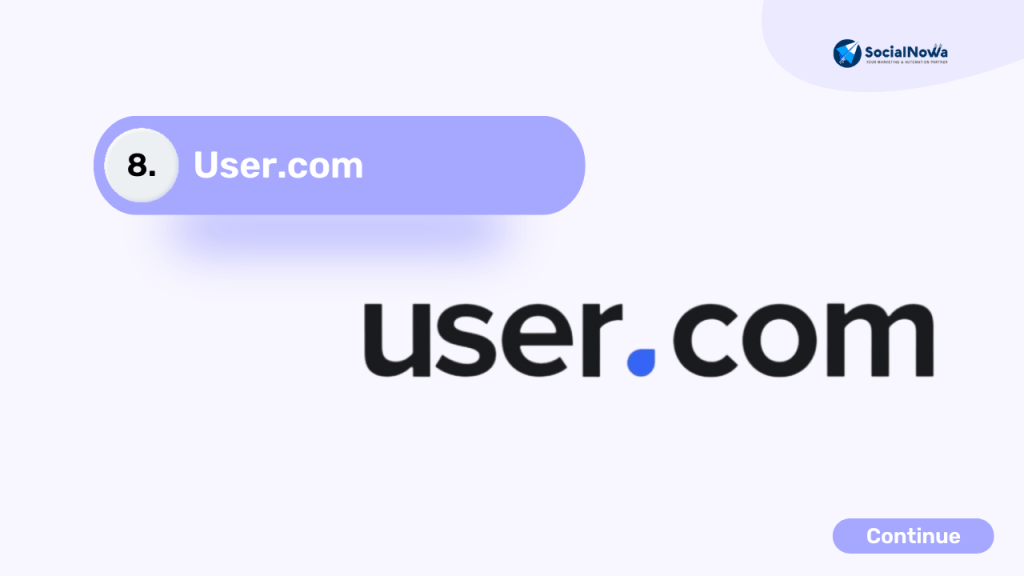 Features of User.com:
Identify leads
Resolve FAQs
Integrated "conversation situations"
depending on visitor activity
automated components
SMS, online chat
Drag and drop bot creator
Pricing for User.com is a little more complicated because you're getting more than simply a chatbot platform.
What we can tell you is that they offer a free plan and then charge $49 per month for 2K contacts to $1,349 per month for 10K contacts and $15 for each extra 1K connection.
9. Chatfuel
Live chat and automated chatbot integration are both possible with Chatfuel, a self-service bot-building platform.
Features of Chatfuel
Platform for Facebook Messenger
template for bots
Multiple-language bots
Save user information
Automated keyword responses
Adaptation to other commercial systems
Chatfuel Pricing: The free edition offers up to 1,000 users and access to the most basic features. Although the pro edition only allows for 500 subscribers and has a monthly starting price of $15, it offers additional features in return for fewer subscribers.
The Pro plan alone has 7 additional tiers, with the highest one costing $180 a month for up to 25,000 users.
10. Imperson
Imperson develops chatbots that resemble human speech in order to automate as much of the customer journey as possible.
It is a platform for artificial intelligence chatbots that builds business bots for its users.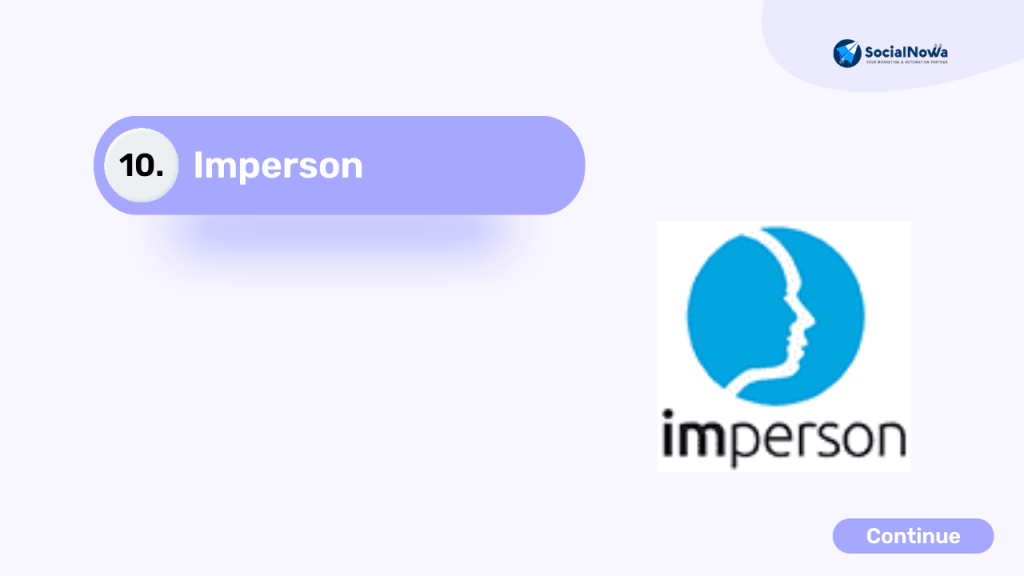 Features of Imperson
complete creative and implementation services
NLP, AI/machine learning
services for fully-managed bots
Integrations for Messenger, Kik, Twitter, websites, Slack, SMS, and Skype
supports text, audio, video, and soon, augmented reality and virtual reality
Monitoring and personalization of chatbot performance by the Imperson team
11. Boost.ai
You can create engaging, intelligent bots for your website that serve prospects and customers through sales, support, and automated Q&A with the aid of Boost.ai.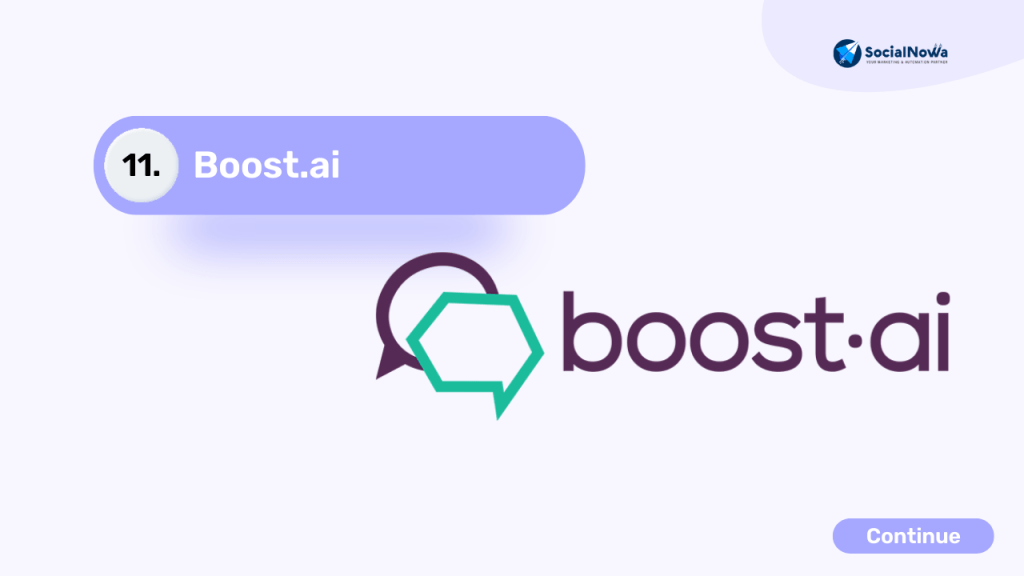 Features of Boost.ai
Automated in-chat responses to FAQs and API documentation
Tools for automated upselling and conversation flow
integrations with Slack, Microsoft Teams, Facebook Messenger, and other services
Pricing for Boost.ai: To learn more about Boost.ai's pricing, get in touch with their staff.
12. Drift
Live chat and automated chatbot technologies are both used on the platform known as Drift.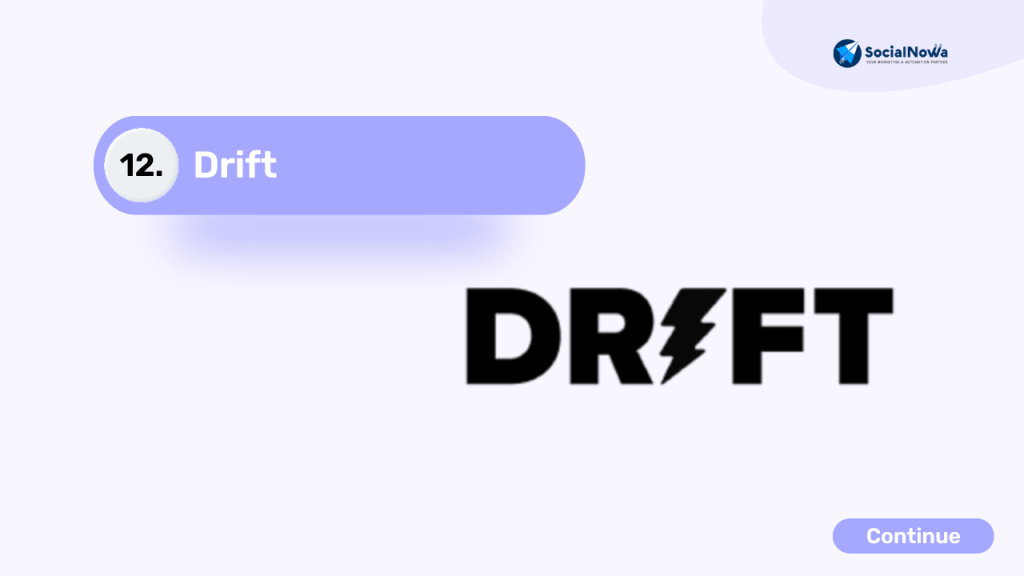 Features of Drift:
smartphone application
Utilise tickets to manage difficult client problems.
automated messaging choice
Utilise a chatbot to automate tasks
Store visitor information
Automating sales and marketing
combines with different business systems
Pricing for Drift: Drift offers a free plan without any standout features. Pricing then starts at $50 per month and rises to $400, $1500, and bespoke prices with an extra fee for each user.
Conclusion :
You now have it. a respectable amount of data to help you decide whether to use sales chatbots.
When you wish to scale up, you shouldn't feel like it's difficult, and the tool should work best for your industry.
So go ahead and move forward; we wish you the best of luck!