Introduction :
Customer Service For Business is so much important because Every consumer expects an extraordinary level of service.
A business is subject to the wrath of unhappy consumers if it lacks a strong customer-centric culture in which fast settlement of issues is the norm.
Expanding your team to provide help 24 hours a day, seven days a week may appear to be a daunting endeavor. With a step-by-step instruction, however, you can quickly implement a 24/7 support model.
That's why we've compiled this thorough guide on establishing 24-hour customer support for your company.
Because of poor customer service, 56 percent of individuals throughout the world have ceased doing business with a company.
As a result, providing 24-hour customer service is a realistic justification for organizations that priorities value in the digital world.
Customers frequently expect firms to respond to their questions soon away.
As a result, businesses must ensure that the total customer experience is positive; otherwise, customers will migrate to other brands.
Knowing what customer service is and investing in it 24 hours a day, seven days a week can be helpful to organisations in the long run.
What Does 24/7 Support Mean?
When businesses use digital channels like live chat and chatbots to engage their customers 24 hours a day, seven days a week, they are providing 24 hour customer service.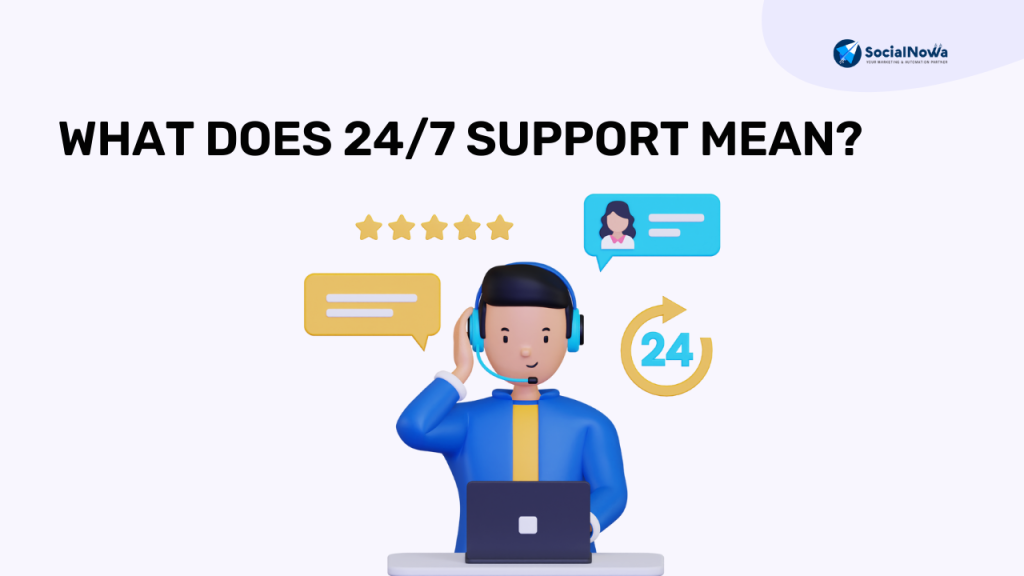 Customers are ecstatic when they receive assistance when they need it. This is how customers respond to customer service.
24/7 support (also known as 24/7 customer service or 24/7 tech support) is a customer service approach in which support is provided 24/7.
To put it another way, a 24/7 service approach assures that a client may get their issue fixed at any time of day or night.
Customers dislike being kept waiting and want rapid responses. Customers will get their issues resolved with proactive customer care assistance and clarity if a support team is available 24/7.
When clients are satisfied with the level of service they receive, they are more likely to stay loyal to the company.
How Do You Know if Your Business Needs to Provide 24/7 Support?
If you're unsure whether or not you should provide round-the-clock service, consider the following questions:
– Do you have a consumer base that spans significant interaction or geographic regions?
When dealing with a global consumer base, it's critical to consider the different time zones.
– Is your company in a line of work that necessitates 24-hour client service?
If your company falls into one of these categories, you must provide service 24 hours a day, seven days a week.
Aside from that, providing 24/7 help is incredibly lucrative when your company values customer experience.
Why Is 24/7 Support Important for Businesses?
Apart from meeting customer and industry needs to offer positive experiences, providing support around the clock has a positive influence on key customer service and company KPIs –
I) Reduces wait times | Customer Service For Business
Today's customers despite having to wait for help. In fact, according to a McKinsey report, 75% of internet clients still want service in 5 minutes or less2.
Providing support 24 hours a day, 7 days a week goes a long way toward ensuring a high first-response rate and minimizing overall wait times across channels.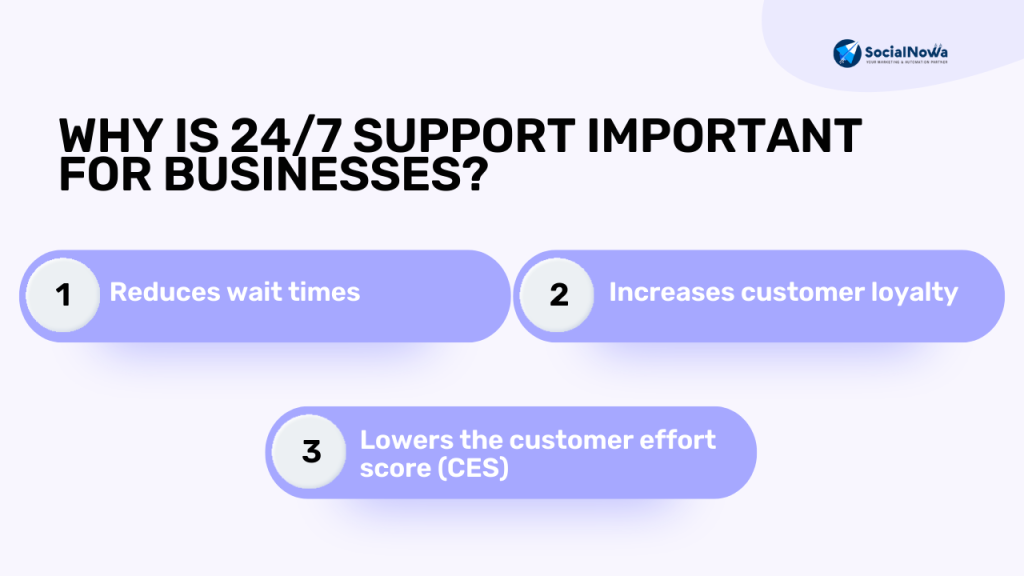 ii) Increases customer loyalty | Customer Service For Business
Being ready to assist consumers 24 hours a day, seven days a week shows that you genuinely care about them and priorities their requirements. This also aids your clients in gaining trust and reaffirming their commitment to your business.
Customers prefer businesses to be open 24 hours a day, seven days a week, according to 51% of respondents1.
iii) Lowers the customer effort score (CES)
When you aren't available 24 hours a day, your customers are more likely to try to contact you many times. This will have an immediate effect on your CES.
Being available at all times to provide real-time assistance, on the other hand, minimizes the amount of work your consumers must put in, lowering your CES.
6 Proven Reasons Why Businesses Need to Provide Customer Service 24/7
Depending on the nature of your business, your clients may just be unable to wait for their issues to be resolved.
You'll be able to provide speedier solutions if you have a customer-centric strategy and have a service team ready at all hours of the day.
Apart from the usual reactive communication channels of email and phone assistance, here's how you may provide support 24 hours a day, seven days a week.
1. Increased sales conversions thanks to a round-the-clock call center
One of the most significant services a brand can offer, according to 50% of consumers, is having a real person answer questions in the middle of a purchase decision.
One of the most important parts of enhancing conversion rate by shortening the sales cycle is to respond quickly.
You will have more return clients and create more revenue if you answer quickly.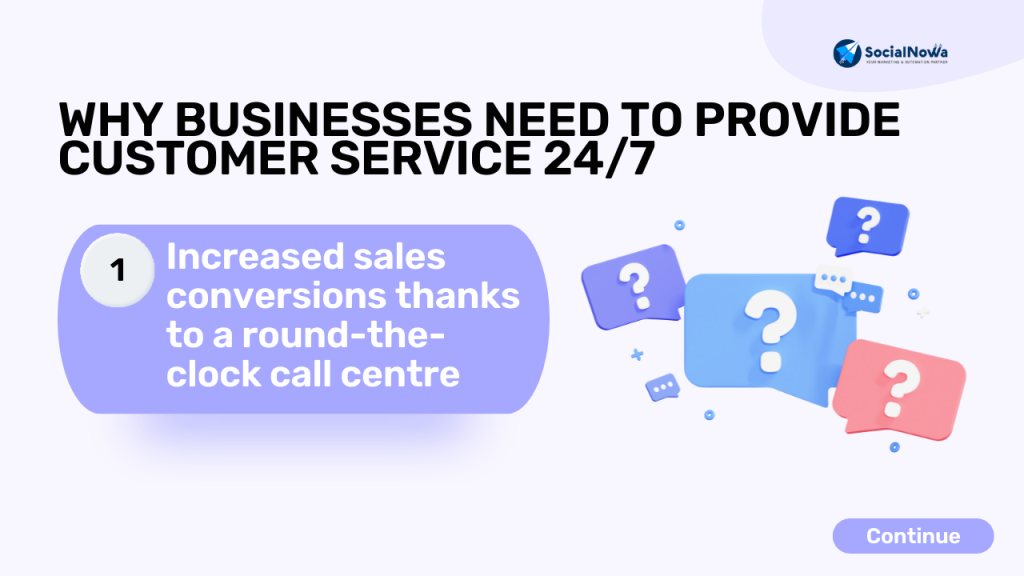 Why does live chat customer service enhance sales conversions 24 hours a day, 7 days a week?
Addressing customer sales queries more quickly through good conversational customer involvement aids them in making swift decisions.
As a result, the availability factor helps to shorten the sales cycle and increase conversions.
Using live chat improves conversion rates.
1. Provide real-time sales support
Integrate live chat into your website to provide speedier sales support by connecting to sales reps via intelligent routing.
2. Use lead generating bots
You may use a sales bot to convert website visits into qualified leads and collect visitor data for future use.
3. Reduce cart abandonment
By sending well-tailored messages to website visitors, you can persuade them to start a chat and drastically lower the cart abandonment rate.
4. Automate appointments and bookings
Use a chat bot to guide consumers through the booking process. It also boosts team productivity by reducing the time spent on manual follow-ups.
2. Customer service is available 24 hours a day, seven days a week, demonstrating a high level of responsiveness.
The most important aspect of providing excellent service is time. Customers, even potential customers, demand immediate responses.
Providing customer service 24 hours a day, seven days a week shows your customers that you are in the "NOW" industry and are highly responsive to their demands.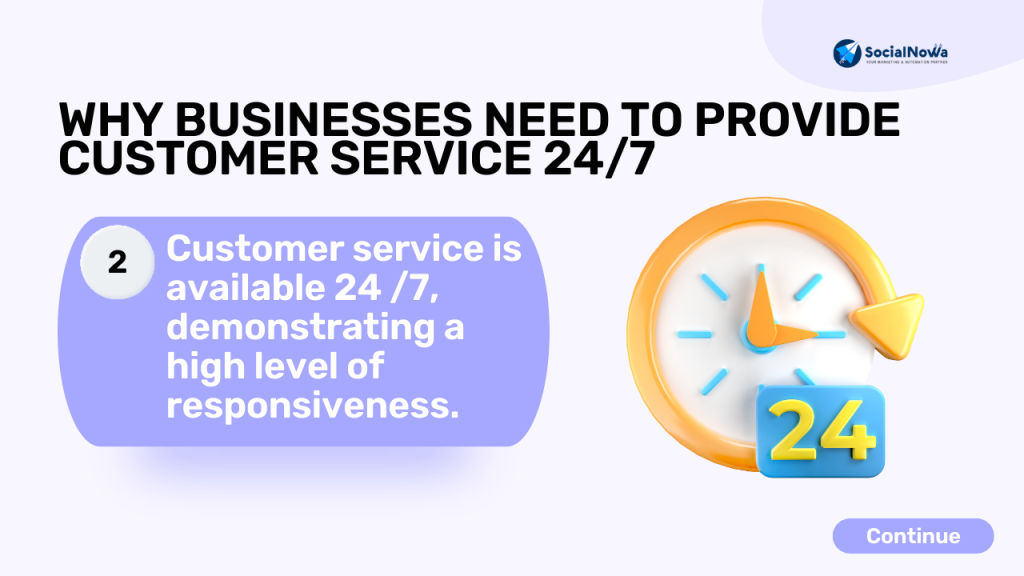 Customers that are satisfied with your service might help you gain trust and increase sales. If a customer had a favorable experience, 77% of them are inclined to refer the company to a friend.
When you provide client service 24/7
It demonstrates how important your consumers are to you.
You demonstrate that you are aware of your customers' expectations and that you are tailoring your offerings to meet those needs.
It also shows that your support team understands the value of follow-up in customer care and is committed to providing constant customer support 24/7 .
Consider the case where your organization lacks the resources to respond to client requests quickly.
Are you willing to lose 30 percent to 60 percent of your recurring revenue?
Because such scenarios would simply drive customers away to companies that put in the time and effort to provide round-the-clock customer service.
3. Concentrate on providing a superior customer experience.
Every company's main goal should be to provide a positive customer experience.
Customer support that is available 24/7 and rapid resolution are crucial characteristics of outstanding customer service that have a direct impact on your clients' satisfaction levels.
When clients contact you with problems, your first focus should be to determine the nature of the problem and give an effective solution using the appropriate tools and processes.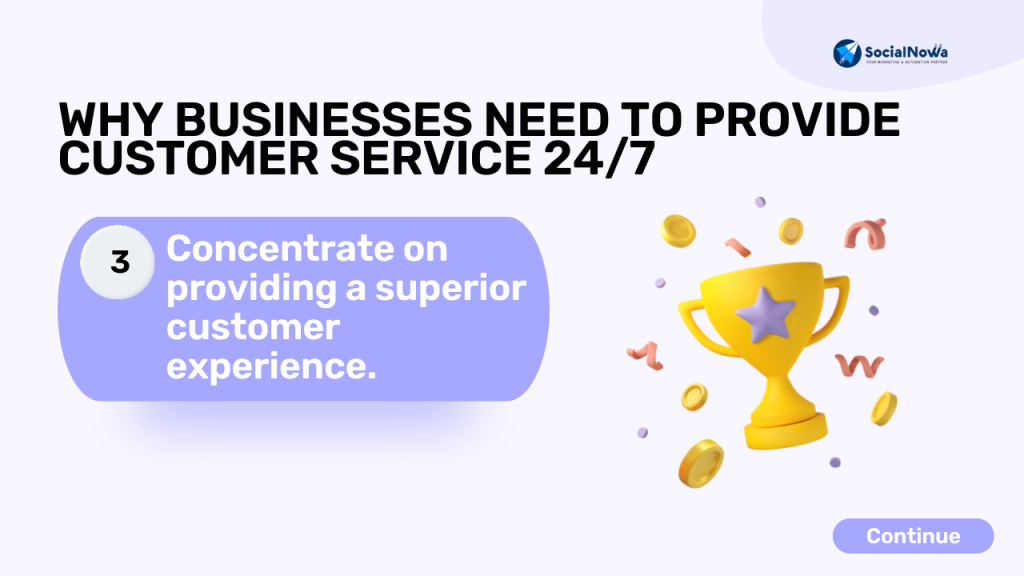 The faults cited can be both generic and complex, requiring visual comprehension.
Agents can cooperate with consumers in real time by managing their displays and leading them through a complex procedure utilizing a co-browsing solution.
You can detect the root cause of issues and give customized answers by minimizing the number of touchpoints with a video contact center solution.
Using modern tools to respond to consumer queries in real time not only demonstrates your commitment to good customer service, but it also provides an excellent experience.
What comes next?
Customers are delighted with the whole brand when they receive efficient solutions in the first encounter with such responsive service.
Using modern customer engagement technologies demonstrates your commitment to customer service and how seriously you treat your clients.
Happy consumers spread the word about their excellent experiences to their friends and on social media.
Customers that are satisfied are more likely to continue with your brand for a long time, increasing their lifetime value.
4. Customer retention is improved by providing service 24 /7
Customers are 59 percent more likely to buy if brands respond to their questions in under a minute. It suggests that a long hold/wait time irritates every consumer and influences their decision to stay with the company or not.
Investing in providing customer support 24 hours a day, seven days a week is a good client retention strategy and a wonderful method to increase lifetime value.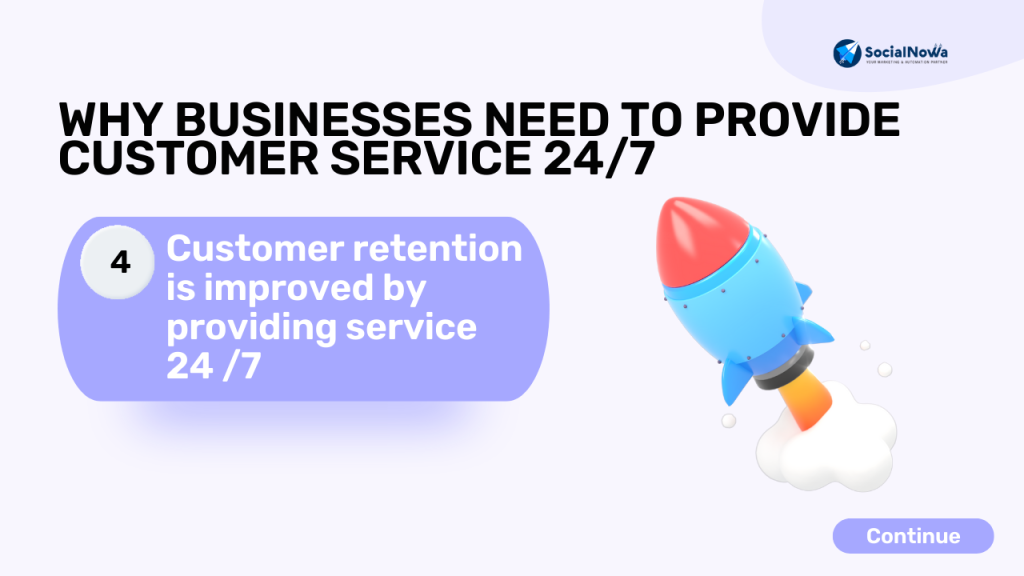 Customers get loyal to your brand and stick with it for a long time. Their lifetime value rises, which is an essential indicator that shows the entire revenue a single customer account can generate.
Growing the value of your business means your customers are purchasing more frequently and/or spending more money with you. A 5% improvement in client retention might result in a 25% increase in earnings.
Customers that have a positive experience with your support employees are more likely to return to your company.
They will also prefer to tell others about their excellent experiences, which will help you create connections with your customers.
Guidelines for Best Practices :
Implement live chat to respond and answer consumer queries promptly, as customers need immediate responses when it comes to 24×7 customer service.
When your operators are not busy, you can use a customer support chatbot to interact with your consumers.
A rapid reaction provides an outstanding customer experience, resulting in increased sales conversion and client retention.
5. Customers expect real-time response.
What if a customer is surfing your website and requires aid in making a purchasing decision?
The component vouches for its legitimacy, as your website produces your brand's image, the Customer Service For Business in the higher education business or others. As a result, the shopping experience will be considerably improved, and long-term partnerships will be formed.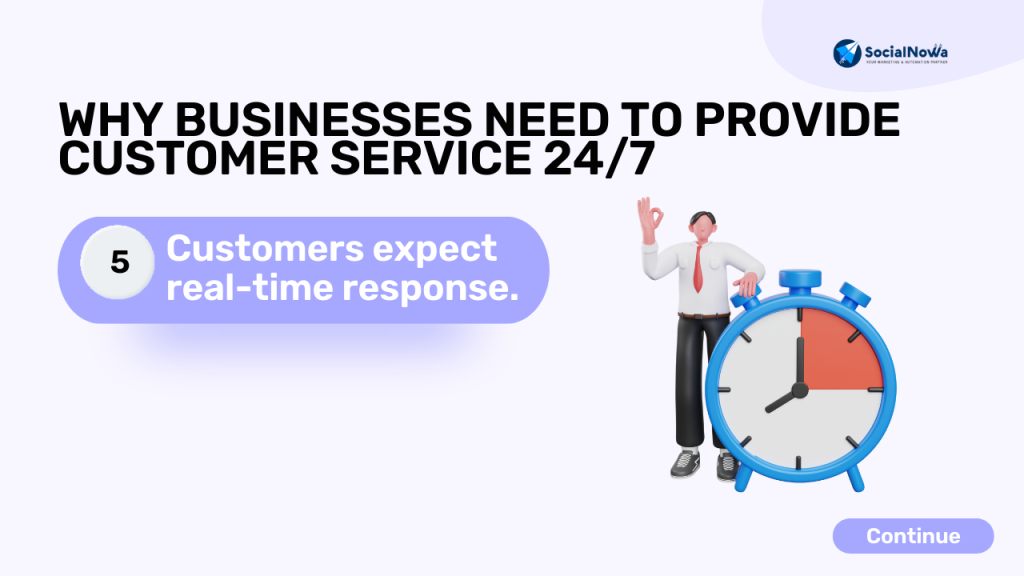 Lack of proper service, on the other hand, may discourage your clients, causing them to abandon the transaction and never return.
Depending on your business needs, you can utilize digital tools to improve customer service communication 24 hours a day, seven days a week.
Include a live chat option.
When compared to other digital interaction methods such as email or social media, live chat is the most popular. Customers prefer to communicate with businesses via live chat 46 percent of the time.
Here's how live chat can help your consumers 24/7
Agents may handle many conversations at once with the addition of live chat.
Use prefabricated responses to quickly respond to questions.
By channeling chats to the appropriate team, you can provide an effective answer.
Increases customer satisfaction by improving first response time.
Bots can help you automate your customer service.
Chatbots are used extensively by businesses that need to engage their customers 24/7 .
Companies will invest $5 billion in chatbots to give better and faster service to their customers.
Jenny, a chatbot developed by Slush, an entrepreneurial events organizer, was successfully implemented on their website and handled 64 percent of all customer care requests for the Slush customer support team—a huge load.
People started 55 percent more discussions with Slush because the Jenny chatbot was available 24/7 on their website and mobile app.
When your support crew is unavailable or busy, you may use chatbots to engage your consumers 24/7 with real-time answers.
Bots can handle common requests at scale, lowering the number of support tickets raised and increasing the productivity of your team.
6. Encourage client loyalty by providing service 24 hours a day, seven days a week.
When a customer has a persistent favorable emotional response to a brand, a magical element called loyalty emerges. It could be 24-hour customer service, high-quality products, or any other factor, but the customer comes to identify the brand with high-value and prefers it over others.
It means that when a consumer is handled well and receives round-the-clock customer service, the customer decides to stick with that company.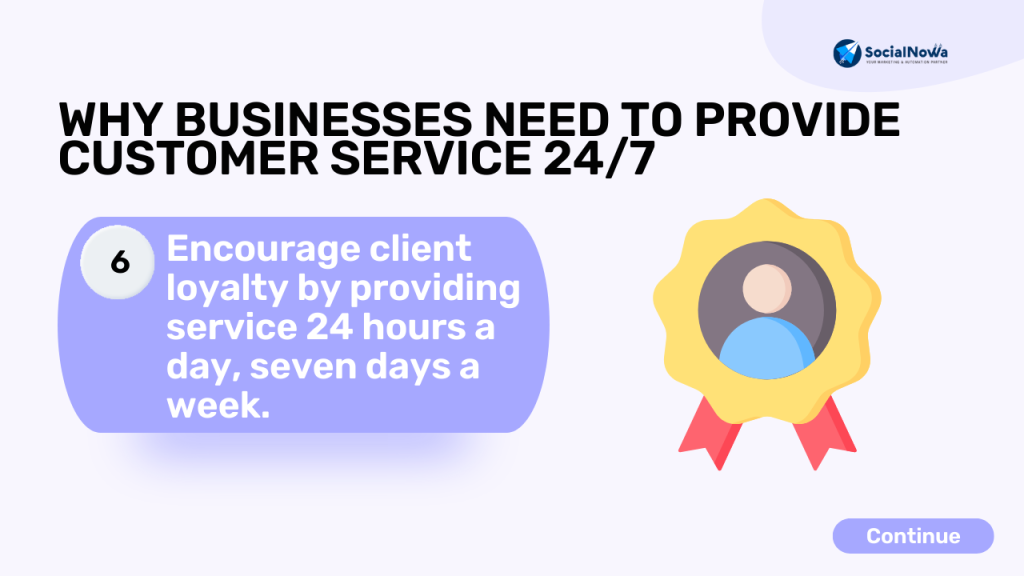 The best approach for a company to establish loyalty with customers, according to 34% of consumers, is to provide exceptional customer service 24/7 .
You must priorities the following areas in order to provide excellent customer service.
1. Build trust by being available 24/7
Customers will seek validation elsewhere if you are unavailable.
To increase client loyalty, make sure your customer service representatives are available 24 hours a day, seven days a week to deliver a constant level of support.
2. Streamline your communication process
Increase customer loyalty by communicating effectively and streamlining customer support processes.
You can efficiently communicate with your clients by employing automation technologies.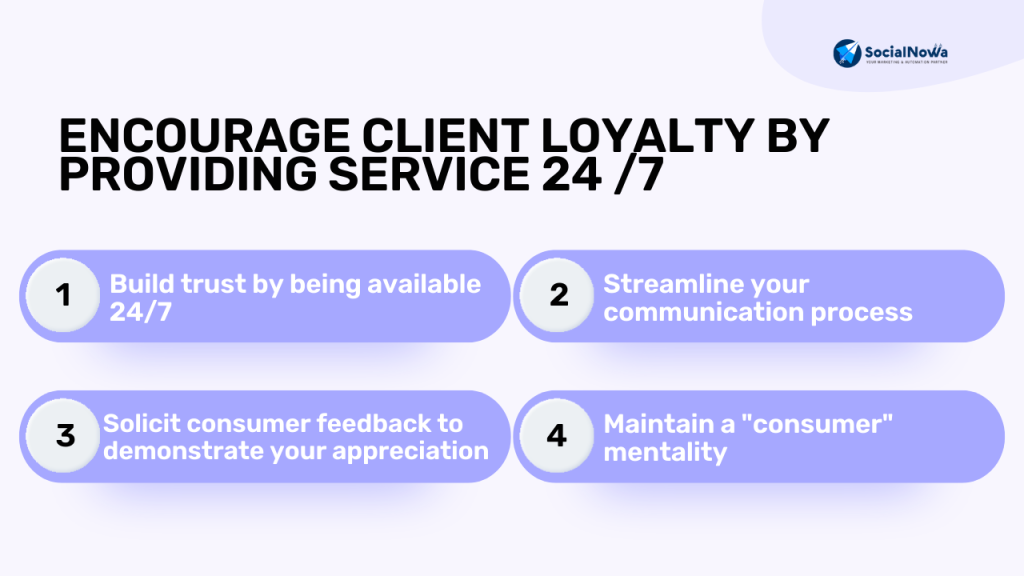 3. Solicit consumer feedback to demonstrate your appreciation
To better understand your consumers' needs, ask for input at every touchpoint.
Consider consumer concerns as an opportunity for improvement, and act fast to address them. It demonstrates that you care about your customers and want to establish long-term relationships with them.
4. Maintain a "consumer" mentality
Building strong relationships with purchasers, providing them with round-the-clock Customer Service For Business .