For small enterprises and large corporations alike, conversion rate improvement has been a difficulty.
People visit the website, examine the product, and leave a review, but they do not purchase.
Why?
There could be a variety of explanations for this. I'll list a few of them below:
What are their methods for establishing trust?
They are unsure whether or not the product will be beneficial to them.
More information is required.
If you're a small business owner, surviving in this competitive market with fewer conversions will be difficult.
Many large corporations with the financial resources seek the advice of experts such as Neil Patel, who has assisted companies such as Amazon, NBC, GM, HP, and Viacom in increasing sales.
However, if you're a tiny business, you'll have to do something on your own to keep your website visitors interested in your product or service and purchase it.
Conversion Rate Optimization (CRO) is a way for increasing the number of sales/signups by employing a variety of techniques.
Today, I'll go over some conversion rate optimization best practices for improving client buying experiences and increasing online sales conversions:
7 Conversion Rate Optimization Best Practices to Generate Sales
1. Forms that are less complicated | Generate Sales
Have you ever intended to fill out an online form only to be put off by the overwhelming number of needed fields?
It's one of the most effective ways to sabotage your conversion rate. Remove any non-essential form fields, leaving only those that are required to reach your goal.
Signups increased by 10% for each form field we deleted.
Obviously, this can be taken too far.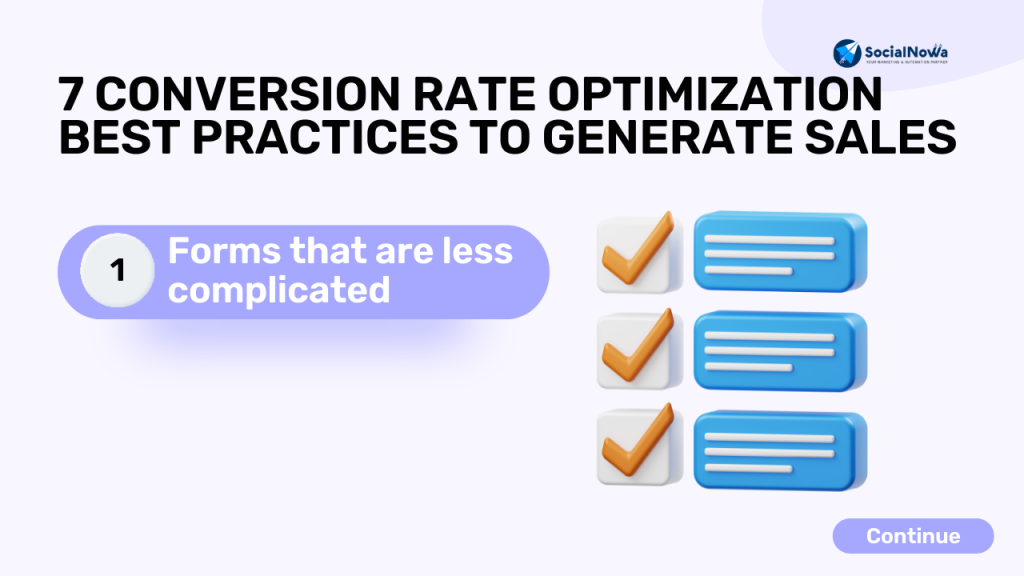 If your sales staff doesn't have all of the information they need to follow up on leads, your sign ups may be high, but your close rate will be poor.
So strike the perfect mix between gathering vital lead information and keeping fields to a bare minimum.
Just make sure that each field is crucial.It should be removed if it isn't.
Suggestion: Make things easier for your visitors, improve the customer experience, and optimise your website conversion rate.
2. Live Chat | Generate Sales
Who doesn't appreciate a little assistance when they're out shopping? Isn't it great when someone chooses the exact style jacket you've been seeking for but can't seem to find?
That is why malls and showrooms provide you with assistance in the shape of a salesperson. But, in the instance of an e-commerce store, what would you do?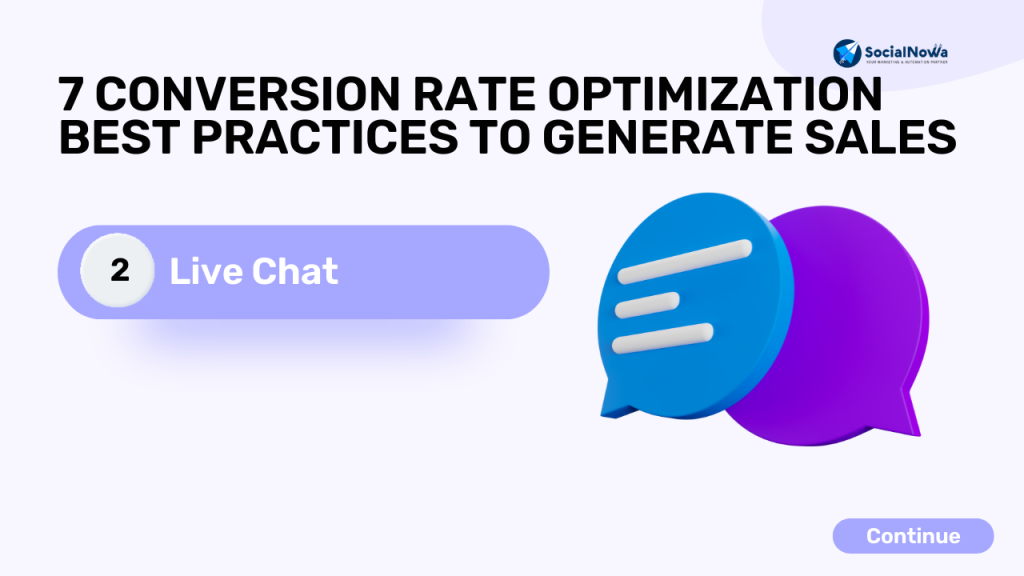 One of the conversion rate optimization tactics that will assist website visitors in acquiring what they want is live chat.
This application enables you to engage with your website visitors in real time, providing a positive shopping experience, converting them into customers, and increasing your live chat conversion rate.
Customers may obtain answers to their problems quickly and without having to wait on hold when you use live chat support software and chatbots to connect with them.
Chatbots frequently replace the human part of live chats, and the two are frequently considered as complementary possibilities.
Companies that can combine the two, with chatbots interacting with clients during off-hours, will likely be the most successful.
Suggestion: Try to answer your website visitors' questions, and they'll become clients before you realise it.
3. Social proof, and endorsements | Generate Sales
Why do so many people use Amazon to make purchases? It's thanks to the appearance of their product reviews, in part.
Customer reviews are a must-have in the internet retail era. The presence of customer reviews signals to shoppers and potential customers that your business is legitimate and successful.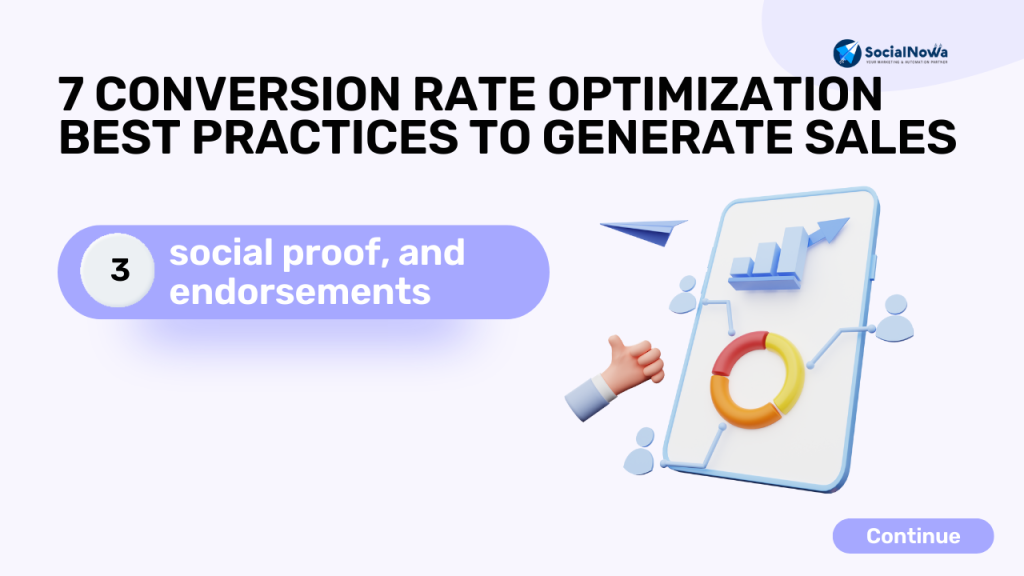 Getting positive feedback may make or ruin your company. As a reward for providing a review, you can provide customers with a coupon code or other forms of incentives the next time they make a purchase.
Similarly, for service-based enterprises, product reviews are a terrific feature.
You may build your company as one that can be trusted to give a valuable product by having customers explain why they choose your company and the benefits they've gotten.
Suggestion: If a negative review is left, respond to it and try to rectify the situation. Customers perceive it favorably and believe you care about them.
4. Retargeting | Generate Sales
The conversion rate for websites is around 2% on average. This means that nearly everyone who comes to your site for the first time departs without taking the action you want them to do.
This is where retargeting enters the picture. It aids in bringing back people who have already viewed your site.
Retargeting allows you to reach out to people who had previously left your site for whatever reason.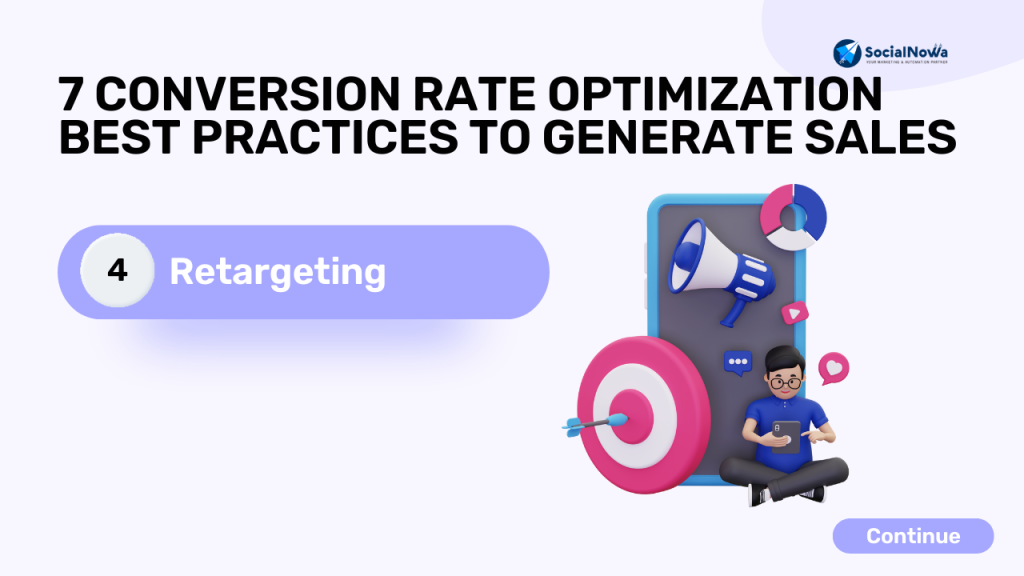 It has been shown to influence conversion rates in a number of statistical studies.
Here are just a few of the numerous statistics that demonstrate the value of retargeting in conversion rate optimization.
Users who have been retargeted are 70% more likely to convert.
Branded search visibility can be increased by more than 1,000% with retargeted advertisements.
Brands have set aside 49% of their spending only for retargeting.
You can keep the dialogue going with your potential buyers and help them remember your brand for future purchases by using retargeting.
With personalized messaging and offers, you may entice former visitors back to your site and turn them into paying clients.
Retargeting puts your firm in front of potential clients all of the time, offering you a competitive advantage in an ever-competitive industry.
Suggestion: Remarketing ads should be kept to a minimum to avoid annoyance.
5. CTA should be identified | Generate Sales
On a single screen, don't overload visitors with too many options and CTA buttons.
Having all of your CTAs in one place, on the same page, whether it's 'Add to Wishlist,' 'Share Icons,' 'Add to Cart,' or 'Learn More,' can help keep your sites from being too cluttered.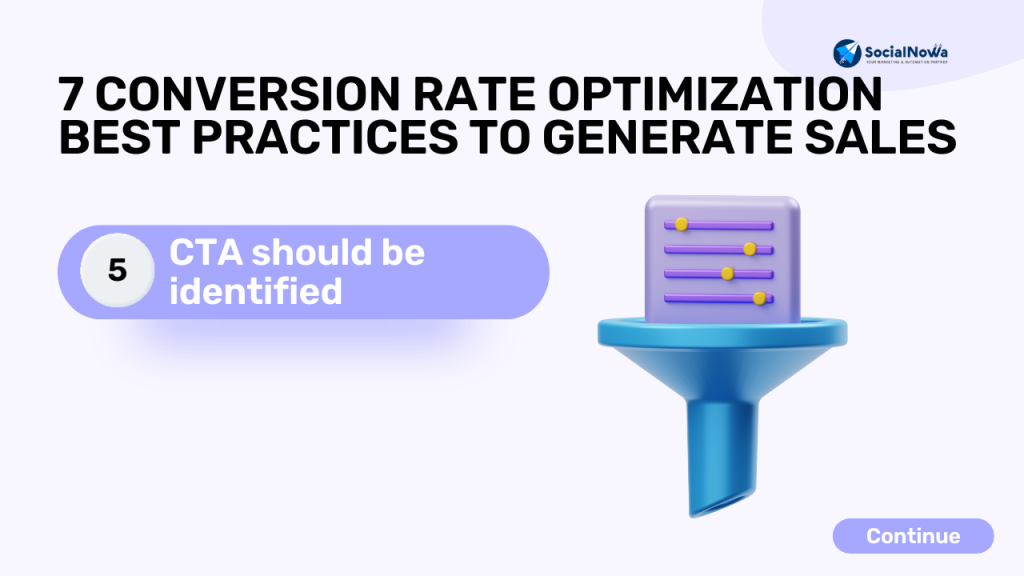 Drive the user to the call to action button or action you want them to take on that page.
Use 'Add to Cart' if they're on a product page. Use 'Proceed to Checkout' if they're on the Cart page.
Suggestion: Pick a CTA color that you haven't used anywhere else on the website.
6. Video
For businesses trying to build a buzz for their brand in the market, videos are more vital than ever.
Everyone seems to be enthralled with video marketing, from the industry's biggest players to those just getting started.
This is due to the fact that videos have the potential to go viral. Furthermore, videos are excellent conversation starters.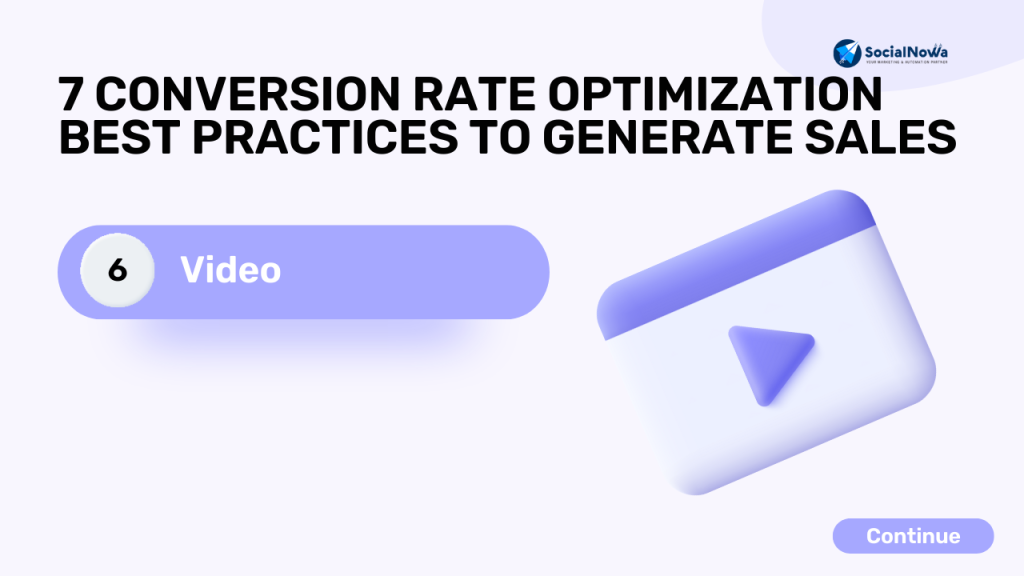 With so many video marketing tools, ideas, and tricks readily available on the internet, turning your brand films into cash streams has never been easier.
Here are some video marketing statistics:
By 2017, video will account for roughly 70% of all internet traffic.
On a website containing video, the average user spends 88 percent more time.
Sixty-four percent of shoppers are inclined to purchase a product after watching a video about it.
According to 70% of marketers, videos have a higher conversion rate than other mediums.
When videos are incorporated in an email, the CTR (click-through rate) jumps by 200 to 300 percent.
1. Targeted Videos
The days when tracking your video marketing efforts was tough are long gone.
It's easier to evaluate data and generate customized videos to assure maximum conversions now that technology is evolving at a faster pace.
YouTube can be used for targeted video marketing that is successful and actionable.
2. Optimized Videos Mobile
We've talked about the necessity of mobile optimization before, and it's even more critical now to make sure your brand videos are mobile optimized so that more people can watch them.
Don't forget that mobile devices account for 20% of video views.
3. Tailored Videos
It's important to remember that today's consumers expect personalized experiences from everything they consume, including content and videos.
As a result, do your best to create tailored videos that will resonate with your target consumers.
Create movies that address common questions from your target audience and explain how your company can assist them.
Suggestion: Try a few different variants, such as short and long, to see what your clients prefer.
Some of your goods may require in-depth explanations, while others can be explained in a little video.
7. Popup with Exit Intent
You may believe pop-ups are obnoxious, but wouldn't you like to keep 10% to 15% of your website visitors who are about to leave?
Exit Intent pop-ups are a terrific method to keep users who are about to leave your website by offering them a special price,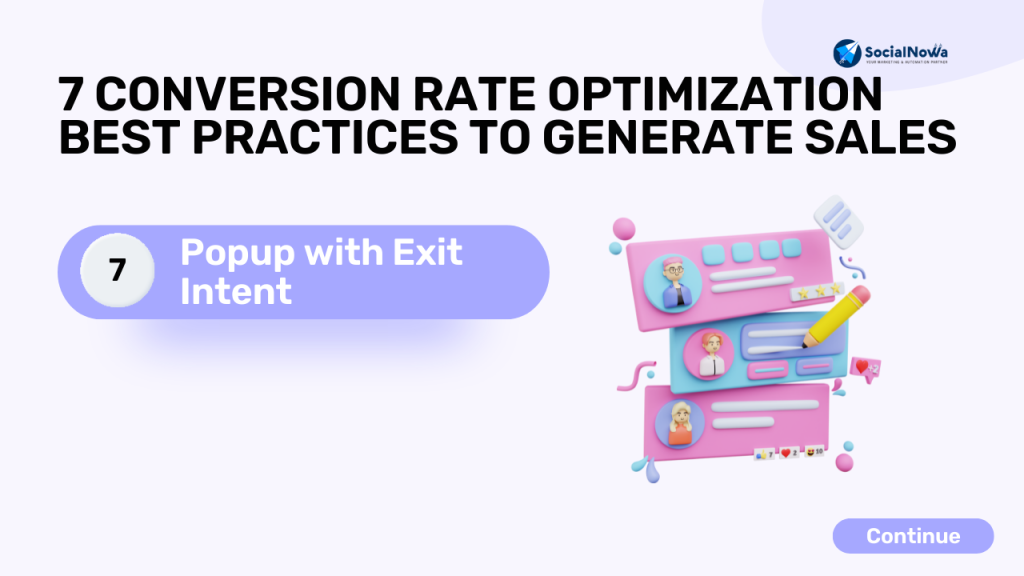 Such as a 10% discount if they buy NOW! You can also give them alternatives like "Didn't like this shoe? "or "Didn't like this shoe?" Check out the latest shoes from ABC!
This manner, you'll be able to maintain them and offer them something they can't refuse, leading to a customer conversion.
Suggestion: Don't rely on this feature too much.
Final Thoughts
I've given you some suggestions for increasing your conversion rate; now it's up to you to try them out and determine what works best for your personal website.