It is a difficult task to gain your first customer similarly, it is also important to maintain your valuable customers happy and stick to your product once they are into it.
There is a misconception in retail that you need to acquire new customers all the time when in reality, repeat customers are what any business should aim for.
Attract and Keep Repeat Customers are significantly more valuable to your business than new customers because repeated customers can bring more profit to your business.
Studies show that about 80% of your future profits are likely to come from 20% of your repeat customers!
Of course, getting new customers along the way should be on any business owner's to-do list – but if you treat all customers in a way that they want to return, merchants are more likely to achieve long-term success.
Every company wants to have repeat customers. It is a strong indicator of brand health and success. But there is no shortcut to building a thriving customer base.
Here are some ways in which you can earn your customer's loyalty, respect, and expectation of business again.
6 Proven Ways to Keep Repeat Customers
1.Train your employees to value the importance of each customer
Every customer is valuable and so making them feel special and respected is important. Many times when one customer is talking rudely or not properly don't take that anger on the other customer.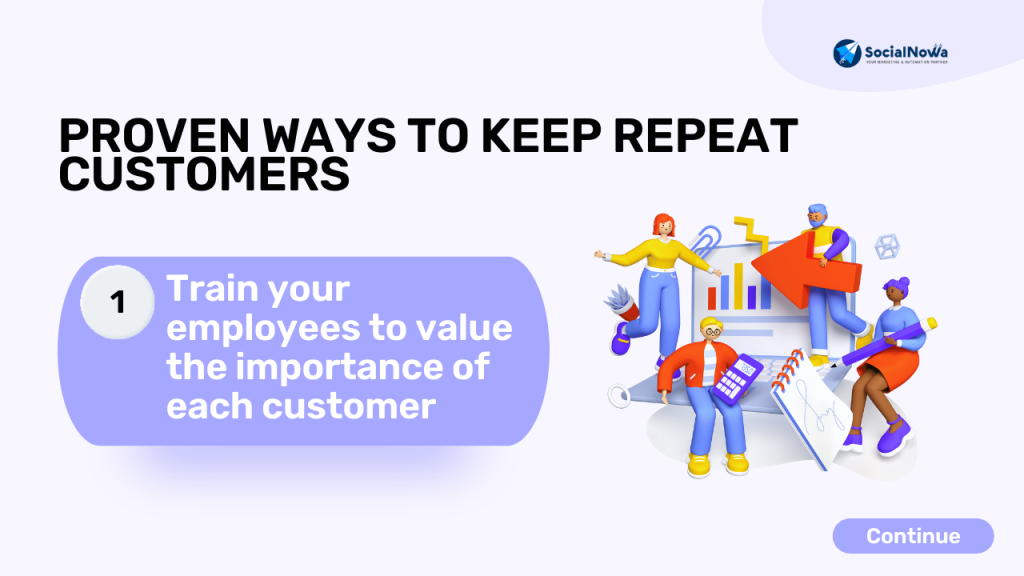 This makes customers feel less about him and they pass bad reviews about the company, this may lessen the image of the company. Remember employees are the face of the company.
Some tips for good employees are:
Train your employees to make your customers feel important.
Set up incentives and rewards for staff members who get regular customers.
Get to know a lot of potential buyers, or give you the best return information on a customer.
Let the reward system be the norm in your establishment.
2. Add Value Through Email Marketing | Attract and Keep Repeat Customers
The more value you can provide to your customers in your email campaigns, the more they will be eager to receive your emails each month.
When this happens, it will be easier for them to do the tasks you want them to do.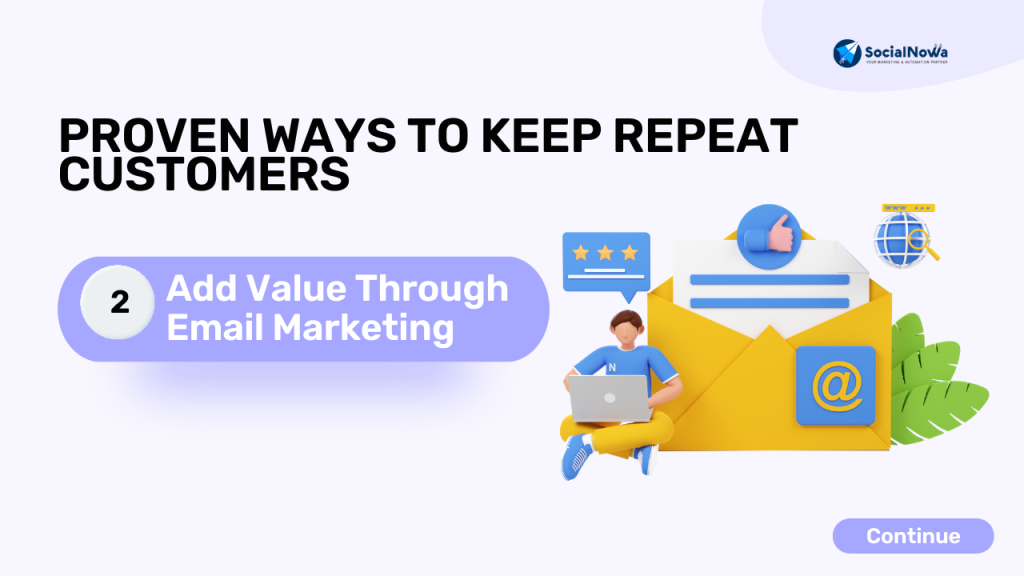 Email can be a powerful tool for motivating one-time customers to make multiple purchases from you.
By strategically strategizing every email you send, you can significantly improve customer retention and thus generate repeat business with many loyal consumers.
Here are some ways you can always give value to your email messages:
1. Focus on the Customer
To deliver value, you need to focus on the customer. It is important to understand their needs and express your views.
2. Provide educational materials
Educational material leads to customer success.
Educational materials are a way to help you provide valuable content on a consistent basis. This will help your clients see you as an expert and trust your knowledge.
Then, when they're ready to make a purchase, they'll remember your expertise and how you can help them.
3. Include them
Ask them about the type of email content they find valuable or even about their questions regarding your business.
Turn those responses into your email content.
3. Arrange successful customer loyalty programs | Attract and Keep Repeat Customers
It is a good idea to host an occasional party with the regular and most loyal customers.
People prefer private parties where you can socialize effortlessly and without obligation.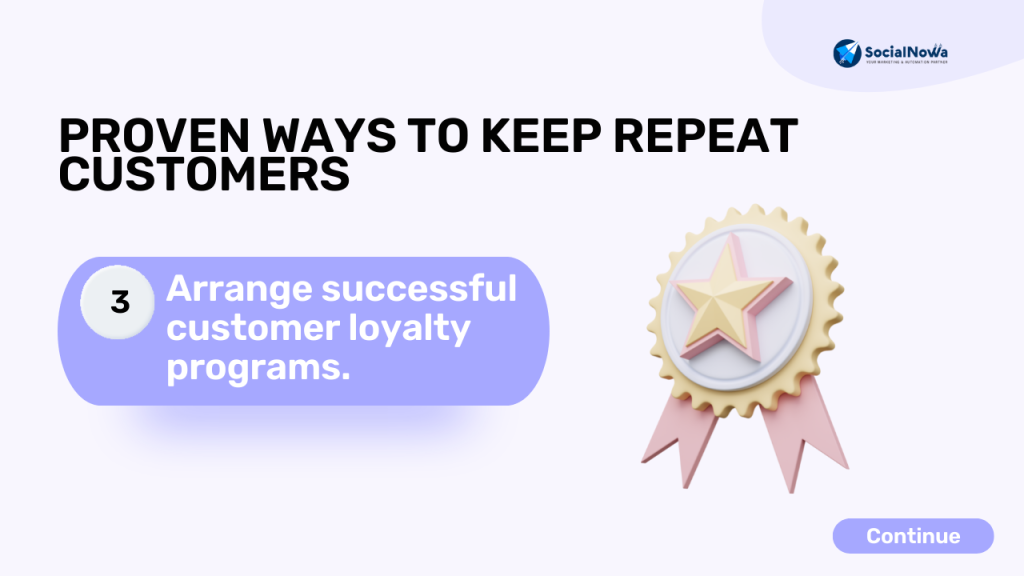 This will earn you the respect and friendship of your customers and make them feel the same way.
A customer who is part of your loyalty program is 47% more likely to make another purchase from you than other customers.
Steps to Develop a Customer Loyalty Program:
1. Study Your Current Customers
2. Build Your Customer Loyalty Program
3. Set a Budget
4. Decide Which Customers to Target
5. Choose a Strategy That Encourages Customer Loyalty
The main reason is that loyalty programs have the power to make your customers feel valued, empowered, and more engaged with your brand.
Such a connection provides the right kind of motivation to lead your customers to purchase more from your company.
4. Provide Excellent Customer Service | Attract and Keep Repeat Customers
The primary goal of any business is to gain lifetime loyalty from customers, and this is easily possible by providing your customers with the best-in-class premium experience.
The most effective way to improve your customer experience is through excellent customer service.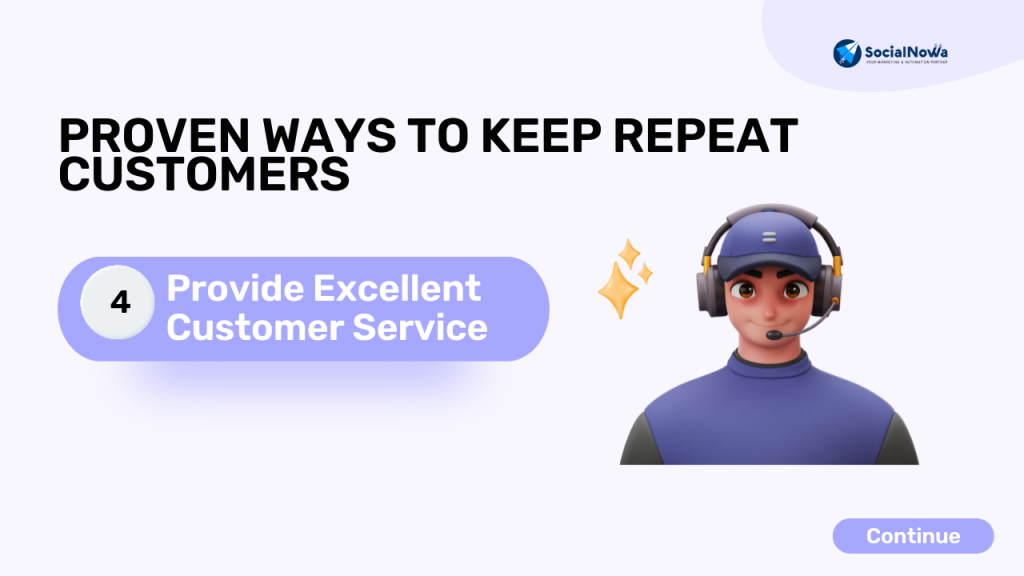 1. Reply as soon as possible
The biggest factor in good customer service is speed, especially when a customer is requesting something that is time-sensitive.
It is not possible to respond on time due to different time zone around the world. 
In such a case, Chatbots is the best option to help you out with this problem. Chatbots such as SocialNowa are one of the best options with a reasonable price.
2. Listen to your customers
Listening to your customers will not only lead to an indebted and happy customer, but it can also go a long way in terms of putting yourself on their radar for future business.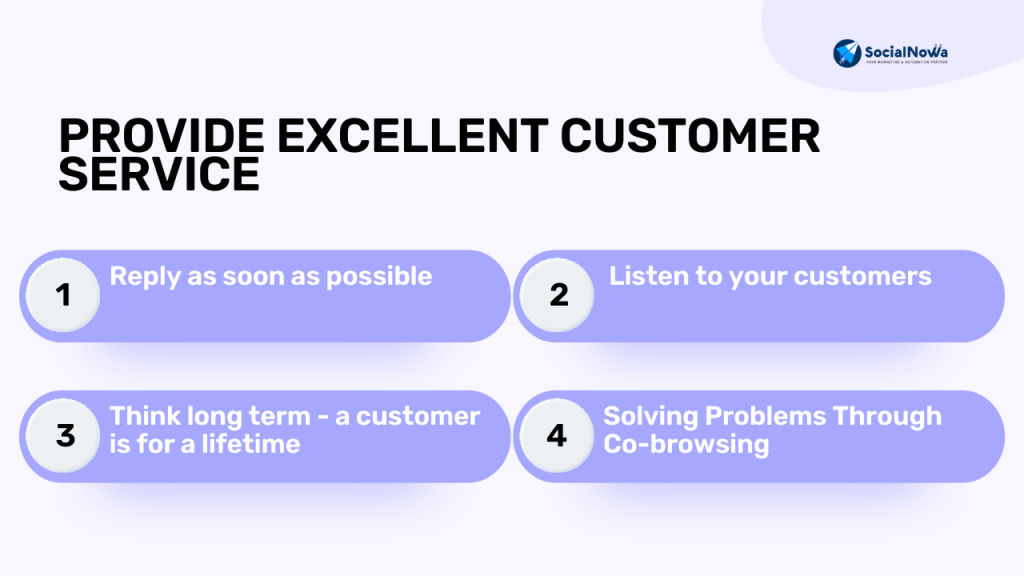 3. Think long term – a customer is for a lifetime
Think long term when dealing with customers. By keeping customers happy, they will be loyal and, through word of mouth, do the marketing for you.
In fact, according to author Pete Blackshaw, one satisfied customer tells at least three friends (while an angry customer tells 3,000!).
4. Solving Problems Through Co-browsing
At times, it is not possible to solve customer problems through videos and instructions.
For such scenarios, co-browsing can come in very handy. Through co-browsing, your support team can access your customers' screens and resolve any issues within minutes.
Never treat your existing customers less than your new ones. It is this attitude that causes customer churn.
You must offer your best customer service to every customer, whether it is their first or 100th purchase.
5. Do something good in the world | Attract and Keep Repeat Customers
Customers want to support brands that do better in the world. Often, this means voting with your wallet to buy products with social impact that give back.
Buyers are increasingly expecting brands to take a stand on issues that interest them. And yes, it affects customer behavior.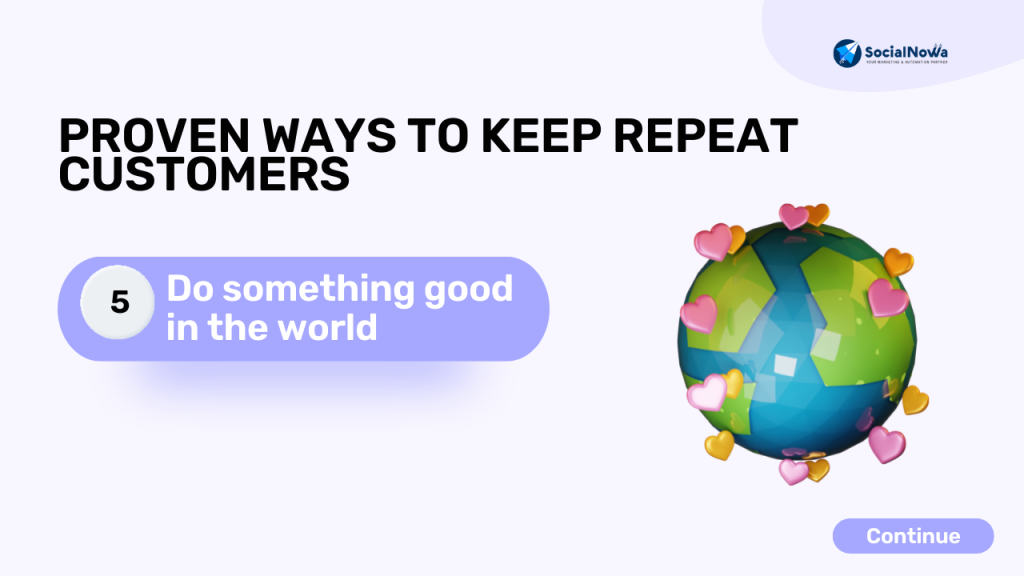 According to a study by Edelman, two-thirds of consumers make purchases based on trust. This means brands can no longer be neutral, but you have to back up your values ​​with action.
Donate to matters that are in line with your brand's mission. Encourage employee volunteering in your community. Update your internal policies to reflect your values
Some examples are:
Two Blind Brothers is a casual clothing company formed by two visually impaired brothers, and 100% of the company's profits go to funding research to cure retinal eye disease.
Thinx pioneered period underwear with its innovative products that change the way women think about their bodies and periods. The company partners with a number of nonprofits with its cart donation program.
Dogs for Dogs sells all-natural, grain-free dog food designed to keep dogs happy and healthy. And it wants all dogs—not just its customers—to feel the same way. For each dog purchased for Dogs, a single item is donated to a shelter to help a dog in need. To date, Dogs for Dogs has donated over 1.4 million pounds of dog food.
When given a choice between two similar brands or products, 71 percent of consumers would alternatively purchase from a purpose-driven company.
About 80% of consumers are more likely to remember a company with a strong purpose and 4.5 times more likely to recommend it to friends and family.
6. Remember the information they shared with you.
We usually revisit the same place again and again, why? One of the reasons is that they remember you personally and we feel a certain kind of attachment towards them.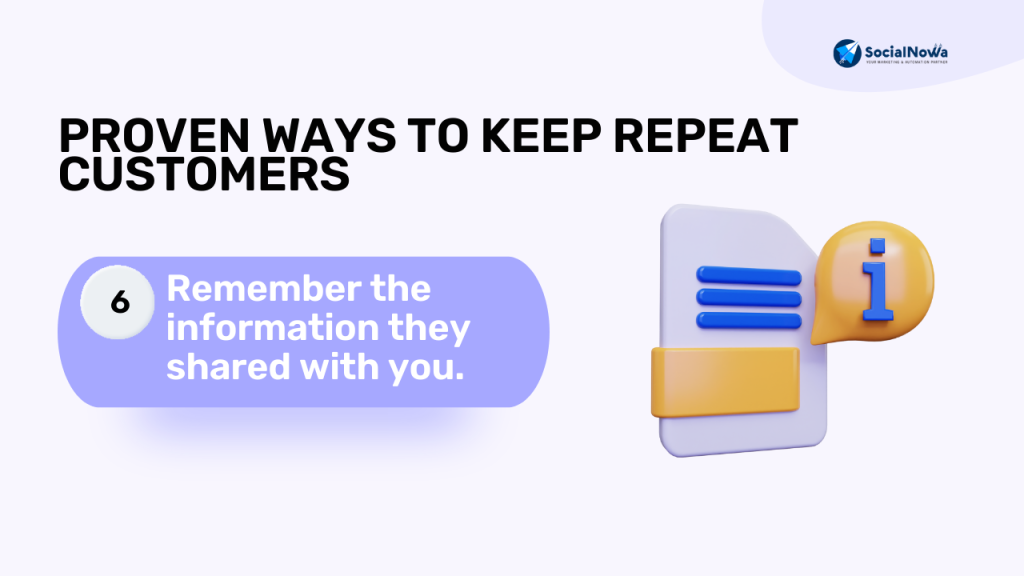 When I was in school, I had a favorite cake shop that I always went to with my friends. Why did I keep going there every week? Well, the baker remembered my name, my favorite flavor, and what I was doing that week. It was not forced; They really cared about building relationships with their customers.
Most people can remember faces easily but recognizing a face and adding a name to it takes an entirely different set of memory skills.
You will never remember a name if you fail to notice them.
Recognize and accept customers' names whether they tell you or you learn it in some other way. Don't ignore the important information that's in front of you.
When you first hear a customer's name, repeat it back in the conversation as quickly as possible.
Add names to the beginning or end of the salutation: "Naira, it's nice to meet you," or "Great to meet you, Mr. Khan."
Associate the name with something that customers tell you about themselves.
Write it down. Include the name, phonetic spelling, any personal details, and the subject of our encounter.
Similarly, you can personalize experiences by remembering details about your customers.
For example, if they mentioned their family, ask about them during their next visit to the shop. Building relationships based on what your customers share encourages them to stay together.
Conclusion
Customer service affects both existing customers and future customers.
Did you know that 68% of consumers will react by posting about a bad experience on a social network to their family and friends? And almost 50% of customers claim that they will move to a brand new one after just one bad experience!
And since each Facebook profile has an average of 338 friends, one negative experience can quickly reach thousands!
The most important strategy to convert new customers into repeat customers is to provide the best customer experience and support.
Through an advanced customer experience strategy, you can maximize your leads to repeat customer conversion rates.
What among this you think is the best way? What is your opinion about it?