Introduction
Tools to help you learn a language and translators have been in high demand for a long time.
Being bilingual or multilingual gives you a lot of options for your career and for getting to know people from other cultures.
People are now interested in learning a new language in a more "personal" way. One of the main things that led to enterprise mobility was the use of smartphones.
This is the main reason why more people want language learning apps for their phones.
Adding chatbots to mobile apps makes the learning process even more personalized by letting users get services when it's most convenient for them and giving them unique learning experiences.
Users can talk to and learn from language chatbots in a way that feels natural and like talking to a real person.
Here are the best chatbots for learning languages that we've found.
What is a language learning chatbot ?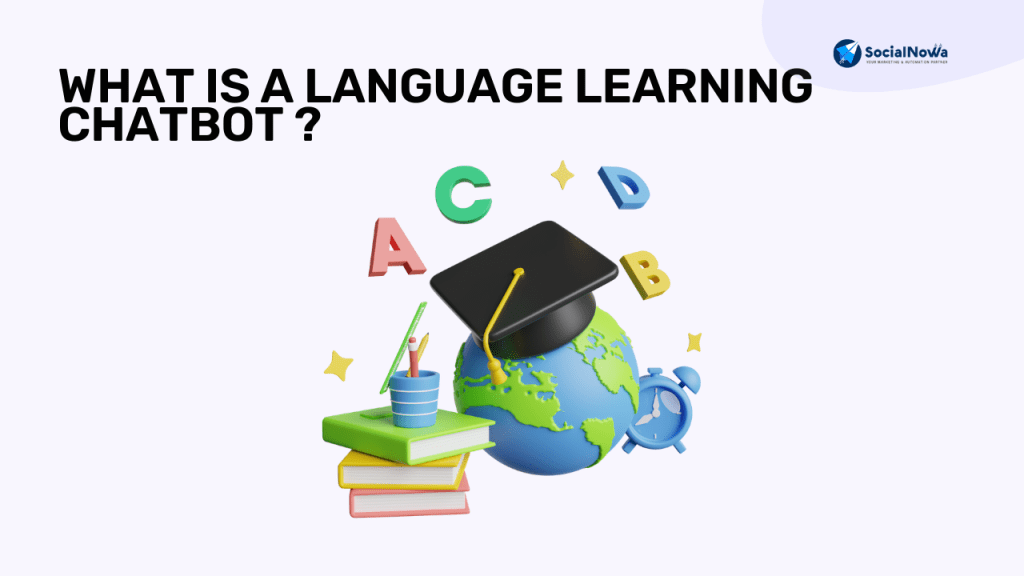 It is a free online tool and a fantastic app that will support your interactive spaced repetition learning of grammar and vocabulary.
Duolingo has now joined the chatbot fray, though. Artificial intelligence is used by the Duolingo Bots to give you interactions that are as real as possible.
Why use a chatbot to learn a language ?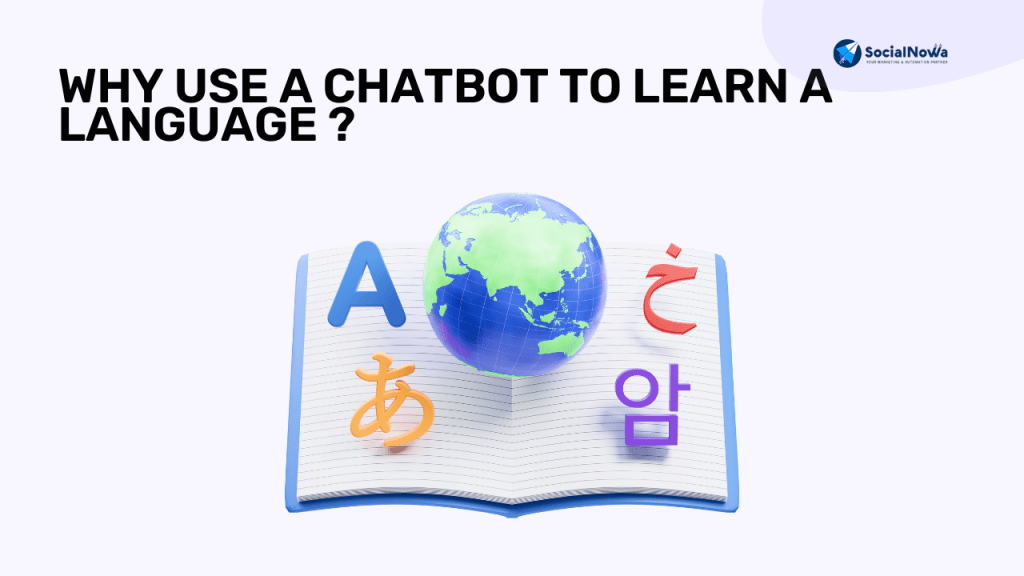 Chatbots are easy to use. You can practise talking to people any time, any place. You don't have to call your language exchange partner in the middle of the night if you suddenly want to study.
Plus, since you can take them with you anywhere, you can practise while waiting in line, between errands, or even while waiting for the next memory wipe.
Also, talking to a chatbot is less scary and awkward than talking to a real person.
Interacting with real people can be one of the hardest parts of learning a language, especially if you aren't sure of your language skills or are shy.
You can use chatbots to practise your skills without having to talk to a real person. This will help you feel more confident when you do have to talk to a real person.
Lastly, chatbots let you practise situations that you are likely to face. They focus mostly on skills you'll actually use, so you'll be ready to use your language skills in real life.
With chatbots, you can get used to both sides of real-life conversations in your target language and be ready for them without having to talk to a real person.
Benefits of using chatbot for learning languages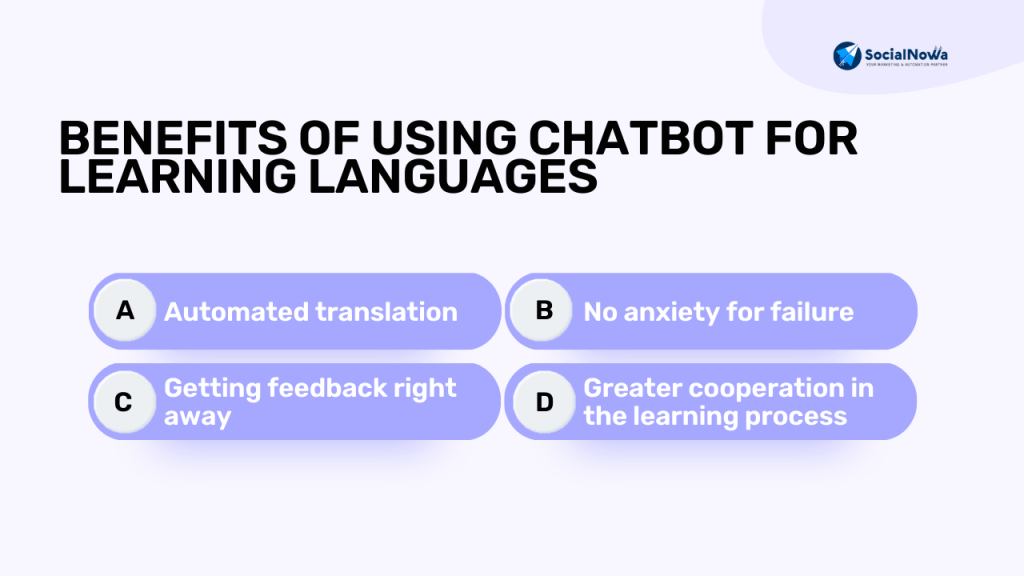 1. Automated translation :
With the help of AI technologies like neural machine translation, machine translation has made a huge step forward.
Neural machine translation can improve the quality of translation and help machine translation become a part of learning a foreign language.
Machine Translation as a Bad Model is a way to teach where students look for mistakes and inconsistencies in machine-translated text and fix them.
This helps students understand how a language works and what makes it unique.
It also helps them improve their understanding, sentence formation, and vocabulary in the target language.
2. No anxiety for failure :
Mistakes are okay; that's how we learn. When a student makes a mistake, gets a bad grade, or doesn't know the answer to a question, he or she is often embarrassed or even afraid of what the teacher will say: "What will the teacher say?"
In language learning, AI won't scold or shame students, tell them they aren't smart enough in front of the whole class, or scare them with parent reports or a visit from the principal. AI can test learners without judging them.
3. Getting feedback right away :
Instant feedback is available when learning a language using artificial intelligence.
It may be exhausting to wait for the results after exerting a lot of work on a crucial test.
And a week from now, when you reflect on your errors, you might not remember how or why you made them.
The AI platform for language learning can automatically score tests and even review written assignments after they have been turned in, highlighting errors and offering suggestions for how to avoid them in the future.
This gives them the chance to correct their mistakes right away and score better in subsequent exams.
In terms of instructors, AI language learning solutions may spot curriculum faults and help them figure out how to improve lectures or practical assignments, identify questions that are misleading, and figure out which students need more help.
4. Greater cooperation in the learning process :
Thanks to AI used for language learning, students will be able to study at their own pace, set their own goals, and adhere to a customized curriculum from anywhere in the world.
Teachers won't have to cover the same material year after year because of a personalized learning technique that varies from student to student.
AI will also help with the creation of enjoyable games, tests, and other learning and exploration activities that combine academic programming with students' interests.
8 language learning chatbot tools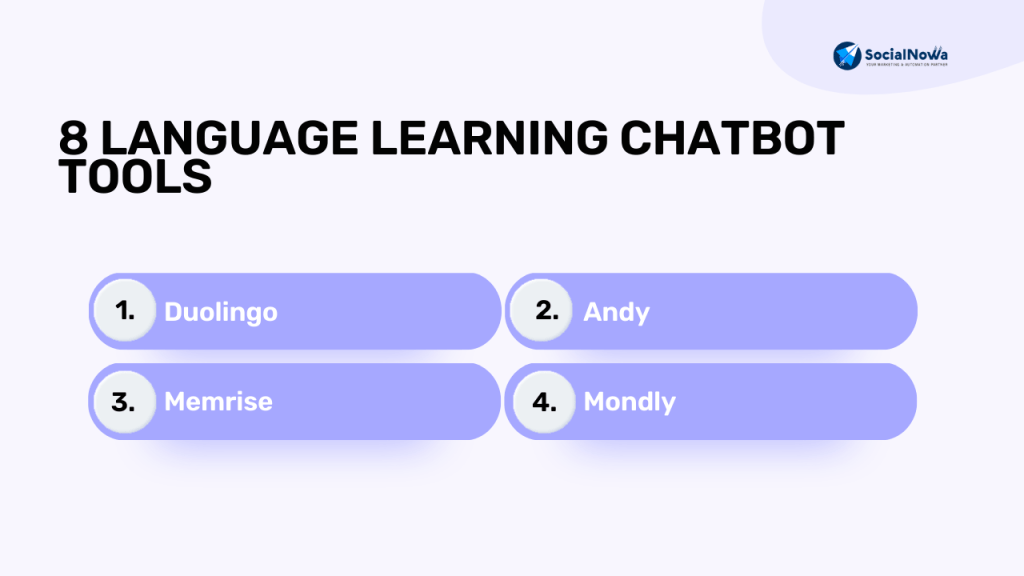 1. Duolingo :
Duolingo is one of the most well-known learning chatbot applications created using AI-based algorithms.
A user will experience the bot as comprehending his context and responding while using it.
It implies that depending on the situation they are trying to solve, different users will receive different answers to comparable queries.
Additionally, it has virtual language teachers that have made learning a new language simple for thousands of people worldwide.
Another advantage of using this chatbot app is that a user won't feel as ashamed about conversing incorrectly with someone who is fluent in a language other than his own.
When this app first debuted, users could converse in English, Spanish, German, and French. However, in terms of usefulness, its bot can currently communicate in more than 25 different languages.
Not only that, but Duolingo is regarded as one of the top language learning apps both domestically and internationally.
2. Andy :
Do you find it challenging to study and learn English? Since it is a widespread issue faced by thousands of people worldwide for whom English is a second language, you are not alone in the world.
But you don't need to worry since Andy the Chatbot is prepared to serve as your fictitious English teacher.
Andy was created by tech professionals to assist people in improving their English.
It teaches grammar, aids in vocabulary growth, and even offers users a platform via which they can converse informally with the bot. They can use this bot to play games with them and as an ally.
Both Android and iOS-based handsets can use this chatbot application.
Andy is one of the best apps for those people who want to learn the English language at a beginner level through a chatbot.
3. Memrise :
People adore receiving assistance from an instructor who uses an enticing, interactive teaching style and keeps students interested in the courses in real life.
There are several reasons why you will adore the Memrise chatbot programme if you're seeking for a virtual tutor to help you learn a new language.
An internationally recognised app called Memrise aids users in learning more than twenty different languages.
Additionally, it provides engaging techniques to keep children interested in learning the nuances of the new language, such as vocabulary and grammar, to mention a few.
Moreover, it offers customers a number of other courses.
Memrise, which is accessible on both iOS and Android, is built with cutting-edge AI technology for immediate object recognition.
The students feel as though they are interacting with a genuine teacher as a result.
The software allows users to take images of particular objects to inquire about the name of the object in the language of their choice.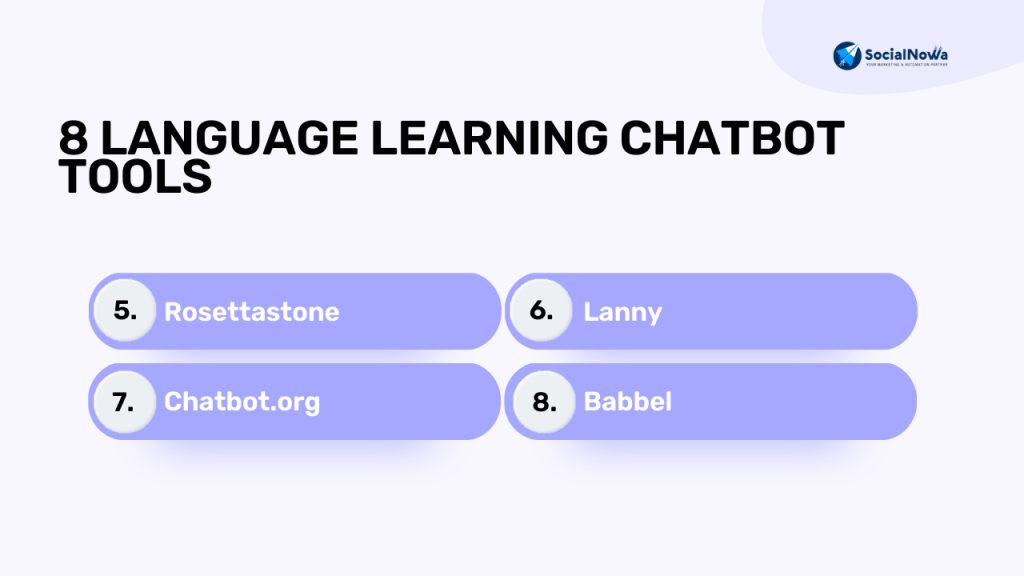 4. Mondly :
Modern technology is the focus of Mondly. They provide virtual reality in addition to chatbots, so there are many interesting, immersive learning opportunities with them.
Through the main app interface, the chatbot is conveniently accessible. The Mondly chatbot is voice-enabled, unlike the majority of other chatbots.
You'll receive a prompt from the chatbot and a list of potential responses. The chatbot then replies as you continue to speak into your device.
Mondly's chatbot is a simple approach to develop your functional speaking skills since it simulates everyday events like eating out and greeting people.
Over 30 languages are available on Mondly, including some less common ones like Bulgarian, Indonesian, Persian, Thai, and Vietnamese as well as more widely spoken ones like Arabic, Chinese, French, German, Italian, Japanese, Korean, Portuguese, and Spanish.
5. Rosettastone :
Users may also consider other elements while learning a new language, such as the app's usefulness at any time and from any location, its accessibility both online and offline, and similar matters.
The Rosettastone language study software can help you meet all of these demands.On any device of their choice, both offline and online, it enables users to study about twenty-five different languages.
On both the iOS and Android operating systems, it is accessible as a mobile app and a web version.
With regard to technology, it makes use of the TruAccent speech engine to assist users in articulation. In order to give its customers a genuine language learning experience, it also uses augmented reality.
To assist people in learning new languages using cutting-edge technology, we create sophisticated language learning chatbot applications.
Do you intend to create one? Let's talk about the overall plan and get an idea of how much it will cost to create a chatbot application.
6. Lanny :
Various countries have different levels of demand for learning particular languages.
Lanny from Eggbun education is specifically for people who want to learn Korean, Japanese, or Chinese with the aid of an AI-based language instructor.
Lanny is also referred to by its users as a personal, automated tutor. This is also how its developers advertise it.
Both a web app and a mobile app are accessible. It has received over a million downloads together with the other apps in its series made by Eggbun education.
What gives Lanny as a chatbot more appeal? It teaches you a new language while also educating you on where it came from and its history.
Additionally, it is made to assist users in practicing the pronunciation of words in particular languages.
7. Chatbot.org :
Chatbots.org has a collection of chatbots from all over the world.
Choose a country where your target language is spoken, and you'll probably find a chatbot that speaks it, and probably even uses the local dialect.
If regional dialect doesn't matter, you can also just choose the language you want to talk to chatbots in.
For example, if you are learning French, the site has a list of more than 100 chatbots that speak French.
These chatbots give career advice, tips on how to help yourself, news, and can even analyse medical symptoms. That's a lot of practice with vocabulary related to a theme!
Chatbots are made to do many different things, like answer questions from customers or give more information about a company.
But because many of these chatbots speak languages other than English, you can use them to improve your language skills.
Almost all of these chatbots are text-based, but if you choose the right one, they can be a great way to learn new words related to a certain topic.
8. Babbel :
Technology that is designed and curated by linguists is incredibly helpful to users.
Babbel is one such chatbot programme that aids in language acquisition by using a chatbot voiced like native speakers.
Babbel's users are meant to be prepared for everyday scenarios when utilizing a new language.
In order to ensure that users obtain the necessary confidence to speak a foreign language, the human-like bot uses speech recognition technology to establish engaging dialogues.
In order to make sure that they are committed to learning the new language thoroughly, users also get to work on tailored review sessions to assess their training results.
Conclusion
When you talk to someone from another country, you want to be able to understand what they are really trying to say.
This means you have to learn their language and how they live. One of the easiest ways to learn a language today is to use a chatbot.
We hope that some of the chatbots we talked about above will help you plan your next trip.