Chatbot features have evolved so much that organizations consider. it essential to their business communication strategies to enable users to have real-time responses.
Adding an AI-powered chatbot to your business is a great way to stay one step ahead of the competition.
provide better customer service, and increase engagement between your brand and customers.
Taking advantage of chatbot solutions for your business helps increase customer communication and boost engagement.
Whether you are a growing company or an established name, chatbots are always a great tool for providing value and satisfying customers on their buying journey.
The purpose of creating and building chatbots for business and incorporating chatbot features is to improve customer communication.
And help your customers get their questions answered in real-time.
Involved customers mean high perception, which means business growth.
Let's take a look at some statistics:
65% of the company's business comes from existing customers.
Consumers spend more on brands they trust.
Getting a new customer is 5 times more expensive than retaining an existing customer.
Consumers spend more on brands they trust. A customer will spend 67% more after 3 years of joining a brand.
More than 64% of business respondents believe that chatbots help them provide a more personalised customer service experience.
By deploying bots, businesses can coordinate because customers are more comfortable interacting with chatbots.
However, you need to know the AI ​​chatbot functions that can help you meet customer expectations and answer their questions quickly.
Customer retention and engagement are important for any business in the long run as most of the profits and revenue come from loyal customers.
However, the more important aspect here is how to retain these customers while focusing on acquiring new customers.
And, sophisticated customer journeys such as acquisitions, conversions, complaints, loyalty, and perceptions can take a toll on a company's budget.
AI-enabled chatbots can help companies reduce marketing costs and efforts by automating inbound customer queries and frequent engagements.
These chatbots use Natural Language Processing (NLP) and Natural Language Understanding (NLU) to humanise conversations and engagements.
What makes a chatbot successful?
When creating a chatbot or virtual assistant, the quality of the conversation should be the most important consideration.
A chatbot should adopt features and attributes that provide a high-capacity chat experience.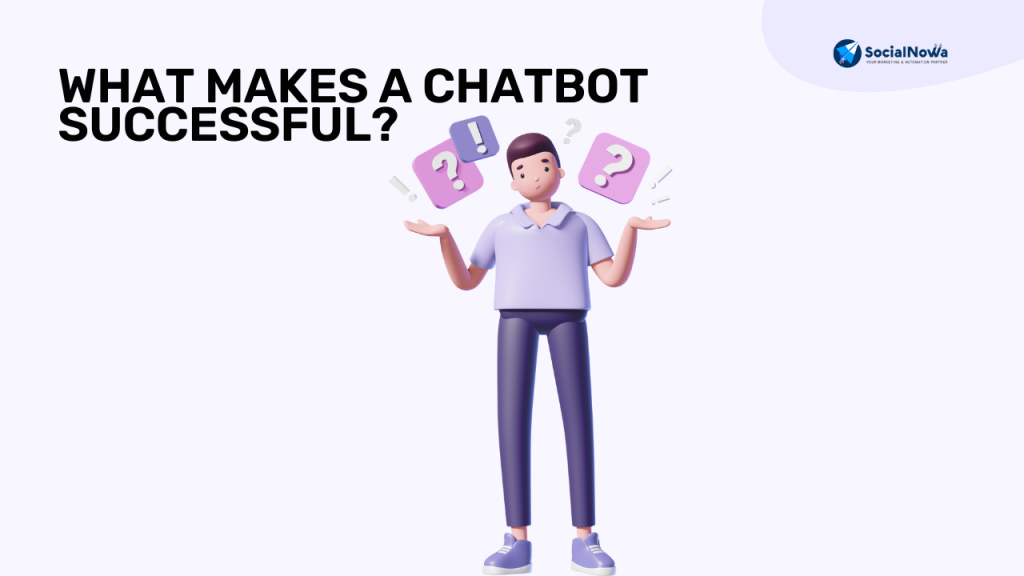 You can find resources that describe the many benefits of using chatbots for business, but never consider the aspect of the conversation that it should take.
Do a quick web search for the "profit" or "benefits" of using a chatbot, and here you will find:
While all of these features are very useful and are part of what a boat can do to help a business, they are not unique to bots.
Understanding that the most effective way to communicate and accomplish things is the key to successful chatbots and virtual assistants.
The best chatbots always focus on the quality of the conversation and have features that ensure a high-powered chat experience.
Many real-life chatbot examples combine key elements of technology, flow, and design to prove effective in handling customer interactions without the need for any human assistance.
Here are some key features that make chatbots a success.
1.Provide contextual answers:
Chatbots should have the ability to understand the context so that customers feel like talking to a real person.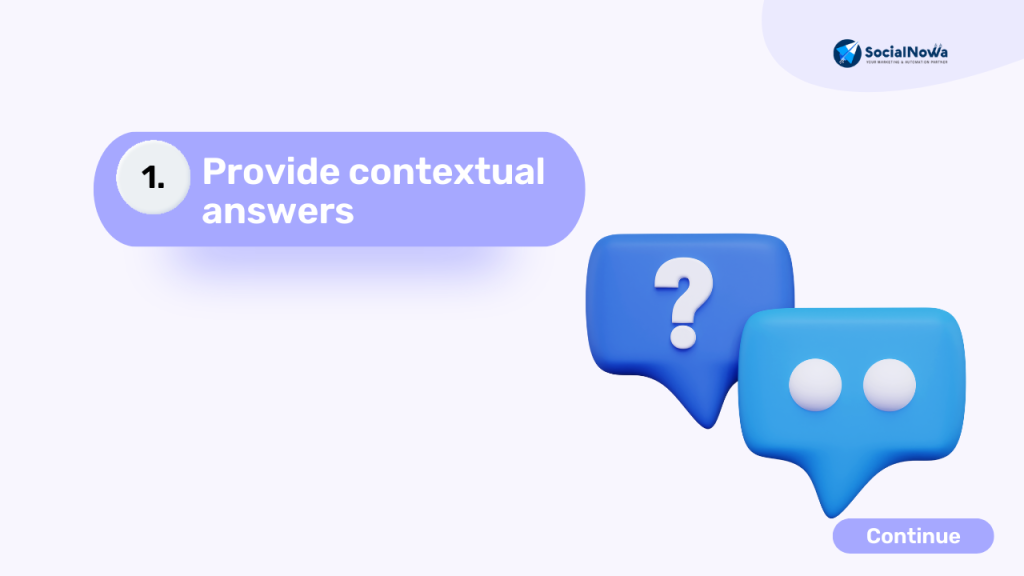 Taking advantage of advances in natural language processing (NLP), bots can be built to understand context without asking valid questions.
2. Well-trained with frequently asked questions:
There are many benefits to chatbots when they are trained.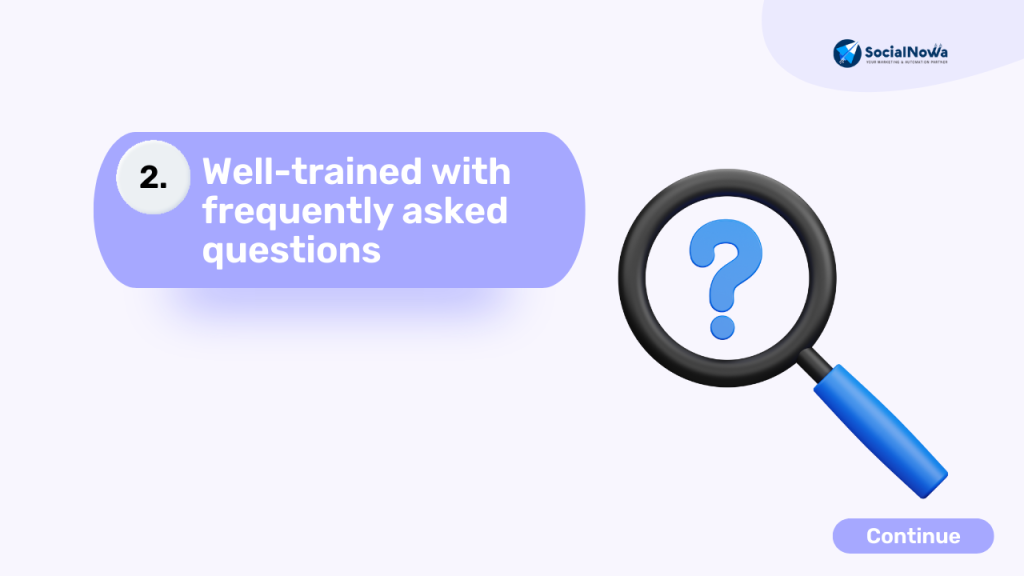 Regular training can help chatbots become more powerful and enable them to handle questions and conversations more efficiently.
3. Excellent UI / UX:
AI chatbots should not be complicated to use otherwise they will not be able to make the conversation interactive.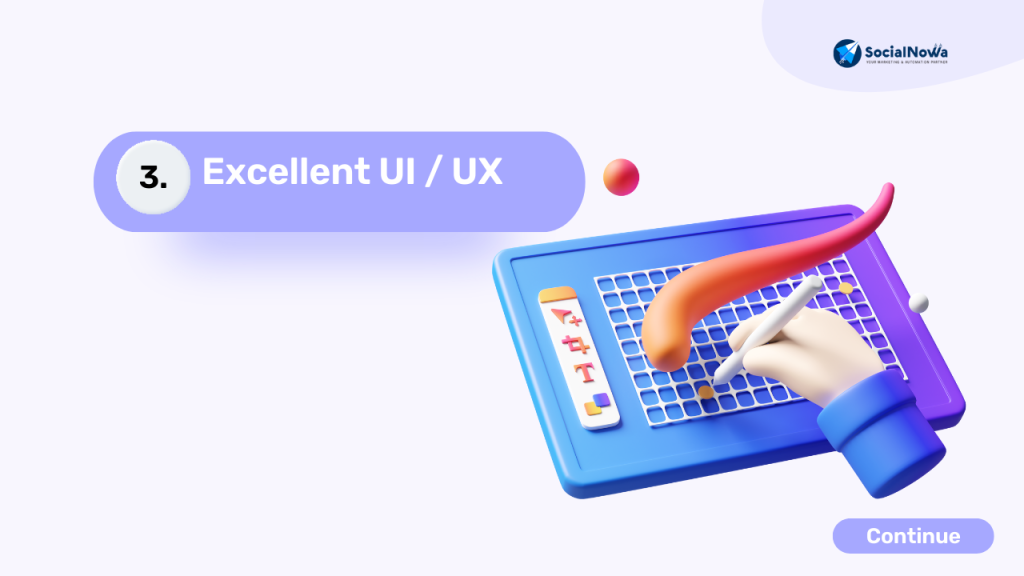 The design should be simple and intuitive so that users find it easy to use them for answers.
4. Allow human handover:
Boats need to be smart to understand the importance of communication and the sense of complexity.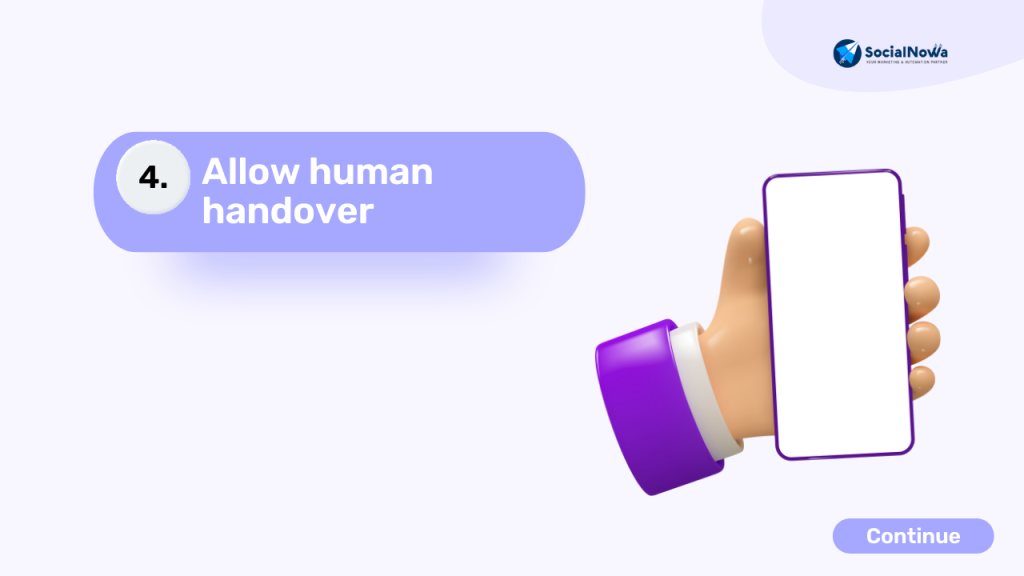 Even when a chatbot template for online ordering fails to understand the query, it can still intelligently hand over the conversation to humanitarian aid.
5. Offer personalised support:
Bots designed using AI and machine learning can easily understand user interaction and respond in real-time.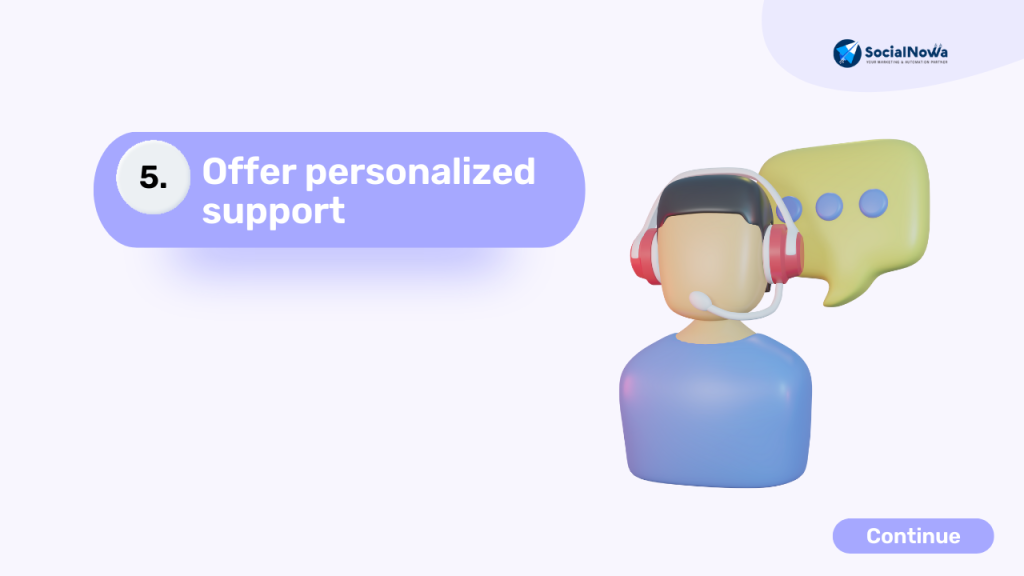 A customer support chatbot template can adjust the tone and language to provide a personalised experience.
6. Customer Intent Recognition:
The chatbot must be able to discern the customer's intent in order to imitate human-like personalisation and judgment.
Customer feedback can provide a wealth of information that is essential for providing solutions or making a sales presentation.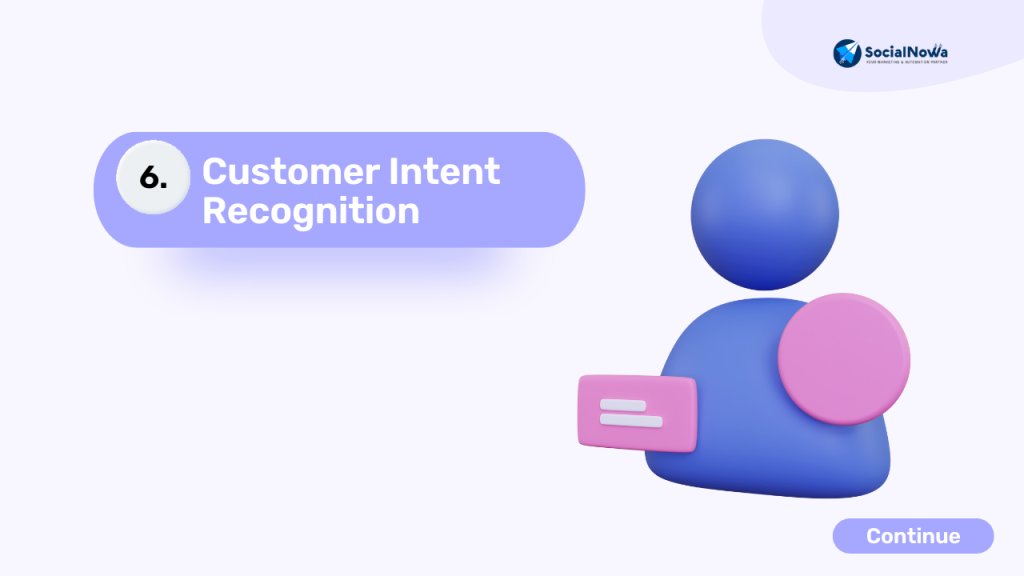 Rule-based chatbots frequently fail because they are unable to discern customer intent.
Chatbots powered by AI, NLP, and machine learning can understand intent, access past data, and pose questions to determine what the customer genuinely wants.
Once it is aware of this, your chatbot can go above and above to help the client and provide a satisfying service.
Take, for instance, the Facebook Messenger chatbot for Arsenal FC.
The chatbot will ask you if you want to buy tickets or receive score notifications when you inquire about upcoming matches.
The service makes the customer's life easier by providing a comprehensive experience.
7. A Drag-and-Drop Flow Builder:
Your staff wouldn't want to continually talk to the company that provides your chatbot to make conversational updates.
A system that offers you total control over the chatbot is always recommended. Your team has a significant edge if you have an admin panel where you can drag and drop conversational inputs.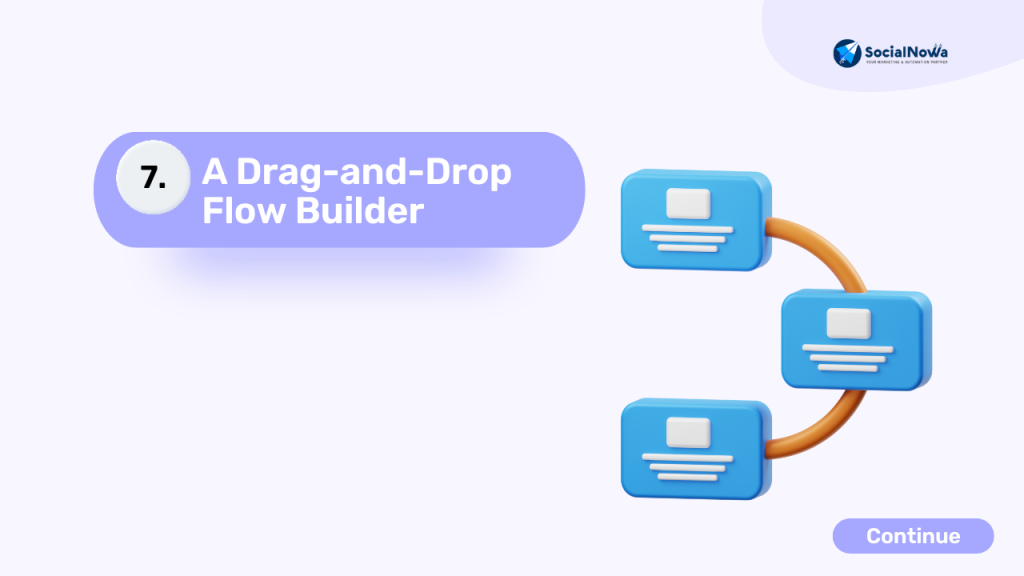 You have total control over how you want your conversation to run thanks to this.
For instance, you can easily update the conversational blocks for each marketing campaign or holiday promotion by logging into the admin area.
This gives you total control over the chatbot's operation and lets you make changes while using it.
8. Easy Human Intervention For Complex Issues:
I say that certain talks with chatbots can be annoying, which surprises me.
I frequently had interactions where I was unable to speak with the agent.The chatbot needs to see its own potential.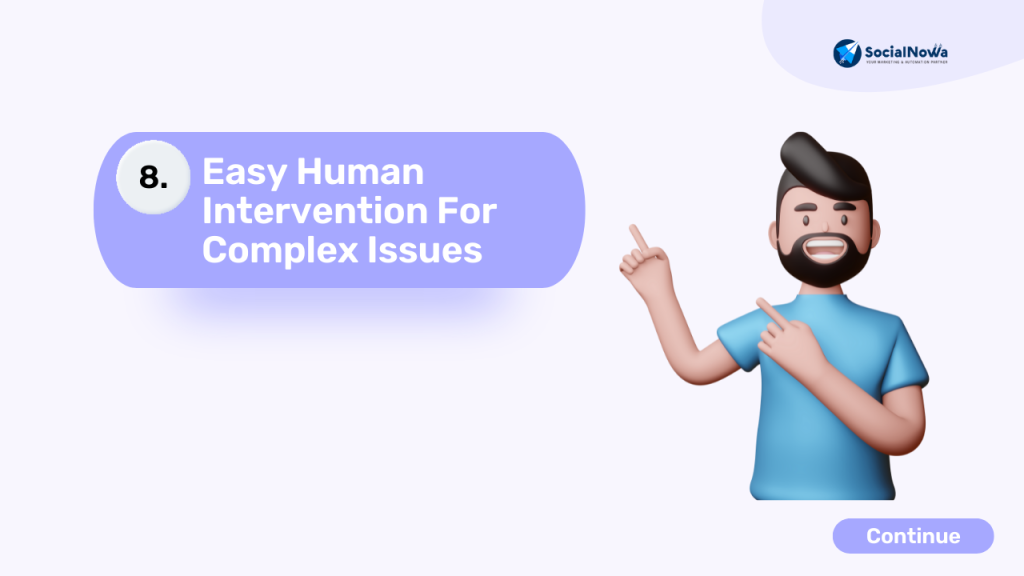 The bot should have the opportunity to connect with an agent when it runs into a roadblock and is unable to fix the problem.
When a chatbot is unable to fix the problem, an agent with the necessary knowledge can do it straight away.
By providing this option, you may encourage client comfort and brand trust.
Top 10 Chatbot Features That Impact Your Bot Performance
When they interact with brands, customers expect nothing less than great experiences.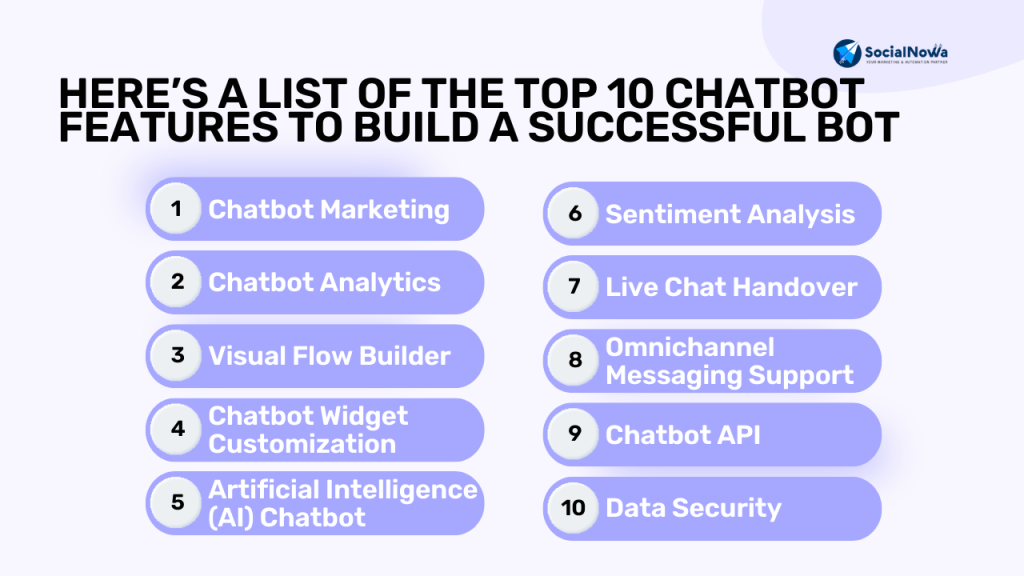 When planning to use a chatbot to support commercial communication, you need to consider the key features of chatbot design to provide a chat experience.
Here's a list of the top 10 chatbot features to build a successful bot
Chatbot Marketing
Chatbot Analytics
Visual Flow Builder
Chatbot Widget Customization
Artificial Intelligence (AI) Chatbot
Sentiment Analysis
Live Chat Handover
Omnichannel Messaging Support
Chatbot API
Let's take a closer look at the AI ​​chatbot features that help make conversations a success.
1. Chatbot Marketing
Chatbot marketing is a marketing technique that uses computer programs to automate prospects and customer interactions for the purpose of generating sales, either on your website or in your app.
The chatbot allows marketing companies to engage with leads at all times and in any capacity and qualify regardless of whether your marketing and sales team is online or not.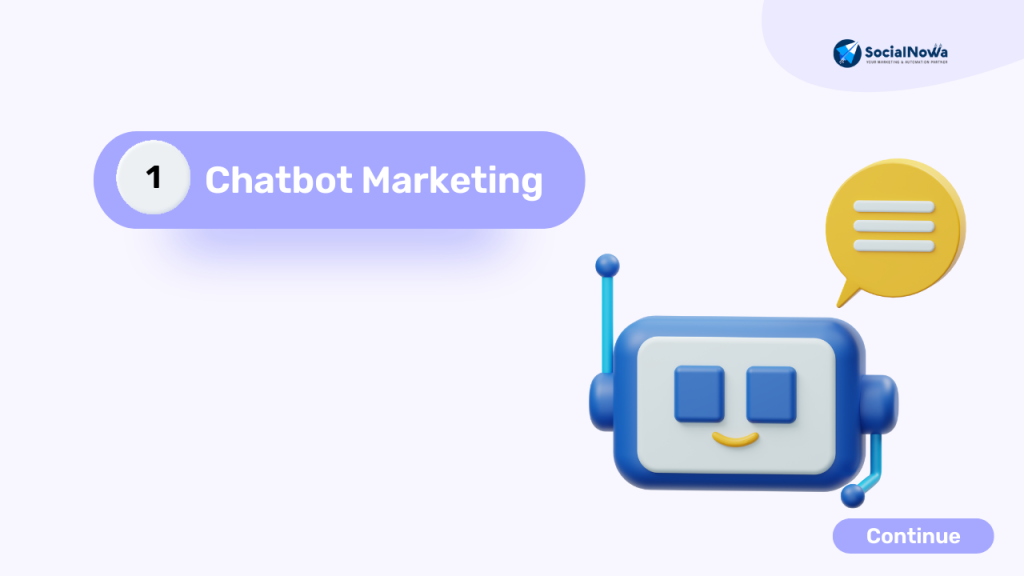 Just like how you can use chatbot marketing to answer support questions, you can use a chatbot to start a conversation with website visitors, get qualified leads, and even appeal to customers.
Using chatbots for marketing can help your business achieve a wide range of marketing activities, whether it's scheduling meetings, tracking orders, ordering updates, or sharing news.
Chatbot Features can help distribute visitors and fulfil orders without forcing users to visit the website.
They help gather data to understand audience needs and drive potential below the sales funnel.
Consider the content that will be in your chatbot and also search for your frequently asked questions.
Enrich your boat with data to meet individual customer needs individually and improve return on investment (ROI).
Avoid completely open conversations to avoid any confusion and enhance the user experience.
2. Chatbot Analytics
As we know that chatbot analytics determine the success of your chatbot, they can provide valuable insights into business growth and retention strategies.
It is important to be aware of the performance of the chatbot by constantly measuring its benefits and capabilities.
This can only be done by knowing the main chatbot metrics, which is an important aspect and a crucial factor for your business's success.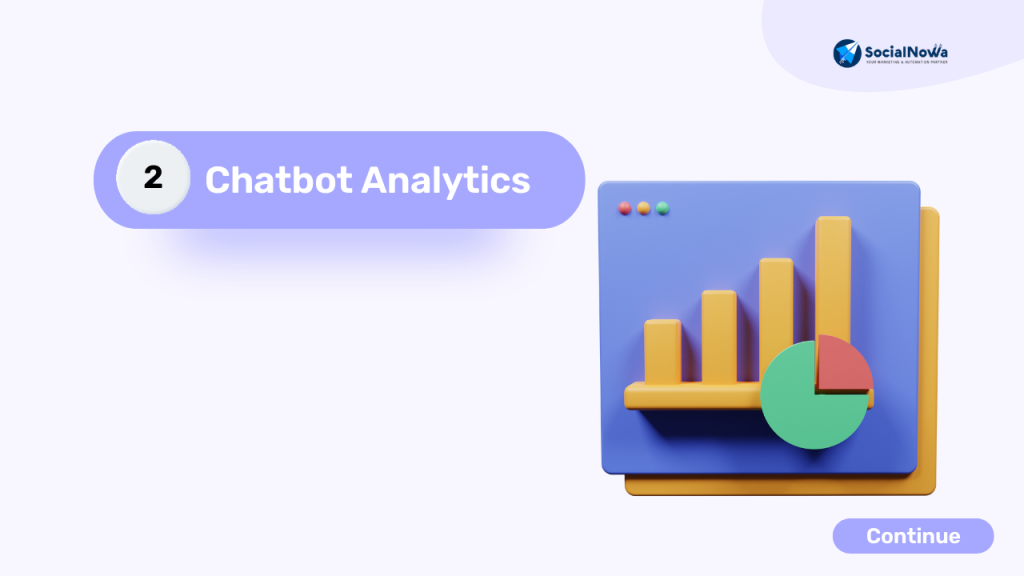 By planning a successful chatbot strategy, you can measure the performance of your bot and evaluate the growth of your business.
You can take advantage of chatbot analysis to make data-driven decisions and track relevant chatbot KPIs to better understand customer journeys.
The main indicators of the chatbot to measure the performance of the chatbot:
The total number of users:- The total number of users interacting with the chatbot can determine how many customers are using your chatbot.
Interaction Rate:- Monitoring the Interaction Rate KPIs can help you measure user engagement while interacting with your chatbot.
Fallback Rate (FBR) :– The fallback rate will gain insight into situations where the bot is unable to detect the user's request and provide a relevant solution.
Bounce Rate:- This refers to the number of users who enter a website and leave without interacting with your chatbot.
3. Visual Flow Builder
Creating a chatbot should be easy and hassle-free.
Visual Flow Builder makes this possible and enables zero-code bot building.
With the help of a drag-and-drop chatbot builder, the boat can be designed directly on the platform.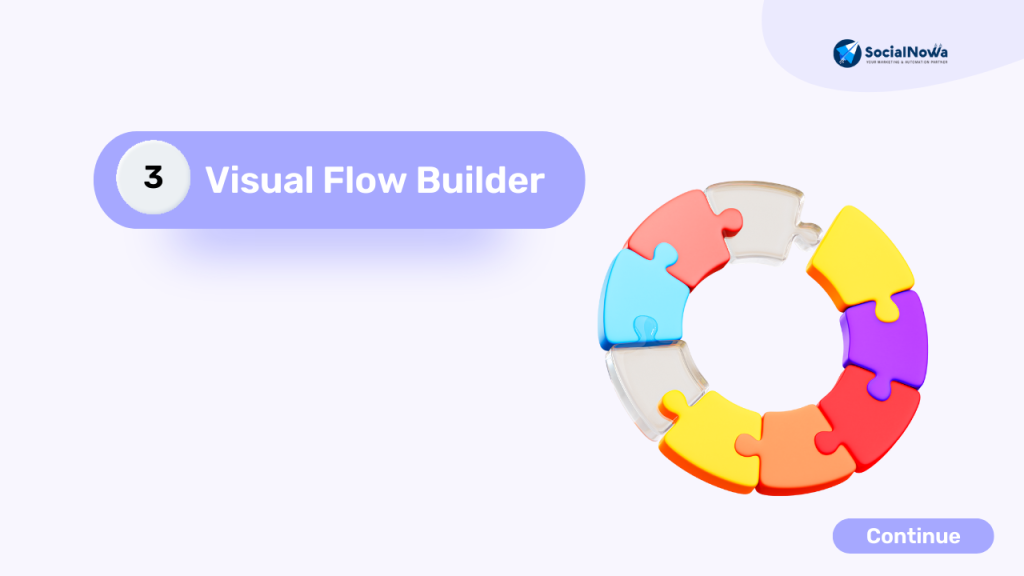 If your business needs are simple, you can go with Visual Flow Builder. You can manage your ideas in an intuitive interface and build a powerful bot without any coding knowledge.
With Visual Flow Builder, you automate solutions for a range of customer problems and ensure seamless communication.
It also helps to tweak your boat's workflow and improve its performance based on customer feedback.
Why is Visual Flow Builder performance important?
Drag-and-drop chat blocks can be used to create your stories without any technical knowledge or coding skills.
There will be a number of bot response formats and actions to choose from and ensure the best chatbot experiences.
It is possible to customise the boat design in sync with specific business needs.
Creating a virtual assistant will always be easy with the ability to suggest answers and automate solutions to common issues.
4. Chatbot Widget Customization
Customising the bot can provide a better understanding of how the bot communicates through a choice of tone, style, and language.
Your bot will become more authentic to trust the users. Widget optimization can help in two main areas: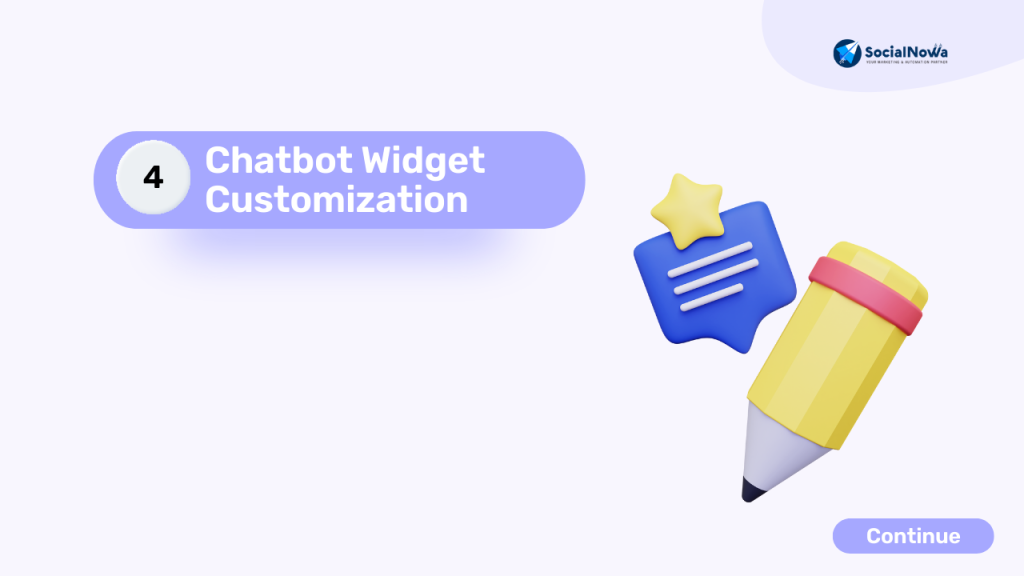 Branding – The key message of your brand can be set to the bot person to engage customers individually.
Messaging – You can set up warm welcome greetings to start a conversation and also guide your guests about the products and services.
Chatbot widget customization is essential to reflect your brand personality and win the trust of customers.
By customising the chatbot character, you can enhance the overall customer experience.
Key areas for customising your bot.
Bot Names – We have to choose a bot name that is relevant to our business needs, such as a support bot.
Display Name – Give our chatbot the appropriate display name so that it fully reflects our brand persona.
Tagline – Chatbots can be given the right tagline to suit specific business needs.
Bot Avatars – There will be different bot avatars to choose from and give users the right impression.
Channels – We can decide whether a chatbot will be active for a web or Facebook channel.
Bot accuracy level – This helps us to select queries that match the accuracy level percentage.
Set Bot and Human-Agent Preference – We can choose the preferred option that suits our business and set the bot and human agent preference for seamless communication.
Set trigger events – Here we can select triggers for chatbots in different situations. The chatbot will start the conversation based on the selected trigger.
5. Artificial Intelligence (AI) Chatbots
Chatbots are valuable to both businesses and consumers, as they reduce the barriers to data access created by everything from physical disabilities to technical intelligence,
facilitate navigation to connect users to results as quickly as possible and provide a cost-effective alternative to staffing.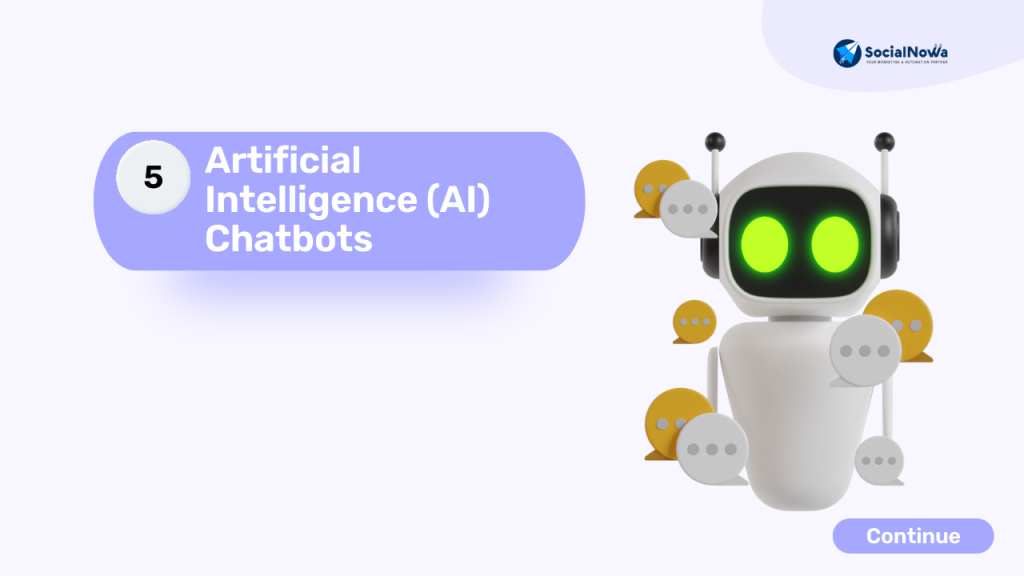 Rule-based chatbots are unable to understand the context or intent of human queries.
Artificial intelligence chatbots, on the other hand, are more advanced, can handle open queries more easily, and improve their performance over time.
AI-enabled chatbots can enable dynamic and smart communication as their work depends on bot flows that communicate with each other.
These chatbots are equipped to give human-like answers as they can understand the intent and can easily understand past conversations.
Unlike basic chatbots, which are typically rules-based, AI chatbots rely on natural language processing, and natural language to understand and respond to the people with whom they are communicating.
AI chatbots use machine learning, the ability of AI to make bots smart over time and use.
Why is AI an important feature in an AI chatbot?
Human speech can be interpreted with an NLP algorithm to give a well-adapted answer.
Consumer input can be analysed for continuous performance improvement and businesses can use this aspect to provide active customer service and a seamless customer experience.
It is possible to measure a boat's performance over time, work on reactions and workflow, and train it for other skills.
6. Sentiment Analysis
Sentiment analysis is the process of determining whether the writing portion is positive, negative, or neutral.
A sentiment analysis system for text analysis combines natural language processing (NLP) and machine learning techniques.
Sentiment analysis is one of the advanced features of a chatbot that is based on the concept of identifying the sentiment behind a customer's message.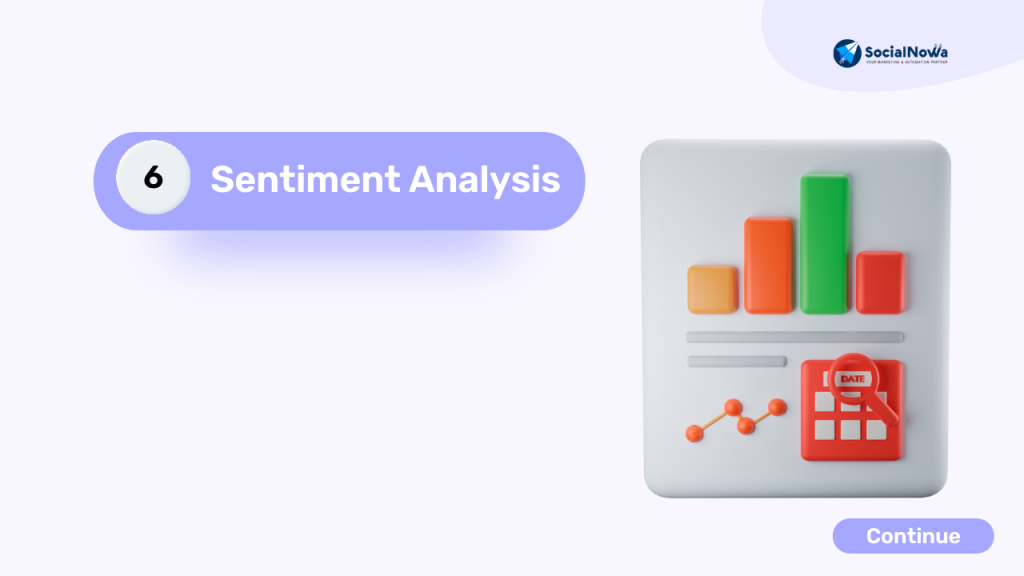 To increase the value of customer communication, a bot needs to understand the customer's mood through sentence structures and verbal cues.
Using Emotion Analytics can add value to your customer service chatbots and ensure a better experience.
AI bots can use sentiment analysis to modify responses and distribute to audiences based on satisfaction scores in line with customer sentiment.
They can help to analyse consumer data from social channels, surveys, feedback, and reviews to understand how well the products or services are perceived by the customers.
Let's see how emotion analysis works in chatbots?
It can identify the types of emotions and analyse the emotions whether the conversation is positive, negative, neutral, or objective.
Technology can measure the intensity of emotions and score every emotion.
Emotion analysis then offers the ultimate output which helps the chatbot to run the conversation accordingly.
7. Live Chat Handover
Chatbots are advanced and smart for handling any type of customer conversation.
However, there are situations where bots fail and human intervention is required. In such cases, a well-defined fallback chat helps the bot to transfer the right human agent.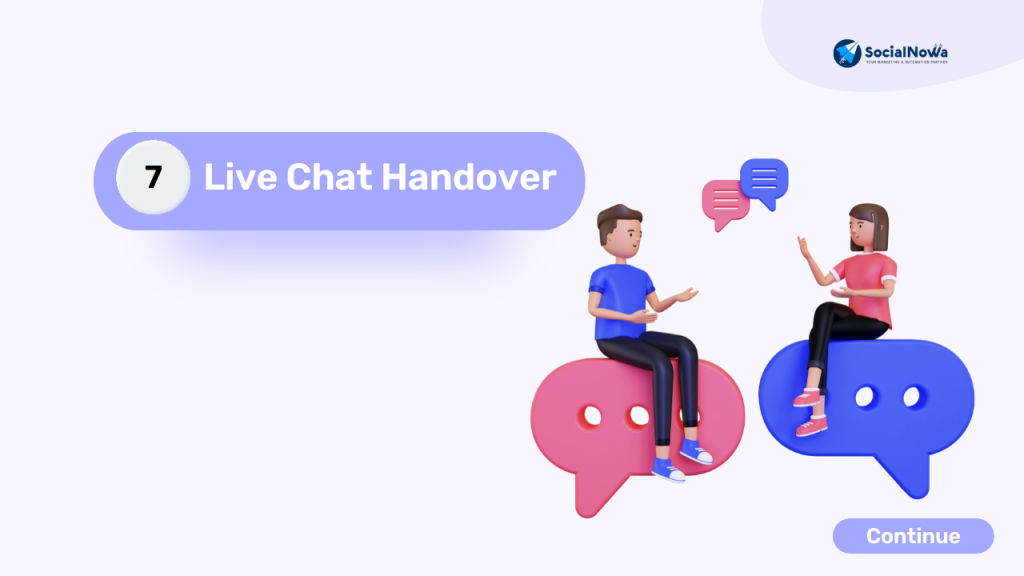 Fallbacks need to be defined for two situations:
(i) when bot queries are complex and
(ii) when users prefer to interact with a support representative.
The main objective of Live Chat Handover is to give the customers a fallback option to exit the chatbot conversation or talk to the live agent for any urgent or complicated matters.
User: I want to talk to a man
Bot: There is a live chat agent available. Do you want me to transfer you?
User: Yes, please
Boat: Okay, I'll transfer you now. Thanks for your patience, the agent will respond soon.
Chatbots need to find out the type of client problem and get the user to the right agent right away.
Use tags and variables to help the bot collect user input and then send data to the agent when handover.
Agents should be able to understand the context and observe the interaction between the boat and the client to offer a quick solution.
8. Omnichannel Messaging Support
WhatsApp, Facebook, Twitter, Telegram – these have all become tools of corporate survival. Absence from social media is like turning away from 71% of your customers.
Therefore, you must deploy your chatbot across all channels.
Brands that take advantage of the all-channel strategy receive 91% more customers per year than others.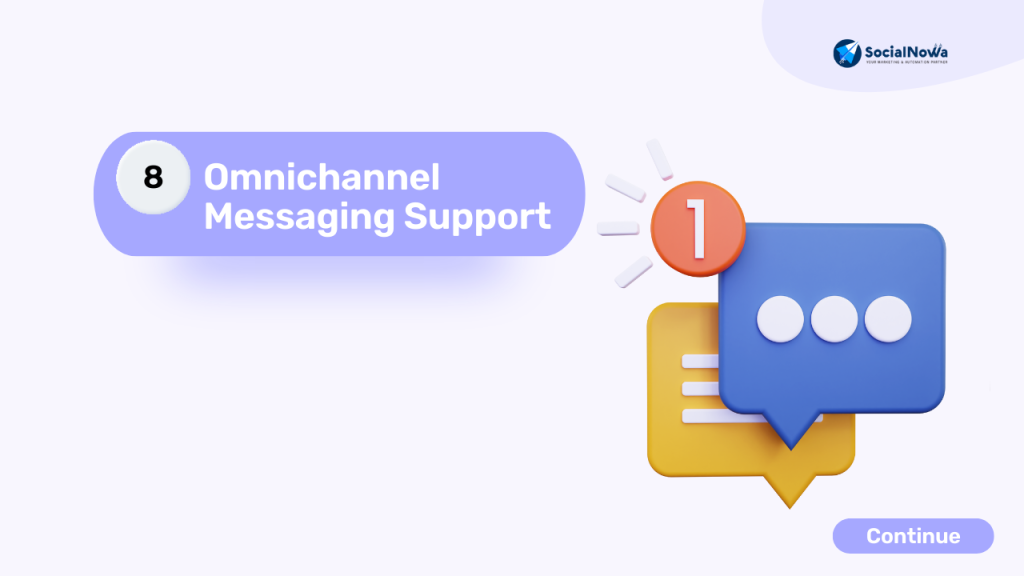 Chatbot Features that enable all-channel messaging support can help brands understand customers' interests and preferences, and enable your agents to easily take advantage of past conversations to communicate with customers in the future.
Why is the omnichannel messaging support feature important?
Chatbot Features can be easily launched across all channels without the need for manual integration to ensure a consistent customer experience.
Customers do not need to repeat themselves as chatbots can provide contextual support through relevant details.
Businesses can take advantage of all-channel support to provide better solutions or feedback surveys.
9. Chatbot API
A Chatbot API will ensure that your customers have the freedom and right to browse through it and find what they are looking for.
It will keep the engagement going and create a unique experience.
A chatbot API can help you move forward and get more than a chatbot builder would normally allow.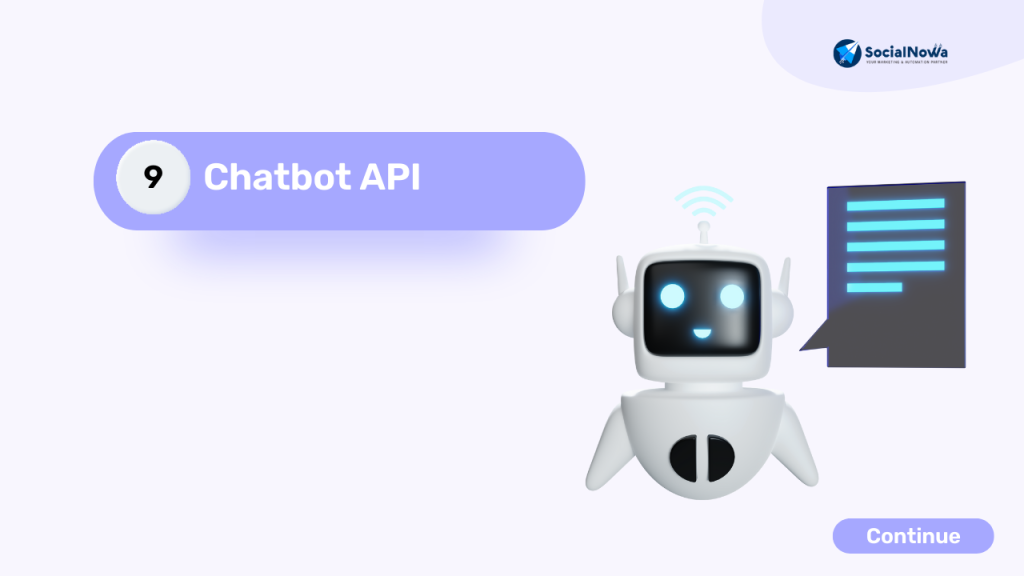 You can rely on it to extract data from other tools like CRM, databases, etc, to encourage customer interaction.
APIs are especially helpful when it comes to helping a chatbot retrieve user data from a variety of apps and sources to enhance customer engagement.
Why is the Chatbot API feature important?
Your business can use the Chatbot API to streamline the flow of data between your CRM or any number of databases and use the information to add value to your conversations with customers.
The API integration can help increase chatbot performance and productivity as your business can then take advantage of the interconnected nature of existing data.
The Chatbot API helps you send personalized messages based on IP address or website visitor data.
10. Data Security
Chatbots are now very popular across industries dealing with highly sensitive data and personally identifiable information. Chatbots need to collect data to function optimally and should not be vulnerable to hacking attacks.
There is no technology that completely proves hacking and chatbots are no different. They can be at risk for various reasons including poor coding, poor safeguards, or user error.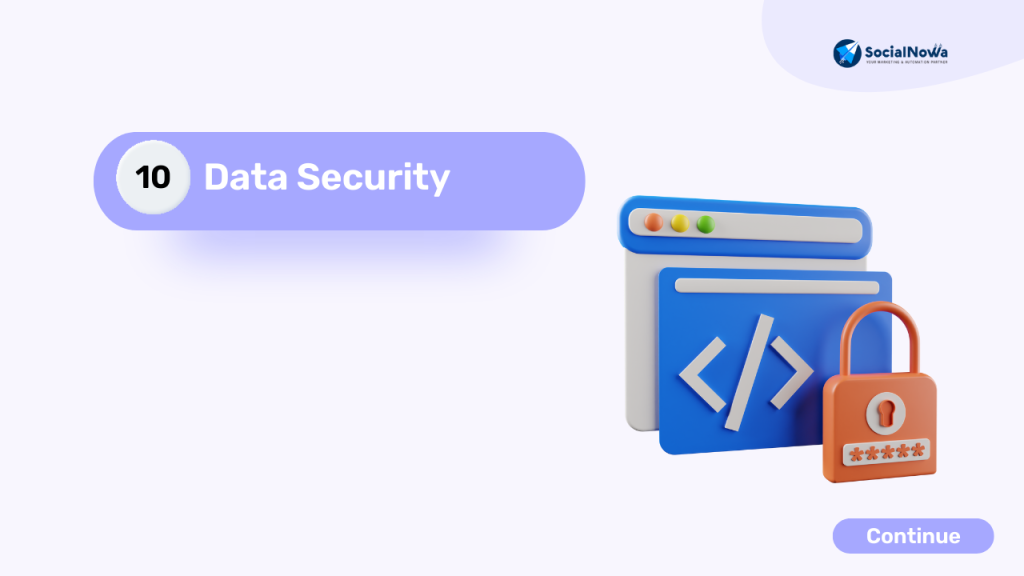 Threats are one of the two types of security risks that chatbots may face as they include malware and DDoS attacks that can hijack your system and demand ransom from you.
Hackers can also expose sensitive customer data or exploit vulnerabilities in the system to their advantage.
Best practices for ensuring chatbot security
End-to-end encryption – The bot design must prevent anyone other than the sender and recipient from accessing the message.
Authentication and authorization – These are the two main security processes that need to be used to ensure user identity verification and to allow the chatbot to perform any task.
Self Destructing Messages – Chatbots have to delete the sensitive message after a certain period of time to prevent any misuse of the sensitive information.
Personal Scan – This technology is used to verify personal identity when a transaction is initiated or when there is a need to access a bank account using a chatbot.
11. No-code chatbot builder :
You might believe it takes a lot of work to create a chatbot.
So you can easily create a virtual assistant that can offer solutions and automate fixes for frequently reported problems or customer service use cases using a no-code GUI (graphical user interface) bot builder.
You can accomplish all of this without writing a single line of code, as the name says, so you are no longer dependent on a developer or data scientist.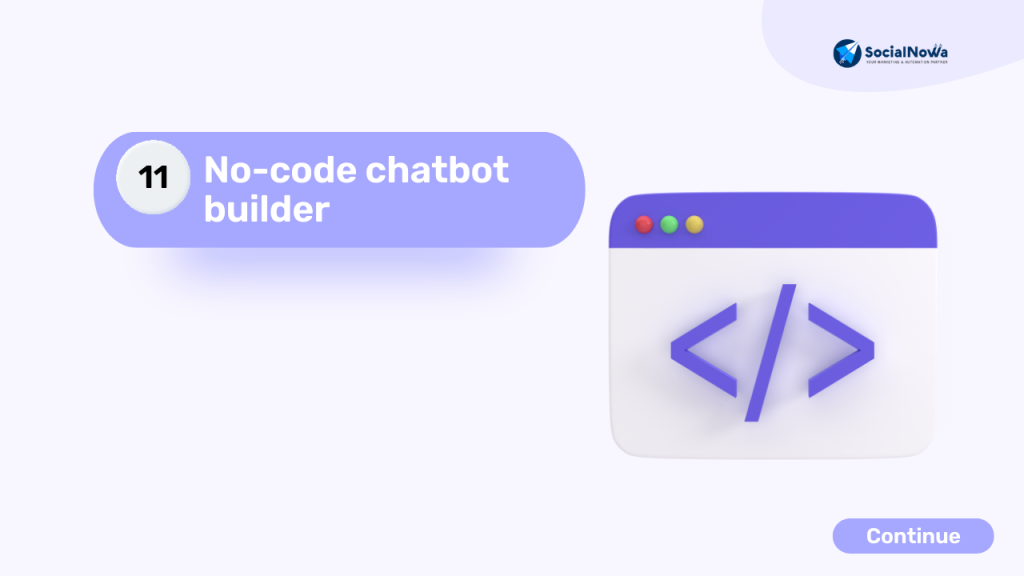 To make your support chatbot genuinely helpful, you must implement a system that is capable of more than just making recommendations for articles from your knowledge base depending on the customer's query.
For instance, your chatbot should be able to help a consumer who is talking with it immediately if they wish to exchange their order.
By providing that immediate assistance as opposed to publishing an article or FAQ titled "Exchange policy" or forwarding them to a support agent, your chatbot improves the experience for your consumers.
12. Multilingual capabilities :
If your customer base is global, it is essential that you provide customer support in several languages because doing so boosts accessibility and raises customer happiness.
Customers felt loyal to companies who provided service in their native tongue 70% of the time2.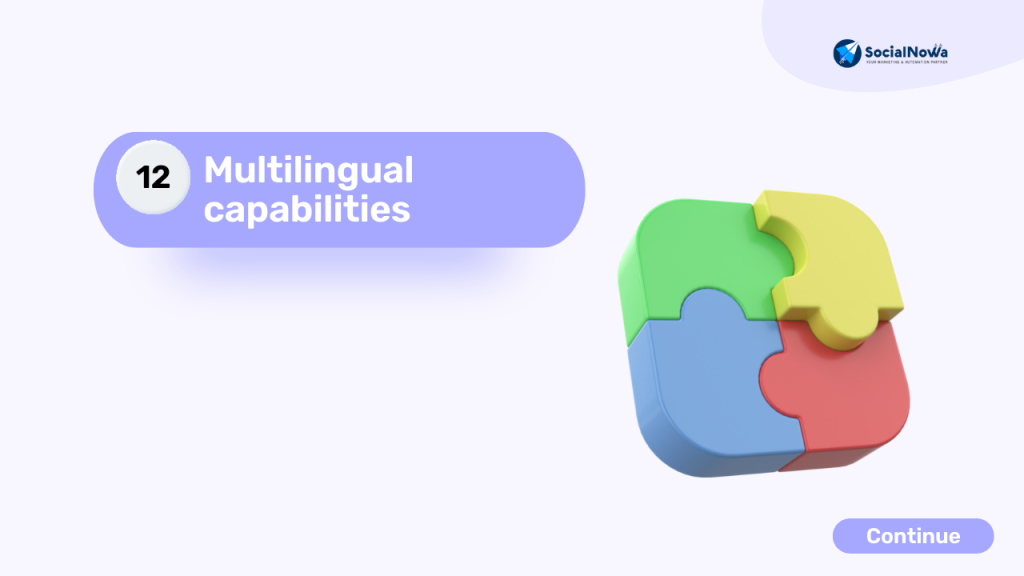 You may create end-to-end bot processes in the language that your clients use most effectively with a good chatbot system.
When deploying your chatbot in several languages, you must also make sure that the suggested solution articles are also available in those languages.
By creating a bilingual knowledge base, this can be accomplished.
13. Rich media messaging formats :
Emojis, memes, GIFs, and other forms of rich media are routinely used in daily conversations by today's digital-first consumers.
You may give life to your chatbot's UI and increase user engagement by including rich media interactions (any type of information other than plain text) in your conversation approach.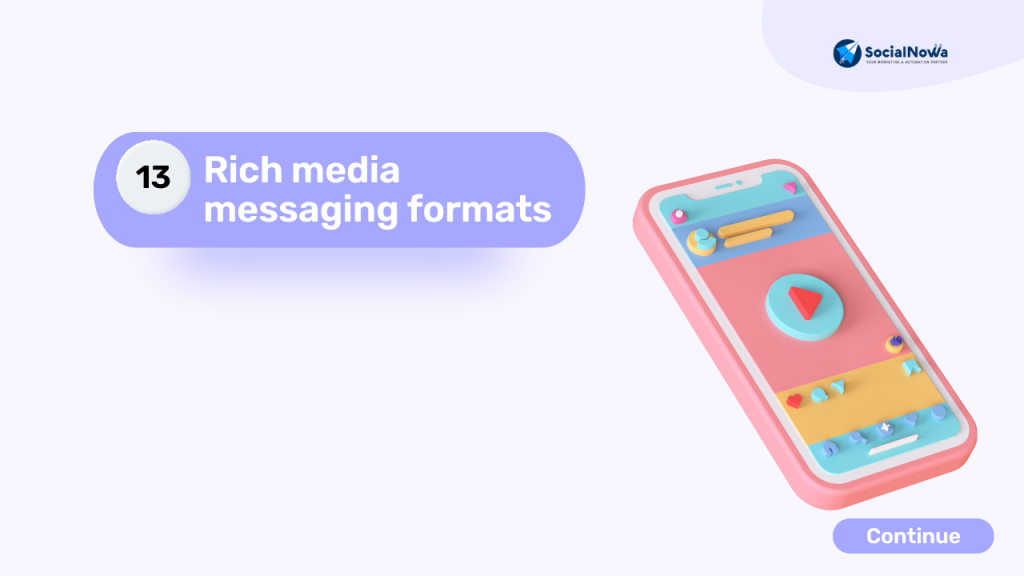 Emojis, carousels, calendars, photos, and videos all be used in your chatbot's flow to increase client engagement.
14. Opportunity to speak to a individual agent :
Even while chatbots can now accomplish considerably more than they did a few decades ago, some circumstances can still call for human intervention.
In these circumstances, your chatbot must politely and intelligently transfer control of the discussion to a customer support agent who has the necessary experience to expedite resolution.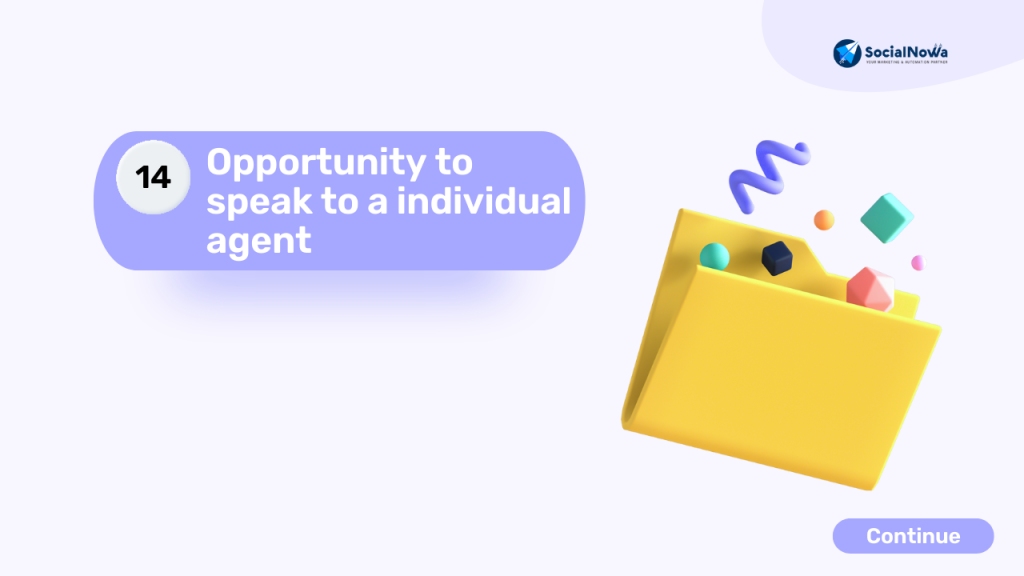 As shown in the illustration below, the customer needs to block their card, and the chatbot routes the request right away to a human representative because it recognises the urgency.
Customers that are hesitant to communicate with a chatbot can benefit from having a choice to leave the conversation and speak to a live agent.
This makes it possible to prevent any consumer from having a negative user experience.
15. Emotional intelligence :
Brands and customers can connect emotionally and engage in relationship building.
It's critical to enable or construct chatbots that can develop and foster connections with customers because they serve as the main point of contact between your company and its clients.
Chatbots can understand consumers' underlying emotions and intentions with the aid of sentiment analysis and respond to them in the most effective way possible.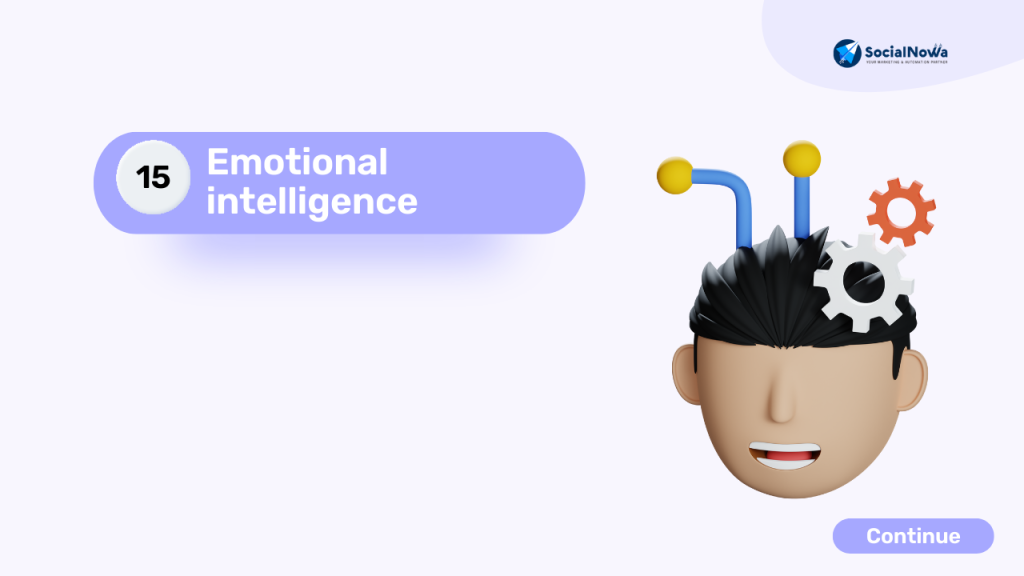 Sentiment analysis becomes a crucial chatbot feature as a result.
Brands and customers can connect emotionally and engage in relationship building.
It's critical to enable or construct chatbots that can develop and foster connections with customers because they serve as the main point of contact between your company and its clients.
Chatbots can understand consumers' underlying emotions and intentions with the aid of sentiment analysis and respond to them in the most effective way possible.
Sentiment analysis becomes a crucial chatbot feature as a result.
16. Quick chatbot training :
One of the most fascinating chatbot features is the ability to teach the chatbot to carry out complicated reasoning on its own, without the assistance of a human, with the help of DocuSense.
You don't need to manually add and update FAQs when using the chatbot; just upload your knowledge base.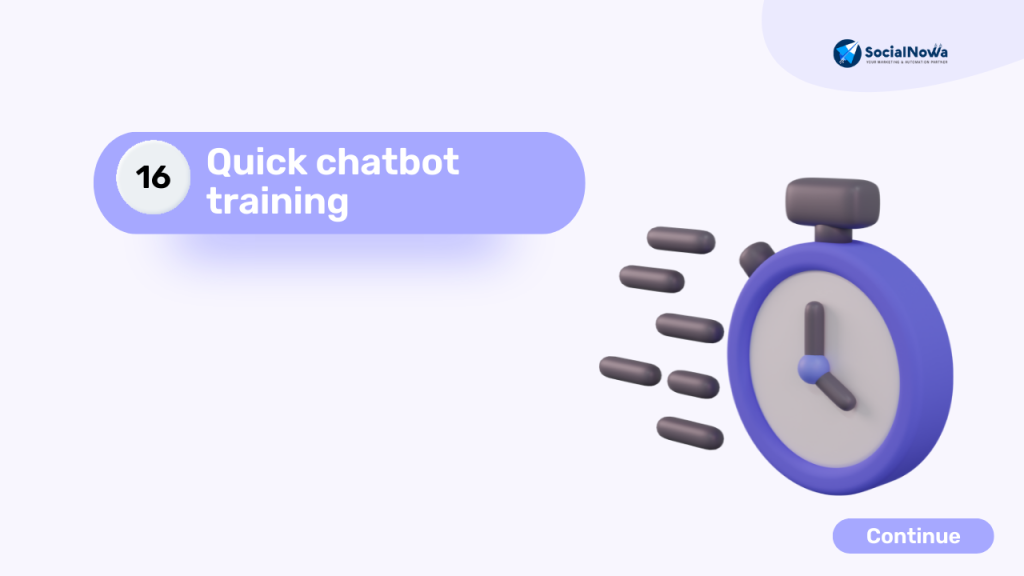 Within seconds after analyzing the data, the chatbot can offer a relevant response.
DocuSense can be used to provide our chatbots more capabilities rather than sending simple questions to actual people.
17. Integration with 3rd-party apps :
Connect the chatbot to the third-party programmes of your choice, like Google Sheets, Salesforce, and Zendesk.
Generate leads, gather information, and maximize chatbot performance.
We offer assistance with both native and bespoke integrations.
Businesses can extract or get around the data, analysis, and reports needed to monitor trends and make business choices by integrating with 3rd party applications.
18. Interactive flow builder :
You can choose the direction and flow of the chatbot chats with the aid of the Engati chatbot flow builder.
You can organize and assemble questions and the answers that follow them, as well as different responses to certain consumer inquiries.
A chatbot flow builder creates the possible courses that user responses might take.
Summary
A bot solution with great chatbot features is essential for achieving business goals.
You can take advantage of the various features of chatbots to add unlimited value to business communication.
The best chatbots have features like no code deployment, all-channel messaging support, fallback options, emotion analysis to add value to the conversation.
Integrating chatbots into your business can help you deliver intelligent, automated responses and efficiently achieve marketing goals.
To get a return on investment and identify the true potential of your business, you should always focus on using features.
If you already have a chatbot created for your website, try to incorporate these chatbot features and measure the difference.
And if you don't have one, you can start building your first chatbot with SocialNowa chatbot.
SocialNowa allows you to opt for a free trial for 30 days which can later be upgraded as per your business needs and requirements.