Many big and famous companies are in demand nowadays, their customers are also increasing day by day.
As there will be more customers there will be more queries regarding that main product, whether it could be a site, some kind of product, or anything.
The old solution for this problem is call centers, but the modern world needs a modern solution that is Chatbot.
Whenever there is some kind of problem people call in call centers but, what if this problem could be solved without interacting with a human.
What is a Chatbot?
The chatbot is an Artificial Intelligence-based programming tool, it is also known as virtual assistance or digital assistance.
It stimulates human conversation and proceeds accordingly. As the programming is done already in it, it then processes accordingly. It understands human capability and then responses alike.
There are various ways through which bots can be communicated like voice commands where a person can talk to a bot like a person, Alexa is one of the examples of this.
Text is very common and is used more frequently nowadays, the bot automatically answers the question asked in the bot. Pictures and many more.
Most people prefer using the text chatbot option. It works across many sites such as FB, Instagram, Messenger, Twitter, etc.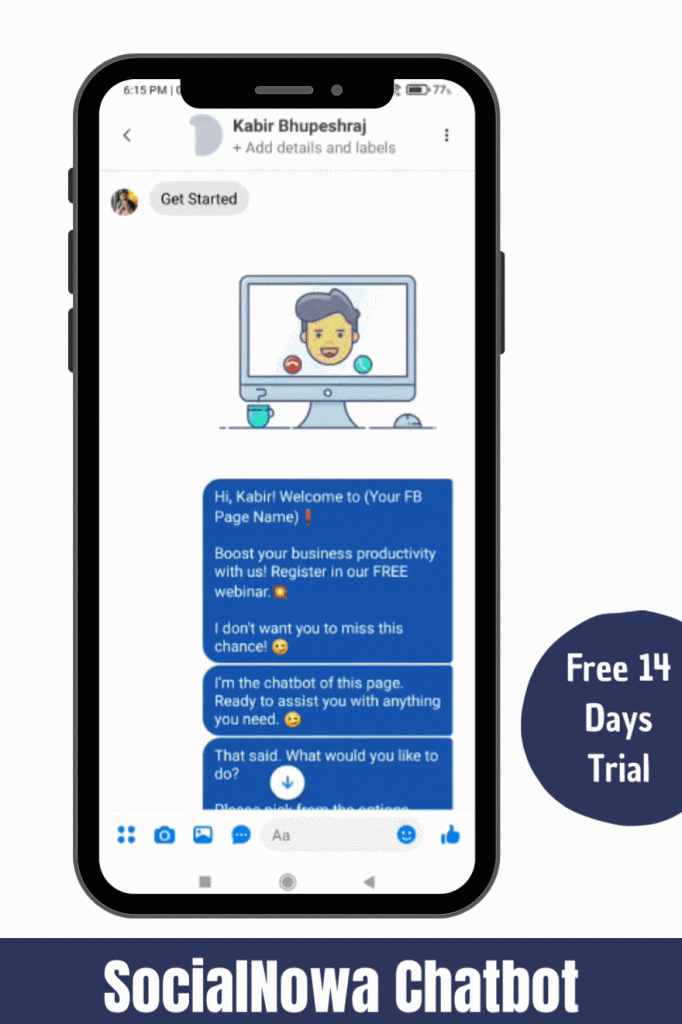 How do Chatbots work?
A chatbot is an AI that works by analyzing the programming that has been instilled in it.
It analyzes the intent of the user and responses according to that. This is what the main thing lies in the whole process of chatbots.
Pattern Matching
In pattern matching the response is done by the exact term for input as well as output. The bot answers exactly to the set program, by correlating patterns.
Artificial Intelligence Markup language AIML is a standard structure model of this pattern. It is very static and on the key point command. So it becomes important to enter the right term in it, to solve the query.
Natural Language Understanding
Natural Language Understanding is the ability of a chatbot to understand a human.
It converts the input text by humans into structured data for a machine to understand.
This helps both humans and machines to work further smoothly and solve the problem by understanding it exactly.
Type of chatbots
The chatbot is mainly divided into 3 types namely;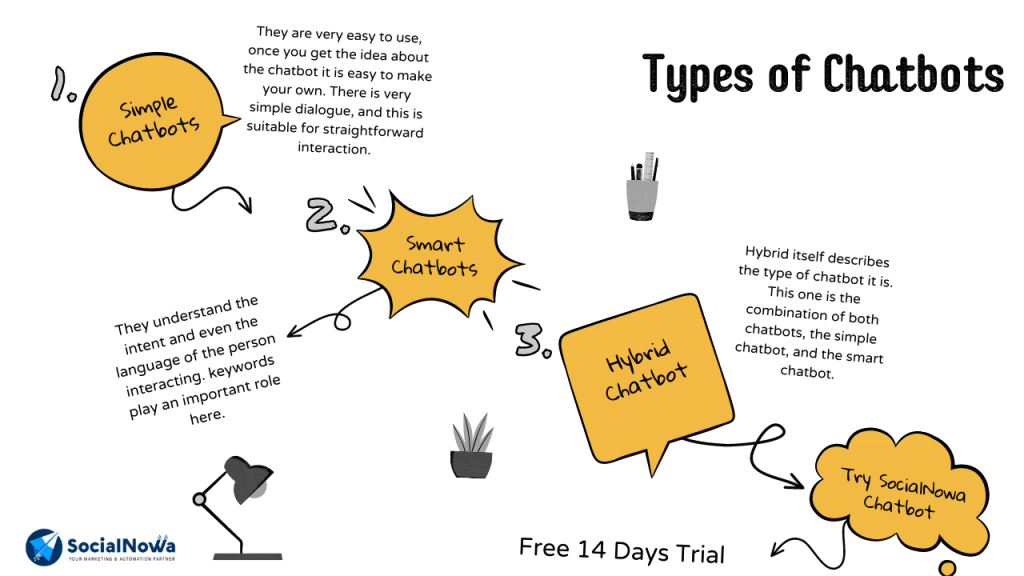 1. Simple Chatbots –
These chatbots are usually called ruled-based chatbots, as they have limited capacity to understand and process. They are pre-arranged types.
Simple chatbots are predetermined chatbots, they go on with questioning until you have not solved your query.
They are very easy to use, once you get the idea about the chatbot it is easy to make your own. There is very simple dialogue, and this is suitable for straightforward interaction.
This can be used for ordering food kinds of stuff where you have to just ask for the preference of the kind of food they would like to have and have further recommended info about that thing.
2. Smart Chatbots
Smart Chatbots are way more steps ahead of simple chatbots. They are more detailed and more like a human conversation. Their understanding level is up to standard, they have free-flowing long conversations and can understand the sentiments, emotions of humans.
They understand the intent and even the language of the person interacting. Programming should be very clear, so the content is understandable and clear, keywords play an important role here.
But for this type of chatbot, there is a need for adequate knowledge about data and programming as they are hard to execute and implement in actuality.
The best example of this can be Alexa or Google Assistant, these AI chatbots are very advanced than regular chatbots.
They get an idea about what the next question could be. Smart Chatbot may work as a virtual assistant within the web app.
3. Hybrid Chatbot
Hybrid itself describes the type of chatbot it is. This one is the combination of both chatbots, the simple chatbot, and the smart chatbot.
Both the smart and simple chatbots are extreme in the chatbot spectrum. While using the chatbot application there will be a constant need for a smart chatbot to be simple and a simple chatbot to be smart.
Hybrid meets at the middle ground of both of these chatbots. Their data entry is made in such a manner that it will act accordingly to the needs of the customer.
It understands the context and intent of the user, and they also have rule-based programming. This versatile quality makes it unique.
As per convenience, a person can go for the type of chatbot they want.
Why are chatbots important?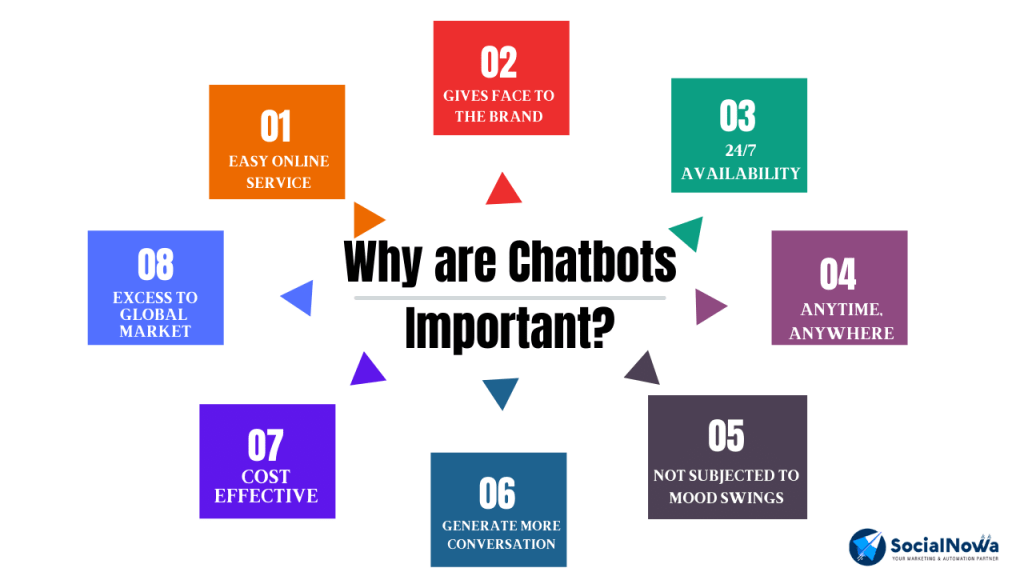 Technology is making human life easier and smooth, chatbot is one of those things. Many businesses are using a chatbot for their communication purposes.
It has a very worthy reason why many brands are investing money and time in upgrading chatbots.
They are Artificial Intelligence programming that works very smartly and operates smoothly as per our convenience.
Online Service:
Many businesses are now online these days and are doing very well. Here chatbot plays like a helping hand to that business to work smoothly and easily.
Here it helps with non-complex products questions to solve. It can help with the questions like size, color, shipping charge, availability, etc.
Gives face to the Brand:
Many times when the customer wants to interact, they do it via Gmail or phone conversation. When chatbot replaces this old system it looks more attractive and professional to the customer.
Setting a proper format of the chatbot by using a good flow and a proper vocabulary would look more like a professional. And can give a nice outlook to the customer approach.
24/7 Availability:
After the work hour is finished it becomes near too impossible to interact with the customer until he has some other way of contact.
This query could be solved by taking advantage of a chatbot. Chatbots are available all the time, day or night any hour of the time. Many simple queries could be solved by the chatbot anytime-anywhere.
Multiple languages:
chatbot has the option of using multiple languages provided in the system. Any person can interact with it, there is no barrier of language.
There are many problems with languages in other countries that could be solved via chatbot.
Not subjected to mood swings:
many times it happens that the person on the call might not be in the mood of talking with anyone, if that person connects with the customer, he may lose his temper and deliver the wrong message to the person.
This may also affect the company. However, this isn't the case with chatbots; they will reply to everyone in the same way.
Sometimes even the employee may not feel well or they may take leave, this can lead to the pause to a lot of work and so much workload to other employees and that person too.
Generate more conversation:
a survey conducted by One of the marketing companies found that millennials prefer speaking with a chatbot rather than with a human employee.
Many times, it happens that a person is shy or not comfortable while talking on the call about something he might feel comfortable talking to a machine. This is mainly because they want fast and precise answers.
Cost-Effective:
a chatbot is a very cheapmode of communication. It is affordable and only a one-time investment is needed.
It also reduces the costly problem caused by human error. Where a human takes a lot of time to answer a question, a chatbot can do the same within some seconds.
Focus on important things:
Answering a basic customer's query could be time-consuming for the employee, time which he could use to do something important and Productive. This could be solved by the use of a chatbot by setting it just one time.
Excess to Global Market:
A chatbot can solve a customer's query in multiple languages, even though there is a huge time difference between the two countries it will be available to both the different time zone nations. It has involved all globe.
No Coding:
A chatbot is like a real human speaking experience application. This feels so friendly and easily accessible.
This might feel like setting the programming of a chatbot must be a difficult task which might include coding, but that's not the issue here, it does not include coding, with the help of SocialNowa Chatbot you can very easily set up your own chatbot to grow your business in very easy and simple steps.
Deployed anywhere:
a chatbot can have conversations on multiple social media platforms, such as Facebook, Instagram, Messenger, Text Messages, What's App, etc.
A chatbot is a part of Artificial Intelligence, it has made a lot of workloads easier for many small as well as huge businesses. Chatbot is affordable to a simple man as well, and its services are available 24/7 across any country around the world.
This is a better way of communication with the customers and has less or not at all chances of making an error while communicating.
Bot suitable for any kind of business, easy to use, and create.
In modern businesses having a chatbot is a need of an hour. It is understandable that one might think setting up a chatbot will require a huge cost and coding skills but as mentioned earlier that is not the case at all. With tools like SocialNowa, it has become much easier to set up the chatbot and see your business grow on automation.
Now you can also avail 30 days Free Trial of SocialNowa with simple and Sign up and use it for your businesses. Click here to sign up now.