Introduction
Best Chatbot Platforms can assist customers track orders, locate delivery costs, and determine when your business is open.
Chatbots are a great way for businesses to respond quickly and effectively to the questions and problems that customers most often bring up.
Benefits Of Using Best chatbot platforms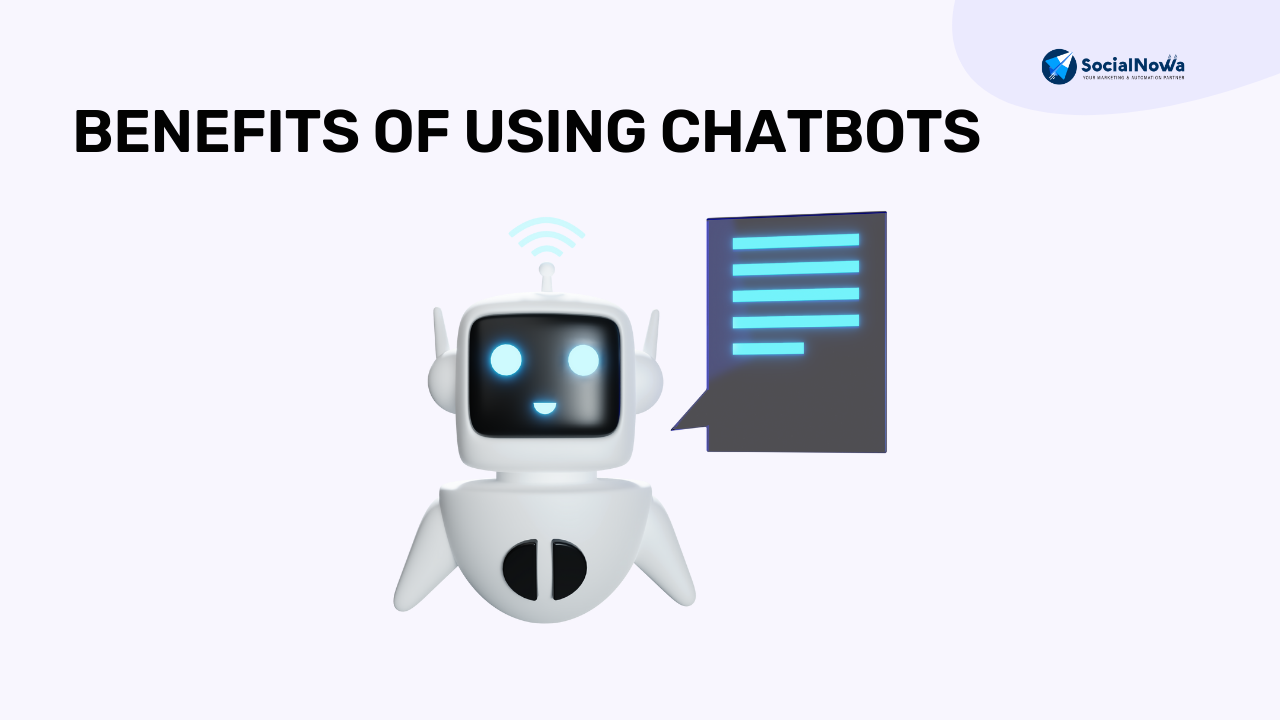 1. Reduce costs and time :
Chatbot can help you reduce costs by collecting free data.
bot collects the data which boost your lead generation & effort & also gives input for your sales & marketing campaigns.
Chatbot connects with companies 24/7 & it also answers the customers' questions.
This reduces customers' wait time, boosts customer happiness & saves money.
2. Increase Lead Generation :
Chatbots have many roles in lead generation.
Chatbot helps companies to connect with more plans, collects valuable contact information & develops leads through the marketing funnel.
Lead generation is the process of converting your traffic into qualified leads.
You can increase your website's engagement, increase sales & boost overall business profits.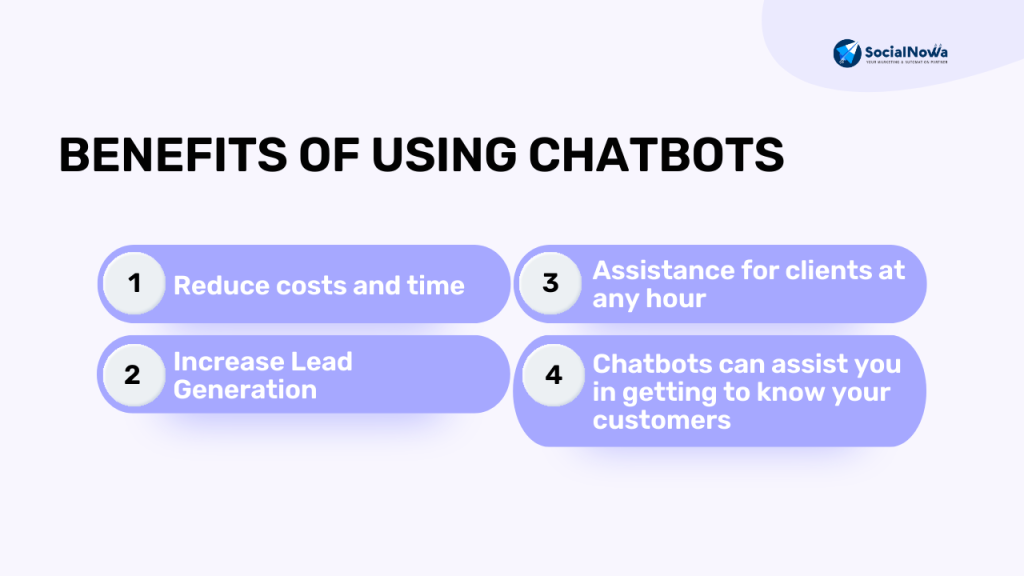 3. Assistance for clients at any hour :
When your customers need assistance, your company can be there even if it is companies off-hours .
It increases customers' satisfaction as people can get help without waiting around for a reply to an email or voicemail.
4. Chatbots can assist you in getting to know your customers :
Chatbot can ask questions, collect answers & show the customers whatever they are looking for.
Also, with the help of chatbot you can know your customers needs & concerns, also the product & the services they are interested in.
5. Make Your Brand More Personable :
Chatbots are easy to interact & also it is available for 24/7, with this users develop a positive relationship with the product.
Customers spend more time on your website & engage with your content , which increases brand awareness for both of you & your business.
6. Increase client satisfaction :
Chatbot can answer customers queries quickly, and provides 24/7 support to customers.
Chatbots can also personalize conversation as they can talk to people with their names & tell them about the new offers of the company.
They also advise clients when they can't decide what they should buy like a friend.
These fun conversations lead to client satisfaction.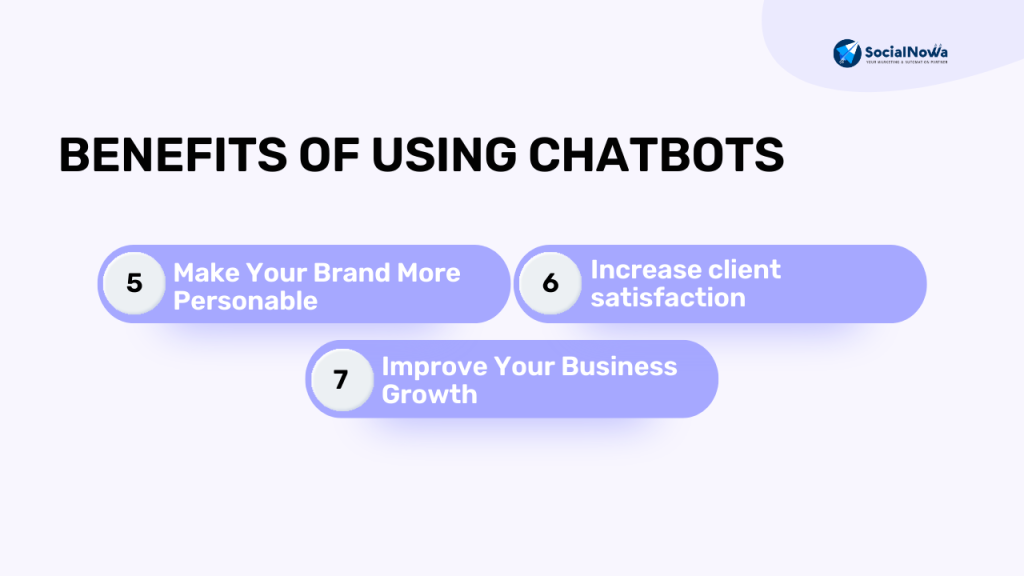 7. Improve Your Business Growth :
Chatbot can help you to grow your business by arriving at more people & boosting your customer base.
It can also improve your company & develop every operation of your company.
Chatbots increase customer engagement by introducing personalized interaction with customers, & offering what they need.
Best Chatbot Platforms [For Website]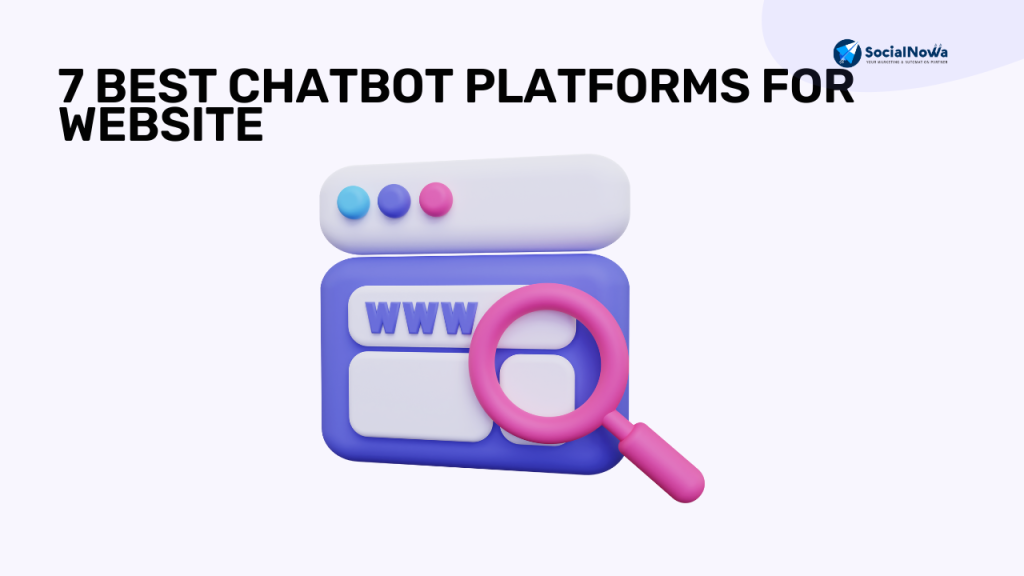 Socialnowa is One of the best chatbot platforms for your business.
With the help of SocialNowa chatbot, you can automatically reply to your instagram followers' comments.
Share a picture or video on Instagram. All of the tasks can be done automatically with our scheduled posting feature, SocialNowa, and other tools.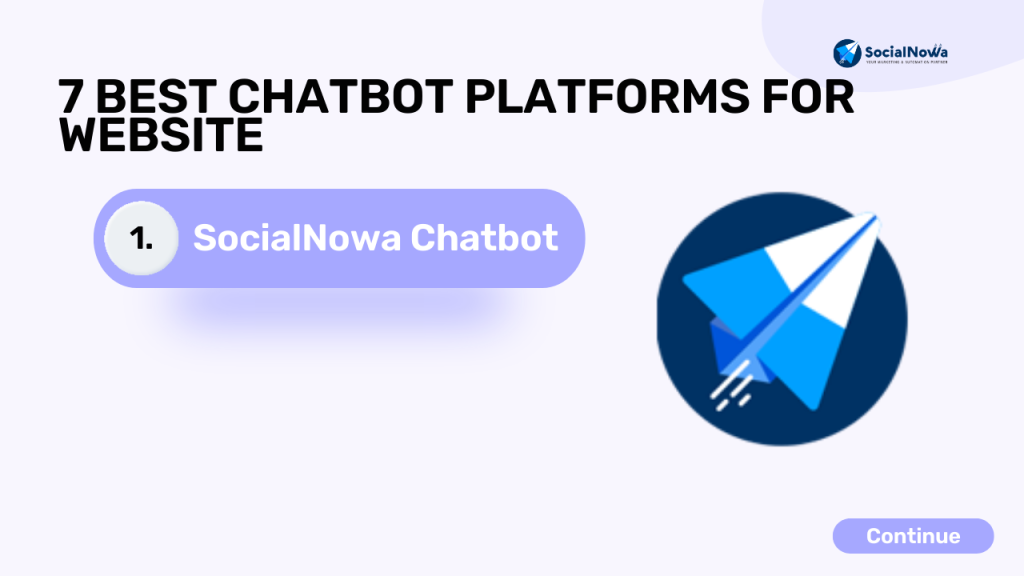 You can now build & sell a virtual menu for your restaurant using SocialNowa chatbot. Contactless QR code menus are a thing to remember.
Also, you can grow your business with SocialNowa analytics tool, which gives you access to facebook page & messenger data on a dedicated graphical reporting dashboard.
A SocialNowa chatbot can be installed on the website as well so your website visitors get all the answers they need and also give you their valuable leads.
With the help of SocialNowa chatbot facebook can automatically respond to your comments or posts that were published on your facebook page.
It can reply to customer's FAQs, set up appointments, qualify leads, sell products etc.
SocialNowa is the best chatbot for websites because it's a great way for businesses to automate their social media marketing and connect with potential customers.
Best chatbot features (SocialNowa)
Now that you know what SocialNowa can do for you, let's go over some of its most important features:
You can automate your business process in just a few minutes with SocialNowa Chatbot. Setup is quick and easy because you don't need to know how to code.
SocialNowa is one of the best Facebook Messenger chatbots on the market.
SocialNowa is one of the best Facebook Messenger chatbots for getting leads, giving support, and answering questions before a sale.
By 2023, 2.4 billion people will use Facebook Messenger, which is one of the most popular smartphone apps in the world.
You can automate your business with SocialNowa Chatbot so you can spend more time with your family and on yourself.
2. Automating Direct messages on Instagram :
Automate your Instagram marketing and communication for better customer engagement and more sales.
We automate your Instagram message with the best, quickest, and easiest Instagram DM automation so you can better manage your clients and make more money.
You'll never have to worry about having to use another tool.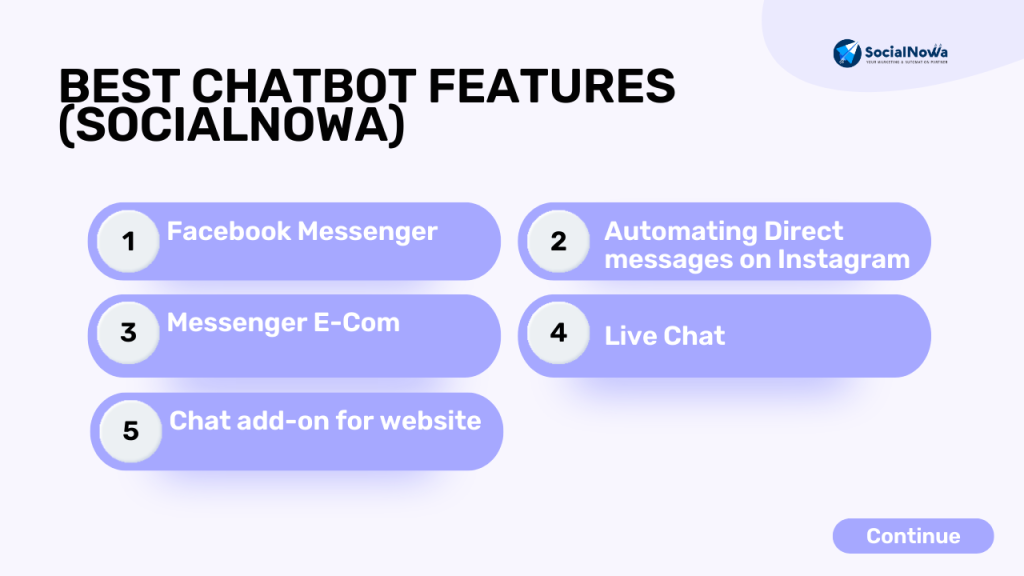 3. Messenger E-Com :
From the future, hello. With the E-Commerce feature of SocialNowa, you can set up your own online store right in your messenger.
You can even choose between opening a physical store or an online store with just a few clicks.
And let your customers buy the goods right from the store, so you don't need a fancy e-commerce website.
4. Live Chat :
Imagine being able to see what customers are saying in real time on Instagram, Messenger, and your website from a single dashboard. Which is better?
That doesn't need any other tools!
SocialNowa Chatbot knows that we sometimes need live chat to quickly get rid of that one client. We also offer that.
5. Chat add-on for website :
SocialNowa is a chatbot that can take care of all the needs of your website.
With our simple, easy-to-use WordPress plugin for messaging, you can start talking to customers and growing your following right away.
You don't need any other tools for your site. Use the SocialNowa Best Chatbot Platforms to talk your visitors.
Pros :
Works on Facebook, Instagram, Live Chat, Website Chat and for E-Com as well
Generate most qualified leads on automation.
You can set up Instagram to automatically post, direct message, reply, and comment.
Create Facebook Messenger Bot Without Coding Skill.
Send Coupons & Promotions.
menus with contactless QR codes.
2. ManyChat Chatbot
This chatbots can be used to gather contact information, communicate with clients, or suspend automation so that the conversation is passed to an agent.
This (Manychat) is a chatbot system that is hosted in the cloud and designed for use in chat marketing campaigns conducted via various social media platforms and text messaging.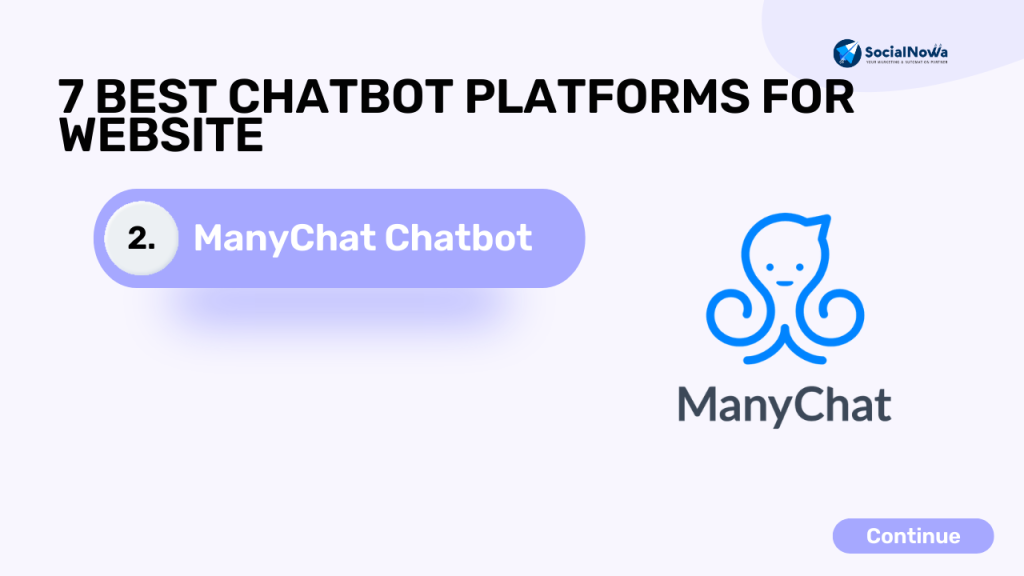 Key Features :
Using a drag-and-drop interface, users may connect messages and actions.
Keep your audience interested with Facebook's marketing tools.
Manychat Pricing :
There is a free plan offered.
Pro plan $15/mo.
Pros :
Support chatbots for a number of platforms, including Facebook Messenger, Email, and SMS.
Simple Facebook Messenger integration.
Cons :
When you have a large audience, it may end up being quite pricey.
Flow Builder isn't user-friendly or perfect yet.
Flaws and slowness make the developed chatbot useless.
3. LiveChat Chatbot :
Live Chat is an innovative AI chatbot platform that makes lead generation and purchasing simple and quick.
All conversations that have been created on a website's web pages are kept in the control panel.
Users can be followed in real-time, conversations can be started, and you can even go from one exchange to another.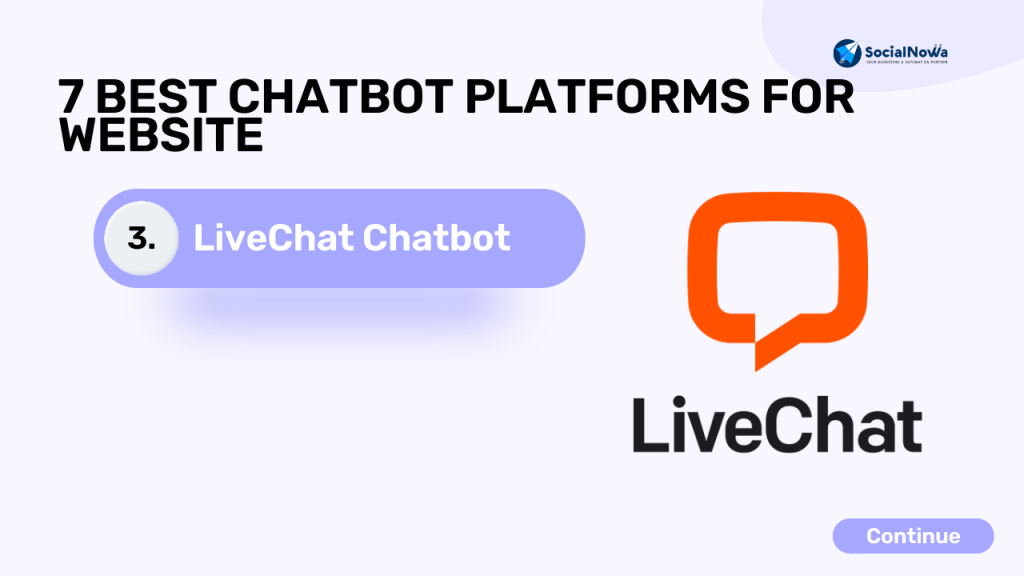 Key features :
Support employees automatically route discussions to the relevant agent or available operators.
This programme lets you monitor discussions in real-time and see which agents are talking.
Pricing :
Free Plan for 14-30 days.
Started – small office : $20/mo.
Team – full time support team : $41/mo.
Business – customer service department : $59/mo.
Pros :
Faster support : Using live chat, a client issue can be solved in under a minute.
Live chat lets customers see a real-time preview of what they type before pressing enter.
Cons :
Does not work well with age-related population groups.
The requirements for first response time are very high.
Even while there is less of a requirement to be available than there is with the phone, you still need people during peak hours.
4. Mobile Monkey :
For better customer support, you may link SMS messaging, Instagram, Facebook, and Web Chat using this chatbot provider's omnichannel platform.
Administrators can use the platform to get in touch with leads, run drip campaigns, plan messaging, share links, and see audience engagement data.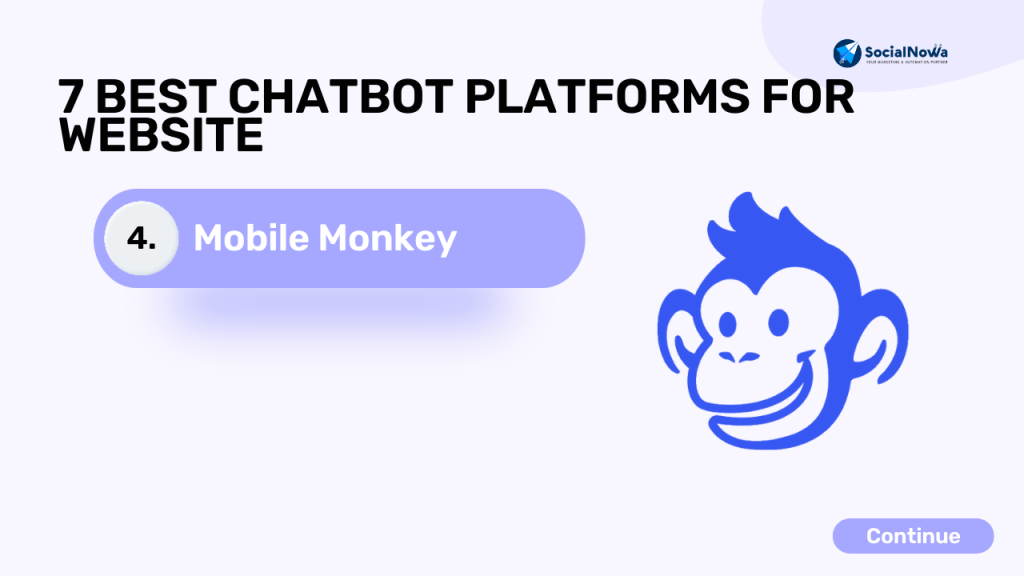 Key features :
Automated lead routing and follow-up improve customer service efficiency.
An integrated chat inbox combines incoming and outgoing messages.
Automates and integrates your business's telephony.
Pricing :
Free plan available.
InstaChamp Platinum – $19/mo.
MobileMonkey Startup Edition – $119/mo.
Pros :
Chatbot creator that works across multiple platforms.
Every day, there are informative webinars.
Cons :
There will be no location-based marketing here.
It will only work with the Messenger app for Facebook.
5. Chatfuel [Best chatbot platforms]:
Chatfuel is best chatbot platforms that platform which does not require coding for use on Facebook, Instagram, and Messenger.
For constructing your chatbots, you receive a tonne of documentation and step-by-step guidance.
It includes an easy-to-use UI, allowing even beginners to create and use bots.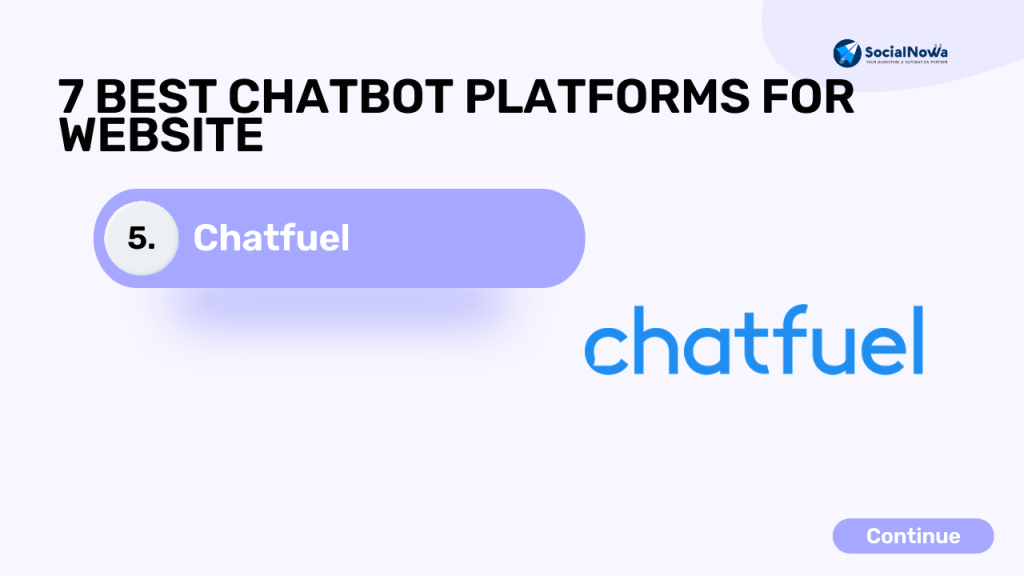 Key Features :
Analytics for bots provide valuable insight into the bot's operation.
With a bot drip campaign, broadcasts, and higher email open rates, increase revenues.
Chatfuel Pricing :
Free – $0/mo.
Pro – $15/mo.
Premium – $199/mo.
Pros :
It is possible to construct a pretty basic bot in a short amount of time.
Simple and uncomplicated user interface.
Cons :
There is no support for subroutines, moving around in the middle of a dialogue, etc.
You will have to pull out your hair if you try to make anything more complicated than straightforward robots.
6. Tidio Chatbot :
To assist you in improving customer service, Tidio provides a live chat solution with chatbots.
In order to offer proactive customer care, it also offers a live view function that enables you to see who is now on your website.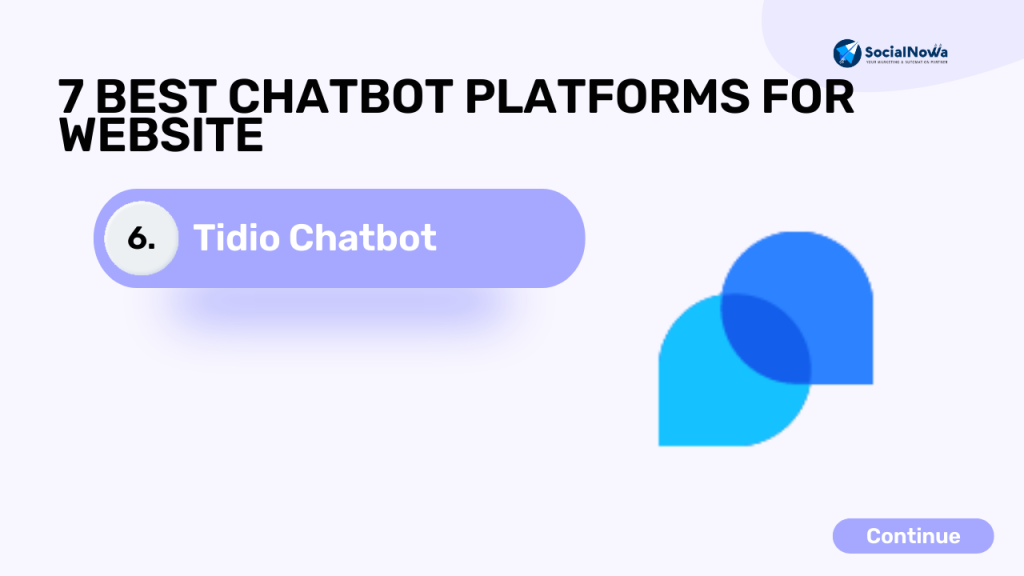 Key Features :
User interface for visual builders.
16 distinct triggers for Tidio bots.
Pricing :
Free plan available.
Communicator – $19/mo.
Chatbots – $49/mo.
Pros :
Tidio's configurable plugins allow real-time communication with visitors.
Tidio promotes internet products and in-store deals.
Cons :
You cannot control client discussions on Tidio using Twitter, Instagram, or WhatsApp.
You can examine messages from many websites on one tab if you oversee numerous e-commerce enterprises. That might be awkward.
7. Pandorabots :
Pandorabots is an open-source chatbot platform that lets people build and share AI-powered chatbots on the web, in mobile apps, and in messaging apps like LINE, Slack, WhatsApp, and Telegram.
The AIML (artificial intelligence markup language) scripting language is what the Pandorabots chatbot framework is built on.
Developers can use this language to make conversational bots.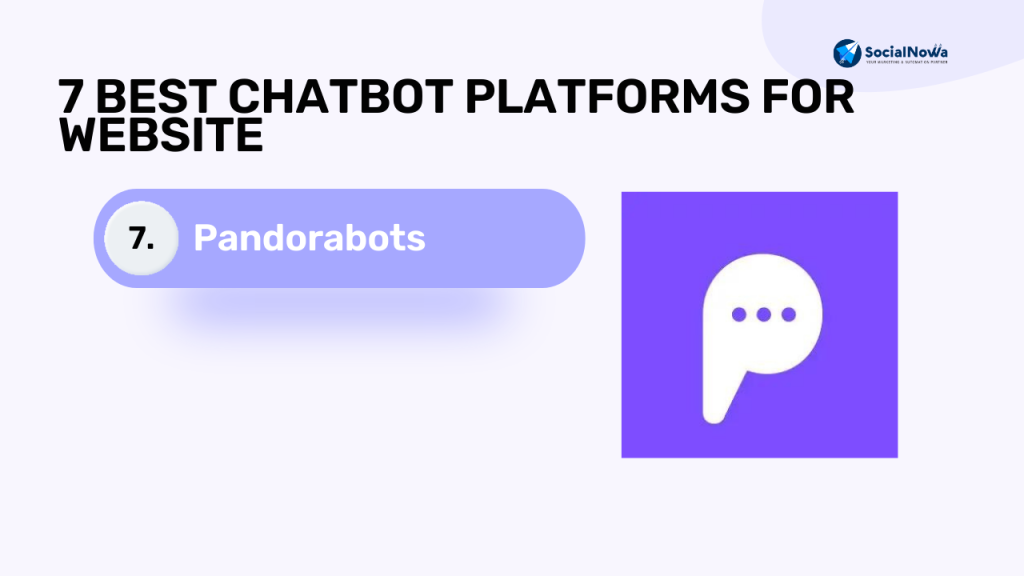 Key features :
AIML scripts can be used to make bots that speak more than one language.
In addition to the text-to-speech bots you already have, make speech-to-text bots.
Pricing :
Free plan available.
Developer – $19/mo.
Pro – $199/mo.
Pros :
The Artificial Intelligence Markup Language is used here.
User interface that is responsive.
Cons :
It is necessary to employ code in order to have a decent chatbot flow.
Unfortunately, we can't transfer your call to a real person automatically.
Conclusion
A chatbot is an easy way to get information from a computer without having to think of the right keywords to use in a search or look through several web pages.
Users can simply type their question in natural language to get information.
Your business can quickly provide excellent service and settle things for a big number of consumers at once with the help of a chatbot.