Introduction
Today the world is moving towards automation. The demand for instant interaction and customer satisfaction is everywhere. And it just keeps growing. This is especially true in the world of marketing.
This does not mean that you should go beyond a practical strategy that your marketing team can use.
Why Automation Is Important –
However, AI-based bots and automation are now available to help manage processes and, most importantly, generate leads for marketers.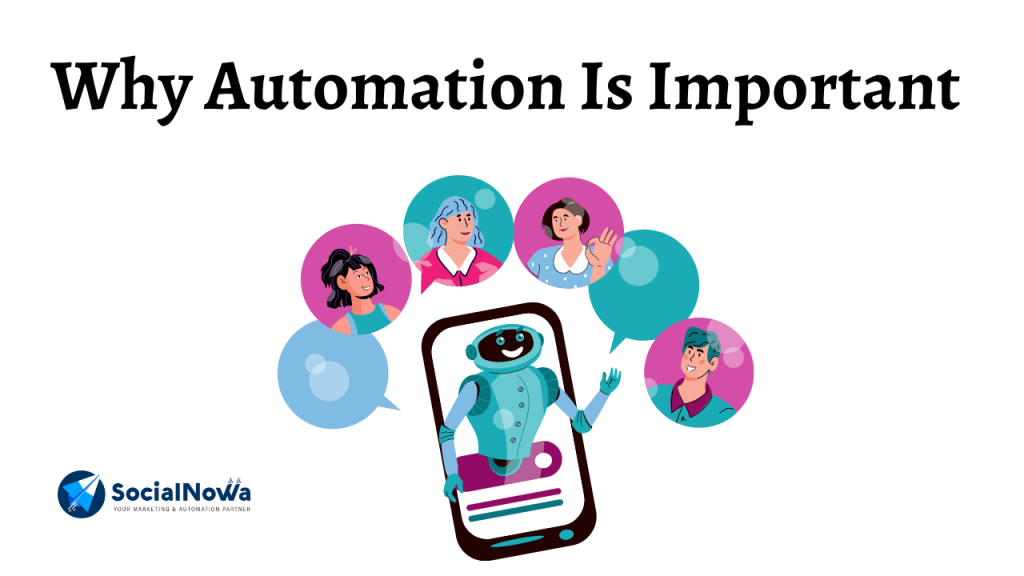 One way to automate your marketing strategy is to use chatbots in current e-commerce trends.
This digital marketing strategy allows you to automate communication and interaction with customers through social media messaging apps or on your landing pages before referring a real person for help if necessary.
But there is more, much more than imagination!
In this Blog we are concluding :
What is a Chatbot?
What is Chatbot Marketing?
How do we use bot Marketing?
Benefits of Chatbot Marketing
Importance of Chatbot Marketing
Examples of Chatbot Marketing
Top 10 Tips for Chatbot Marketing Strategy
Things to avoid in Chatbot Marketing
And Finally Interesting Conclusion points
What is a Chatbot?
In short, a chatbot is a computer program or software that allows you to automate conversations with users.
Because they are pieces of software or programs, they can be customised to respond to user requests or choices.
For example, they might ask the user what part of the business they would like to learn more about and provide information, or they might help the customer choose how they want to interact with the business to learn more. (for example, email, SMS, mail, etc.).
Most advanced bots are based on modern artificial intelligence (AI), but you will find that most of them are programmed with pre-made dialogue trees and predefined responses.
If you search the web, you will find many third-party services that make it easy for businesses and marketers to create their chat trees for chatbots without the need for expert development or coding skills. It's available to everyone, big or small.
Now look at our main body and that is:
What is Chatbot Marketing?
Online companies are increasingly using chatbots in every possible way.
You see companies using chatbots to engage site visitors, analyse customer questions, and help lead generations.
This is a practice that can grow as chatbots can cope with increasingly complex tasks.
In this blog, we'll take a look at how you can use chatbots in your marketing efforts.
You will learn about how companies use chatbots and the benefits of these applications. I hope you get valuable information that you can apply to your company.
Chatbot Marketing –
Chatbot marketing is a kind of marketing in which we promote our products and services by using a chatbot.
Computer applications that carry out conversations with users by location have been decided either with the help of AI.
Models use a chatbot builder to create this virtual utility, then connect it to messaging apps like Facebook Messenger, WhatsApp, Snapchat, Telegram, etc., or post it on their website.
Chatbots can be used easily and effectively in the market.
The development of chatbot marketing began to emerge in full swing when Facebook started adding bots information to its messaging features. Previously, many Facebook pages had unused messengers.
Often, customers have asked questions or raised concerns that they have not received any response.
A chatbot marketing strategy ensures that your customer service requests are not being unanswered, and can also help generate a lot of leads and sales.
Where are chatbots used ?
The fundamental purpose of chatbots is to respond to client inquiries. Chatbots can still be utilised in a variety of contexts and come in a variety of forms. Look at them below:
1. Chatbots for virtual assistants:
Nowadays, almost everyone has heard of Siri, Cortana, Alexa, etc. and has even asked them questions, from the serious "Open my calendar" to the playful "What colour is the sky"!
These chatbots are virtual assistants that can be found on smartphones, laptops, smart home devices, etc. They may be used to call people, make appointments, and retrieve information from the internet.
almost like a tangible version of a personal helper!
2. Chatbots for customer service:
Almost all businesses employ chatbots to assist consumers with the most common problems they encounter.
These customer service chatbots can assist clients in navigating company websites with ease, respond to simple inquiries, and refer clients to the appropriate human customer service agents if their problems are more complicated.
For instance, if your Samsung earbuds stop working, you can contact the chatbot for customer support on the Samsung website to get help.
3. E-commerce chatbots:
E-commerce businesses employ chatbots to make it simple for their customers to complete transactions and to get assistance if any issues emerge.
These chatbots are specifically made to guide users through the entire transaction, from the initial step of exploring products on an e-commerce website to the final step of making a purchase.
If you're purchasing something from Amazon, the chatbot can walk you through the entire online purchasing procedure!
How do we use Chatbot Marketing?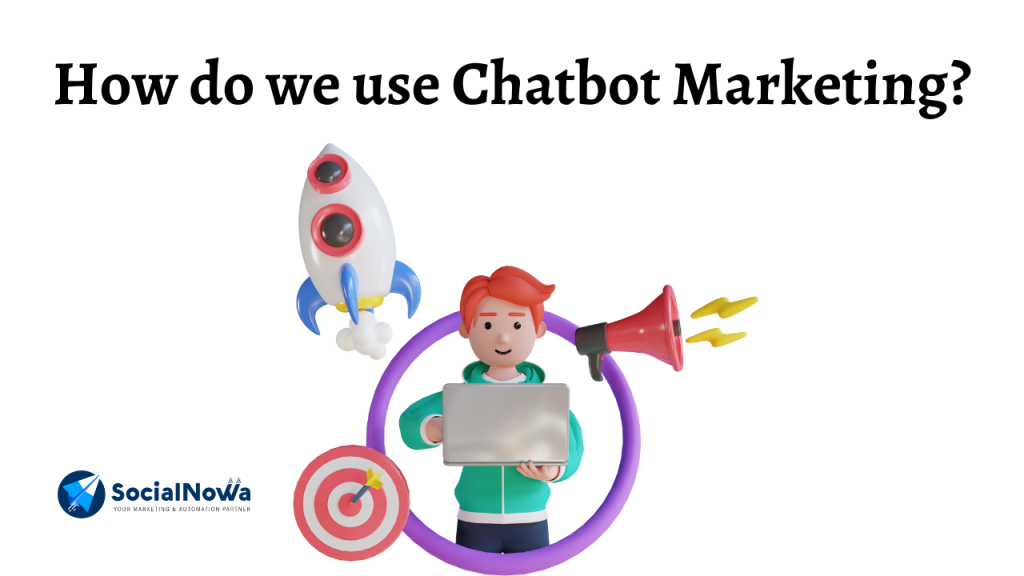 chatbot marketing help you? Let's take a look.
1. Customer Support
Chatbots are available for 24/7 automated assistance and are a great way for customers to access your FAQs clearly and concisely.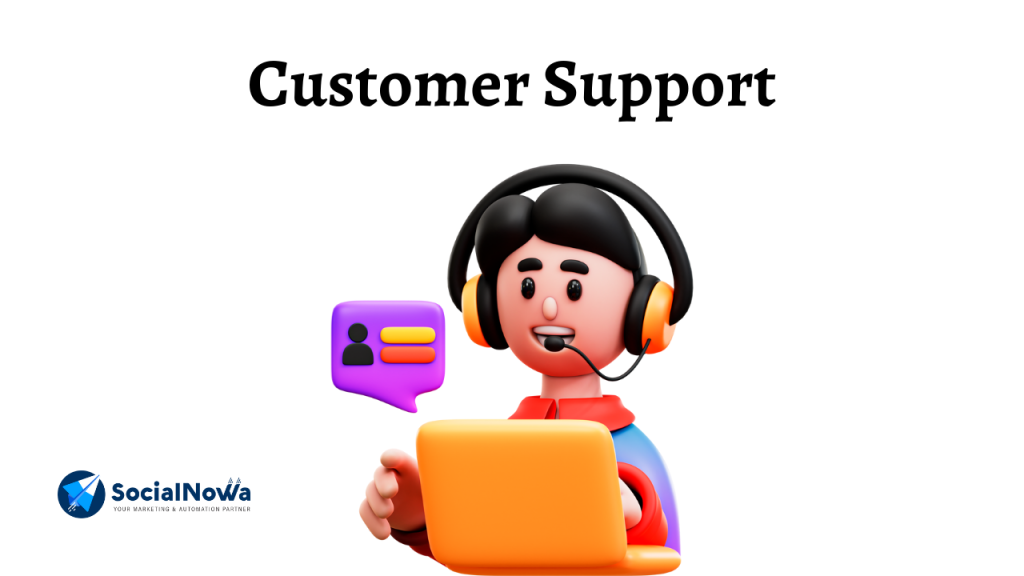 They are also available in multiple locations and time zones for customers around the world. For example, if your UK business also operates in India, a chatbot might prevent you from doubling your customer service teams or arranging two shifts for your support teams.
2. Taking orders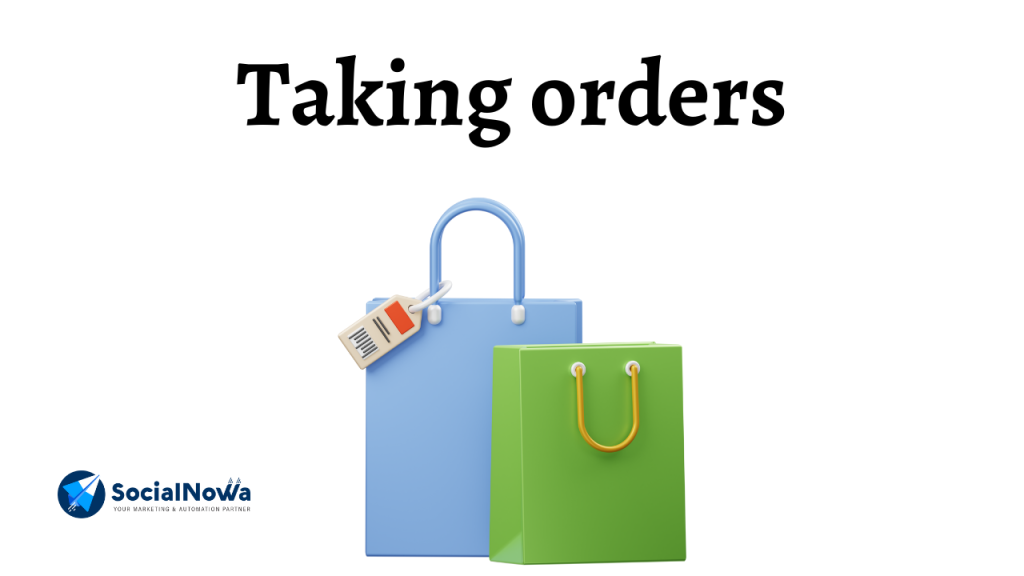 This could save the life of e-commerce businesses. When a lead is hot, the chatbot can send a notification to the customer, prompting them to place an order or recommend certain products they might be interested in.
3. Meeting schedule
With chatbots, you can make it quick and easy for customers to book their next meeting with you.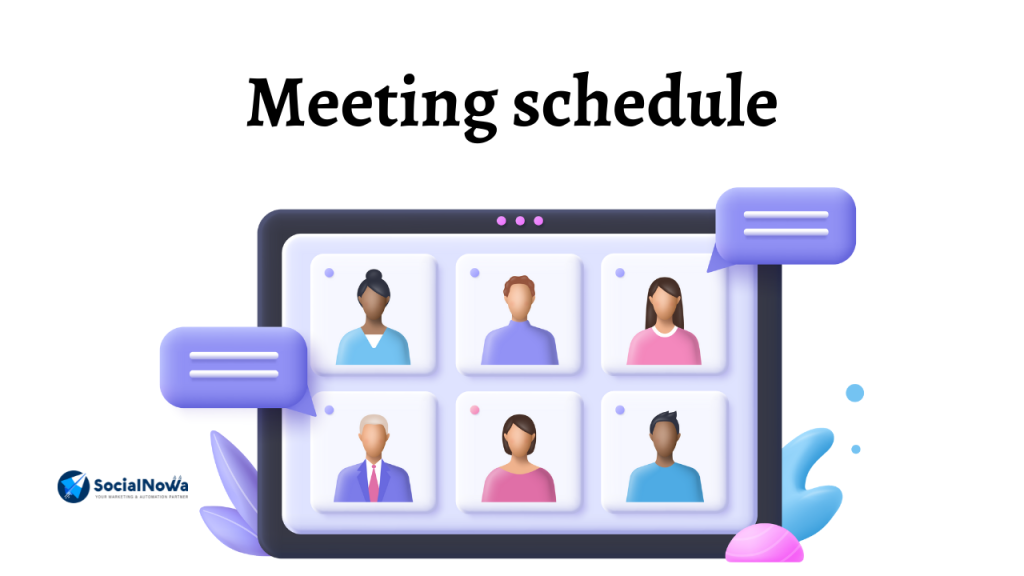 You can do this by connecting your calendar to a chatbot, which will then ask potential customers for a date, time, and contact information to schedule a booking while you're busy with other tasks.
This can be especially useful for service companies such as beauty salons or fitness centres.
4. Product promotion
Promoting services and products should be an integral part of your current marketing campaign.
Marketing bots can help with a time-consuming task by promoting the product and displaying your offer to encourage customers to check it out.
Expect to share updates and news with your clients or potential clients these days.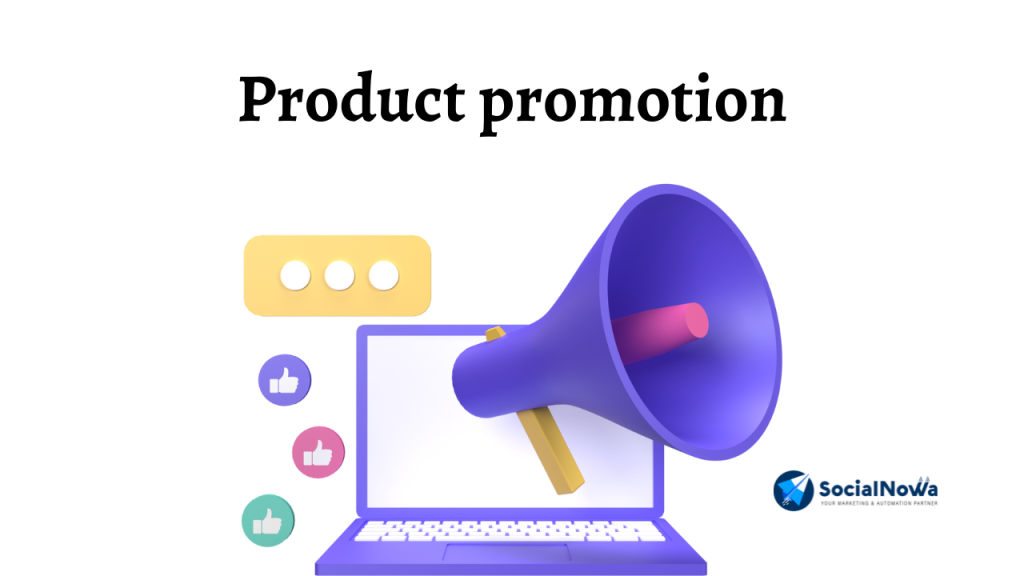 While this may become too much with the advent of emails and notifications, they may receive them daily.
Chatbots allow you to share updates and news with your audience when it's relevant, such as when they're on your page. Helping you connect with your audience without getting in the way of them.
Knowing the basics, let's take a look at some of the benefits of chatbot marketing.
Benefits of Chatbot Marketing | chatbot benefits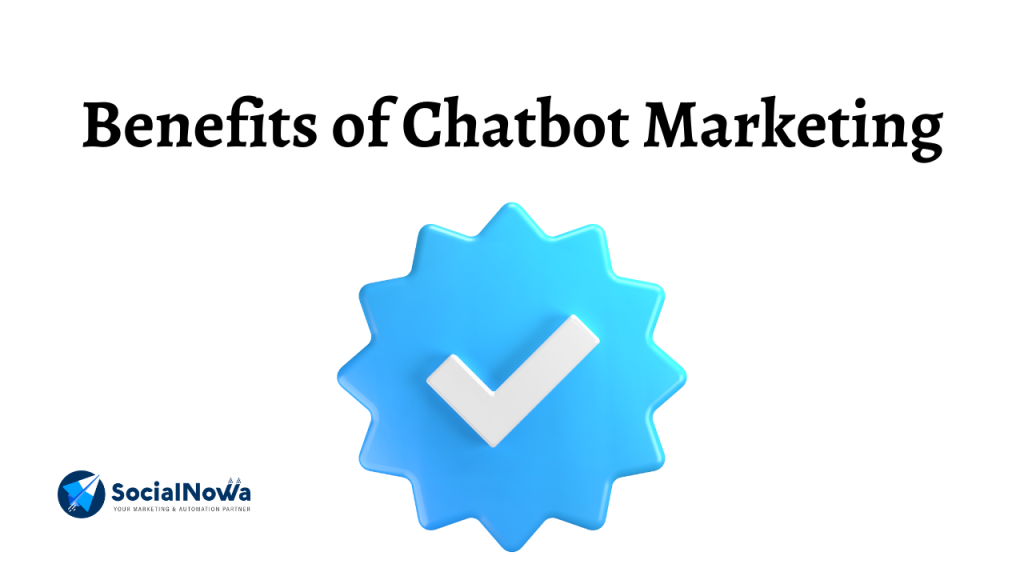 There are many benefits to chatbot marketing. We are going to take some time now to get you through them.
1. Increase your resources | chatbot benefits
One of the key aspects of marketing is to generate interest and lead as quickly and efficiently as possible.
By using Chatbot marketing we can save time and money and achieve our goals. Like the people at HubSpot, chatbots enable your business to engage in a full customer journey with fewer resources.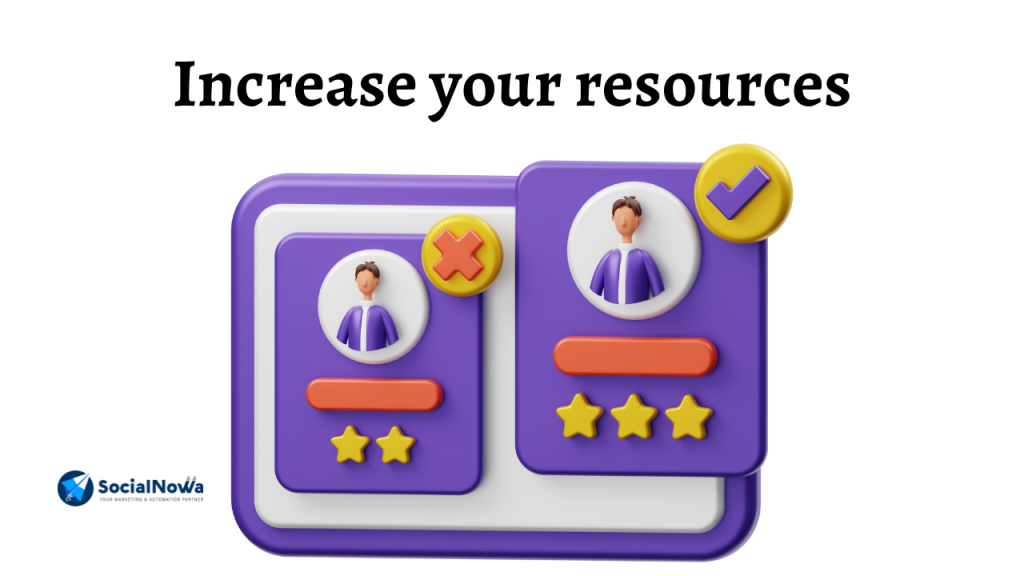 You do not have to pay others, chatbots work free of charge and are available 24/7.
Unparalleled savings through a chatbot on the way to a market or marketplace are often the result of a one-time investment, which will allow you to achieve your business goals and objectives in the long run.
2. Increase engagement and sales | chatbot benefits
Chatbots can increase customer engagement on your website and increase sales through chat marketing.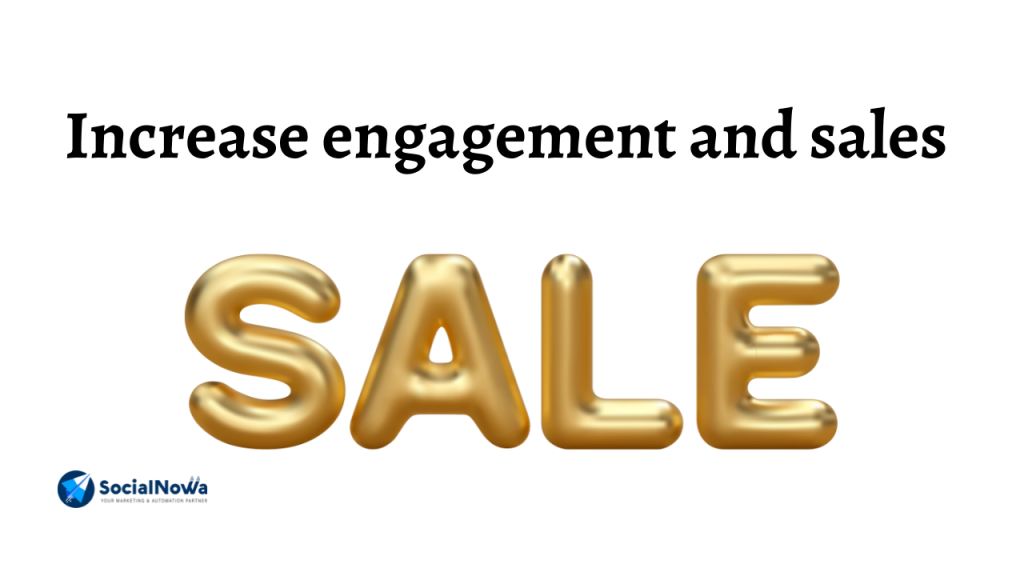 You can also set up your marketing chatbots to collect orders and lead customers down the sales funnel. This is especially helpful as Juniper research projects show chatbot spending will increase from $7.3 billion in 2019 to $112 billion by 2023.
3. Provide a quick response to clients
Building an agile business is key to improving the customer experience. Chatbots allow users to respond instantly.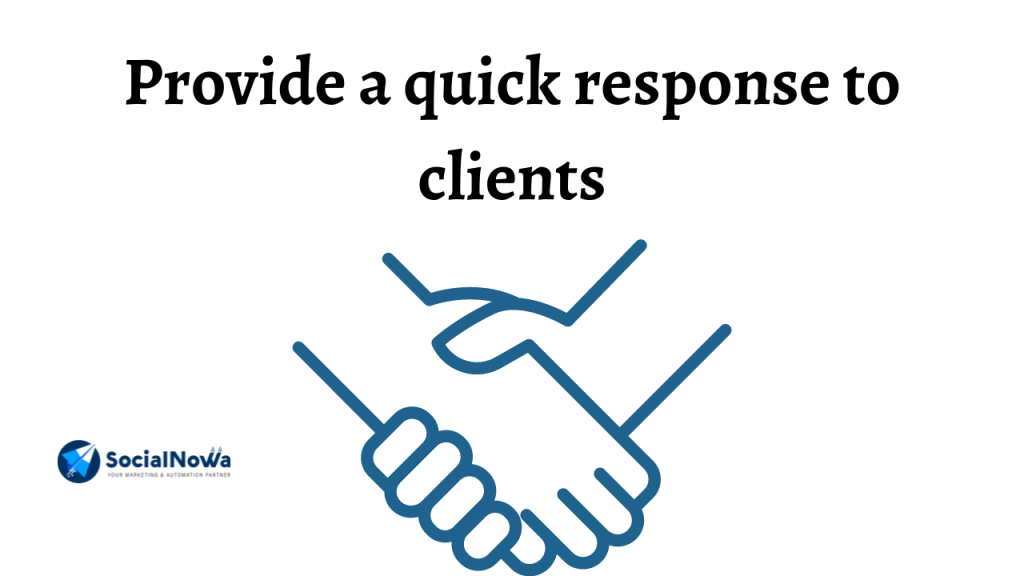 This means that users can quickly resolve their issues, which has a positive impact on the user experience. When used in moderation, chatbots can help boost brand image, engagement, and trust.
4. Distribute traffic
Chatbots for marketing can help you distribute traffic and advertise your products to the right audience.
This is very important because research shows that approximately 77% of a company's return on investment (ROI) comes from fragmented and targeted communications.
You can use chatbots as part of your main marketing strategy. With automatic responses to user actions, chatbots can help you segment your website traffic.
Let's see an example, if someone shows interest in your price or one of the products in your collection, the chatbot will recognize them as a warm lead.
Depending on this segment of users, chatbots can add them at the right time.
5. Availability 24/7 | chatbot benefits
Even if a potential customer is browsing your site at 3 am, a marketing chatbot is ready to make recommendations and help with orders.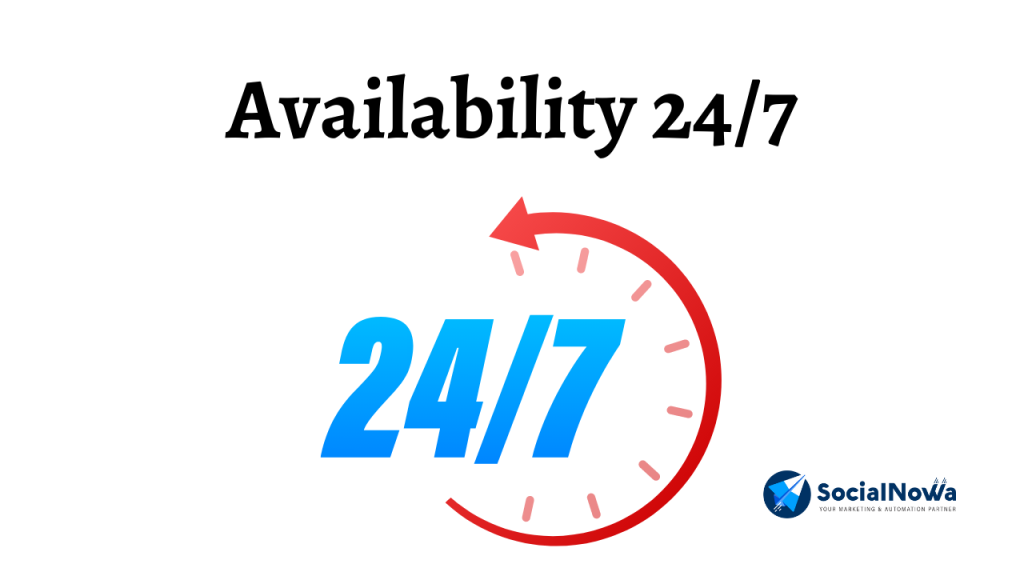 This can improve the shopping experience and give you more sales, especially since roughly 51% of your customers expect you to be available 24/7.
6. Save time and money | chatbot benefits
A chatbot allows your business to serve more customers with fewer resources and effort.
Unlike humans, chatbots require no payment and operate 24/7, which means building a chatbot is a one-time investment.
7. Suitable for any business
You can create a chatbot for a variety of processes, whether you own a small family business or a large enterprise.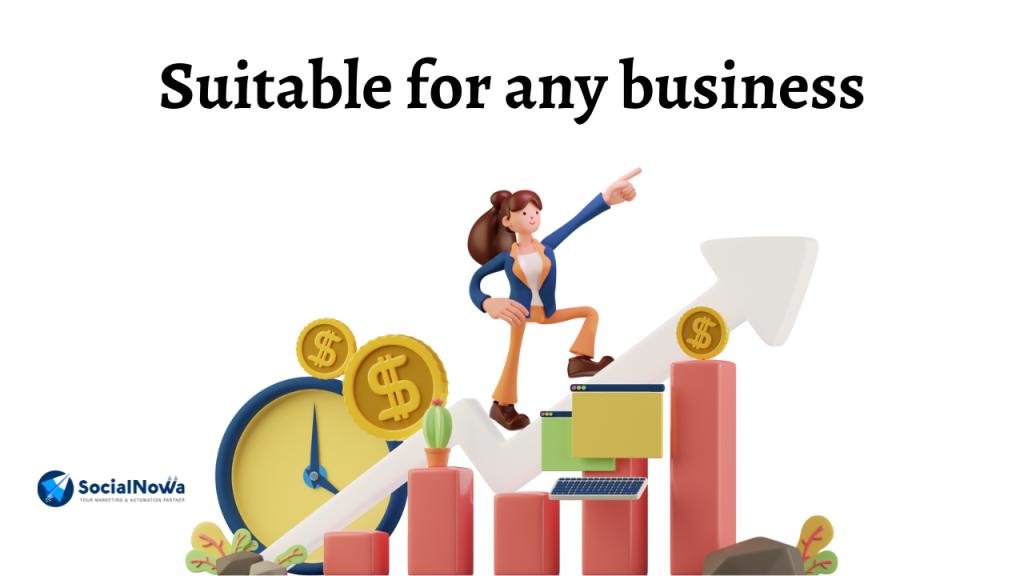 It's a one-stop marketing channel, and SocialNowa allows you to create chatbots for Facebook Messenger and Instagram.
8. Accelerate the payment process
You can use chatbots to complete payments, without the customer needing to get out of the window.
This means your customers can order and pay in bulk, which takes less time and effort. To do this, you will need to connect a money transfer service, such as Paypal, to your chatbot.
But how fast and efficiently it works!
9. Data analysis
Chatbots allow you to collect and aggregate more customer data and metrics. This data allows you to get an idea of ​​the preferences and needs of your audience.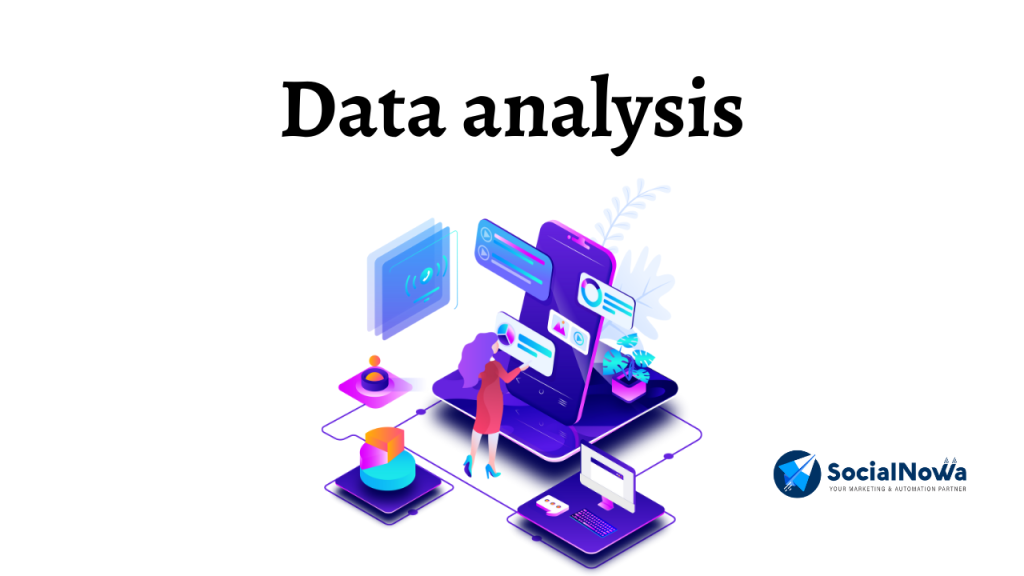 Using this data, you can optimise and tailor your entire marketing strategy to help you achieve better communication and financial results, at least not a chatbot strategy.
10. Leads Qualification
Research shows that companies that respond within an hour after receiving a query can get in the way seven times as often.
So make sure your business responds to customer requests as soon as possible.
Chatbots for marketing can do this at any time of the day, as well as offering and providing opportunities to increase sales.
These were the main points that have shown you the benefits of implementing a chatbot marketing strategy. Let's find out why chatbot marketing is important?
Importance of Chatbot Marketing
Chatbots offer a way for a company and site visitors to interact.
They help you increase the number of inquiries you can manage, and they offer 24-hour assistance.
So, if a customer has a question about your product at 2 am, they can always talk to your chatbot to get an answer.
The ability to provide increased support without a favourable increase in human resources results in cost savings.
It is estimated that chatbot marketing has reduced customer service costs by 30%
Surprisingly, given the benefits of chatbots, they are used in all areas of business. With that in mind, let's look at amazing examples of chatbot marketing.
Examples of chatbot marketing
Many companies use machine learning chatbots for marketing purposes.
Some have AI-enabled chatbots that help their sales teams improve customer experience, gather qualified leads, and drive sales.
Others use a computer program as part of a support group to provide real-time assistance.
Let's look at some examples.
As part of its social media marketing strategy, Match.com launched a messenger chatbot called Lara to help customers find the right person.
It uses natural language processing techniques to communicate with them, asking them personal questions in a general conversation to find out what a potential participant is looking for.
Lara then matches clients with potentially selected potential partners based on negotiations.
Another company that has taken full advantage of the Facebook messenger is Spotify.
They have also embedded their chatbot into the Messenger feature as an easily accessible social extension of their audio streaming platform.
With a few simple questions, customers can get their personalised playlist recommendations based on their preferred style, what they do, or even their mood.
You can also share them directly with your Facebook contacts via Messenger.
It serves as a quick and easy form of organic marketing for Spotify and also allows customers to get the most out of the music platform in an incredibly fun and personal way.
For marketing, this chatbot allows customers to search for products and their availability.
The customer can click on one of the options and enter a keyword or photo to find what they are looking for.
Now let's move on to creating a strategy.
11. Chatbot Benefits for Customers
The requirement to be accessible at all times is at the heart of chatbots' rising popularity across sectors.
Additionally, if your company wants to interact with clients 24/7 and enhance their experience, it will eventually need to deploy a bot.
This will increase customer satisfaction by managing requests quickly and effectively.
Modern chatbots offer several benefits to users and are highly sophisticated.
Reliability in Answers – Chatbots can assist organisations in maintaining a high level of consistency in their responses and enhancing the consumer experience with the brand.
Omni-channel – AI-powered bots have the ability to offer omni-channel messaging, allowing customers to interact with brands on Facebook, websites, and other platforms.
Customization – By engaging customers in one-on-one dialogues, keeping a natural-sounding tone, and excelling at interactive communication, bots may ensure a touch of personalization.
Multilingual – Your company can set up the sales bot to respond to consumer questions in their native tongue and broaden its reach to new markets or regions.
Order without human assistance – Thanks to automation powered by bots, clients may place orders or complete transactions without any assistance from a human.
You might significantly reinvent customer service with the use of chatbots that have AI and machine learning skills.
12. Benefits of Chatbots for Businesses
When it comes to building strong customer relationships, chatbots can be a very helpful tool.
By connecting and engaging with website visitors, your company may use it to create lasting connections.
By incorporating chatbots, you can increase customer service and sales in addition to achieving marketing objectives.
A chatbot can enhance consumer communication in a variety of ways and promote corporate expansion.
Boost Client Engagement
Strengthen Lead Generation
Lower the cost of customer service
Observe Consumer Data to Gain Understanding
Create a conversational marketing plan.
Human Touch and Automation in Balance
satisfies client expectations
Achieve Support Scalability
Streamline the Onboarding Process for Customers
Improve the customer experience
Let's go over the advantages of chatbots in more depth.
1. Boost Client Engagement
Businesses may increase consumer engagement by using chatbots.
Engagement can be pushed based on user data and made more interactive by deploying conversational AI chatbots.
Additionally, since bots may provide regular responses, you can avoid giving clients useless information.
Additionally, customers are more likely to stay on your website longer and continue the dialogue if they receive pertinent and prompt responses.
How to make the most of chatbots to improve customer engagement
Conversations with a human touch can be driven by chatbots, which are intelligent enough to assess responses based on client information and history.
Real-time reaction – Your company can utilise bots to give clients prompt, real-time responses and keep them from switching to rivals.
Customer expectations for rapid one-on-one responses can be met with a chatbot, which can also improve their experience with your brand.
2. Improvements to Lead Generation
The ability to engage customers with individualised messaging throughout their journey is a strength of today's highly evolved bots.
In reality, your company can employ chatbots to help clients make quick decisions by generating leads.
In order to convince the visitors for lead generation and greater conversion rates, AI bots can use a pre-set quiz.
Asuntoyhtymä, a Finnish real estate investment firm, is a wonderful illustration of how to use chatbots to generate leads. In order to give their customers a simple way to get in touch, it integrated a giosg chatbot onto property portals.
The business built two distinct contact forms, one for rental requests and the other for scheduling a viewing, and in just three months, 300 new leads were generated.
How can chatbots be used to generate leads?
Better lead qualification: By posing pertinent questions and referring leads to the sales team for quick sales conversion, bots qualify leads.
If the staff is busy or unavailable, a chatbot template for appointment booking can assist with scheduling an appointment.
Better lead nurturing — Based on the customer journey, the qualifying leads are then nurtured.
A chatbot, for instance, might increase sales conversions at an online store by interacting with customers and providing personalised recommendations, package deals, or discount coupons.
13. Lower the cost of customer service
Chatbot implementation is an investment in reducing the cost of customer service.
You can save extra money by investing in chatbots instead of hiring more support staff.
A business can cut costs in a variety of ways with chatbots:
Similarly, using AI chatbots for customer care has various advantages;
Reduce chat availability during peak times.
Automate common business operations
Allow for new customer service paradigms
Additionally, AI-bots can be expanded up without incurring any additional costs during business peaks.
In addition, bots save a lot of money and improve the bottom line by ensuring that customers have a simpler and more seamless brand experience.
14. Track Consumer Information to Gain Insight
By tracking user data, chatbots are a great way to study consumer behaviour and follow purchasing trends.
Using this information, businesses may sell their products in new ways and reach a wider audience.
Similar to this, bots can be employed to gather input via straightforward questions, improve products, or enhance websites.
The renowned cosmetics company Sephora launched a chatbot in collaboration with the Kik chatting service.
Customers have the chance to use the chatbot to request product reviews, ask for tips on beauty, and receive relevant products or videos in return.
The best methods for employing chatbots to collect customer data
Create customer profiles – Your business can use chatbots to gather information about customers, such as name, contact information, etc., and to do so by creating a customer profile.
Send push notifications – By sending timely and frequent push alerts, bots can help retain existing clients.
Offering clients product specifics as well as relevant content suggestions is possible for brands with AI-powered bots.
15. Come up with a conversational marketing plan.
Real-time customer interactions are at the heart of conversational marketing, which aims to help move customers along the sales funnel.
It can assist your company in developing genuine consumer interactions and real experiences.
By engaging with customers through customised messaging and clever chatbots, firms using chatbots for marketing can increase conversion rates.
By giving customers the possibility to place orders for their preferred foods from a variety of menu options, Domino's AnyWare elevates the idea of conversational marketing.
advantages of conversational marketing
Engage more leads – When visitors are given the option to start a discussion on your website rather than filling out forms first, your business can engage more prospects.
Respond to consumers on a one-to-one basis – Bots may not be among the best examples of guerilla marketing, but they can nevertheless make it simpler to answer questions from customers on a one-to-one basis and avoid the typical fixed lead funnel stuffed with marketing initiatives.
Enhance customer experience – Conversational marketing aims to reduce the negative interactions clients have with the IVR or customer service lines.
16. Combine Human Touch and Automation
Brands can provide seamless customer service by fusing AI technology with a human touch.
Similarly, by combining chatbot with live chat software, you give customers the ability to self-serve and interact with a human agent when needed.
Your company may provide real-time help, respond to inquiries quickly, and increase customer satisfaction by employing AI-enabled chatbots as the main channel.
However, there may be times when the bot is unable to discern the user's intent from the request, in which case a human handover is required.
Because of this, you should be aware of the distinctions between chatbots and live chat and strive to combine them for improved customer service.
A fantastic illustration of how websites may use chatbots and live chat intelligently to ascertain user intent fast and improve customer experience is provided by the telemedicine business American Well.
How can automation and human interaction coexist?
Agents that are available for live chat can handle difficult questions that call for in-depth discussion without leaving the consumers waiting.
Customers receive a real-time response when switching from a chatbot to a live chat, providing them with the greatest hybrid experience.
Live chat and chatbot integration can help businesses interact with customers in a smart way throughout the day.
17. Fulfilling Client Expectations
Customers anticipate prompt responses to their inquiries or complaints.
As chatbots become more intelligent, businesses can use them to satisfy customer expectations by automating some of the typical interactions.
Customers won't have to wait for human agents to communicate with them thanks to automation, which is one of the chatbot use cases.
This will undoubtedly improve their experience with the business and increase retention.
Guidelines for utilising chatbots to satisfy consumer expectations
Proactive interactions – Businesses may use bots to communicate with customers in a proactive manner, respond to them quickly, and achieve higher open rates than email.
Personalised experience – A chatbot can come in quite helpful when it comes to providing customers with a personalised experience across many touchpoints, as this can affect conversion and sales rates.
Effective targeting may be achieved and customer engagement increased by using chatbots to convey visual material and provide information about products, offers, discounts, etc.
18. Achieve Support Scalability
Having the option to scale assistance should always rank among the top goals for any customer-focused firm.
Additionally, by attaining the scalability of support, it will be able to handle any traffic surge, such as that during the holiday seasons or peak hours, without requiring a lot of expenditure.
This is where chatbots come in handy because they make sure your company can handle discussions during peak hours without having to hire more support staff or provide them training, etc.
Many restaurants use chatbots to address situations where demand increases, customer orders increase, and a small workforce is unable to handle it. Chatbots are being used by well-known companies to schedule package deliveries, including Taco Bell and Domino's.
In what ways might chatbots expand your support?
Without spending any additional money or resources, you may increase the efficiency of your company by using customer care chatbot templates.
No matter what time of day or how many customers are contacting you, AI-powered chatbots are able to manage thousands of conversations and respond to each inquiry right away.
With bots, you can scale the service and manage a high volume of chats without hurting the costs of doing business.
19. Simplify the Onboarding Process for Customers
Customers enjoy being led and treated well.
No matter how many lessons or content guides you offer, some resistance to finding the information on your own will still be present.
Customers actually favour companies that point them in the right direction.
The deployment of a website chatbot by your company to inform clients and streamline the onboarding process can be helpful in this situation.
Chatbots can help you successfully complete your onboarding process, as demonstrated by the case of Wishberry, a well-known crowdfunding site for creative artists.
How can chatbots be used for customer onboarding?
Chatbots have the ability to pose questions, elicit responses, and then show the client the way to whatever they are looking for.
Bots can assist brands in directing clients to the most appropriate location for the information they need to make informed decisions.
Implementing chatbots can assist in determining what a consumer has or hasn't found in order, and you can use this knowledge to cleverly move customers along the conversion funnel.
An improved customer experience can be achieved during the buying journey by personalising the queries a chatbot poses.
Types of chatbots
There is controversy about the number of distinct types of chatbots that exist and what the industry should label them because chatbots are still a relatively new business technology.
The following are a few examples of popular chatbot types:
1. Scripted or quick reply chatbots
They serve as a hierarchical decision tree and are the simplest kind of chatbots.
These chatbots communicate with users by asking predetermined questions that continue until the chatbot responds to the user's query.
The menu-based chatbot is comparable to this one in that it asks users to choose options from a predetermined list or menu in order to better understand the user's wants.
2. Keyword recognition-based chatbots
These chatbots are a little more sophisticated; they try to listen to the user as they type and then answer using words from customer comments.
To answer effectively, this bot blends user-customizable keywords and AI. Unfortunately, these chatbots have trouble with overused keywords or repeated inquiries.
3. Hybrid chatbots
These chatbots integrate features from bots that use keyword recognition and menus.
If keyword identification is unsuccessful, users can select from options on the chatbot's menu or have their inquiries answered directly.
4. Contextual chatbots
These chatbots demand a data-centric approach because they are more complicated than others. They learn and develop over time by using the discussions and interactions of users that they can remember thanks to AI and ML. These bots don't just rely on keywords; they also learn from the questions that customers ask and the manner in which they ask them.
5. Voice-enabled chatbots
The future of this technology lies in chatbots like this one. Voice-enabled chatbots employ user speech as input to inspire creative activities or responses.
These chatbots can be made by developers utilising voice recognition and text-to-speech APIs. Apple's Siri and Amazon Alexa are two examples.
What can a chatbot help you with?
Let's discuss some of the tasks a chatbot can perform for your company now that we are aware of why they are crucial for marketing.
Allowing placing of orders:
A chatbot is a lifesaver if you run an online store offering clothing, food, accessories, etc.
because it enables taking orders straight in the chat. A chatbot can at least narrow the search if a user isn't quite ready to make a purchase before contacting a live person.
It would be beneficial for an organic food store to determine which vegetables the customer requires before addressing the sales representative.
providing customer service :
For providing FAQs, a chatbot is a fantastic assistant. In addition to operating continuously, the chatbot aids in resolving the issue of various time zones.
A chatbot would assist in avoiding the need to hire customer assistance on a double-shift basis for a financial consultancy organisation with headquarters in the US and the majority of its clientele in India.
Arranging meetings:
For one-person businesses in any field, such as hair salons, personal trainers, and DJ services, a chatbot can be quite beneficial.
It can be linked to Google Calendar so that your virtual assistant can handle appointments as you trim hair, move around, or spin records.
following orders:
It was supposed to arrive in three days, however I never got my package.
These chatbots free you from the trouble that comes with selling items every time.
While a more complex chatbot can track packages, a simpler one can automatically alert a user when a package is being shipped or delivered.
Wouldn't it be fantastic to request a review a few weeks later and present a different product?
sharing updates and news:
When customers first interact with your business, you can imply that you'll be giving them the most recent information, such as new clothing collections and fashion shows.
You can maintain communication with your audience and increase engagement by using a chatbot.
Top 10 Tips for Chatbot Marketing Strategy | chatbot benefits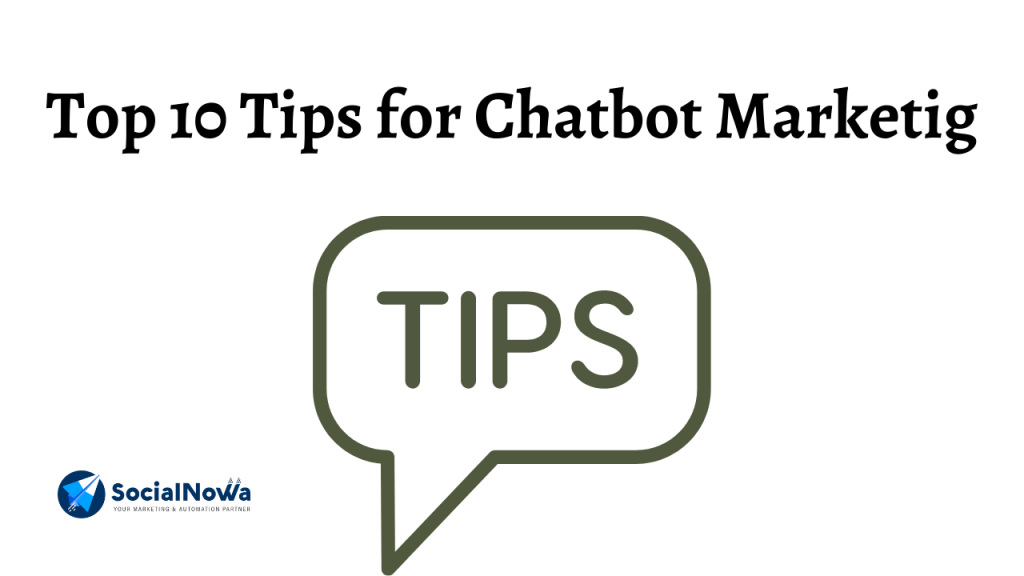 Chatbots can close the gap between visitors and customers.
They can divide your audience and convey the right message to the right people.
As a result, they can increase your sales and improve your customer experience. But what should you keep in mind when designing your first chat marketing campaign?
1. Set goals | chatbot benefits
You need to know what your goals are to measure how successful your chatbot strategy is.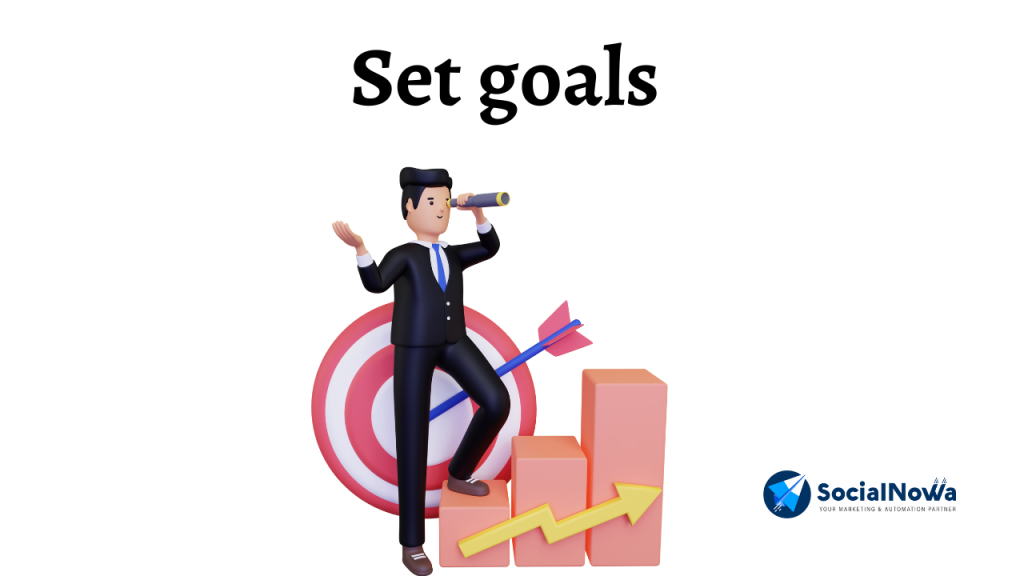 Therefore, your marketing team needs to set goals and determine the metrics that you will use to measure results.
Some of the goals might be to increase sales, increase subscribers, or improve the shopping experience for customers.
2. FAQs for your business | chatbot benefits
To maximise the usefulness of your chatbot, you need to define frequently asked questions.
To do this, you need to study the most common concerns, questions, and concerns that your customers have about your business.
You can do this by analysing existing customer data, submitting a customer survey, and getting feedback from your customer success team.
3. Use a chatbot provider
Let's be clear: using a marketing company with chatbots is not the same as using a marketing agency. They provide you with the software, but you create your chatbot.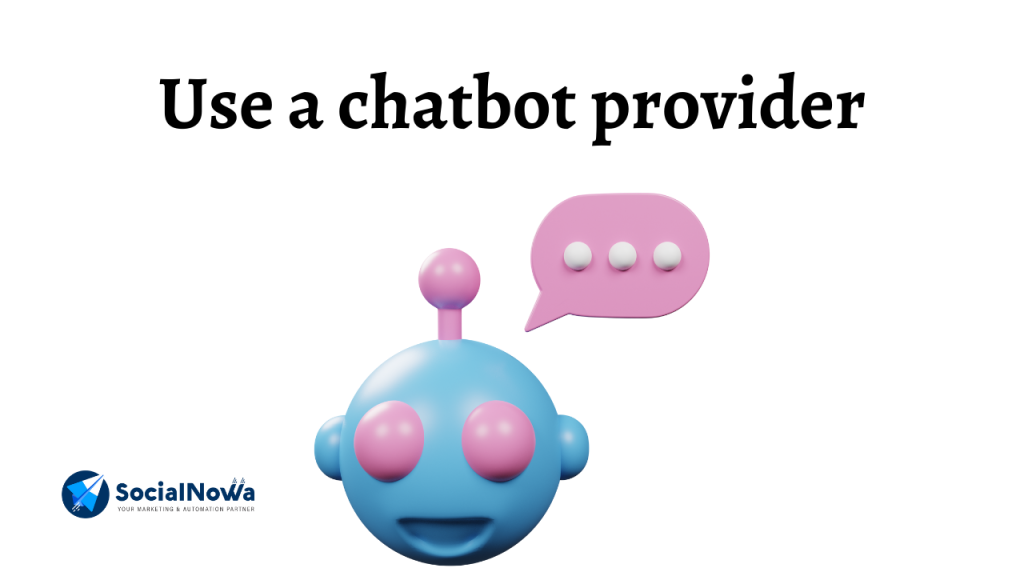 Using a chatbot platform is easier, faster, and cheaper than developing your own. To save time and frustration, you should use a company that offers AI chatbots for marketing.
4. Use the Right Chatbots for Marketing
There are many types of chatbots and each one serves a different purpose. So make sure you choose bots that are built for marketing purposes.
Here are some of the chatbots you can use for marketing:
Chatbots with product recommendations
Order chatbots
Make an appointment with chatbots
Chatbots for managing Social Media Handle
5. Create special conversation tunnels.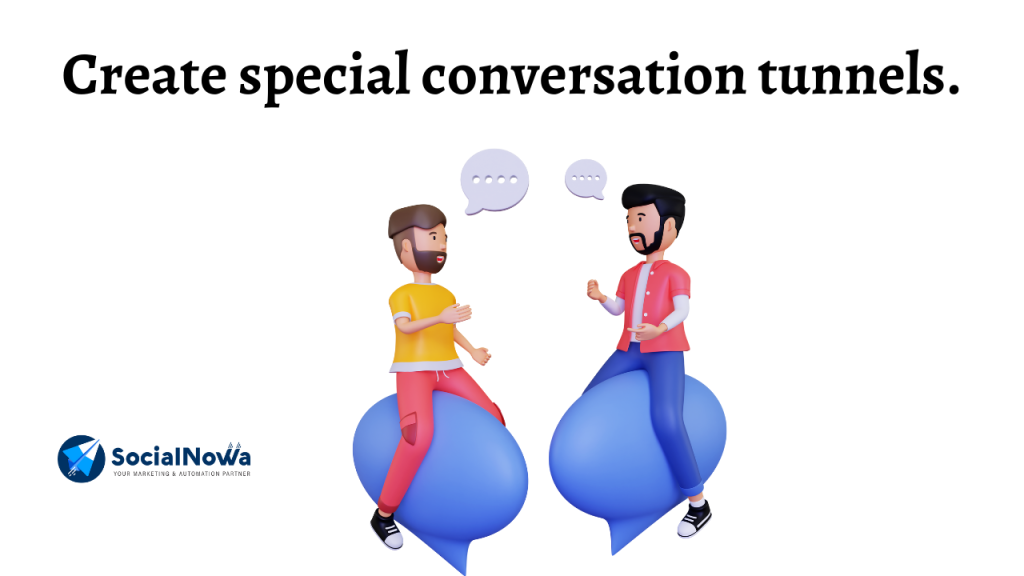 Your chatbot should be very special when solving problems.
Any step other than a specific task will be an unpleasant experience for users as chatbots are still limited in understanding what people want.
Limit the user's choice of comments, and create a conversation tunnel – one for each task, such as answering FAQs, confirming orders, or scheduling appointments.
If your chatbot doesn't understand a question, let people know they can contact the person at any time.
6. Give Voice to Your Bot
The voice of your marketing chatbot should match your brand.
So if you're a funeral goods store, your boat probably shouldn't be a mess. However, if you are an online store selling children's toys, make your chatbot fun and funny.
Chatbots should represent your business as accurately as possible.
7. Make your bot stand out
Since the purpose of a chatbot is to mimic the conversation of a real person, give it a name depending on your industry.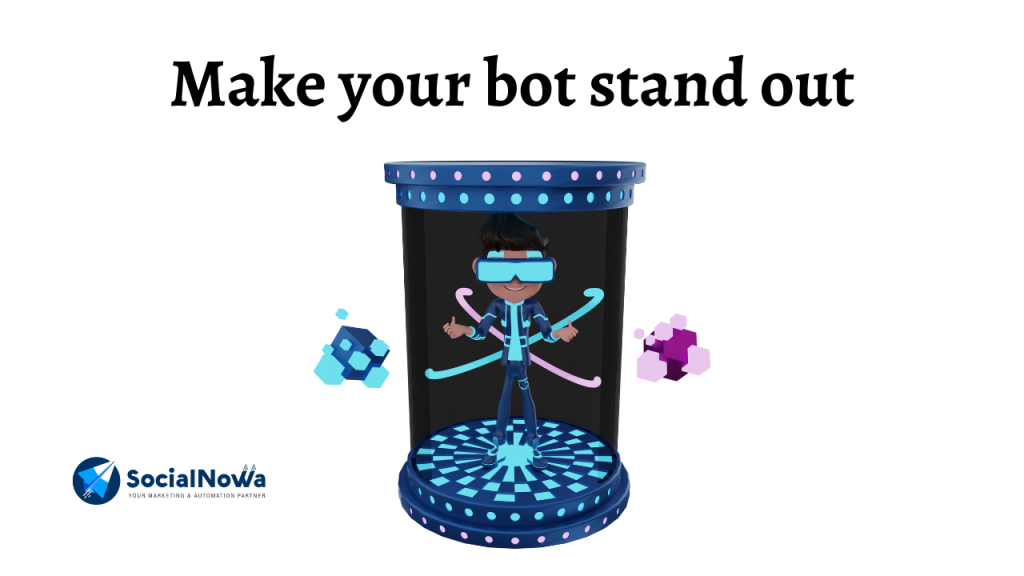 If you teach programming, let it be code, if you offer car rental services.
Make sure that the style of communication is formally related to your overall brand image and other informal styles for your location, namely financial, medical, insurance, and other services.
8. people to chat through Facebook ads
You can create a Facebook Messenger chatbot that interacts with users by product query.
Then create some ads for your Facebook page that will guide potential customers to chat with Messenger.
That way, you can increase engagement, showcase your products in a fun way, and improve click-through rates from your eCommerce store.
For Facebook Messenger and also for Instagram you can rely on or trust SocialNowa Chatbot.
SocialNowa chatbot gives you the best customer experience and 100% satisfaction. To know more about SocialNowa chatbot's amazing offers, gifts, and features , must-visit SocialNowa Chatbot
9. Request for data.
It is a good idea to ask users to share some data such as their name, age, location, etc.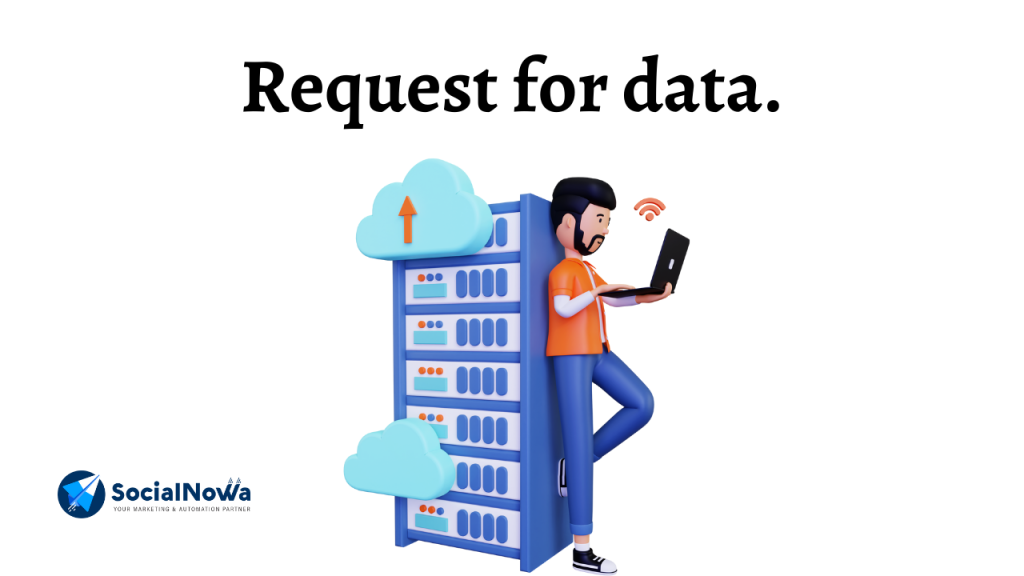 Your motivation is to provide a way of communicating in the future. In addition, ask your audience to leave their email address to continue communicating on other platforms if the conversation is not good for them.
10. Follow performance
Use research and metrics to work with your marketing team. It will provide insights that you can use to promote the services of your customers.
You can also tweak the decision tree – from initiatives to messages it sends to your customers.
it is better to focus on performance to make changes over time.
Always promote your chatbot and make sure people know about your chatbot.
Things to avoid in Chatbot Marketing
Conversational marketing chatbots have many benefits and if used properly, they can bring you great results.
But there are some limitations you need to be aware of.
So, how do we handle bot marketing?
1. Don't just set it & forget it
You need to constantly work on, improve and enhance your chatbots.
This technology is not something you can set up, start, and expect great results. It will require regular upgrades and updates, as well as review results to evaluate performance.
2. Do not use them completely
Use other channels like SEO and Email Marketing.
If you want to succeed in your chatbot marketing campaigns, you should combine them with other channels and live chat. And do not underestimate human contact – help your representatives, do not change them.
3. Do not send lots of messages
Like, do not annoy your potential clients with too many marketing messages. Remember that sending a lot of messages to your visitors can lead them to choose.
Your site will be linked to spam and could tarnish the image of your brand.
Conclusion
Chatbot marketing is something that companies can no longer ignore.
Consumers are demanding. If they can't find the help they need right away, they'll just go to the competitors.
Chatbot marketing is a process that uses chatbots to promote your business.
It automatically trades for your products, collects leads, and receives orders from your chosen app or website.
The goal of chatbot marketing is usually to generate leads and optimise sales to increase revenue.
Regardless of your industry, bot marketing is making a huge impact as one of the most trusted eCommerce trends for businesses that use it.
Whether you want to use chatbots to make ordering easier or attract new clients, they are easy to set up to work with your existing marketing platforms.
You can then let it run using the pre-built templates you have planned.
You need to take advantage of the results of the data to help you improve your chatbot and overall marketing in the future.
Do You Need A Great Chatbot For Chatbot Marketing?