Introduction –
What is Lead Generation Chatbot I understand you might me confuse that's why we learn Firstly, what is Chatbot and what is lead generation?
Chatbot is on its peak now a days, out of 7.87 billion people 1.4 billion are already using it. To know more about this amazing software go ahead and read this article.
It's an AI system used by businesses for customer
communication. A chatbot can learn customer requests and provide relevant answers.
Understanding this at the most basic level, a chatbot is a computer program that simulates and processes human conversation through text or voice.
A chatbot allows humans to interact with digital devices as if they were communicating with a real person.
Who is a lead?
We will try to understand the lead from a basic example,
If you just bought a mobile from an online store today. So, your next wish is to buy a good back cover for it. And tomorrow you received an email from the same store for a mobile cover with a good discount. It's more meaningful and less intrusive.
In this way, the company values ​​its superiority, which ultimately leads to a successful agreement.
Simply put, a lead is an individual or organization that is interested in your sales.
Interest is expressed by sharing contact information, such as email IDs, phone numbers, or even social media handles.
What is lead generation?
Lead Generator is any marketing activity aimed at promoting the availability of a vendor's product or service. Lead generators can be as simple as printed in a newspaper or commercial magazine, or as strong as an industrial exhibition. But now days build lead generation chatbot is very powerful for all business.
Let me give you an example.
"One day, I met a guy who asked me regarding my profession, to which I replied, "I'm a lead generator." He gave me a confused look. I tried to respond with a smile, "I'm a person who creates standard content to appeal to my audience, eventually letting them switch to shopping."
 He smiled! And looked more satisfied. That's exactly what lead generation is all regarding. 
How Many Types of Lead Generation Chatbots?
1. AI NLP Chatbot :
Because of ML (machine learning) and NLP (natural language processing), these chatbots can have natural conversations (Machine Learning).
Conversational interfaces for chatbots are the same as those used for regular consumer engagements.
These chatbots may take in information orally or in writing and process it.
Chatbot for lead generation can determine a sentence's intent thanks to NLP. 
For instance, a user might say, "I want an appointment for 5:30 PM" or "I am available for an appointment at 5:30 PM."
It may determine the purpose of client inquiries and schedule a meeting for 5:30 PM.
Conversational AI enables bots to decipher the intent of an inquiry and the significance of figurative language and idioms.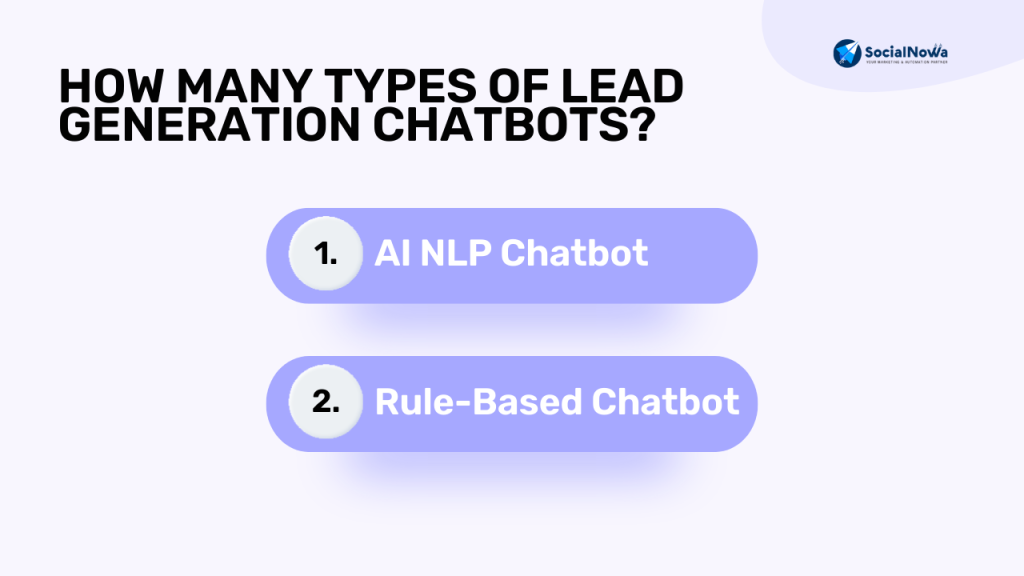 2. Rule-Based Chatbot :
Rule-based chatbots have more sophisticated technologies, yet are simpler.
They can therefore typically provide superior outcomes.
ProProfs Chatbot, HubSpot Conversations, and other such chatbots are some instances of rule-based chatbots.
These chatbots, usually referred to as decision tree bots, follow a script.
They adhere to a flowchart that accepts various inputs and provides certain outputs in response to a number of conditional expressions.
Additionally, rule-based chatbots can be learned more quickly than AI-based ones.
How can chatbots be used in lead generation strategies?
bot lead generation strategy are the perfect combination of the two can fill your business with leads. To do this, you must adopt chatbot lead generation strategies to generate more leads.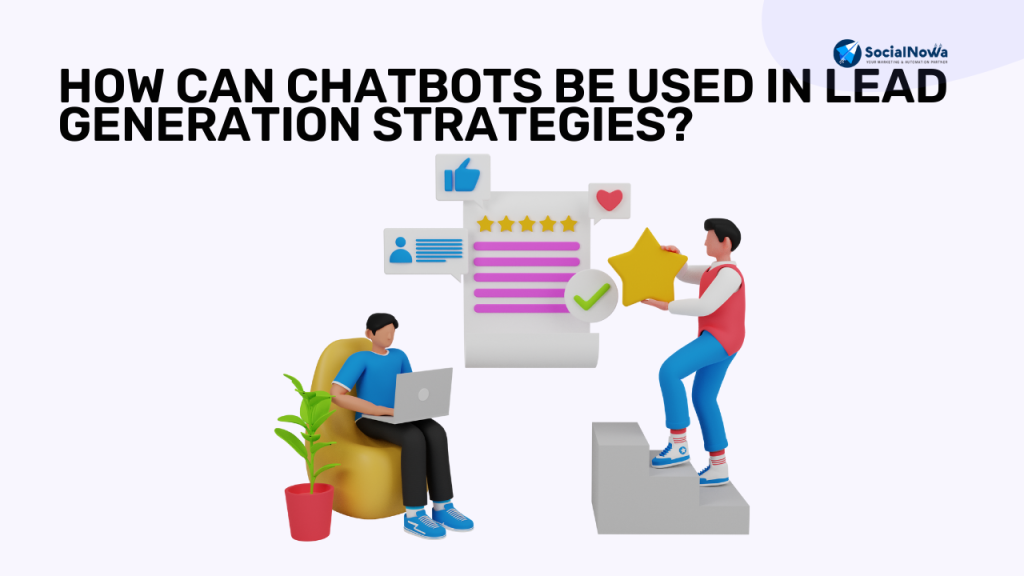 So is there a lack of prospects in your business? Do you want to use a good platform to generate effective leads?
If you are shaking your head, you will find your solution by the end of this article.
1: Help the audience understand
It becomes difficult to understand someones thought whom you haven't meet before, in similar way it is a difficult task to sell product to consumer if you are unaware of their interst
Chatbot makes it easy for you to help your audience understand. It enables you to identify the interests, likes, and dislikes of consumer products. It also improves lead engagement.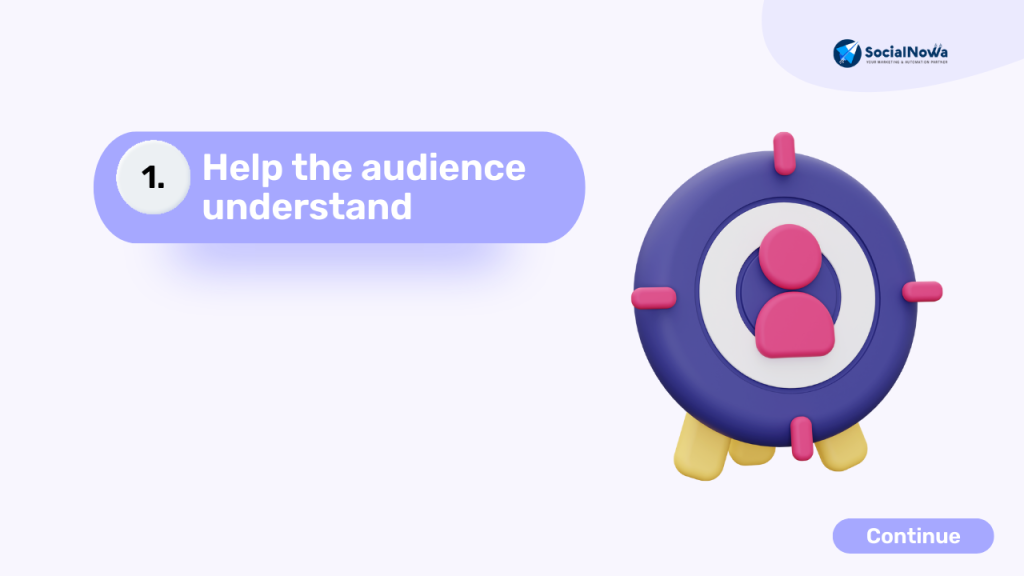 A chatbot can survey, ask questions, and quiz whenever users talk to it. That way, it helps you get a better idea of ​​your best and least efficient product.
An eCommerce store can use sales chatbots to increase lead generation.
For example, if a user visits your website, the bot may ask for their interests. If the user enters the wristwatch, the boot can show the best wristwatches in your inventory.
2: Segment and Classify the Audience
Segmentation plays an important role in keeping your content relevant. It also enhances your lead generation strategy.
Offering a tour package to Americans, which is suitable for Indian citizens, can ruin the consumer experience.
Your chatbot can divide the audience based on the data they provide. It does this on many factors such as demographics, interests, age, gender, and so on.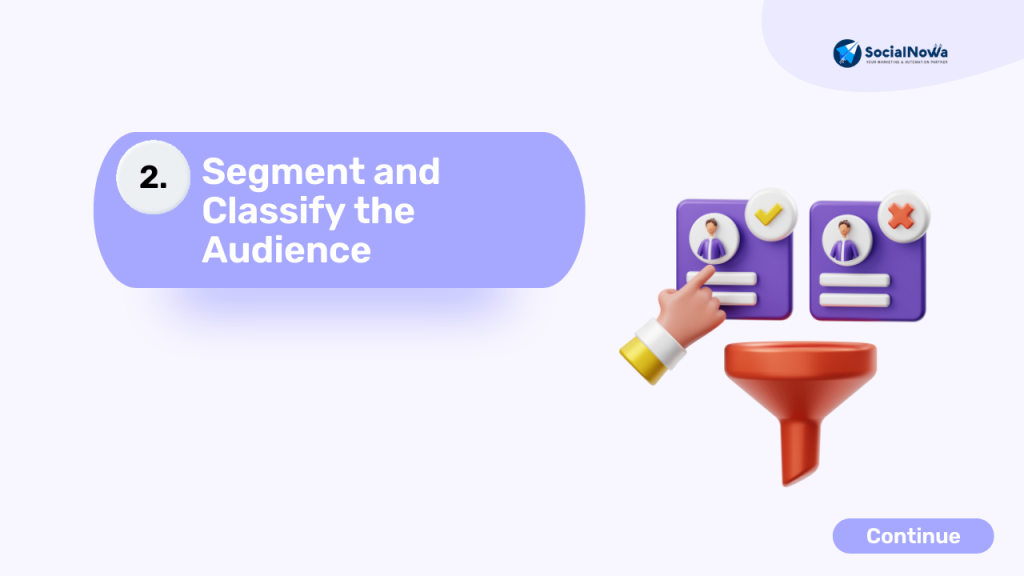 it also helps you nurture leads. If a customer belongs to a particular category, you can deal with the solutions they have for that section.
For example, if a user celebrates Christmas, your boot may show the best Christmas presents available to the customer.
This can be very effective as it targets the audience with a suitable solution.
3: Build your relationships.
Trust is the foundation of a relationship. A chatbot helps you build that trust by talking to your audience regularly.
It engages subscribers by providing instant support and always being available to help them. This makes consumers think that there is a brand that they can always rely on.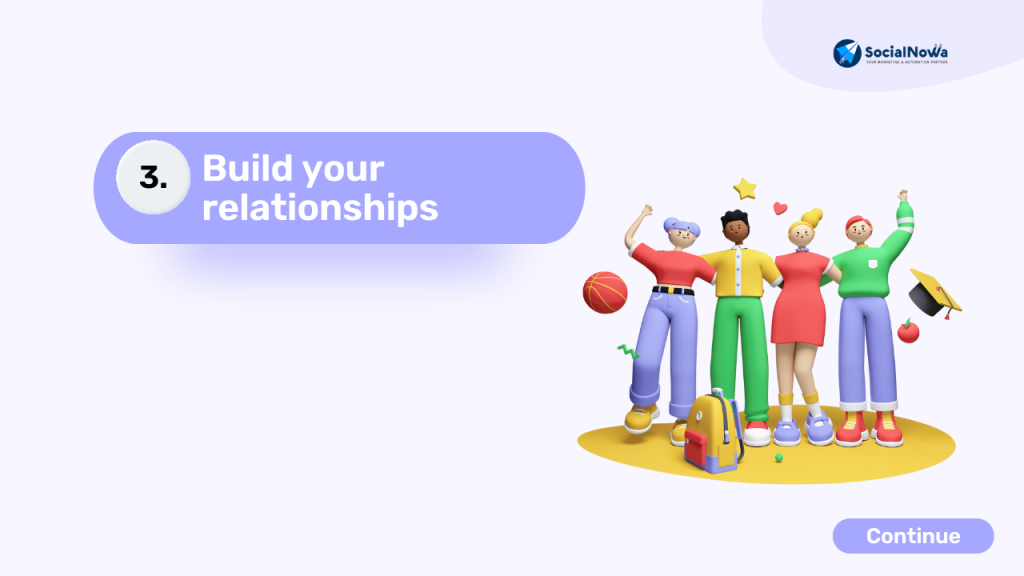 This can be very useful for lead generation. People rely on bots because they are not loud and they always take care of the customer's preferences.
You can provide customer support to your customers via chatbot. If they see a problem with their shopping experience or their account, they will ask Boot how to fix it.
We have different Chatbot lead generation strategies but this is the one that needs to be followed.
To build lasting relationships with customers, you can do this with chatbots to increase lead generation.
4: Change the forms.
Filling out the form has become a daunting task. It is neither passionate nor charming. Chatbots can efficiently convert these forms to cleverly generate leads.
It asks for user details within the conversation as the user progresses. This reduces friction and simplifies the data collection process for you.
This promotes your lead generation strategy if a user does not have to make an effort to fill in the information.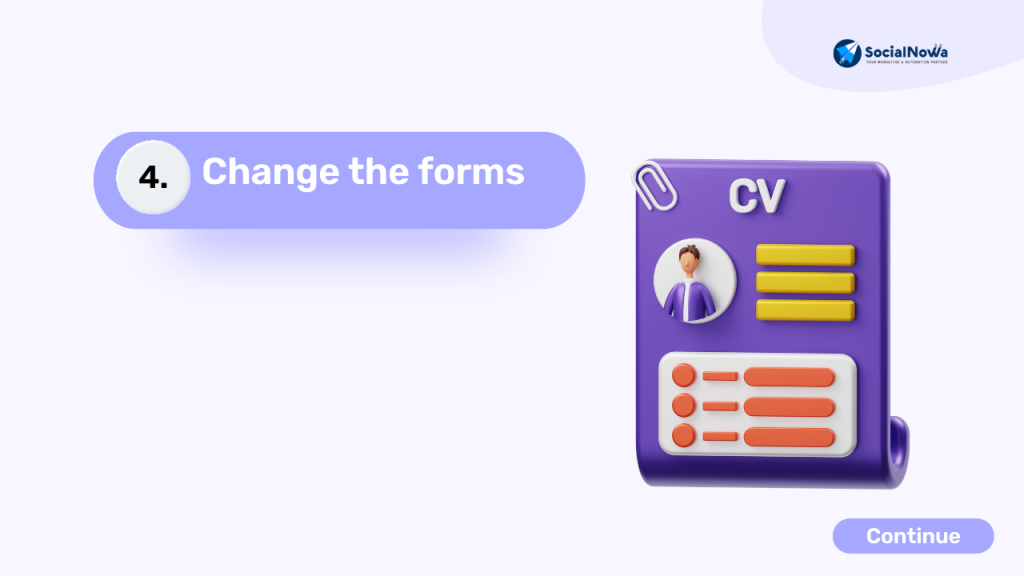 Consumers find it easy to provide information in response. Having a chatbot to collect lead information does not bother the user.
Create a chatbot that can ask for any user name, email, phone, address, etc.
By providing autofill options, you can convince the customer to type less, therefore, speeding up the process of providing details.
5: Educate the audience
We know that education is an essential element in the lead generation process. Without knowledge of the product, the consumer will not buy it. This can be made easier by a chatbot.
Many organizations are using chatbots to educate their audiences and make them regular subscribers. I have even subscribed to many platforms on Facebook Messenger to read blog articles on my favorite topics.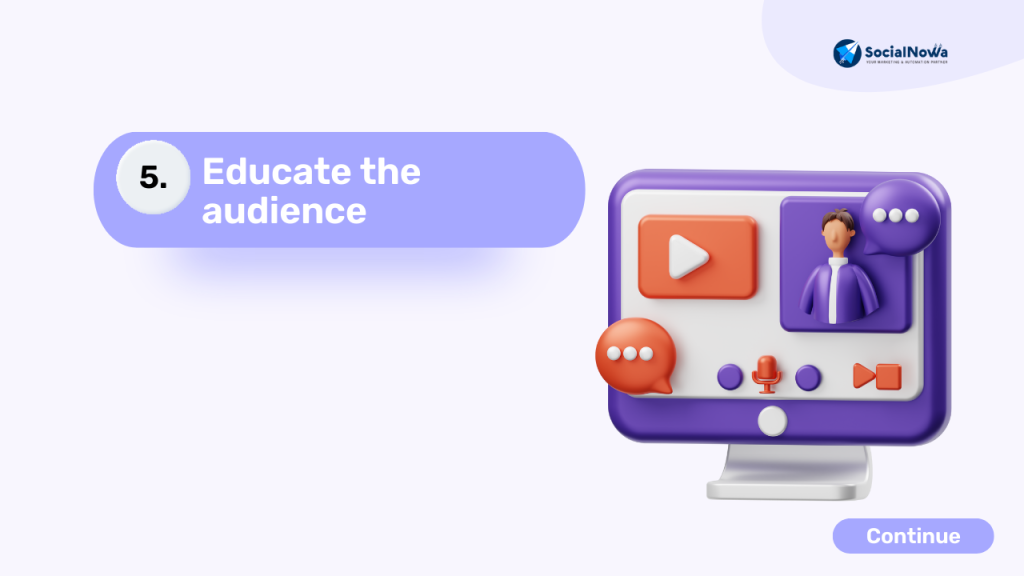 This makes reading a blog much easier. Entering the term you want to read the blog will get you articles in a few seconds.
Chatbots allow users to easily find content on their website.
If you have a blogging platform, your bot can only allow users to type "content marketing" to get posts about content marketing.
6. Book Appointments :
Since meetings are the quickest approach to discuss issues, scheduling appointments is fairly frequent in B2B businesses.
When a company invests in a chatbot, one of their main objectives is to achieve them.
So, is scheduling an appointment with a chatbot simple?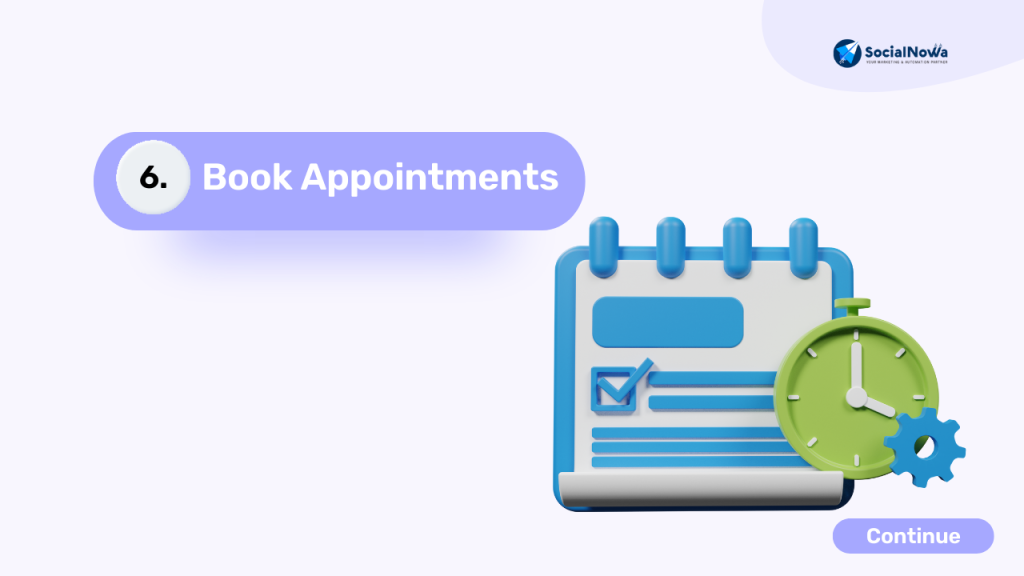 Chatbots, on the other hand, make it simpler and enable you to cut costs associated with hiring an assistant to complete the activity.
Chatbots also facilitate the process by lowering resistance between the client and the company.
To make doctor appointments, chatbots are frequently used in the medical sector.
These solutions allow you to save time because your clients no longer need to call you to schedule a meeting.
AI conversational chatbots add interest to the process. For instance, you can speed up the process by using GIFs, emoticons, and a lighthearted tone.
An intelligent discussion can be had with the consumer via a well-written bot or a competent AI bot, which can increase customer happiness.
Creating a Lead Generation Chatbot without Coding?
An amazing lead creation tool that doesn't involve coding is ProProfs Chat.
It enables you to quickly set up your chatbot. Simply create your chatbot, generate the code, and copy the code snippet are all that are required.
You may create chatbots quickly with our technology and launch them right away.
You have a lot of automated tools at your disposal to help your business' lead generating operations.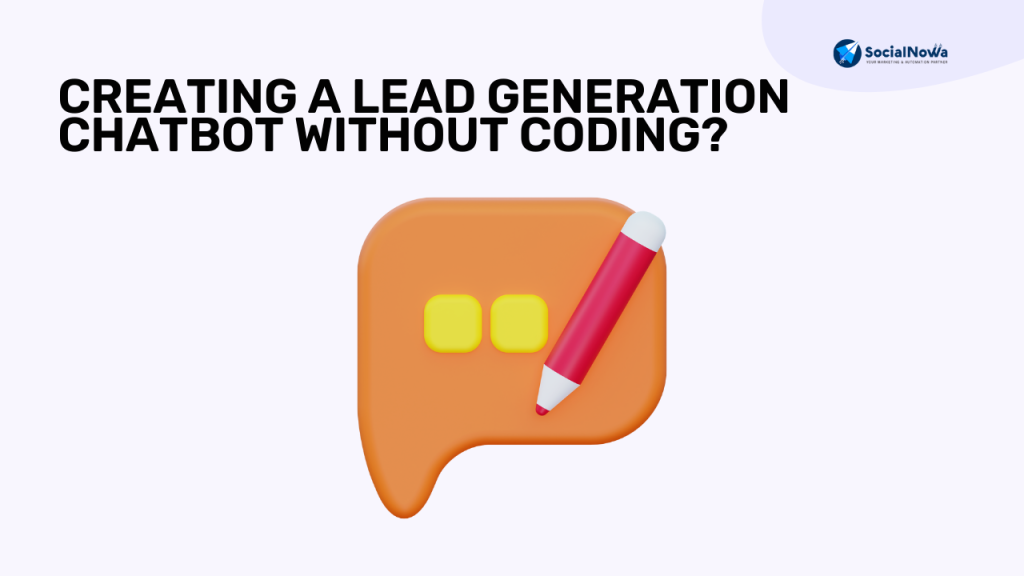 For instance, you could use pre-chat forms to request that customers fill out their information.
By using targeted messaging, you can establish relationships with customers on particular web pages.
To keep your leads, you can get connections with a number of CRMs, like Big Contacts, Microsoft Dynamics, Salesforce, etc.
These leads can be swiftly followed up on by your sales team.
Build Up Your Sales Funnel and Raise Your Business with Lead Generation Chatbot
An organisation wanting to increase sales growth must prioritize lead creation.
Lead generating bots or lead management chatbot are highly useful for businesses because they are both flexible and effective.
Put these bots to work right away to up your lead generation game.
As we've already mentioned, bots can help you generate more leads.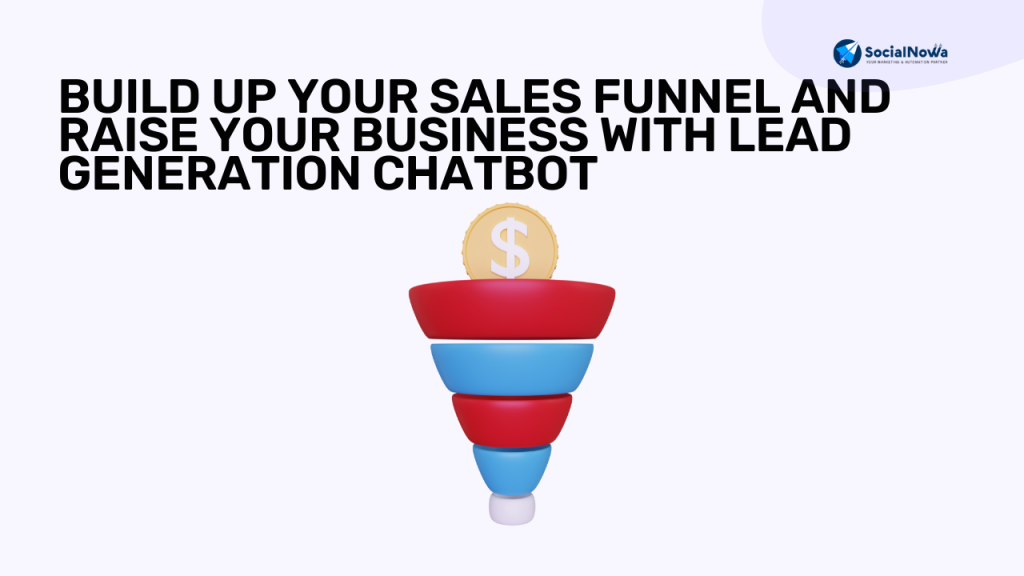 You can engage customers with conversational AI by using chatbots.
Additionally, a lead generation chatbot will improve prospects for growing leads and sales.
Even though you can utilize chatbots to generate leads, live chat gives a variety of ways to interact with those prospects and provide in-the-moment assistance.
Try ProProfs Chat if you want a live chat solution that provides the best of both worlds.
With the use of prefabricated responses, ProProfs Chat lets you shorten response times while providing thorough statistics and analytics.
Additionally, it comes with chatbot software.
How To Identify The Best Chatbot For Your Business?
There are many more Chatbots in the market which helps many businesses.
So many Chatbot in the market but best one is SocialNowa Chatbot
There are many reasons why SocialNowa is the best chatbot provider.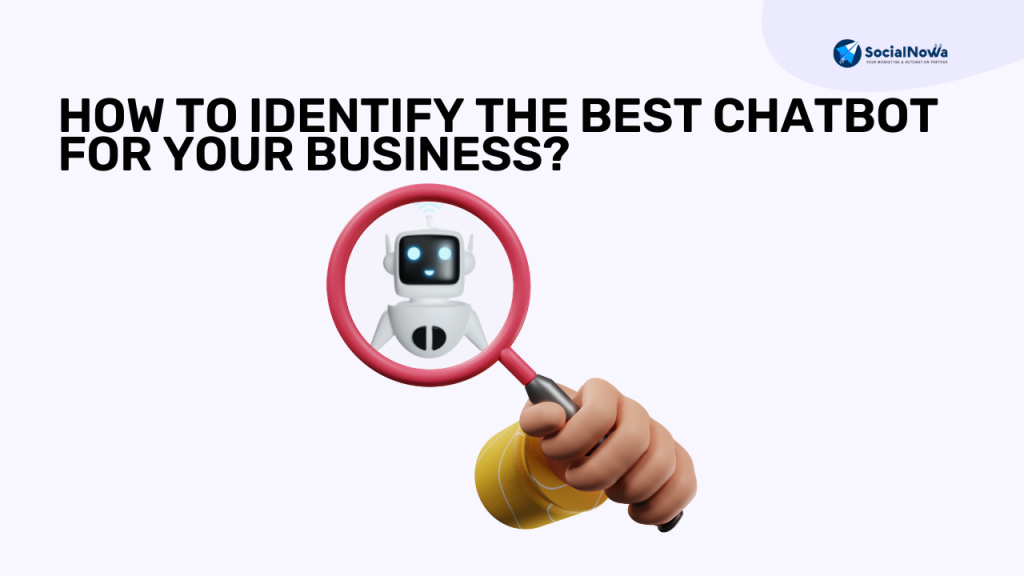 As we all know, business requires time, effort, and money. Therefore SocialNowa takes care of your marketing needs. Engaging with potential clients, converting them into leads to buy. Yes, it does.
With Social Nova No. 1 chatbot you get access to the following great features.
(1) Facebook Messenger Chatbot | chatbots lead generation strategies
Automate Facebook Messenger by automating our chatbots to answer frequently asked questions from users, gather important information, and start a full Messenger sale!
(2) Analytic Marketing :-
Grow your business with SocialNowa's amazing analytics feature where you can find Facebook page and Messenger analytics on a specific graphical report dashboard! There are also many interesting features that you can experience with just one click.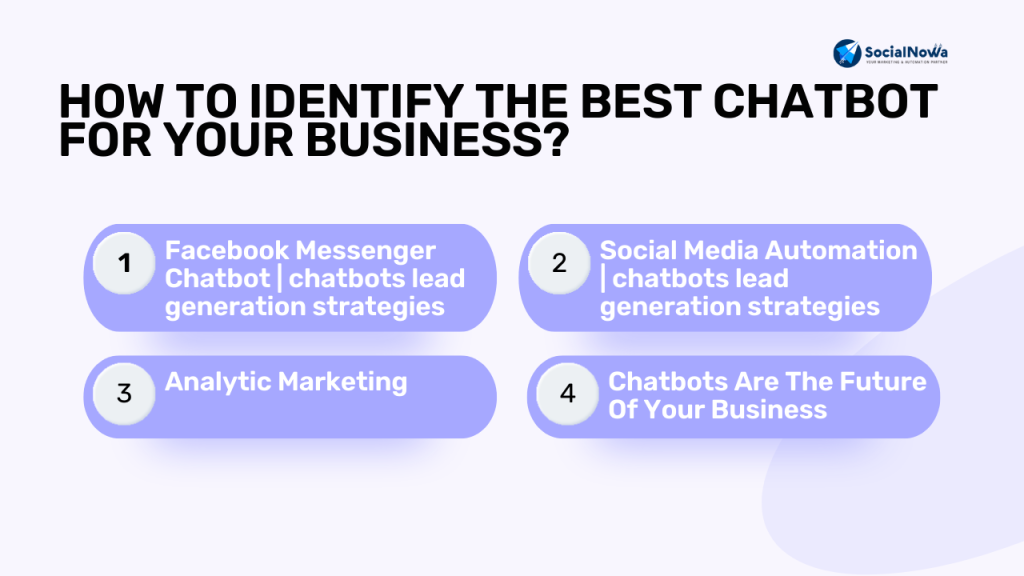 (3) Social Media Automation | chatbots lead generation strategies
You can post content on various social media channels like Facebook, Instagram, Twitter, and others. You can even schedule social media posts!
(4) Chatbots Are The Future Of Your Business
Future of your business is in the hand of bots.
At present businesses are using chatbot and their future will be much brighter.
By 2020 almost 80% of the companies are using chatbots to grow their business and products.
If you want to grow your business and product, you should be part of this 80%.
Chatbots lead generation strategies, are very useful they can give you more effective leads.
Now, you are aware of the chatbot lead generation. If you find this amazing you can share it with your colleagues, friends, and business groups too.
And here are the link to the SocialNowa chatbot, you might love this.
What are the Benefits of using Lead Generation Bots?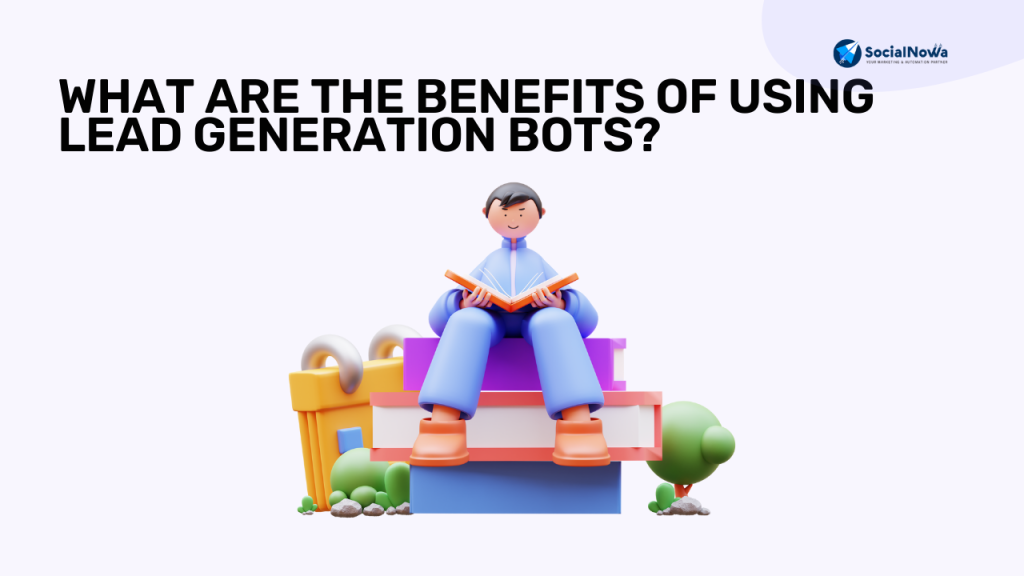 1. Converting Prospects Becomes Easier :
Having sales teams that are motivated to reach your company's goals is helpful.
However, there are occasions when it is impossible to keep an eye on website user activities.
You can obtain in-depth statistics on crucial touchpoints by using chatbots as a tool.
Knowing where your users spend the majority of their surfing time makes it simpler to convert them.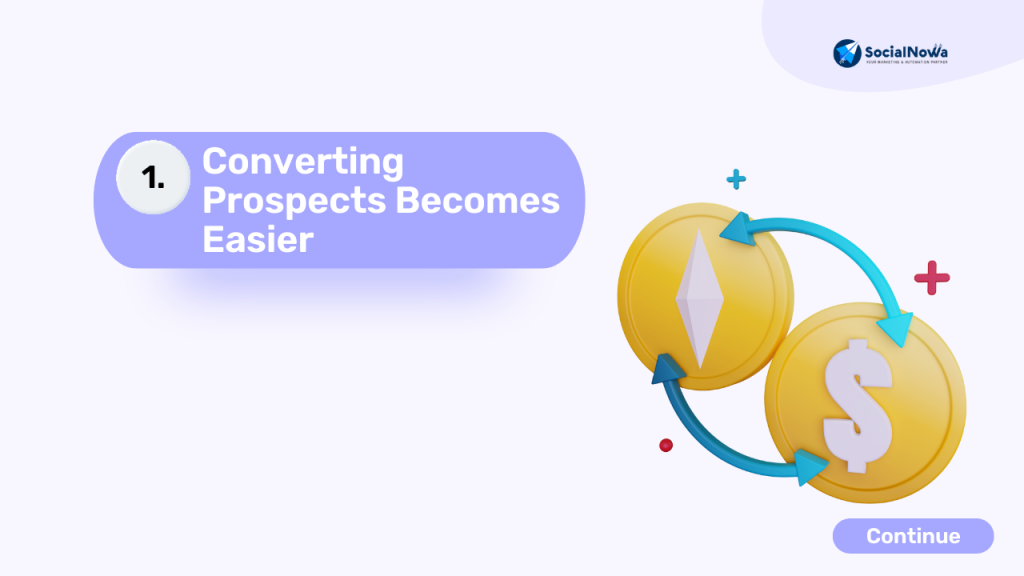 Giving customers individualized conversational experiences while they browse is one such customer engagement method. Here is an example:
Let's say you run a clothing-related online store.
Now, an old consumer named John visits your buy page, chooses a product, and then abandons the thought.
What if you could send him a brief message that urges him to buy something or inquires about the problem?
The frustrating checkout procedure is one of the leading causes of cart abandonment.
You will have made a conversion if John discovers that he can ask a chatbot questions about how to proceed with his purchase.
2. Reduces Support Costs :
Having chatbots for business operations can help you save money on hiring staff if you have a small support or sales team.
Affluent conversational interactions can be used to increase customer service and increase earnings.
When chatbots actively connect with clients by scheduling appointments, responding to inquiries, and doing much more, customer pleasure is made feasible.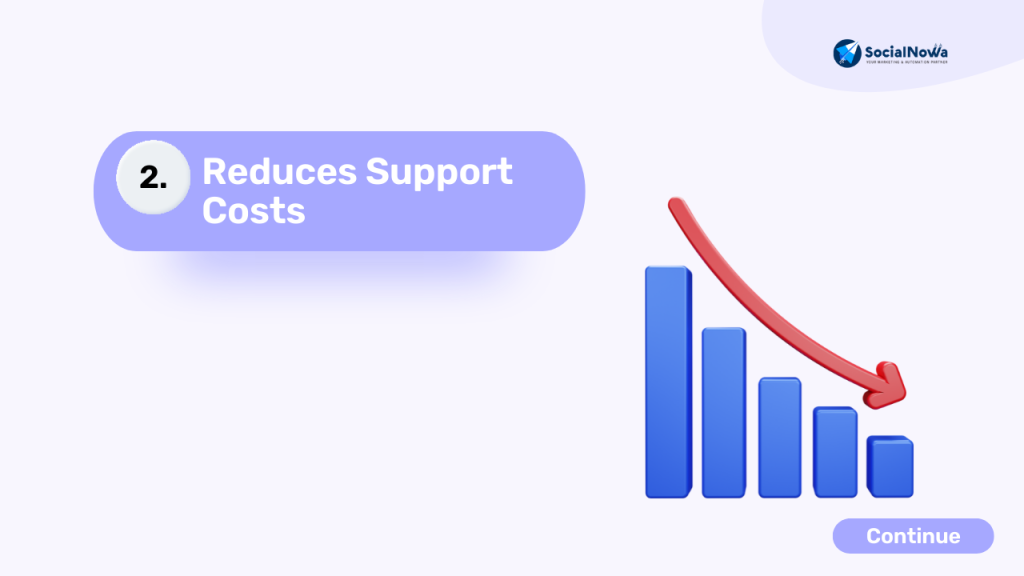 Additionally, all of these things may be accomplished at a far lower price.
Your chatbot would only challenge operator backing when spreading a chat to an operator.
Or else, you can use chatbots to decrease your support cost so that you have further money for other investments.
3. Reduces Churn Rate :
A reactive assistance approach leads to lengthy wait times, low engagement, etc.
You must take the initiative if you want to provide the greatest service possible.
To participate in proactive support, you must use chatbots as your foundation. It entails entering with a strategy.
Customers will notice if your customer support strategy lacks enthusiasm since a lack of proactive support results in client turnover.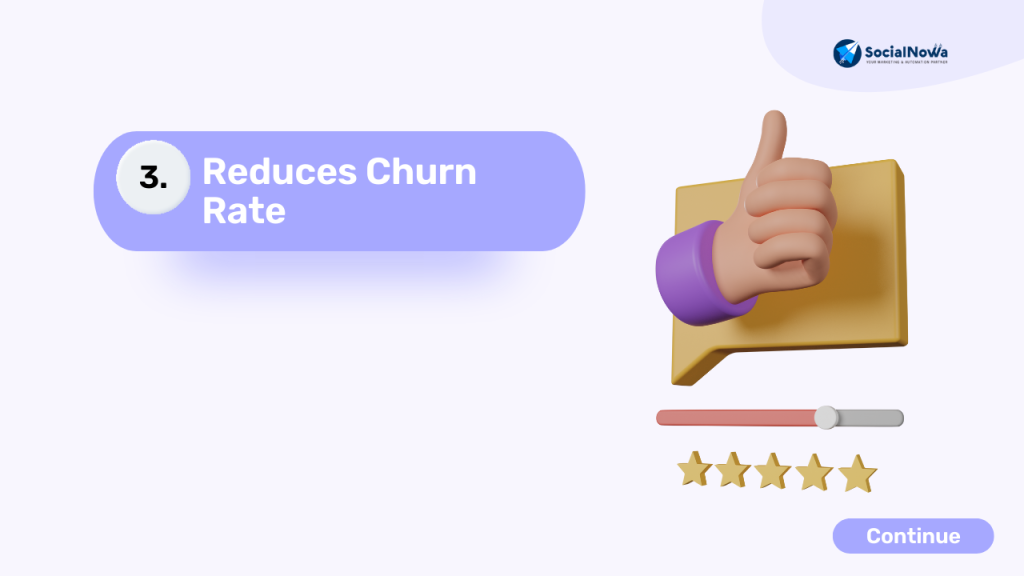 When dealing with customers, chatbots let you respond more quickly. Let's examine a hypothetical situation:
Investor Linda is having trouble installing your app. When she visits the website, she finds it challenging to navigate the FAQ area.
She doesn't leave nevertheless since she believes that you provide excellent service.
A chatbot appears and requests that she schedule a call. She does it because she is impressed by the promptness.
We're not advocating that you get away with having a subpar website.
However, if you approach customer service with a proactive mindset, you'll discover that clients will respond favorably and be more understanding of your flaws.
4. Round-the-Clock Assistance Becomes Possible :
The availability of chatbots around-the-clock is, as we've already established, their main advantage over live chat.
It is quite advantageous from a support and marketing standpoint. Being continually accessible enables you to provide help to clients in different time zones.
You may gather leads from anywhere at any time with a chatbot for marketing that doesn't require manual interaction.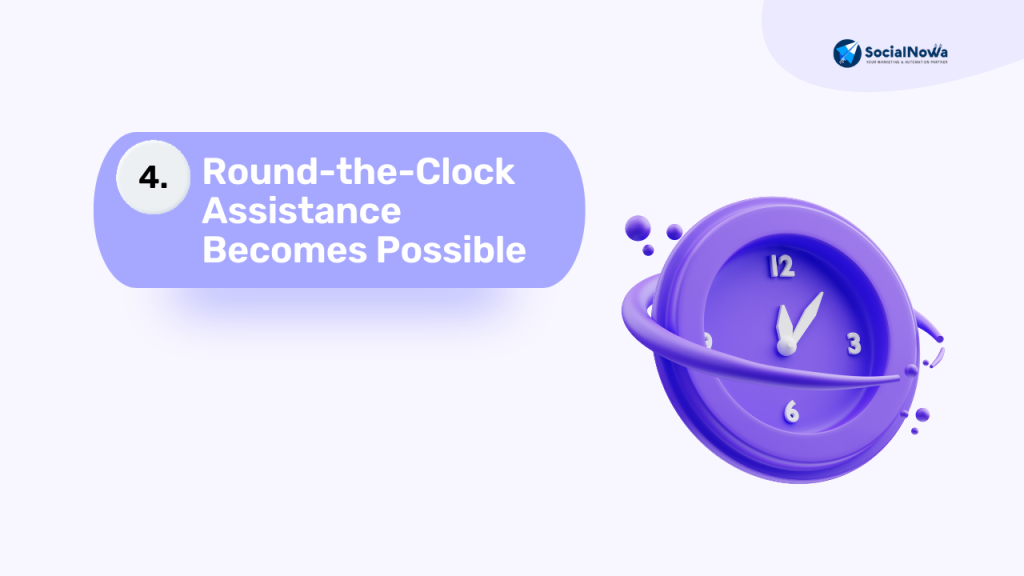 Simply put, for your prospects to engage with a chatbot, they must be willing.
In any case, chatbots can start discussions to assist with this.
Imagine reporting to work the following day to find that your team has leads ready for them to pursue.
That is the marketing potential of chatbots. Additionally, by being accessible to consumer inquiries constantly as a support tool, you can shorten wait times for customers.
If all of your agents were unavailable or overloaded, the customer's issue may be resolved by your chatbot.
After all, chatbots may respond to questions in a manner similar to that of a human, and they can provide services like virtual queuing and point clients toward your knowledge base.