Chatbots instagram are the modern solution for modern problems, they have made the human workload easy to handle and they are very helpful for individuals as well as businesses.
About 36% of B2C brands consider Instagram to be "very important" or "important" to their social media marketing.
Isn't it surprising that Instagram chatbots are gaining importance and popularity? Well, it should be actually surprising because now even you can build a chatbot for your account to work smoothly.
Don't worry now even you can build a chatbot for your Instagram or any other social media platform here is the best deal for my readers of a chatbot with a free trial of SocialNowa Chatbot for Messenger and Instagram sites.
And the good thing about chatbots is you can build a chatbot without any coding or very much technical work.
What is an Instagram Chatbot?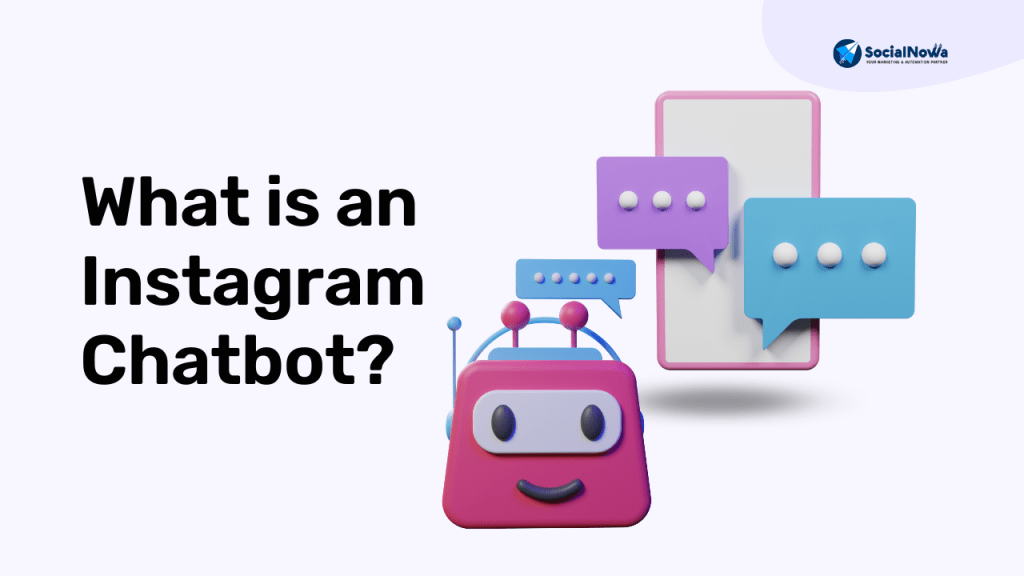 A chatbot is an automated conversation partner. It facilitates human-computer communication.
Then what is an Instagram chatbot? This is an automatic conversation partner on Instagram Directly. That's all!
Usually, you interact with another human being on Instagram, but with chatbots, you don't talk to a real person but to a computer.
Instagram Chatbot is a conversation bot that is embedded in Instagram. It can send welcome messages to Instagram users who visit your profile or chat with people who direct message you.
Once you have set the flow of the chatbot it will work 24/7, with multiple face-to-face interactions at once.
It can handle your account in your absence and this will give a sense of connection to your customers or followers.
Instagram chatbots can help you boost your IG strategy by boosting your profile and increasing customer engagement. This will give a good status to your account.
Growth on Instagram isn't just relevant to the people responsible for running a social media account or marketing manager.
We Can Separate The Chatbot Usage Characteristics Into Four Categories –
a) Task-oriented –
it is designed to help users complete a task or solve a problem (as commonly happens in customer service);
b) Interaction-oriented –
aimed at maintaining a good quality of interaction with humans or establishing some kind of relationship with them;
c) It is oriented both to actions and to conversations

d) Undefined –
Thus, marketers must specify one or more of these categories to use their platform
Why use an Instagram chatbot?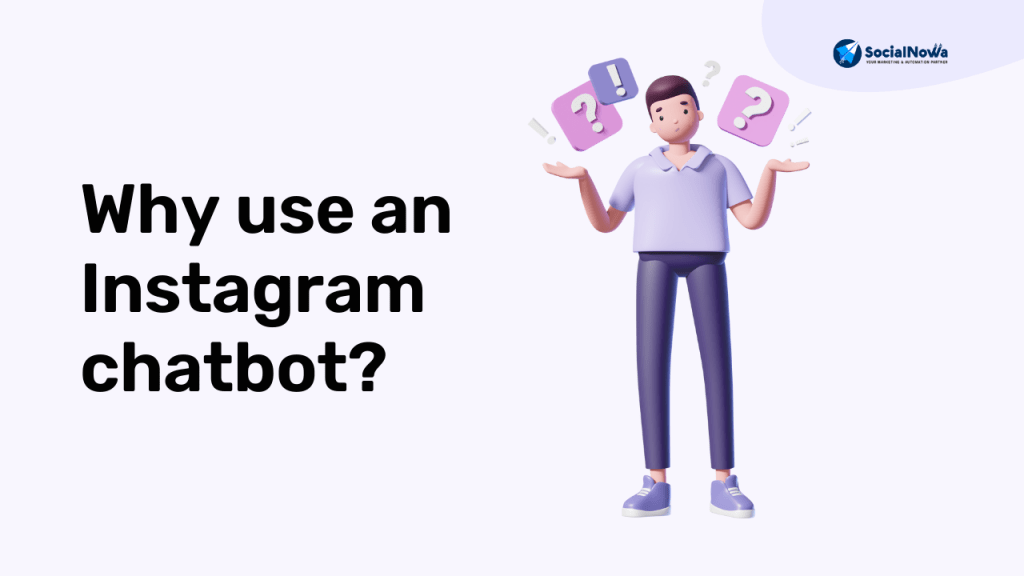 Social media platforms have become very popular today, what more has attracted the public here is the multiple things that are available on one platform that is Instagram
Things that are there on Instagram like reel, feed, filter camera, video call, audio call, going live, IG stories, and many more interesting features attract people.
As time is growing Instagram is growing with multiple dimensional updating features that are attractive and attract many people, especially youngsters.
Instagram has 1 billion active users every month. And every day 500 million users are using Instagram Stories.
One of the cool aspects of Instagram is that most young people are on it. Of the one billion users, 71 percent are under the age of 35.
Also, 50% of Instagram users follow at least one company, so there should be an added incentive.
But here's the most important reason why you should be using Instagram: 80% of Instagrammers decide whether to buy a product or service out there.
That's why you must be on Instagram.
And it would be great if you have a chatbot on Instagram because people will be able to message you whenever they want.
You will use that opportunity to provide a better customer experience and increase your sales.
Things to Know Before you Build an Instagram Chatbot
1. You need an Instagram account for business
Chatbot automation is available exclusively for business accounts.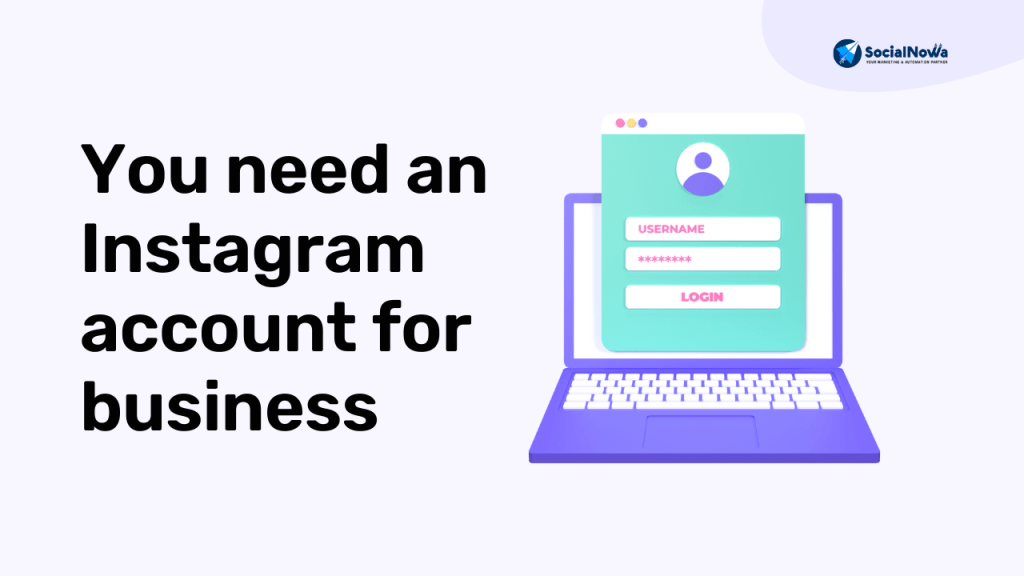 If you are one of these hugely popular influencers receiving thousands of DMs on your personal IG account, then I am sorry to say that you will have to deal with them manually for now.
The good news is that creating an Instagram account for business is very easy. Furthermore, you can easily convert your personal Instagram account into a business profile.
All you have to do is link your Instagram profile to a Facebook page (more on that later). As soon as you connect the two profiles, you will be asked to convert your Instagram profile to Business. Very easy.
2. You need a Facebook page
As you have seen from the previous point, you will need a Facebook page associated with your Instagram account to create a automation for your account.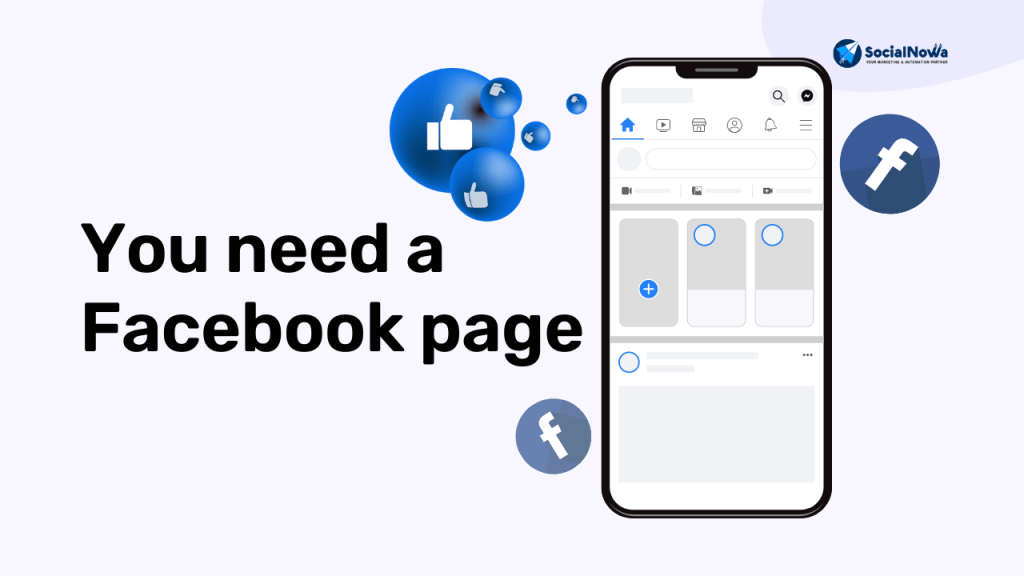 Thankfully it's super easy and it's also a huge time saver. Once you have all this set up, you can activate your SocialNowa Chatbot on Instagram with a single click.
Creating a Facebook page and then linking it with it is a very easy task, to know it practically you can visit the videos of SocialNowa Chatbot on YouTube for more the rally explanation.
3. Plan the purpose of the chatbot
This is good practice before building any chatbot, regardless of channel. However, as with Instagram, I urge you to take the time to consider the purpose of a chatbot.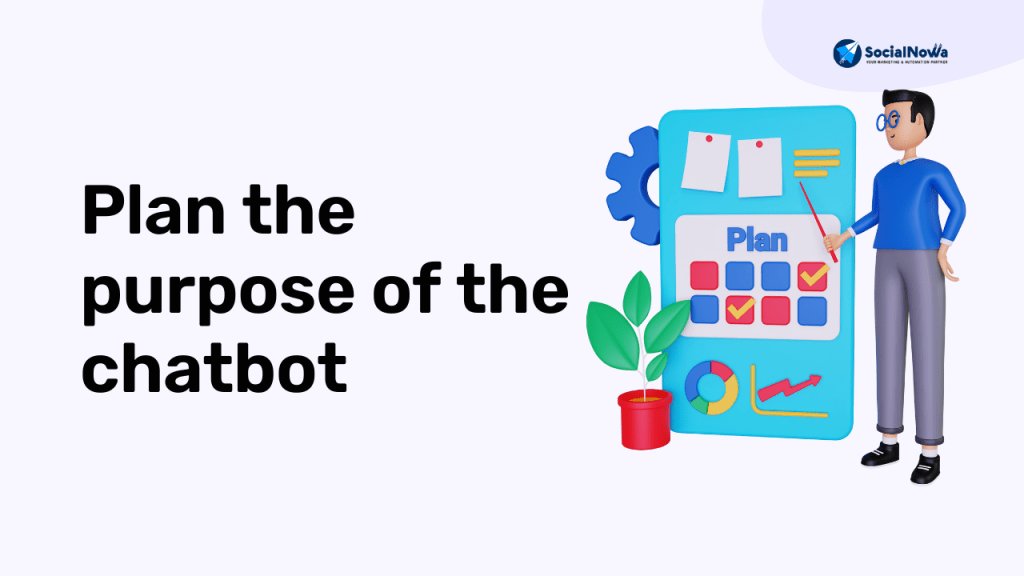 What does Instagram mean for your business? Contrary to expectations, Instagram chat rooms can achieve many goals.
This may be aimed at answering customer questions (and saving you time). The purpose of this can be to generate leads (and make you money).
The aim may be to create a different experience (and help you stand out from the competition).
Have a clear plan for your chatbot before you dive in.
4. Work on a test account first
If you have thousands of fans DMing you every day, it can be a little daunting to build your own Instagram chatbot and, one day, flick the switch and make it live.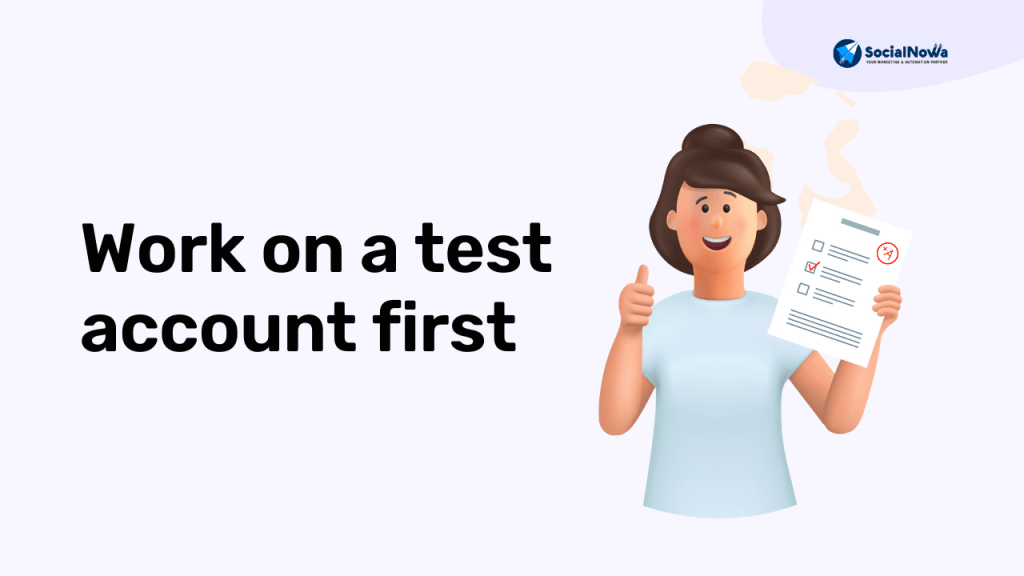 So we would recommend you to check first how it work or is it the right flow you can create a test account and try the flow there dont create a fake account.
This will give you the idea of the flow you have made, to help you out in this there are experts who can create a beautiful flow for you socal media account.
There are experts in SocialNowa Chatbot who can help you out in making a good flow.
Customer Service Improvement
What about customers? What do they get from using Messenger API for Instagram? Well, a lot, actually.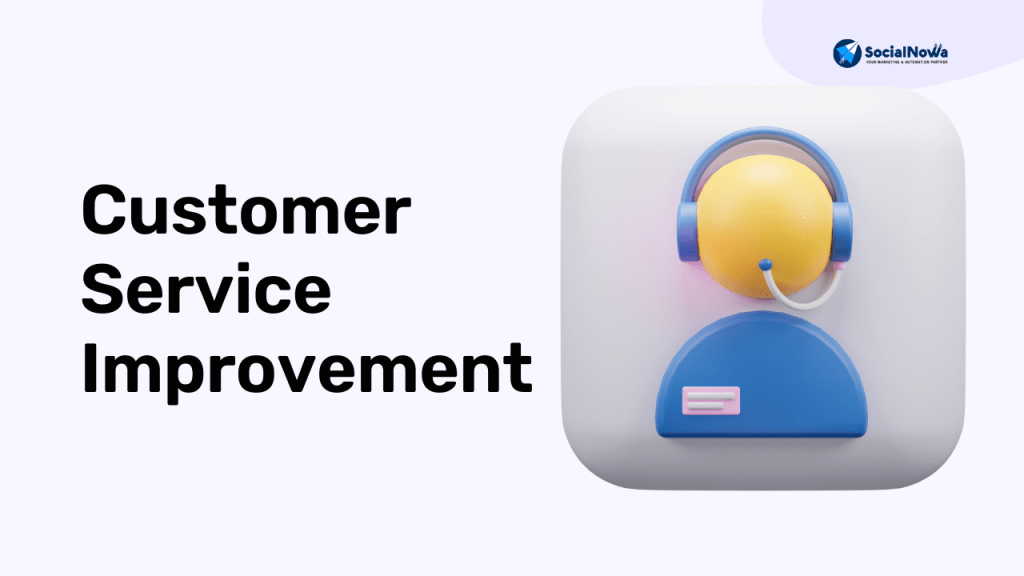 The two things that matter most to them—the speed and quality of service they receive—are both greatly enhanced by the use of automated replies on Instagram. They are:
1. Quickly cut wait times for everyone
The days of "Your call is important to us, please hold on for next…" are over.
At least, if you want you to be responsive to customer needs and dedicated to providing the best possible experience.
2. See what today's customers are asking for, use it to help tomorrow's customers
By monitoring what customers are asking, you can be alerted to things like problems on your site, trends that may not be on your radar, some bottlenecks in your buying process, or anything else that needs your attention.
Then creating new automations for these queries is easy for anyone else asking them to proceed.
3. An online store never sleeps, and neither does your automated call center
In the era of Instagram, customers expect Insta responses.
Even if you can't provide live 24/7 human customer service, it's easy to be available on Instagram around the clock.
Once you go live with Messenger API for Instagram and SocialNowa, you're ready to answer customer inquiries any time, day or night, regardless of whether your customer service staff is active or not.
4. Greater satisfaction and a better work environment for your customer service team
Automating the answers to simple and repetitive questions, which typically make up a significant portion of all customer inquiries, means your customer service team is free to focus on issues that need more individual attention is required.
This is not only a bonus for customers who get the time and attention they need, but your CS benefits as well. Removing repetitive, monotonous elements of one's work is always a bonus, but it's especially helpful here.
Using automated chatbot replies not only means happier customers, it also means a less stressful work environment where your employees can feel free to do their jobs the way they should be done.
Benefits of Instagram Chatbot
1. Boosted customer response times:
As of August 2021, Instagram's platform has a staggering 1 billion+ users.
This is a great opportunity.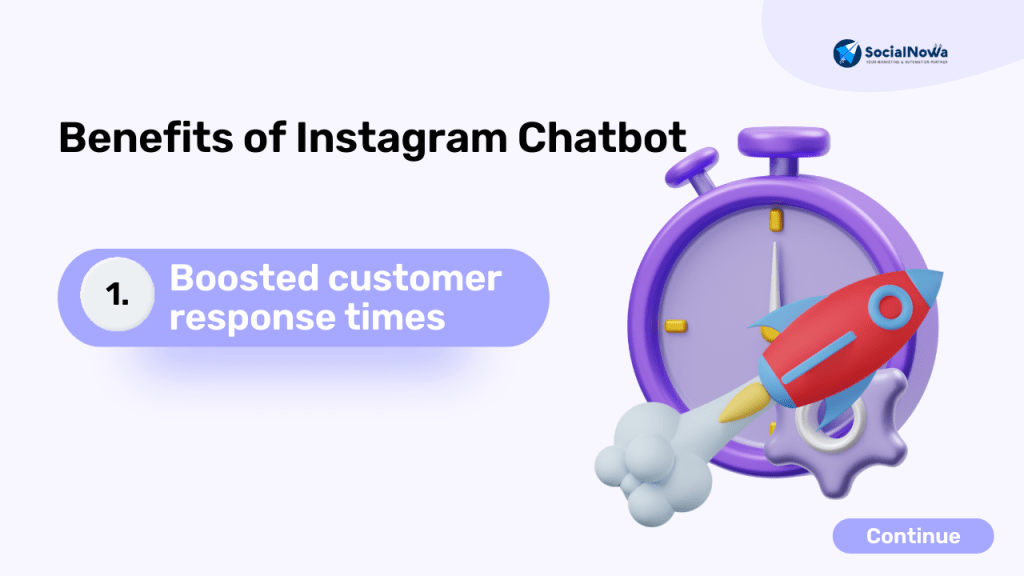 Yet it can also be a bit massive for SMBs regarding to maintain a truly competitive rank of customer service in order to stand out.
Did you know that is one of the biggest pain points?
30.5%
Lack of consumer response to brands on social media? Furthermore,
36.4% among those surveyed by Drift, expressed frustration at not being able to quickly get answers to simple questions and business information.
According to SproutSocial, it takes an average of 10 hours for brands to respond to a customer.
While most people are happy to hit the 24-hour mark, the truth is that in many cases, this response time translates to a subpar customer experience and a missed opportunity.
This is especially true in today's modern, fast-paced society that thrives on instant gratification.
Now, imagine a world where you are able to absorb every single interaction of every single prospect, not just quickly but at the perfect time.
This is where Instagram chatbots really shine.
They are able to provide answers to your customers' most important questions when they are busiest and need your help.
2. A cost-effective solution to improved customer experiences :
To achieve the same level of productivity, a business would need an entire department of customer service representatives working around the clock.
This takes a significant amount of human capital and financial resources that many SMBs do not have.
However, a recent IBM report found that leveraging chatbots can save businesses just as much.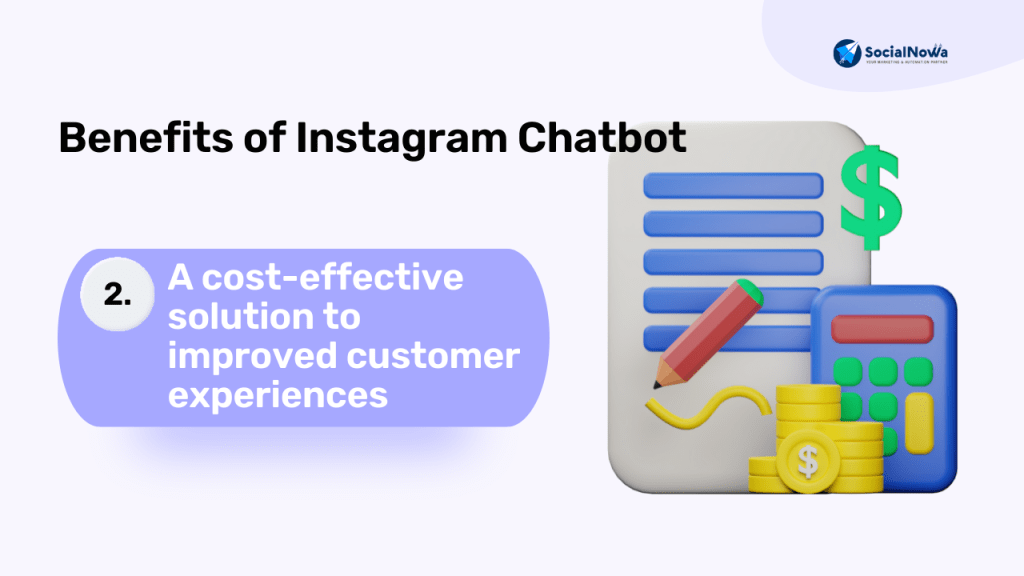 When it comes to price combined with customer support.
But, that's not all. Businesses can also notice significant savings when it comes to people's capital.
Did you know that chatbots can handle
68.9% chats
From start to finish? Combining a chatbot into your customer support
Workflow
Not only can this save you cold, hard cash, it can also free your staff from simple, repetitive tasks so they can focus on more important business matters.
And last but not least – Instagram chatbots don't get sick, they don't call, they don't quit, and they don't need sleep.
They work 24/7. While we don't recommend making your staff work like machines, we do recommend harnessing the power of AI and machine learning to help you achieve your goals.
Actually, finished
40%
Customers love chatbots because they can help them outside of regular business hours.
Using chatbots you can literally generate leads, generate prospects, offer support, and make money – all while you sleep.
3. Automation with a personal touch :
One of the most important sources of reservations when it comes to leveraging chatbots concerns personalization.
But, it's essential to keep this in mind.
Automation , when properly applied, does not necessarily involve a reduction in the quality of processes or experiments.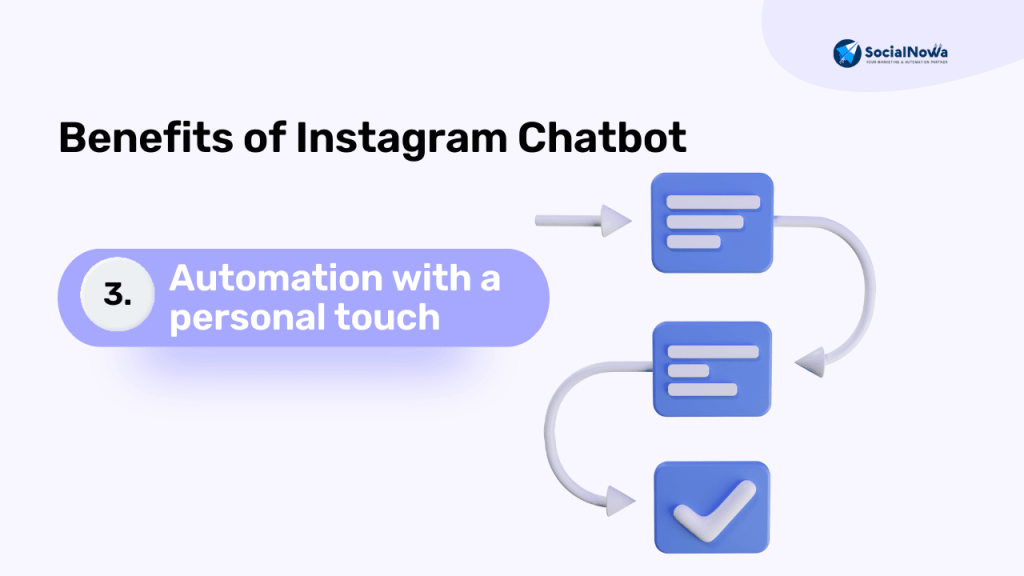 This is because chatbots are powerful tools that can be used to improve personalization.
Many are able to segment your audience based on their profiles and even infer personalized ways of engagement based on your customers' unique preferences and interest levels.
The key is in the setup.
Take the time to think critically about your customers' biggest needs, wants and pain points.
Furthermore, it is important to view the personalization process as cyclical rather than linear.
Many chatbots are equipped with powerful data and analytics tools that can be used to further improve and personalize customer experiences.
However, with that being said, it is important to note that each tactic should be used to a certain extent.
Chatbots are not designed to be a complete solution for customer service.
Instead, see them as a tactic meant to replace them rather than augment your efforts.
For example, it's an effective way to set up your chatbot to answer your most frequently asked questions, but then program it to switch the conversation to a human representative when things reach a certain level of complexity.
4. Streamlined payment processing :
Did you know you can program your chatbot to accept payments directly from users in Instagram dm chatbot ?
While bill payments are an important part of the customer service journey, ultimately, it's the many small interactions leading up to this stage that make a customer invest in your business.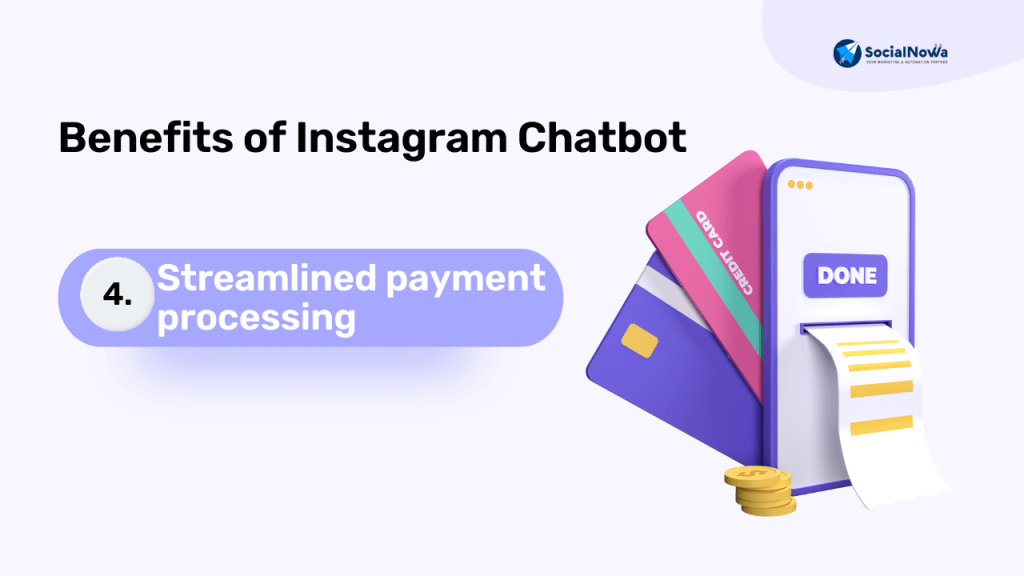 Fortunately, today's chatbots have a lot more to offer than just customer service.
Modern technology also helps these nifty little programs drive conversions and close sales.
In fact, a recent report from Drift found that
41.3% of users
"Use Conversational Marketing Tools to Drive Purchases".
Believe it or not, it has more than doubled since 2019 and the technology continues to improve and expand.
5. Data-driven insights :
Confirming to a recent survey direct by SproutSocial, 90% of marketers
Agree that the data they receive from society enables them to stay ahead of their competition.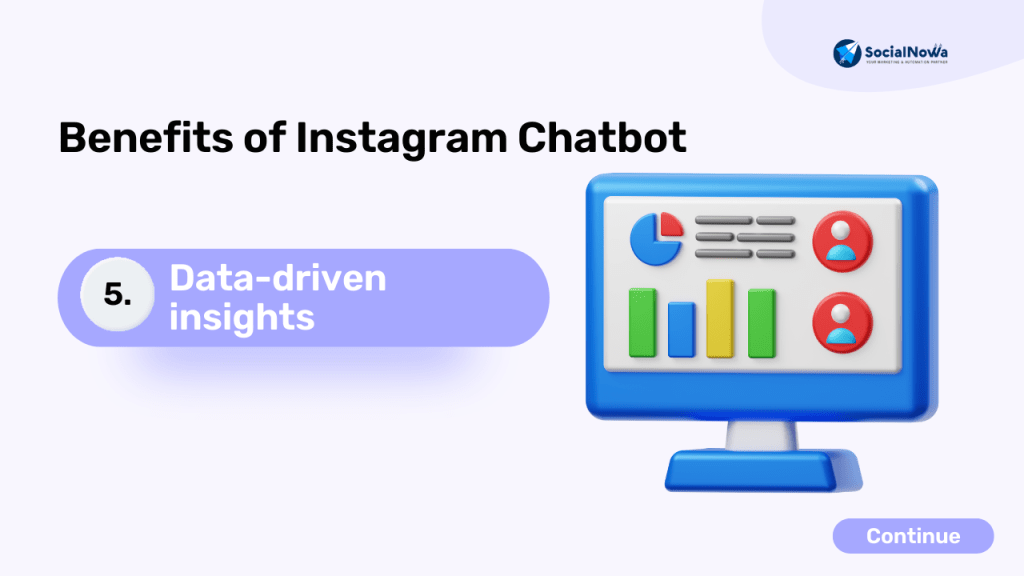 Instagram chatbots are practically goldmines for data and the insights they provide can help you improve and upgrade your social media strategy in ways previously unimaginable.
That's because chatbots log every interaction with customers and can collect user data to improve everything from customer support to personalization, marketing and retargeting efforts. Can be reproduced.
Not only do you have access to users' social profiles, but you can also program your chatbot to collect data such as names, emails, and other types of contact information.
Chatbot data can additionally provide you with valuable insights into user needs and pain points, as well as their likes/dislikes and expectations of your brand.
Data from chatbots can give you a deep-level understanding of their behaviors, the trends they're interested in and what kind of content resonates with them the most.
Ultimately, effective chatbot data can be used to help you sincerely get to know your customer base and communicate with them on a meaningful, personal and truly impactful level.
6. Lead generation :
Let's face it, lead generation is tricky stuff. So tough in fact that a huge one 61%
Marketers consider lead generation to be their most important challenge.
As a result, many people are in the business of spending half or more of their annual budget on lead generation tactics.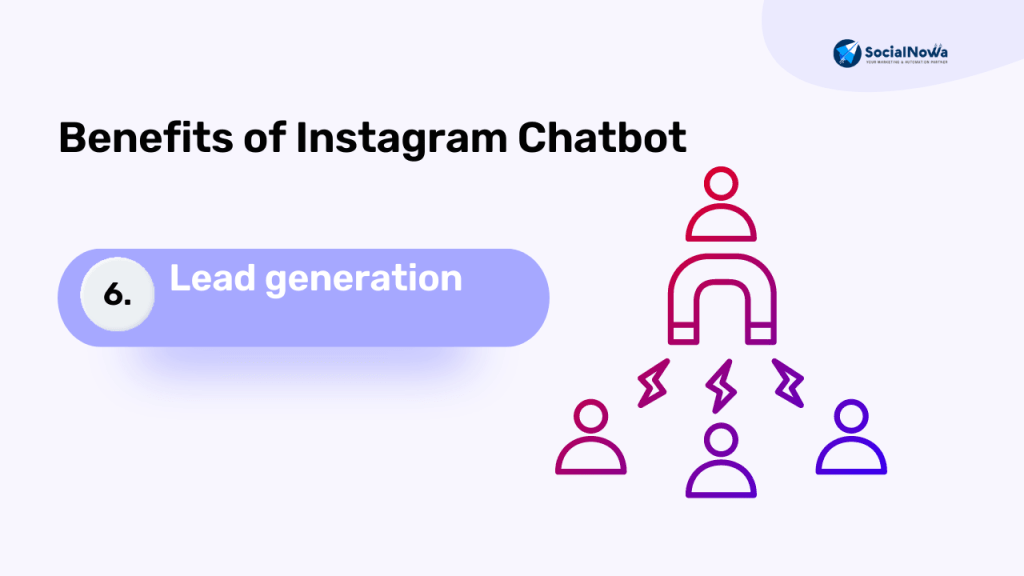 How many leads does your business generate in a month? Can your grades improve?
If this is so, you may be excited to find out.
55% of business
Those who use chatbots generate more high-quality leads.
This is mainly attributed to the automated, real-time nature of chatbots.
When you instantly capture your prospects at their most engaged state, they are more likely to move forward in the customer journey and ultimately convert.
Actually, according to a recent study, your leads are.
9 times more likely.
To convert when you can follow up within 5 minutes.
Additionally, implementing Instagram chatbots is a great strategy to protect your business from potential algorithm changes.
Many companies on social media have managed to get themselves knocked to square one simply because of a social media platform update.
One of the reasons chatbots are so successful is simply the sheer volume of DMs to businesses (leads) sent on a daily basis.
As a result, leveraging an effective lead-generating chatbot strategy can help your business diversify their overall social media strategy and thus beat the constant (and potentially harmful) algorithms.
Becomes less sensitive to changes.
3 areas where Instagram chat automation will assist your E-commerce
Applying automatic answers to direct messages is now possible on Instagram after proving to be a huge success on Messenger and Whatsapp. This is significant news that will have positive effects on many facets of your e-commerce business. However, we'll concentrate on how it may affect three crucial areas: sales, customer happiness, and your customer care staff.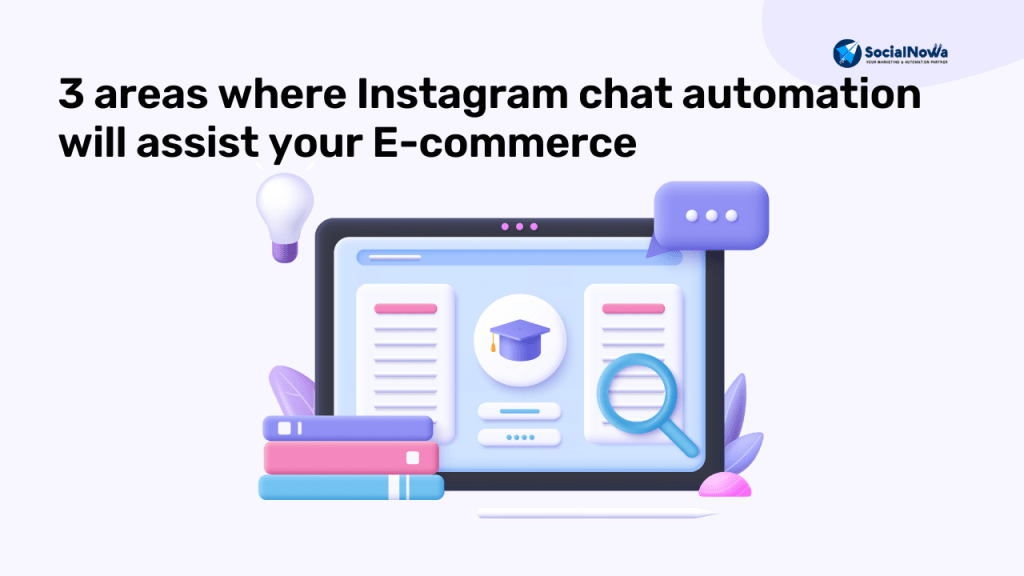 A whole new universe of opportunity opens up with the addition of this potent instrument to a platform with the perfect user base for online sales. Applying chat automation on Instagram will improve everyone's experience while also giving your sales efforts there an immediate boost.
Here's how the Facebook Messenger API for Instagram, powered by Zowie, may immediately affect your revenue.
1. Sales & conversions: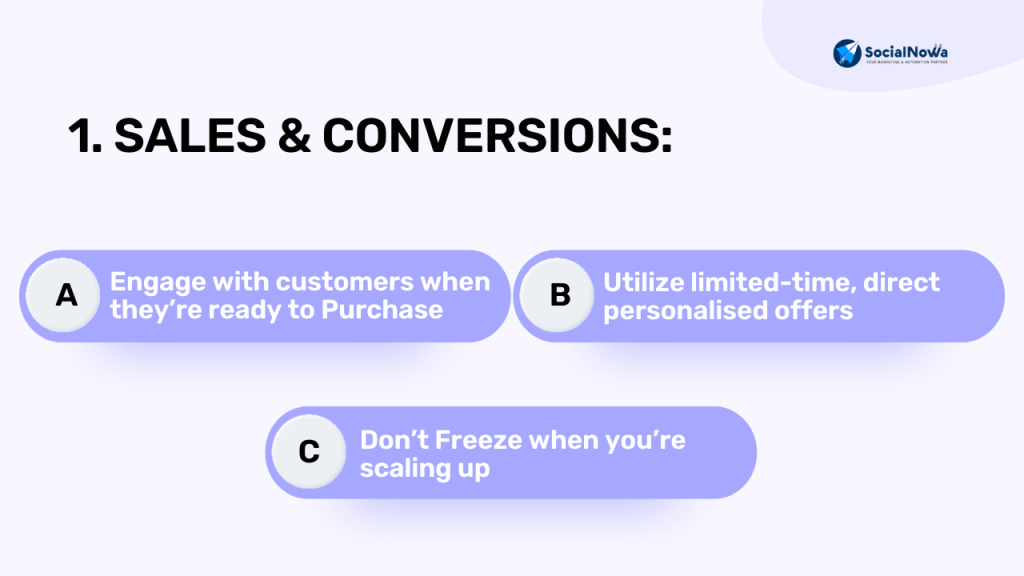 (A) Engage with customers when they're ready to Purchase:
You may quickly join discussions initiated by consumers on Instagram thanks to automated answers to direct messages. They may contact you for any variety of reasons, but they frequently do so in order to learn more about you or your offerings.
You may take advantage of this desire to further your discussion by getting to know them right away. What better moment to acknowledge their involvement and match their desire to discuss how you might assist them? The most crucial message of all may be delivered to customers through automated responses to their inquiries: we're listening.
When you respond to consumer inquiries automatically, you maintain their attention on your company and brand, keep them on your website, and keep them considering how your product is just what they need.
(B) Utilize limited-time, direct personalised offers:
Automated chat answers on Instagram allow you to quickly capitalise on client interest. Take it a step further by making conditional, time-limited offers that are meant to complete the deal right away.
After all, there is no better time to approach a consumer with an unique limited offer than when they are prepared to make a purchase.
You have the limitless freedom required to customise offers to whatever requirements you desire with the help of the Messenger API for Instagram and Zowie. For instance, you may provide a code in response to a specific inquiry for a certain product that would provide free delivery or a discount if the consumer purchases within the next 30 minutes, 24 hours, or under any other circumstances you like.
This may prove to be a very successful method for ending.
(C)Don't Freeze when you're scaling up:
The objective of every firm is to develop quickly, yet bottlenecks brought on by growth might prevent future progress, especially in e-commerce.
These bottlenecks are frequently found in the customer service divisions. Problems arise when a client base quickly outpaces the number of agents available to assist it.
Your customer service team can stay up with and support overall company growth goals by automating replies to straightforward and repeated enquiries. Utilizing the Messenger API for Instagram can help your customer service (CS) meet the needs of a larger client base and pave the way for greater and better things by automating some of the answers.
By automating today, you can boost revenue afterwards. Do not allow your preparations for.
2. Customer satisfaction: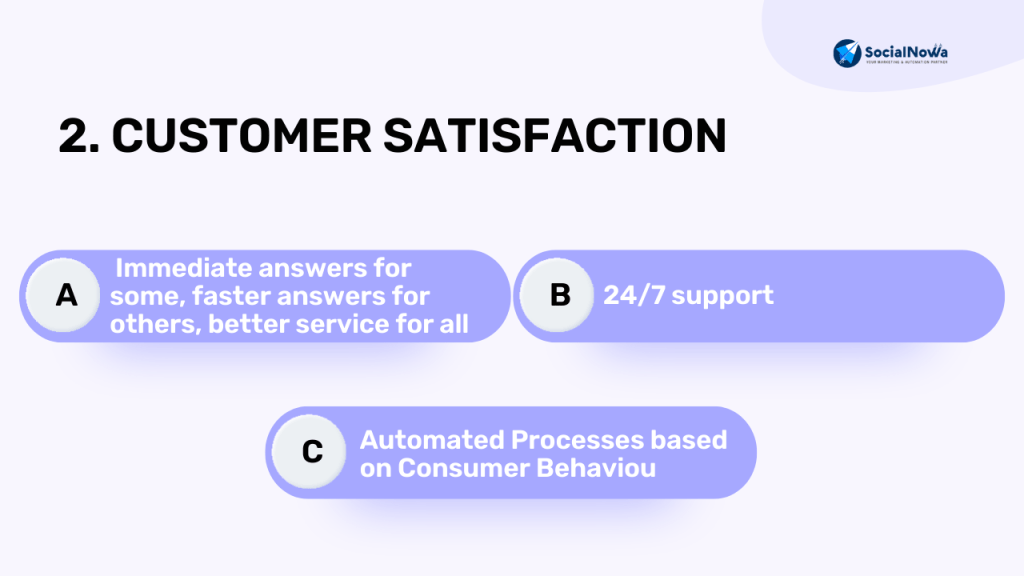 (A) Immediate answers for some, faster answers for others, better service for all:
Wait times are one of the major pain areas for clients when they are seeking for the answers they need, therefore by utilising Zowie to automate your responses to frequent requests on Instagram, you greatly eliminate this pain point.
There is almost any waiting involved when basic, repeated inquiries receive automatic responses. Instagram users who ask a question receive a prompt response. Thanks to all those straightforward inquiries being automatically resolved and taken off the call queue, wait times for more complicated situations requiring personalised assistance (or if a consumer simply chooses to talk with a customer care professional) are significantly decreased.
Nobody enjoys hearing the phrase, "Your call is crucial to us. Please hold while we wait for the next available agent. repeatedly while doubting if the wait was really worthwhile or whether the call would even be answered. You can surprise and amaze clients with quicker response times than they anticipate and a better overall experience using the Messenger API for Instagram and Zowie.
(B) 24/7 support:
Automation tools don't take vacations, holidays, or breaks. Once the Messenger API for Instagram and Zowie is online, you'll be equipped to reply to consumer queries day or night, regardless of whether your customer support personnel is working or not.
Your Instagram feed doesn't go dark overnight, and e-commerce doesn't have a closing time either. Simply put, it is no longer effective to request that clients contact you during business hours or to guarantee a response on Monday. Your sales activities are active around-the-clock, therefore your customer support must be as well.
Responding quickly to client concerns keeps you top-of-mind and encourages them to move through with the deal. By keeping people waiting, you run the danger of forgetting about them.
(C) Automated Processes based on Consumer Behaviour:
You may learn more about what your consumers are interested in, what they specifically ask about, and how to improve your automations to solve these concerns in the future by using the Messenger API for Instagram and Zowie.
Although you are the best person to know your company, there is always a potential that something may be happening that you are not aware of. It may be a market trend, a flaw in your website, an aspect of the purchase process that might be made better, or any number of other things.
You may reply by creating a new automation on subjects or specifics that you hadn't previously considered by observing the inquiries that consumers ask that aren't covered by the automations you've already created It follows that.
3. Your Customer Service team: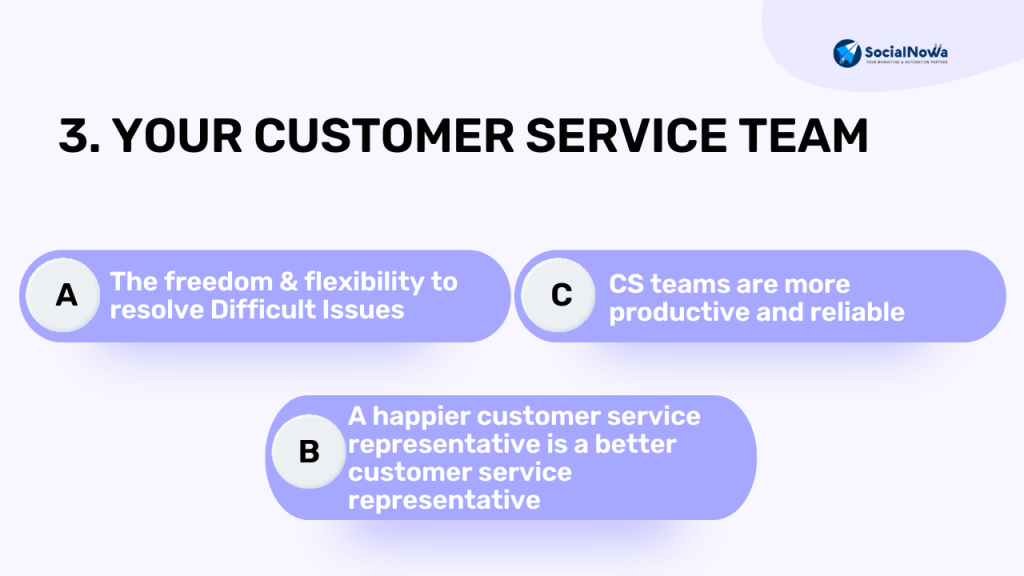 (A) The freedom & flexibility to resolve Difficult Issues:
You are shifting a large percentage of your customer complaints away from your customer service crew and toward automated responses by using the Messenger API for Instagram and Zowie. Does this imply that your CS is idle? Of course not—in the realm of e-commerce, there will always be difficult problems to address.
It does, however, mean that your customer service personnel is free to commit the time and focus necessary to resolve challenging issues relating to things like missed shipments, payment issues, and all the other issues that call for a deeper investigation.
The backlog of calls, emails, social media posts, and other forms of interaction would be considerably longer without automation. This implies that CS agents are under pressure to process as many issues and meet numerical objectives.
(B) A happier customer service representative is a better customer service representative:
CS teams have a challenging task. Starting your day out by dealing with a never-ending line of clients, many of whom are irate, is challenging. Anyone can experience predictable consequences by doing it consistently.
Simple response automation and the ability to focus on solving more complicated problems, as mentioned above, have a favourable impact on customer service representatives and how they approach their work. Less pressure to achieve irrational objectives means less stress, and aiding clients in need means more satisfaction.
Better customer encounters, higher levels of service, and an improved overall conversational experience result from this.
A more contented customer care representative provides better customer service:
CS teams have a challenging task. Starting your day out by dealing with a never-ending line of clients, many of whom are irate, is challenging. Anyone can experience predictable consequences by doing it consistently.
Simple response automation and the ability to focus on solving more complicated problems, as mentioned above, have a favourable impact on customer service representatives and how they approach their work. Less pressure to achieve irrational objectives means less stress, and aiding clients in need means more satisfaction.
Better customer encounters, higher levels of service, and an improved overall conversational experience result from this.
(C) CS teams are more productive and reliable:
Here, we're going to somewhat cheat and merge two concepts into one.
First, automating chat responses makes CS teams more effective by enabling you to maintain a certain level of service even when sales volume rises. For instance, increasing the percentage of customer inquiries answered through chat can result in doubling your client base without requiring increasing your customer support staff by double.
The effects on cost effectiveness and your bottom line are clear.
Second, automation can aid in lowering turnover, a frequent yet challenging problem in the field of customer support. It may be a difficult job even under the best of conditions, as we've already mentioned. If the labour market in your area is very tight, consider hiring and training CS agents.
Benefits of Using Instagram Chatbot for Advertising: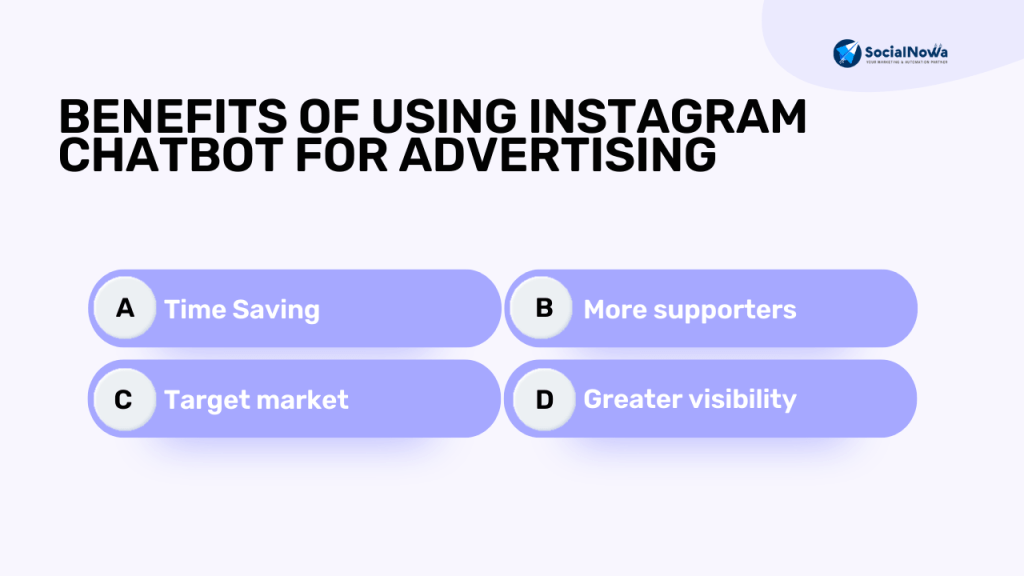 (A) Time Saving:
Instagram bot is a paid automated programme used to rapidly grow your following. Because of this, it allows for a wonderful advertising tool that can be used by both small and major corporate enterprises to promote and publicise their products by gaining a sizable following quickly. Increasing the likes and comments on the account is another benefit.
(B) More supporters:
An Instagram bot will gain more followers because of its big following. It makes reasonable that someone would frequently return the favour if they liked or followed them. The ability of an Instagram bot to like and comment on several profiles pays off since those accounts typically follow you back. Check out our list of the top Instagram bots to fully certain that you are making the appropriate decision because some bots are not worth the money or are unreliable. You want to be sure that the automated Instagram dm you select is trustworthy and safe so you can benefit from it and see your Instagram account develop naturally.
(C)Target market :
Bots can have settings and filters to screen out unwanted individuals and ensure that they are only engaging with the persons you want them to. You may target individuals using filters based on a variety of criteria, including gender, geography, activity, follow ratio, English-only accounts, who followers follow, and more. Without bots, you would have to perform a dozen different tasks manually before you could follow a person. free socialmedia bots are a really helpful tool since you need to perform these chores if you want to target a certain audience or make sure the individuals you are targeting are indeed active.
(D) Greater visibility:
Every business wants to be seen, and growing the number of followers will enhance exposure. Without it, your advertising initiatives are more likely to fail because this is the cornerstone of advertising. bots (ig) increase the amount of followers to achieve this visibility.
Instagram chatbot examples
1: Recommending products :
In this conversation, the chatbot responds to a specific customer inquiry with links to directly recommended products.
Clothing brand Dynamite saw a 29% increase in users on chat after adding a bot to its customer service strategy.
2: Answering FAQs :
All Kusmi Tea FAQs are programmed into this chatbot, so when a potential customer asks about shipping, the bot has answers ready.
Using this system, the company's chatbot initiated more than 8,500 conversations with customers in three months (and had an automation rate of 94%), and reduced their overall response time to less than 10 hours, on average. It took 3.5 hours.
3: Orienting new customers :
The Popeye's Supplements chatbot has an option for first-timers to learn more about the brand, and promotes the company's newsletter within the chat.
The do's of using Instagram chatbots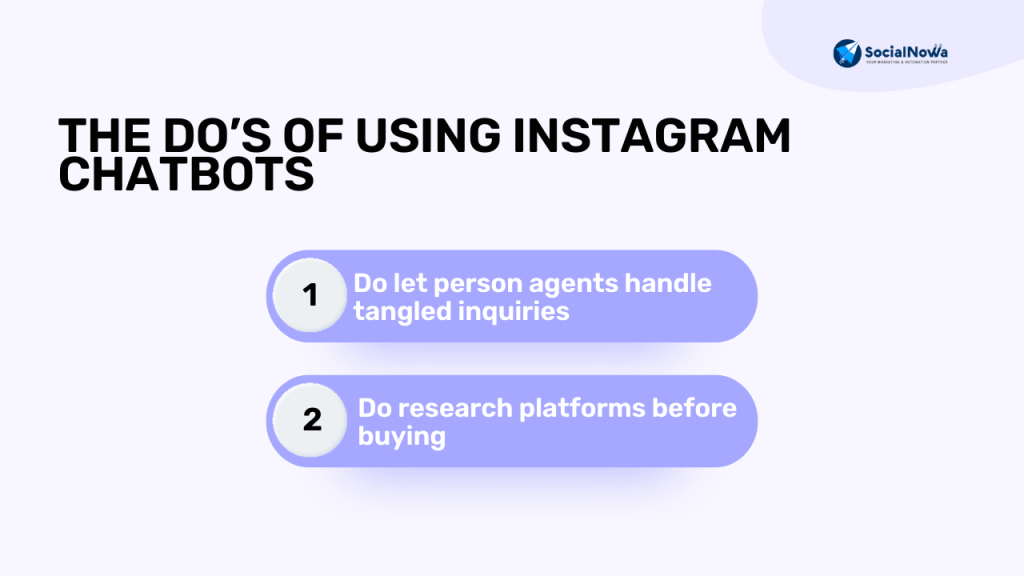 1. Do let person agents handle tangled inquiries :
As every sci-fi movie has taught us, robots aren't perfect.
While Instagram chatbots are useful for common user questions, they don't guarantee an automated response for everything.
High-quality chatbot programs always have an option to send the inquiry to a human if the request is too complex for the bot to handle.
So make sure you're still keeping an eye on those notifications — every once in a while, your robot BFF will need some help.
2. Do research platforms before buying :
Google "Instagram chatbot" and you'll land on over 28 million conclusions.
As the need for self-operating messenger networks grows, so does the supply, yet not all chatbots are built equal.
When you're researching tools to help with your social media management, look for case studies, customer reviews, and other evidence that the platform is of high quality.
If the platform gives examples of companies that use its services, try sending a message to those companies yourself about how great the chatbot really is.
Since direct messages are a great tool for customer service, you want to make sure you're handing the reins over to a platform you trust.
The last thing you want is a sketchy chatbot that sends weird messages to your potential customers—after all, bot or no bot, you're still responsible for your brand's actions.
Effective Ways to Use an Instagram Chatbot: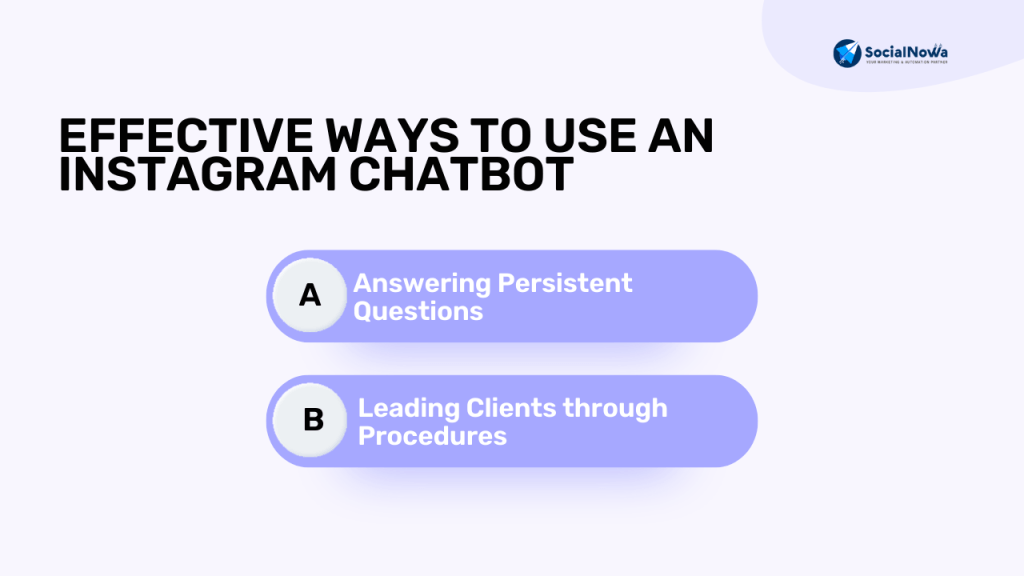 Additionally, it was once expected that Instagram will have 1 billion users by 2024. Instead, Instagram accomplished this goal three years earlier.
Instagram has an outstanding 25 million business accounts out of its one billion users, and at least 200 million people visit a business page every day (source).
Numerous people now connect with firms differently thanks to the channel's explosive rise.
A company's presence on Instagram for customer support and content sharing has become anticipated.
The obstacles and wonderful opportunities that come with this expectation are both substantial.
A brand must commit resources to developing a strong Instagram presence. A brand must take use of the channel's fast-paced and engaging nature to achieve the most return on these resources.
(A)Answering Persistent Questions:
A chatbot's main job is to respond to frequently asked questions and repeating questions. An Instagram chatbot may be programmed to learn about specialised topics, enabling it to respond to a variety of intricate FAQs.
A brand only needs to build its FAQs and teach the chatbot after that. The chatbot will start to recognise many different question variations and spelling errors once you instruct it which types of inquiries correspond to which answers using AI and machine learning.
This may seem a little intimidating to some people. Actually, it's as simple as making a spreadsheet with a list of questions and their respective answers.
(B) Leading Clients through Procedures:
Every brand must walk clients through repetitious tasks. Whether it's changing a password, checking the progress of a purchase, or even something specialised like demonstrating how to fill out their dog rescue form.
Although these procedures are necessary for any customer care department to operate, human agents shouldn't be focusing their time on them.
When assisting clients with difficult or sensitive topics, agents perform best. The most effective use of machines is in repeated tasks.
So why not capitalise on each other's advantages?
An Instagram chatbot may assist with the time-consuming, repetitive tasks while human agents concentrate on individuals who genuinely need the assistance.
As a result, individuals who just want a few tips receive it right away, while those who need more information can.
Using just automated responses on Instagram is just the beginning
When operating an ecommerce business in multiple markets, languages and time zones, automation is essential.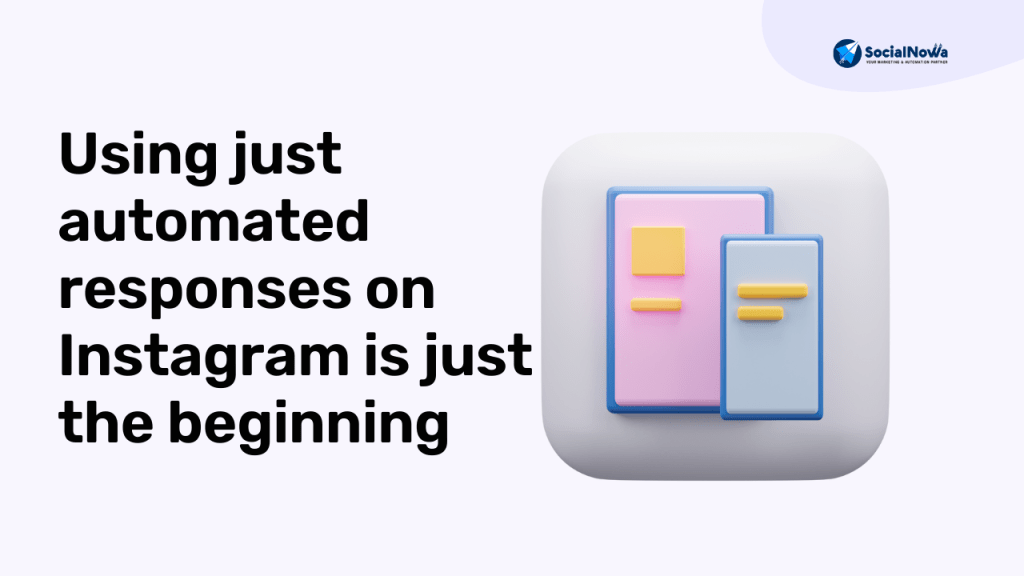 Without it, you can't deliver the 24/7 seamless support across multiple channels that today's consumers expect.
SocialNowa automation helps you deliver quality customer service while creating sales opportunities and streamlined, money-saving processes and also help you how to build bot.