Introduction –
Chatbots are becoming increasingly important today as messaging apps have become the way brands reach consumers. Therefore Use Chatbot For Marketing And Sales
Chatbot has much potential for programming, it is very much useful for a small/big business, an influencer, and others,
But it also has a quality of handling marketing and sales as well.
Chatbots have evolved significantly in recent times,
Because of the Artificial Intelligence (AI) and natural language processing (NLP) that adds a good feature to them.
They're now extremely sophisticated and versatile tools,
That can help you automate a number of your business processes at the same time.
AI-powered chatbots are not only a great tool to assist with customer support requests.
But they can also be part of your marketing initiatives and help guide your customers seamlessly through your sales funnel.
Why Are Chatbots Important For Marketing & Sales ?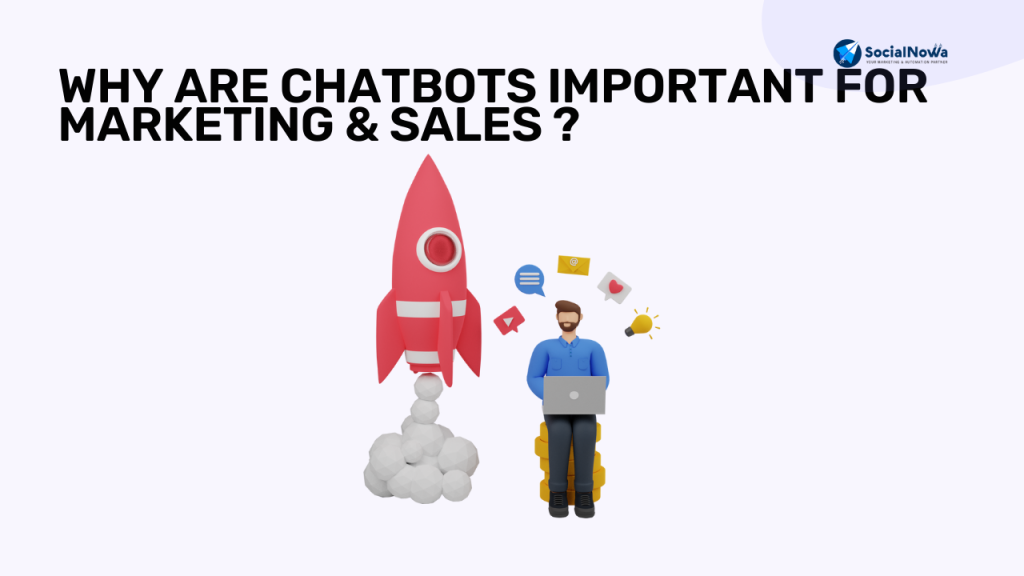 The term "chatbot marketing" is the strategy of using tailored messaging to market your goods or services in order to raise brand awareness, increase consumer engagement, or streamline lead generation procedures.
The consumer experience can be improved, more sales can be made, and chatbots can offer products and services in a polite manner.
Language barriers are broken by chatbots since they can conduct sales discussions in a variety of languages, extending the reach of your customer service.
Let's see some ways chatbots can fit into your marketing strategy: Use Chatbot For Marketing And Sales
1. Providing your audience with a personalised experience –
It's not easy to connect with every customer as a business person. It's difficult to have a word-to-word conversation with every customer, but a chatbot can save you from that.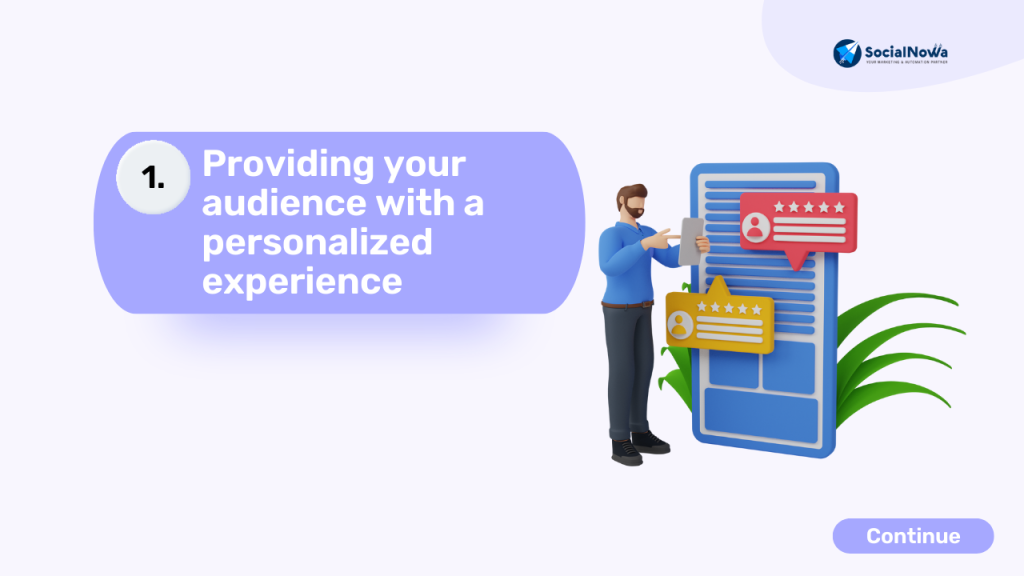 Chatbot tends to integrate with social media and gather data about every single person with whom they interact.
If a customer has a question about any product,
He has purchased, Chatbot can help that person with that query in a very systematic and proper order.
2. Engagement capacity at a larger extend –
Chatbot has unique features in it as it not only engages with your customers but also keeps hold on to them.
It's not like any other form of marketing method, chatbot keeps on entertaining your customer entertaining for a longer period.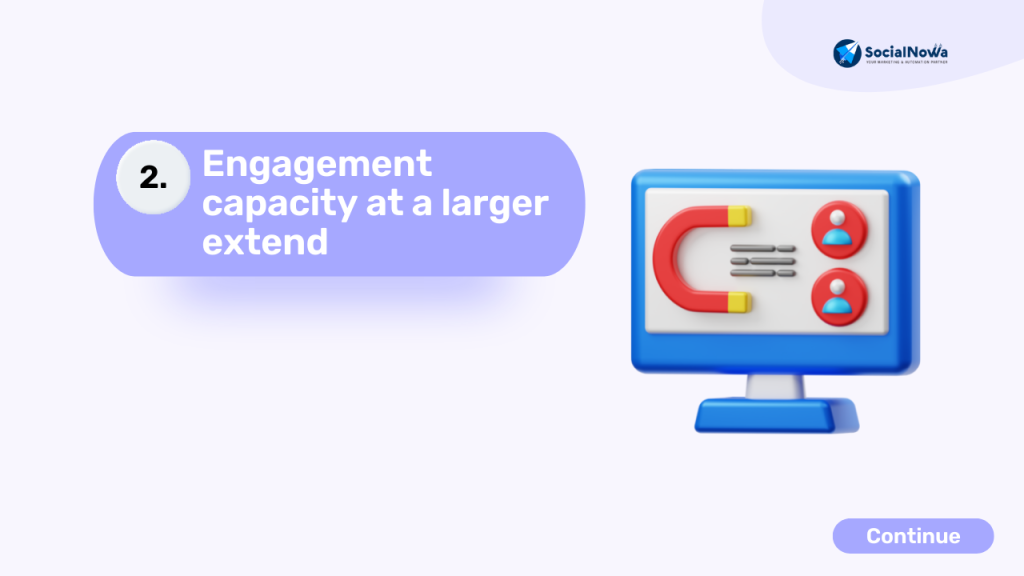 Say, for example, let's say you catch the attention of your audience with a video.
Even though this video may be extremely engaging and interesting, once it ends, it doesn't have much more to offer to the audience.
A Bot can catch your audience's attention,
And it will adapt from the interaction the interest of your audience, allowing it to send relevant information regarding your brand, products, and services.
3. Reaches wider audience –
As chatbots are predominantly found on social media messaging platforms, they're also able to reach a virtually limitless audience at the same time.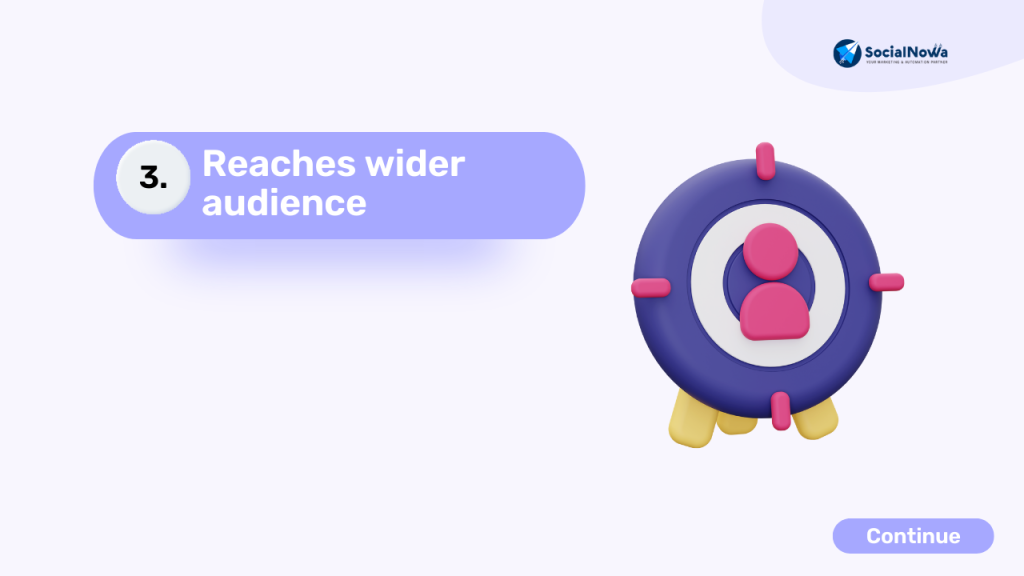 Chatbot has a huge reach because of its programming, it can create a new customer base for your brand by tapping into new demographics, and this can be integrated across multiple messaging applications, this will make you more readily available to help your customers more innovatively.
Ultimately, in turn, this will open new opportunities for you to increase sales in your business. that's why Use Chatbot For Marketing And Sales.
4. Collects and analysis data of the customer –
The chatbot will be offering you the perfect opportunity to gather feedback from your customers.
Obviously without any incentives why would anyone work for you, people don't want to spend their time completing surveys.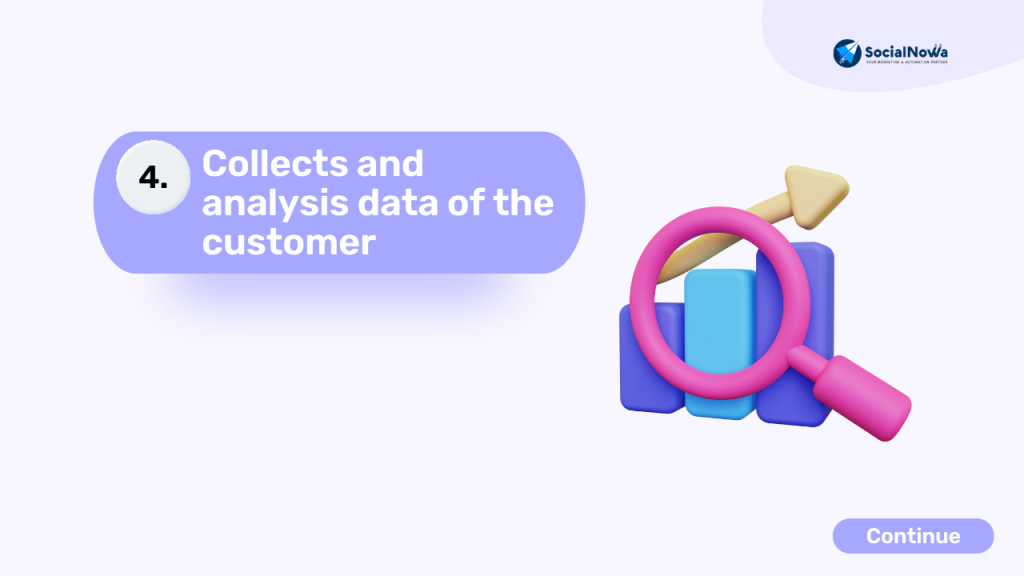 Whereas a chatbot softens the approach to gathering feedback from customers by naturally introducing the FQA in their conversations.
Plus, if your chatbot is advanced then it will analyze feedback and other information it gathers from users if the right machine learning tools are used, giving you more insight into what your audience truly wants from you.
collecting this information,
you can remodel your marketing strategy to become more focused on your customer's needs and wants,
Thus creating more of an inbound towards marketing approach.
5. Sends only relevant notification –
It becomes very hectic to receive abundant notifications of so many emails and messages, and consumers don't want to be bombarded with soo many emails, text messages, and other notifications.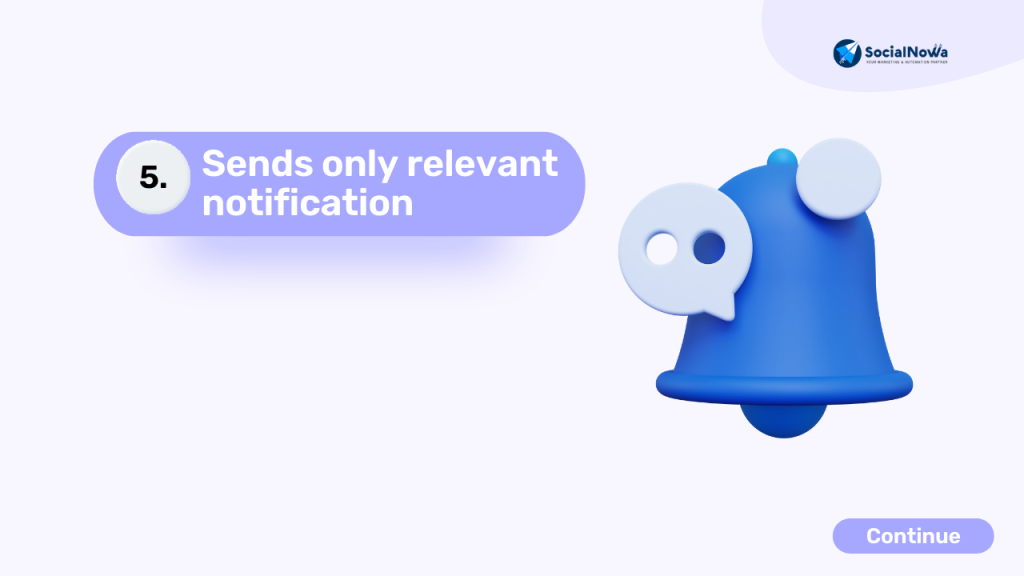 Bots are AI software so they can capture and analyze data,
They're also able to send personalized notifications through social media to customers that are relevant to every user.
6. Makes conversation more interesting –
There is no dought that chatbots can deliver quality information to customers, they're also able to make their interactions fun by conversation.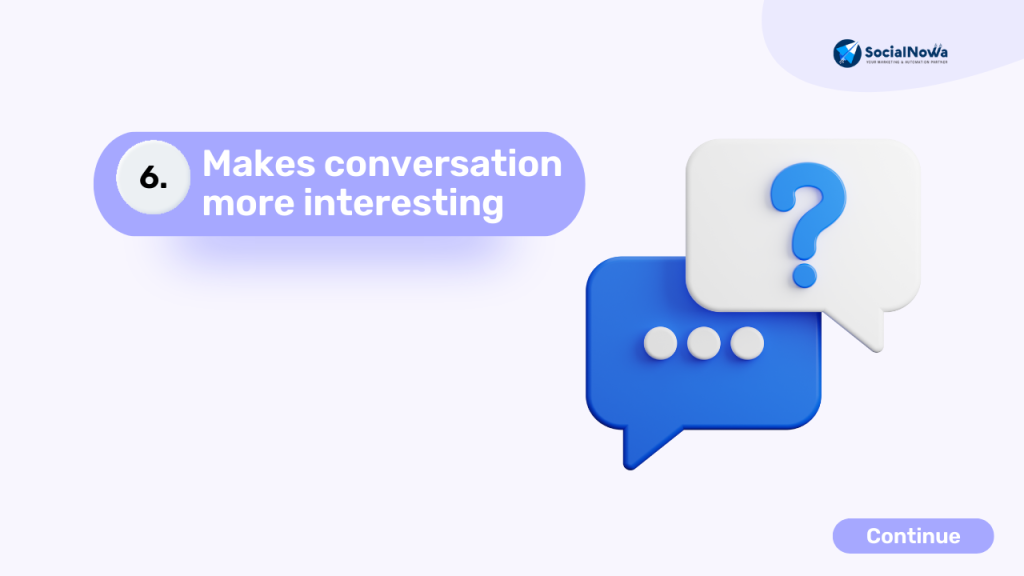 An example of this can be Whole Foods' chatbot. The chatbot allows consumers to search a recipe through Facebook Messenger using simple emojis.
This type of chatbot makes your marketing more fun, interactive and interesting, leaving a long-lasting impression on the user. It can also increase the number of visitors to your website by sharing the links to your relevant blog posts and other pieces of related content
7.Automatically make tour brand proactive | Use Chatbots for Marketing and Sales –
How would you know if someone is interested in you or not, oftentimes, brands have a passive kind of approach to customer interactions? They communicate with their audience once a consumer has contacted them first.
But a chatbot will automatically send a welcome notification when a person arrives on your website or social media profile this will make the user aware of your chatbot's presence.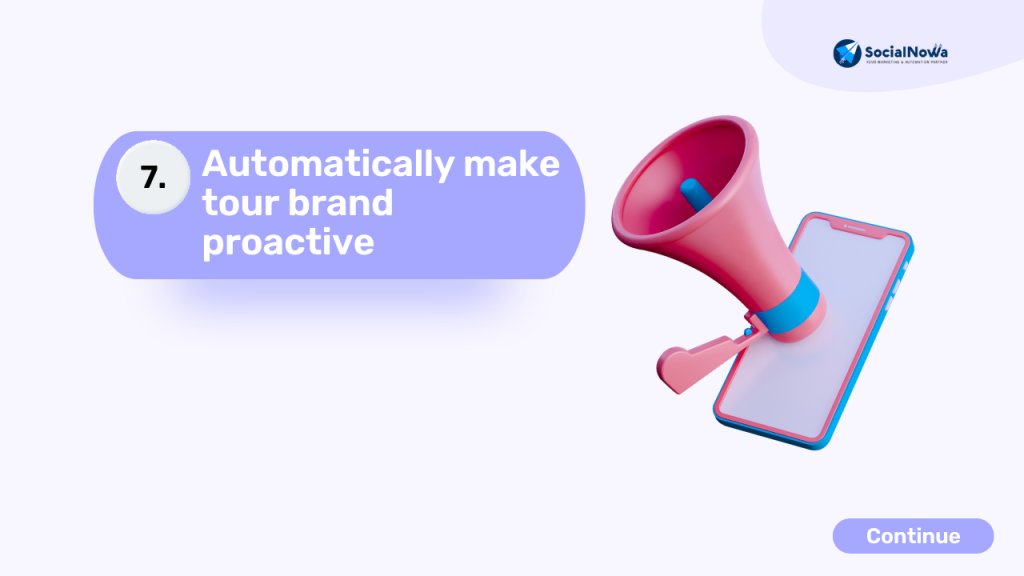 This process will make you look more Bold,
Thus enhancing your brand's reputation and can even increase interactions in compony and customers,
This will leave a positive effect on your sales numbers, too.
8.Moves smoothly your customer through the sales funnel | Use Chatbots for Marketing and Sales –
Lead nurturing is an essential part of every company's marketing strategy because it takes your brand to next level; but unfortunately, it's also an extremely time-consuming task.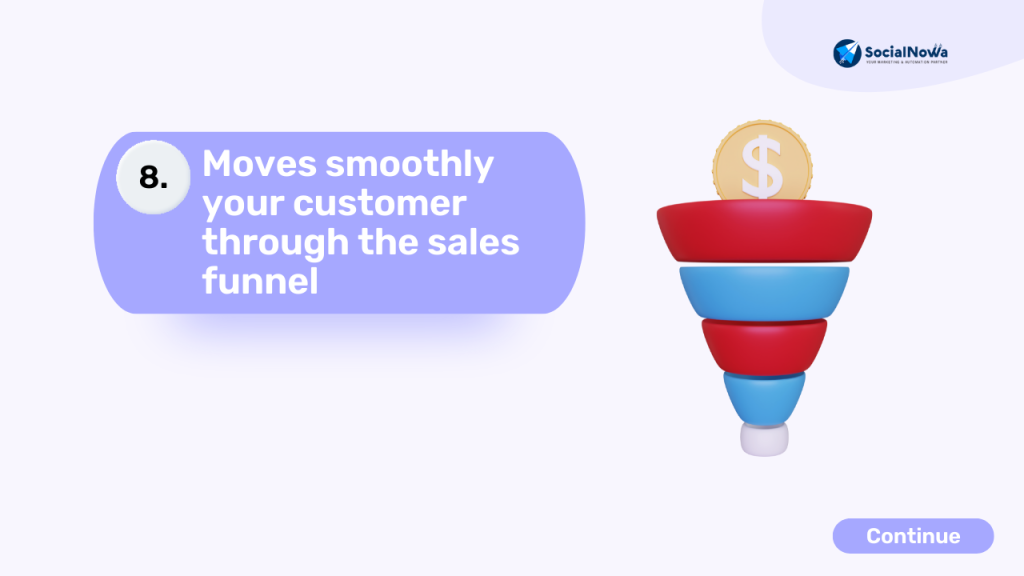 Chatbots allow you to gather the information you need to then create personalized messages that can help guide your users through their buyer's journey.
To make your chatbot lead-nurturing campaigns as effective as possible, gather the information you need and conduct some split testing on your personalized messages this will give you an overview of your programming.
How does the chatbot function in terms of sales and marketing?
A chatbot may engage your audience and learn from the exchange, enabling it to convey pertinent information about your company, its goods, and services.
In essence, it can up-sell and cross-sell in a personalised, friendly, and interesting way.
8 Ways To Improve Sales Automation Using Chatbots
1. Reduces Human Error :
Brands utilize chatbot automation for a variety of reasons, including the total elimination of human mistakes.
Humans are prone to making mistakes while responding to messages from consumers, mistaking orders, and responding under the influence of emotion.
Chatbots fully eliminate this. Sales chatbots can be useful in assisting firms in lowering customer turnover brought on by human error.
As efficiency rises, consumer complaints will significantly decline.
Your customer care staff will breathe a sigh of relief knowing that they can now avoid dealing with irate consumers on a daily basis and concentrate on other important responsibilities.
Customers can vent their anger on an AI chatbot that isn't impacted by emotions.
Your workforce is more productive, and your clients receive a constant stream of adoring responses.
2. Always Online :
It is guaranteed that you will always be online with chatbot automation.
Every communication starts with the assurance that you will happily respond to every inquiry.
Although it seems easy, humans find it challenging to put this into practice for a number of reasons.
Shift changes, periods of inactivity, neglect, an overwhelming number of customers to serve at once, etc. are a few possible explanations.
Using a chatbot for business neatly eliminates this problem.
The internet chatbot can handle multiple chats at once and doesn't mince words.
If you have properly developed your chatbot, it will work around the clock, answer inquiries from customers, and respect their time.
Customer satisfaction will be considerably higher in this method.
They would be more receptive to working with your company in the future and wouldn't pick a different supplier for their subsequent buy.
3. Shopping With Bots Cut Cost and Increase Revenue :
Over time, using chatbots for company will enable you to save expenditures.
You will see an increase in revenue in your industry with the assurance of good results.
By spending money on chatbot automation, you can avoid spending money on infrastructure, salaries, training, and hiring extra people during periods of high traffic.
Additionally, chatbot automation will efficiently carry out the duties of multiple customer support professionals.
Brands may efficiently fulfill their customer care requirements by using chatbots.
Above all, regardless of the size of their budget, all brands may use chatbots.
Chatbots can drastically reduce your costs by replacing a portion of your customer support personnel, even though they can't take over altogether.
A chatbot can now easily handle a variety of client questions.
4. Use Chatbots for Lead Generation :
Does your company depend on giving your sales representatives top-notch leads to work with and close?
If so, chatbots can make lead generation easier for business by enabling you to easily capture leads across many channels.
For instance, if a Facebook Messenger bot communicates with a user, that individual is added to your Facebook Business Page's contacts list.
The bot can even ask the user for their email address, phone number, or other details that are important to you.
This enables you to include the user on a number of other contact lists, such as a simple marketing mailing list, a lead nurturing campaign, or a list of qualified prospects that may be forwarded to sales.
The nicest thing about employing chatbots for lead creation is that they are always available and don't have specific working hours, so you can better nurture leads rather than just generate them.
5. Use Chatbots for Frequently Asked Questions :
Every industry has a set of inquiries that come up frequently.
They could be about questions regarding data protection, price, warranties, or shipping information.
The majority of websites feature a FAQ area, which visitors can either take the time to read or can skip and contact you directly.
The problem is that repeatedly responding to the same queries consumes a lot of time that could be spent working on initiatives that increase revenue and expand your company.
Chatbots can be useful in this situation.
You'll have more time to concentrate on other duties if you use FAQ chatbots to respond to the most frequently requested queries.
Additionally, it implies that clients receive a prompt answer to their inquiries through a mobile-friendly interface, enabling them to obtain assistance whenever and wherever they choose.
6. Use Chatbots to Provide 24/7 Customer Support :
Chatbots can offer customer care around-the-clock in addition to being mobile-friendly and accommodating clients who are on the go.
If you cater to customers all over the world, you won't have to bother about business hours or time zones.
Consumer assistance Because chatbots are available 24/7, your clients can communicate with them anytime they have a query.
Your consumers will be able to ask inquiries, request services, purchase goods, and more depending on the level of functionality you programme your bot with.
Offering chatbot support around-the-clock can boost client happiness and enhance your general customer service.
This will give you, the human support team, the authority to intervene solely in the event that a more challenging question arises that a chatbot cannot answer.
As a result, you will be able to offer timely and effective service.
7. Use Chatbots to Simplify Your Work Week :
Unquestionably, chatbots are fantastic tools for streamlining a variety of tasks.
They may generate leads, boost engagement, handle FAQs, offer 24/7 help, and even sell your goods and services.
You can free up time and money by using chatbots for these and a variety of other tasks, which you may use toward other things.
Chatbots can save you countless hours each week and relieve your stress, just like any automation that you deploy in your company.
Start using a chatbot today to gain from it tomorrow!
8. Higher Retention Rate :
Chatbots for sales will increase your conversion and retention rates.
Using conversational chatbot automation can help you keep customers who come to your website because every visitor is a potential customer.
Think about a client named Kyle who wants to purchase a pair of sneakers.
He engaged the bot to assess his best possibilities after accidentally landing on the page for your company.
The bot requests specific details, like his name, email address, and basic biodata, before responding to his query.
The VA automatically sends the information by connecting to the company's customer relationship management system.
Kyle is then added to your sales funnel by the bot, who then sends him updates, emails, or push notifications based on his interests.
You can now add a new target customer to your database who is most likely to become a customer of yours.
Additionally, bots evaluate leads by posing pertinent questions to potential customers and referring them to the sales team for a quick sale.
Priority is given to nurturing qualified leads later on based on their customer journey.
8 Ways to Use Chatbots for Marketing
1. Auto qualify and lead generation :
A crucial step in the lead creation process is lead qualifying.
Sales personnel typically qualify leads. Businesses can use chatbots to automate the procedures of lead qualification, which can generate a sizable number of leads.
Chatbots pre-qualify visitors and consumers by asking pertinent questions.
By simply selecting the one that applies to them the most, they may make decisions quickly.
Customers may find it more interesting to provide their contact information rather than filling out forms the conventional way.
2. Send high quality leads to sales instantly :
Conversational bots qualify the high-intent leads and expand your database of leads, giving you more opportunities to make new sales.
Use the data obtained about your consumers' needs, activities, and preferences whether you sell a good or a service online to get to know them better and encourage conversion.
The immediate nurturing of the acquired leads is quite successful.
After the chatbot eliminates the sales prospects, it can set up a meeting or send the high-intent leads directly to the sales team for immediate closure.
3. Schedule meetings :
It takes a lot of time to schedule appointments when it comes to lead generation and sales.
The finest time management and meeting scheduling tools are chatbots.
You can use bots to check up your schedule, schedule, edit, and cancel meetings.
A personal assistant bot with AI capabilities can automatically set up meetings, arrange appointments, and create more leads.
Bot assists in sending you the invitation and has access to your meeting preferences and calendar plan.
4. Communicates with website users :
This is one of the most popular and in-demand tasks carried out by online chatbots, and it has several benefits.
Visitors to the website are searching for information about particular goods or services.
For visitors to better grasp a product, certain websites feature the best explainer video examples.
If there are no solutions, visitors eventually depart. Helping prospective clients is important, but it can be challenging if your customer support team is small.
Bots may be required and useful in this situation. Set up the chatbot to mimic live chat so you may converse with consumers.
It might surprise you to learn that customers enjoy chit-chatting. 57% of users, according to Econsultancy, prefer talking.
In a Ubisend poll, half of the participants said they preferred talking on the phone or in person than emailing or calling.
Without the need for a specialized sales team, the bots provide you with an incredibly simple approach to set up a chat environment.
5. Creates a psychographic profiles :
You are probably well aware that the chatbot for customer service can learn details about your consumers.
In addition, your users won't ever feel as though they are "swallowing" meaningless data or participating in a protracted survey.
Everything is structured like a typical discussion.
In various surveys, about half of the consumers asked chose messaging above other kinds of contact.
Customers will thus be willing to converse with the bot for a while, which is only normal.
Customers might be willing to discuss sensitive information with bots. The chatbot acts as a safe haven or comfort zone for many people.
6. Alternative to an email newsletter :
You no longer need to create lists of distinct mailings for various user groups.
Teams that are simple to understand will be able to give people solutions to the most frequent queries.
The bot can also provide information about sales and discounts targeted towards a particular demographic.
7. Optimizes processes within the organization :
You have dialogue branches and may guide the user to the desired scenario, making it nearly like communicating with a manager.
As you do not need to create a visible process, doing this inside the bot is simpler than doing it on the website.
A button bot's ability to operate automatically and without a human intermediary is one of its other benefits.
8. Sharing updates, news, releases :
Through Facebook Messenger, bots make it possible to quickly obtain essential breaking news, frequent updates, and highlights.
With Messenger subscribers, you may share the hottest news and articles.
User-specific notifications are sent via a chatbot to keep them informed of the newest stories.
The British Broadcasting Corporation (BBC) has a division called BBC Politics that specializes in in-depth political reporting.
Through Facebook Messenger, you can instantly get crucial breaking news, regular updates, and highlights thanks to the BBC Politics chatbot.
Chatbot marketing examples
1. ECommerce — H&M :
ECommerce companies frequently use chatbots, which improves the user experience.
The renowned worldwide fashion company H&M created an interactive bot.
H&M's chatbot was designed to assist mobile shoppers in navigating their search for outfit options and direct them to the online store sections that meet your buying preferences.
Positive outcomes for the chatbot deployment can be seen in H&M's consistently rising sales revenue, its announcement to create an ECommerce presence in Canada and South Korea during, along with 11 additional H&M online markets.
2. Airlines — KLM :
Airlines place a high focus on increasing client loyalty and influencing consumer choices.
According to a Twitter survey, customers were willing to pay extra for their next journey when an airline responded to them more quickly.
KLM More than 16,000 cases are handled each week by Royal Dutch Airlines.
They therefore created the BB chatbot to offer a tailored, quick, and precise response.
With BB, KLM advances its social media strategy by providing individualized assistance through technology, backed up by human agents when necessary.
BlueBot (BB) is a conversational booking assistant for customers.
It is backed by 250 human services workers who are ready to assist if BB is unable to answer a customer's question.
The bot had an impact since it answered more than 60,000 queries and generated 15,000 conversations and about 100,000 mentions every week.
Conclusion –
In today's time, messaging applications have become the top destination for brands to reach their consumers.
It's no surprise why chatbots have become so popular as it provides a lot of smooth working process.
By implementing a chatbot into your marketing strategy, you'll be able to learn about your audience and their approach towards you and your product.
As the world is moving towards advancement and the digital world, it has become more important to handle every aspect related to business and other things. Use Chatbot For Marketing And Sales in this article you get all information of about chatbot for marketing.
To make this workload easy and smooth, a chatbot can help you out in a very lenient manner. Get you and your business updated to a new innovative idea Chatbot.
To know more about Chabot click on the link: SocialNowa: Home