Lead nurturing, email list expansion, lead generation, lead conversion, and increased sales and revenue may all be accomplished with the help of drip campaigns.
You and the customer can both benefit from using an email marketing channel to grow your business.
Customers can find out more about your products and services and quickly decide in your favors.
Drip campaigns are more effective than newsletters or providing your message all at once since they are customized with the most recent organizational changes and distributed in bits to keep the audience interested.
Drip campaigns can assist you in providing a solution that can help your consumers solve their unique needs.
Companies that use drip marketing reportedly have a high open rate and can increase sales by 80%.
Starting a drip campaign can therefore be advantageous if you want to improve your connection with your audience and boost your conversion rates.
Let's talk about drip campaigns, what they are, and what they can do for you.
Why do drip campaigns work?
Drip campaigns are used by some businesses to communicate with their target market and increase conversions, while others aim to boost client loyalty.
But they all employ the same method. Drip marketing is a crucial tactic for lead nurturing since it enables firms to explain the advantages of their services to prospective customers who aren't quite ready to make a purchase yet.
They can inform leads about their items via drip marketing, encouraging them to think about their brands when the time comes to make a purchase.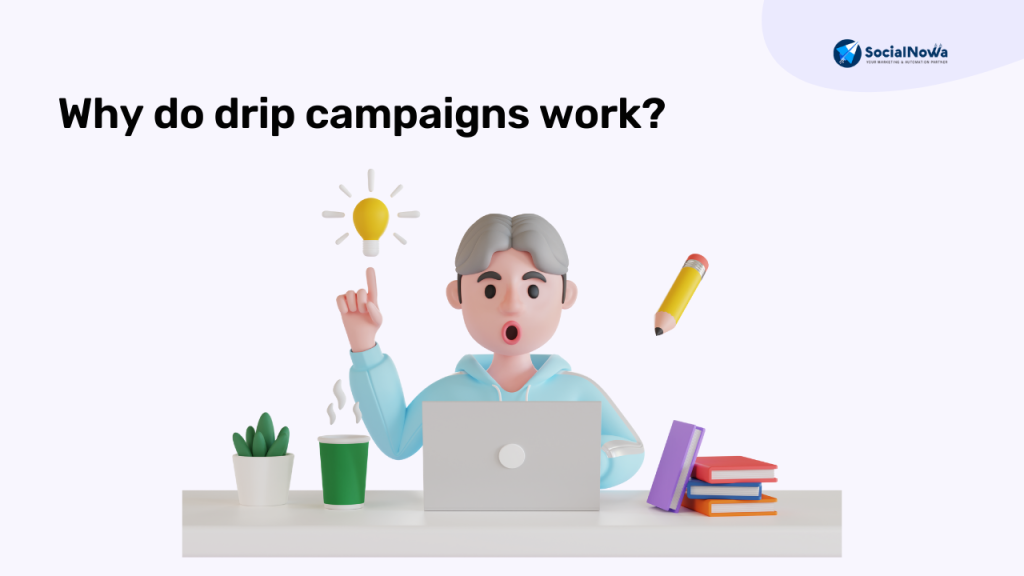 To give subscribers the solutions they require at a certain time, marketers deliver the appropriate material at the appropriate time.
Since individuals anticipate receiving emails in response to their actions as subscribers, marketers enjoy high open rates and click-through rates.
Users are reminded of your brand and its existence through a string of pre-written emails that are delivered in response to particular visitor activities.
They will remember you and buy your stuff the next time they require what you have to offer. You'll develop stronger bonds with your clients and demonstrate your reliability as a business. Brand awareness will consequently rise.
Principal Elements of Drip Marketing
To produce outcomes, drip marketing adheres to a set of rules. The all-encompassing simplicity of marketing automation makes all of these easy to maintain.
1. It must be pertinent
Each of your customers has different demands and preferences. These must be taken into account when running a drip marketing strategy.
Sending a message promoting maternity attire to someone who already has a two-year-old at home is pointless.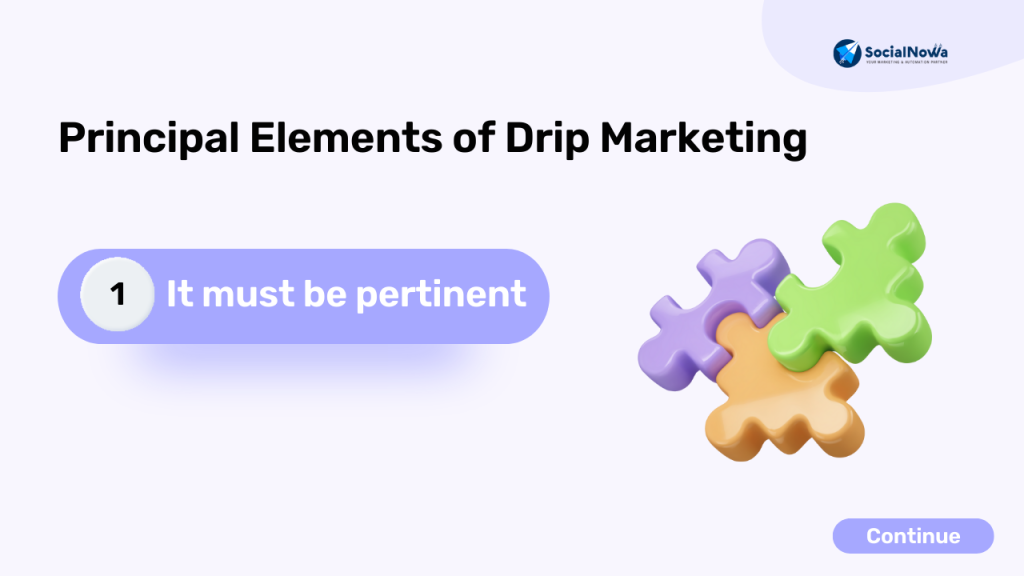 However, there's a good probability that individuals will perk up if they receive an email regarding educational toys for infants.
2. It ought to be private
This utilizes behavioral clues from customer behavior in addition to relevancy. The consumer believes the message is customized to their interests as a result.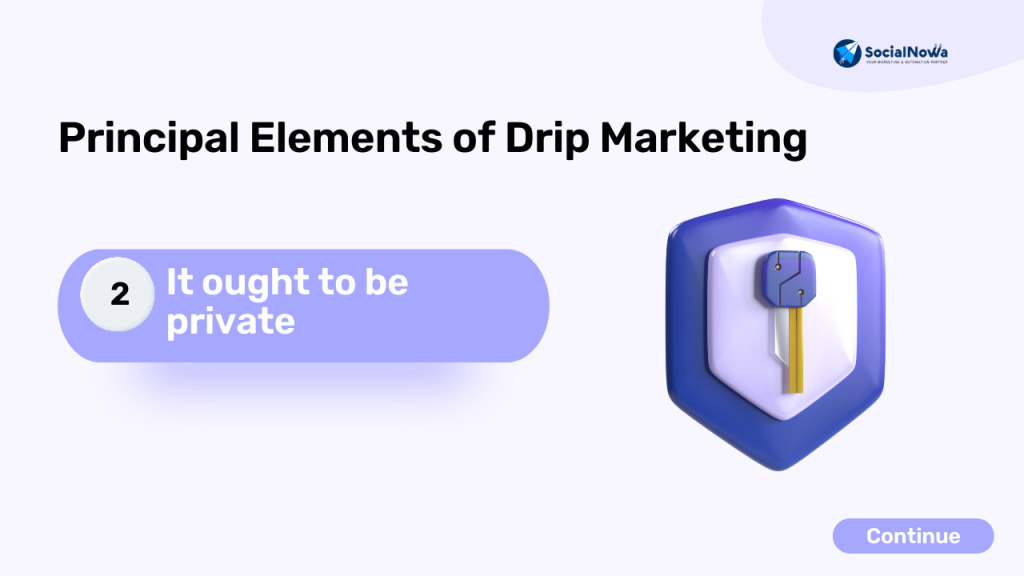 The email may serve as a reminder if a person has expressed interest in a certain product. Another email with a link to a related product may be sent if a customer has made a purchase.
You can also benefit from consumer trends; take a look at some of the most well-known ones for 2021.
3. It is both written and automatic.
You don't need to create content for each email that needs to be sent when you use automated drip marketing.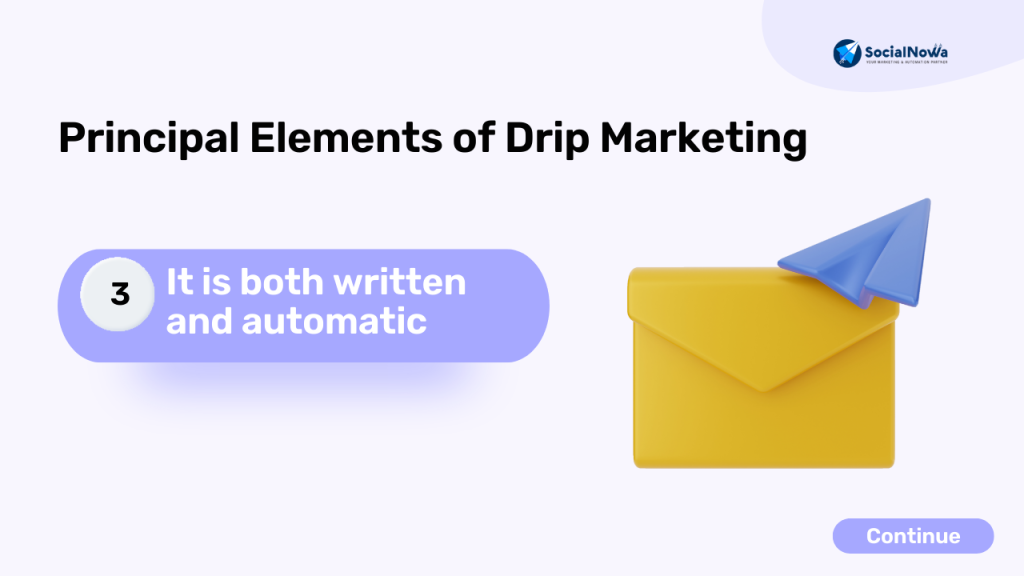 Based on the sorts of customers and their actions, emails are pre-written. Automated scheduling is used. You take a seat back and enjoy the results.
Example drip campaigns
This is not an entire list because drip campaigns can take on countless variations, just like chains.
However, as they are the most typical, you must take them into account while planning your drip campaign.
1. Welcoming
When someone signs up for a mailing list, they anticipate receiving at the very least an instant confirmation of their membership in their mailbox, but you'd be prudent to provide more than that.
A series of thank you emails can go a long way toward demonstrating your appreciation to a potential client for their interest.
Additionally, it offers you the opportunity to show them what you have to offer and what they may anticipate from you while they are still piqued.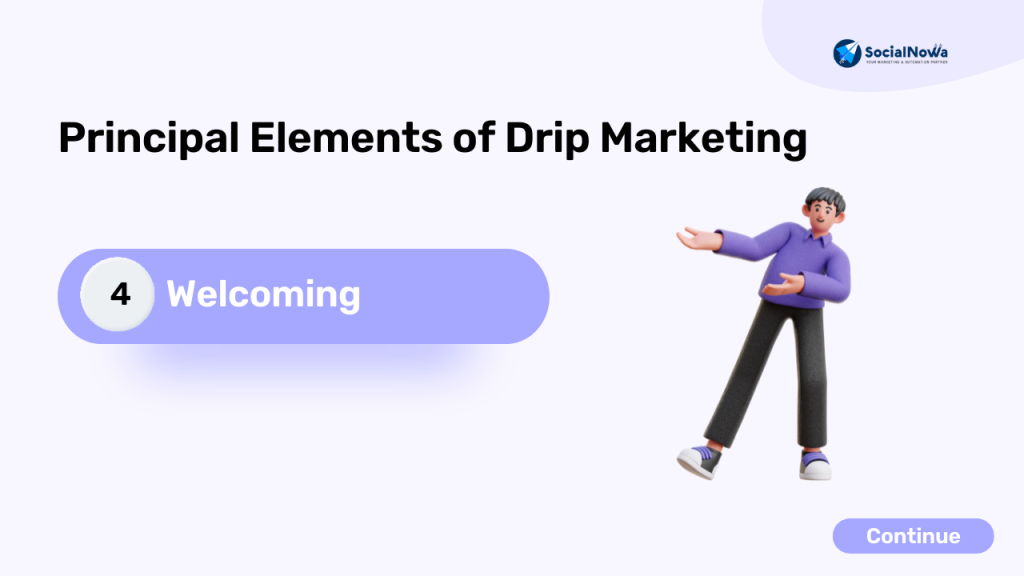 Unsubscribe Not everybody who unsubscribes wants to never hear from you again. Maybe they simply prefer to follow you on social media or receive fewer emails from you.
An email with those options or a link to a "sad to see you depart" webpage could prevent someone from completely unengaging.
A good unsubscribe page prompts consumers to reflect on their decision and offers them the choice to simply receive fewer emails.
2. Product details or educational
It's critical to be crystal clear about your product's actual nature, functionality, and application.
People need to be aware of what they are acquiring, and this rule applies to everything from bookshelves to software.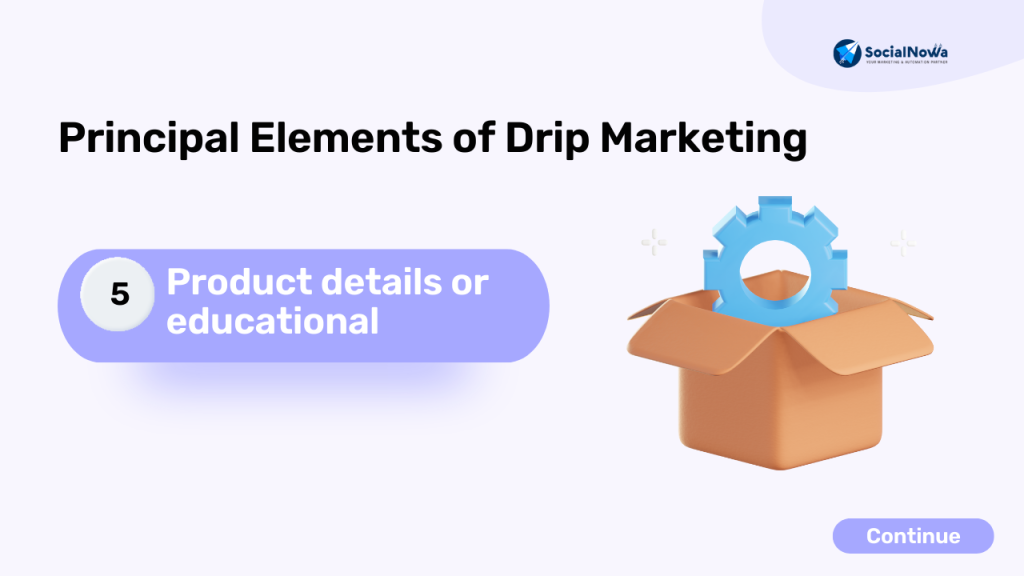 Additionally, it's crucial that your customer understands how to optimize their user experience, so any instructional materials, such as how-to guides, advice, or market data, can be offered for their advantage.
People use product information to choose the best option for themselves, and Image Beauty does an excellent job of providing that knowledge.
3. Promotional
Everybody enjoys a good deal! Running short-term promotions virtually ensures an increase in interactions and sales.
Create a drip campaign to periodically provide deals and sales to your prospects. Free trials, discount codes, and short-term markdowns are all alluring and exciting for customers who are constantly trying to acquire the best deal possible.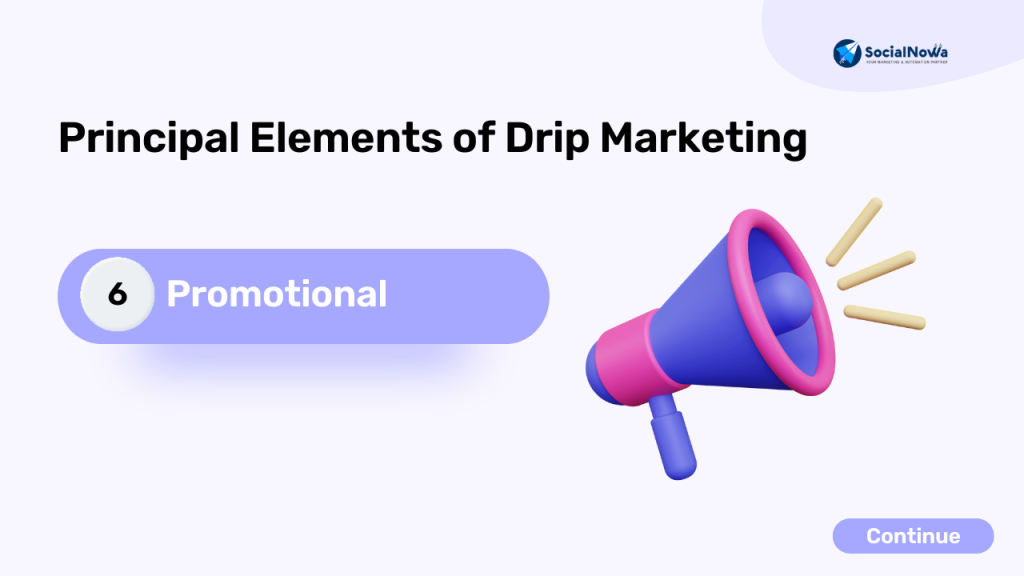 DoorDash gives what is essentially a discount with this limited deal emailed early in the morning, and I guarantee it worked.
4. Competitive
An efficient technique to stimulate interest and finally convert them is through an email drip campaign that is sent to the customers of your competitors and explains why your product is better or more advantageous. As will be discussed in the following section, it is also a good time to run promotions.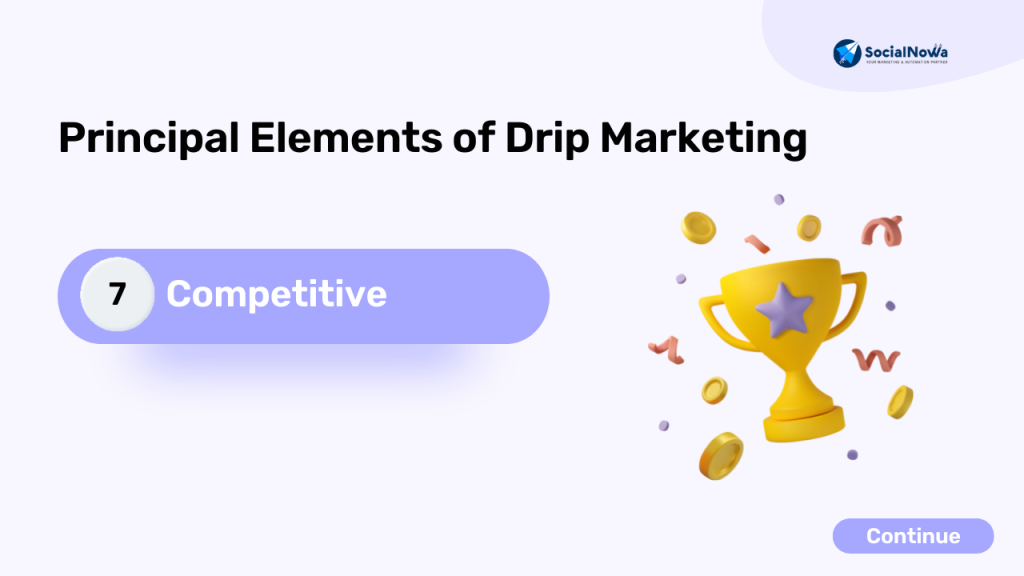 As seen in this Moo email, superiority claims can be made even without mentioning competition.
5. Post-purchase
Showing the customer that the brand cares about them as a person and as a customer goes a long way toward fostering brand loyalty.
The goal is to keep a customer once you have one. It's necessary to court new consumers, but it's even more crucial to keep your current ones coming back because they are more likely to make additional purchases from you. You can achieve this by using post-purchase drip emailing.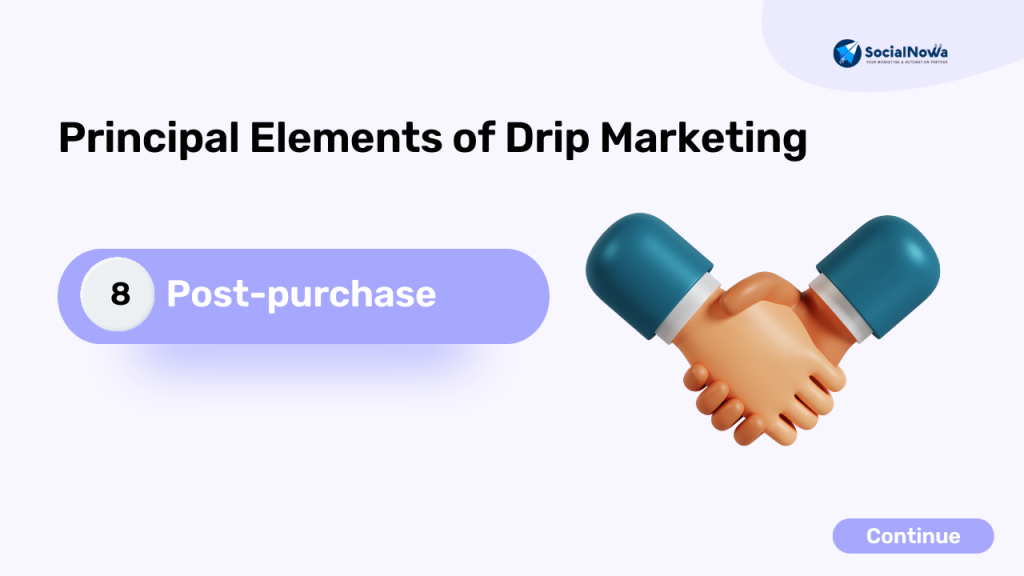 A purchase confirmation that is automatically sent out provides additional assurance that the order was successful.
5. Re-engagement
You need to re-engage if your lead has grown cold. There are several methods to go about this, ranging from a very informal "Hey, haven't heard from you in a while" to a more formal request to return.
If the drip persona you selected for that person isn't quite appropriate, you might need to retarget. Your ultimate goal should be to convert a prospect into an enthusiastic customer.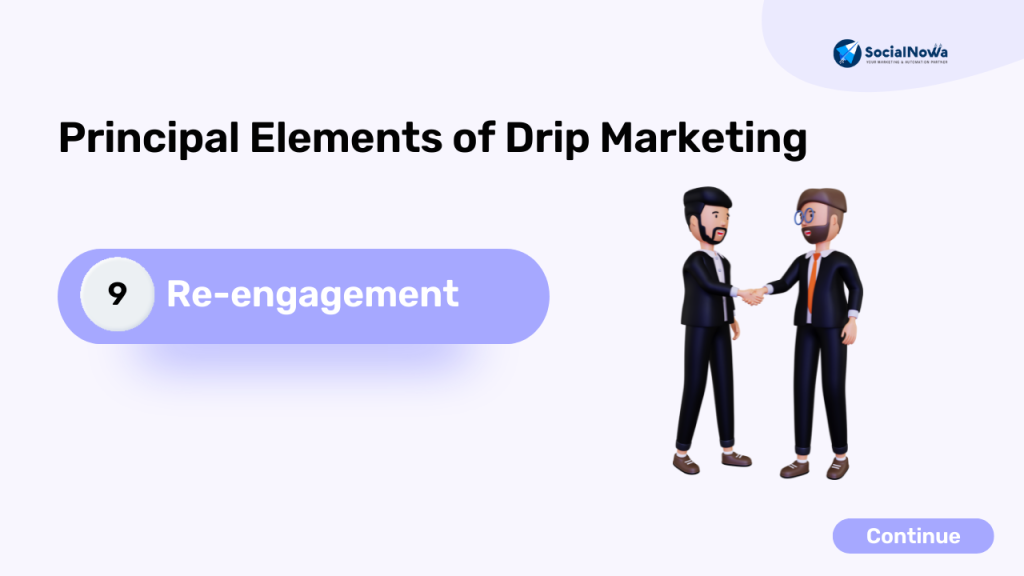 Re-engagement drip emails are frequently used in conjunction with sales to encourage customer interaction.
6. Priority one
A top-of-mind drip email campaign is designed to maintain your prospect's interest. These notifications could be sent to remind potential customers of the services you provide or they could be brought on by a lack of contact with your website.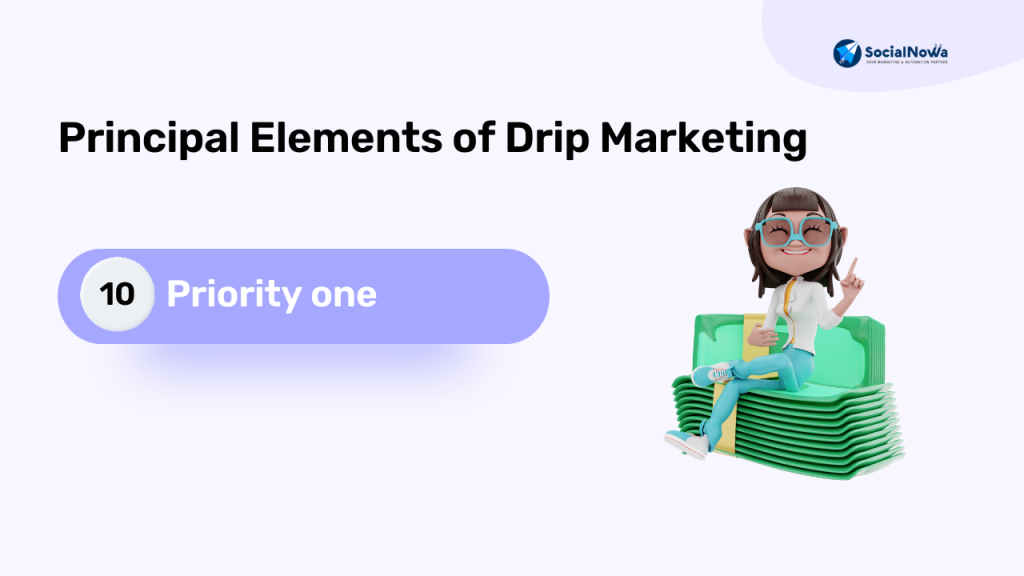 You want to let them know you are there and that you want to communicate, which should encourage them to click on the CTA button.
SET OR IDENTIFY YOUR DRIP CAMPAIGN'S GOALS
Your objectives can be to build brand awareness, nurture leads, or keep consumers. The goal should be as detailed as possible because this will make creating the campaign easier.
Make an effort to define the drip campaign's nature.
All depends on timing
The effectiveness of drip marketing is due to its timeliness; it revolves around providing your audience with timely, pertinent, and worthwhile information.
A person signs up for your email newsletter. They receive a welcome email right away and a second email two days later with links to your blog's most popular posts.
Someone adds a product to their shopping basket but does not complete the transaction. They receive an email reminding them of the item they added to their cart a few hours later. They receive an email with a 10% promotional code a few days later.
Someone registered for the free seven-day trial of your service. They receive an email asking them to subscribe to the full version of your service after six days. A few days later, customers receive a follow-up notice if they didn't make a purchase.
Last Thought
Despite everything you have to accomplish, employ drip marketing to support your efforts to promote your business.
You may concentrate on other business concerns while the right message is being sent at the right moment to the ideal target.
By nurturing leads, increasing brand engagement, and increasing revenue, drip marketing can help your business succeed more.
Create a successful approach based on your objectives and target market, then use the tools we covered to begin developing your drip campaign.
Also of interest to you might be the top marketing automation software.