Whether you're beginning a new eCommerce burnt tactic is critical.
Because they don't engage with clients as much as they could, many eCommerce businesses don't make as much money as they could.
In this post, you'll learn how to enhance customer engagement in eCommerce using 11 simple and effective strategies you can use to engage potential and current consumers and set your company apart from the competition.
Let's see if we can figure them out…
What is customer engagement?
The relationship between a customer and a brand is referred to as customer engagement.
It can be monitored using a variety of criteria, including link clicks, pages visited each session, conversions, and so on.
Customer engagement informs you how customers connect with your brand, how they feel about your products, and how likely they are to stay loyal to it in the long run as a business owner.
What are the benefits of consumer engagement in eCommerce?
Increasing client involvement among your target demographic can only help your eCommerce business. The following are the three main methods:
It has the potential to improve client loyalty. Customer engagement, like any other type of relationship-building, is a form of communication.
The more time a customer interacts with your brand, the more likely they are to develop trust in you and continue to buy from you in the future.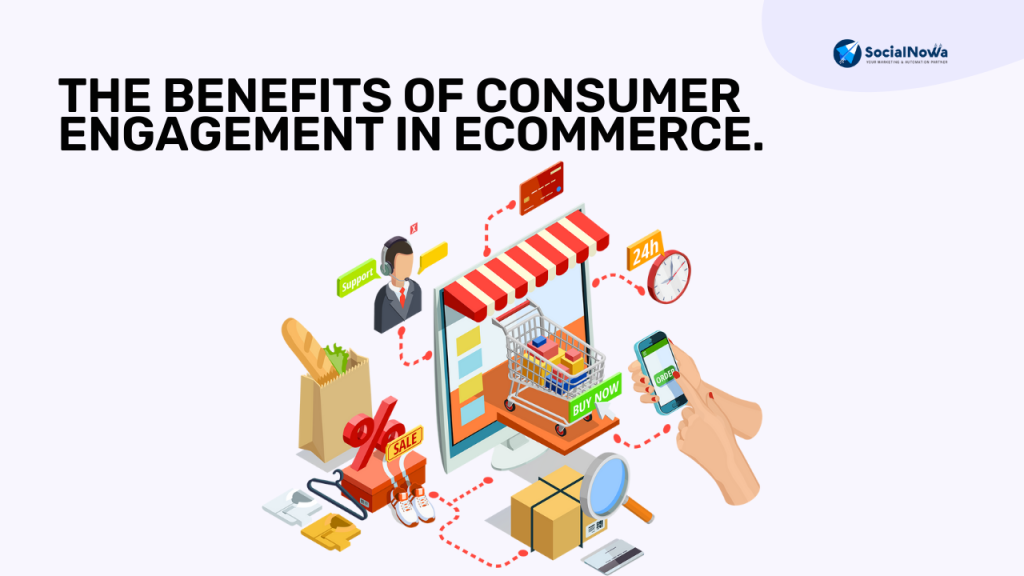 Because it costs 5 to 25 times more to acquire new consumers than it does to keep existing ones, this benefit is tremendously valuable.
It might assist you in obtaining free advertising. Customers who are completely enamored with your brand are more likely to promote your products to their friends and relatives.
People are more likely to trust their loved ones' recommendations, thus word-of-mouth can be a terrific source of new business.
It can help you improve the performance of your firm.. You'll be able to learn more about your consumers as you continue to interact with them,
allowing you to optimize and improve the customer experience in the long run. As a consequence, you'll keep your current consumers and be in a better position to attract new ones.
More firms are adopting a customer-centric attitude as a result of the high value of ongoing customer involvement.
Experts anticipate that, in the future, customer involvement will be a more important brand differentiation than price.
Now is the time to start focusing on improving this measure if you haven't already.
8 Practical Ways To Increase E-commerce Customer Engagement
1. Create a Community Out of Your Customers
The ultimate goal of your eCommerce customer experience efforts is to create a community out of your most loyal and engaged consumers.
Customers would be more likely to buy your products and services if they were part of a community.
This network of customers, when combined with your influencers and business partners, could help you with a lot of your future marketing and sales efforts.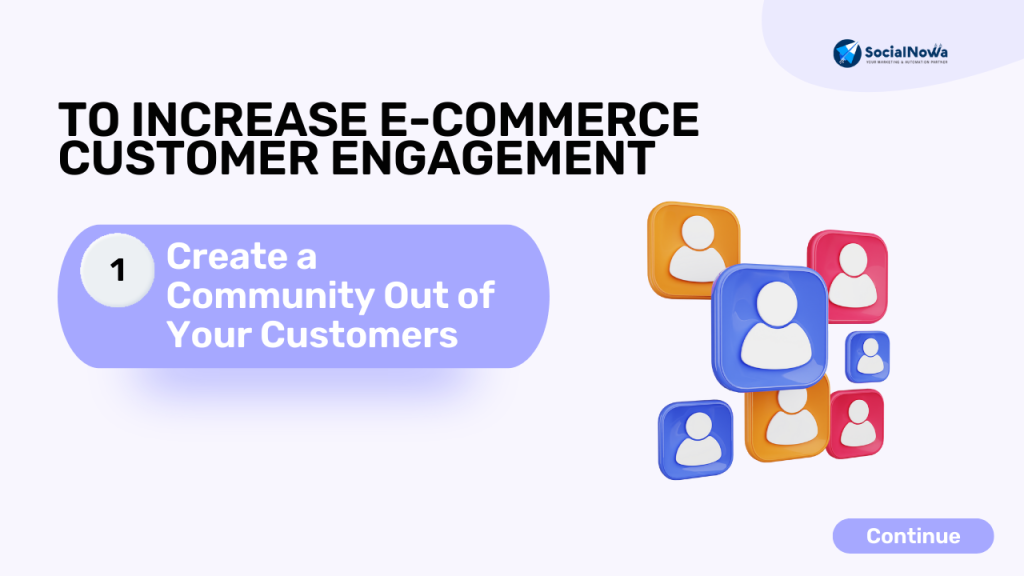 It's entirely up to you how this all comes together. You can ask your community to write product evaluations, user-generated content, how-to guides, and anything else.
Only establish and sustain this client community across all of your channels, according to us.
That means you'll be able to take it with you when your business extends to new platforms.
Your goal should be to ensure that your audience solely engages with your brand through social media.
2. Get to Know Your Client | E-commerce Customer Engagement
Learning more about your customers is a top-tier customer interaction strategy. While your prospects are aware of your business relationship,
it's critical that they don't mistake it for the entirety of your conversation. What choices do you have to avoid this?
Use brand managers to your advantage!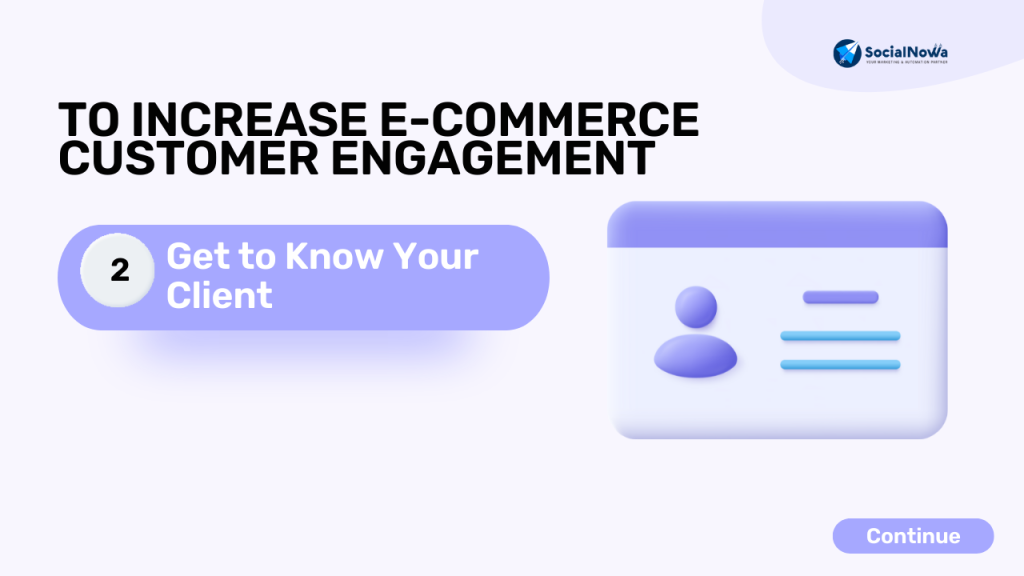 The Brand Managers on your team should be in charge of communicating with their assigned customers.
If you hire the greatest Brand Managers, your clients will feel as if they are the only ones.
They do this by taking calls, responding quickly to emails, and acting as a point of contact for your customers.
Overall, Brand Managers should try to optimize revenue while also acting as positive members of your company's community.
3. Take Customer Feedback into Account
Encourage your eCommerce consumers to leave reviews as a way to improve customer engagement.
You can get real-time client feedback by using a help desk ticketing system.
It lets customers turn their questions, concerns, and requests into tickets. Keep track of client issues with the ticketing system, and make sure no tickets go unattended.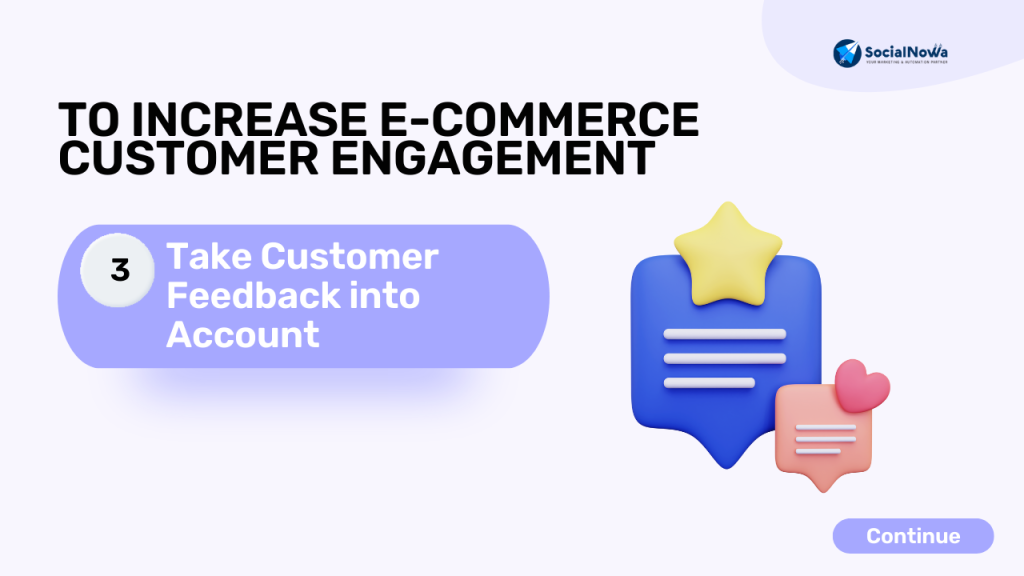 On your eCommerce website, you can also include a comments box to collect consumer feedback or have them rate your business.
Providing a platform for your consumers to express themselves is an important part of your job.
You should then demonstrate that you listen to and respond to your clients to complete the communication cycle.
4. Create a memorable user experience | E-commerce Customer Engagement
For better or worse, the user experience of your eCommerce website can have a significant impact on client engagement.
Visitors unconsciously evaluate everything, including your UI design, colours, photography, and product descriptions, from the time they first interact with your brand.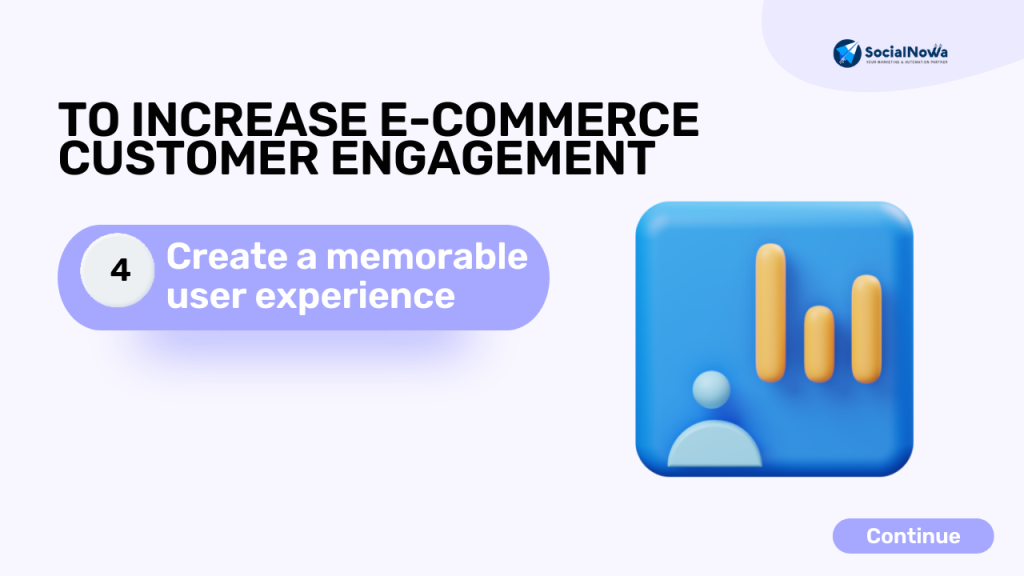 As a result, everything on your website must be clear, friendly, and simple to use. Of course, with the rise of mobile commerce, it's critical to ensure that your site loads and performs properly on mobile devices as well.
5. Make the most of social media's potential
By 2020, social media networks had a combined user base of nearly 3.6 billion people.
But don't allow the numbers to get in the way of what matters most when it comes to social media.
Authentic conversations and engagement are far more valuable than merely accumulating a large following.
Choose the social media platform(s) where your target audience spends the most time—whether it's Facebook, Instagram, Pinterest, Twitter, or TikTok—and develop a customized approach to engage them so you can begin to build real relationships.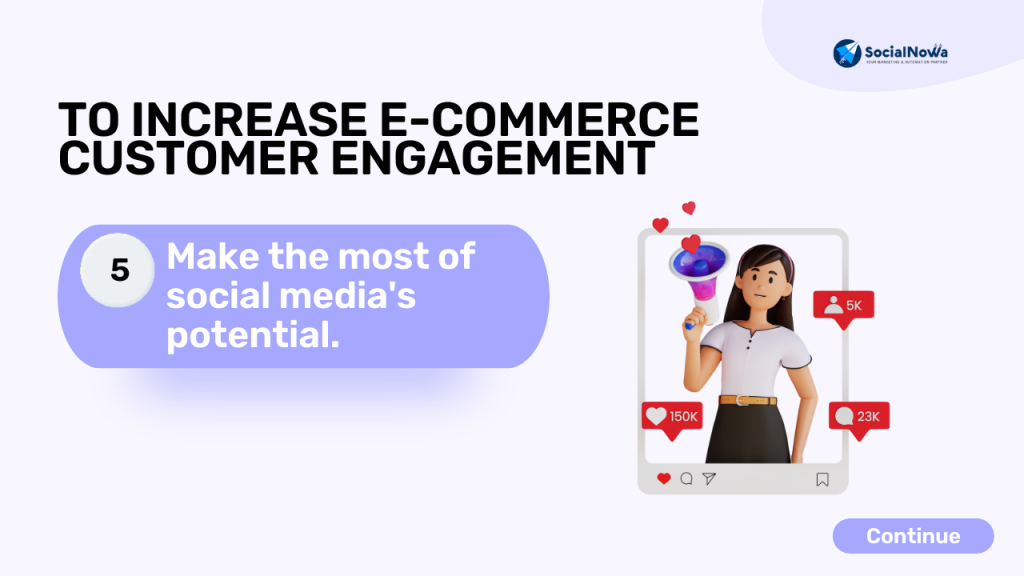 There are numerous examples of online apparel companies successfully using social media to grow a loyal audience.
Patagonia, for example, uses Pinterest to display a wide range of clothing styles and items.
Zara and H&M use Instagram to highlight popular outfits and encourage people to contribute their own for a chance to be featured.
Many brands also use social media as a customer service channel, which is another excellent approach to engage customers and earn their confidence.
6. Make your supply chain more efficient | E-commerce Customer Engagement
It shouldn't come as a surprise that e-commerce supply chain bottlenecks can have a significant influence on customer experience during pandemics and other natural disasters. Even at regular times, though, your supply chain might be disrupted.
As a result, you need supply chain management that is streamlined and adaptable enough to weather any storm. You'll be able to deliver your products to your consumers on schedule and without running out of supply.
Dealing with any interruptions that arise swiftly and as soon as possible is a part of the process.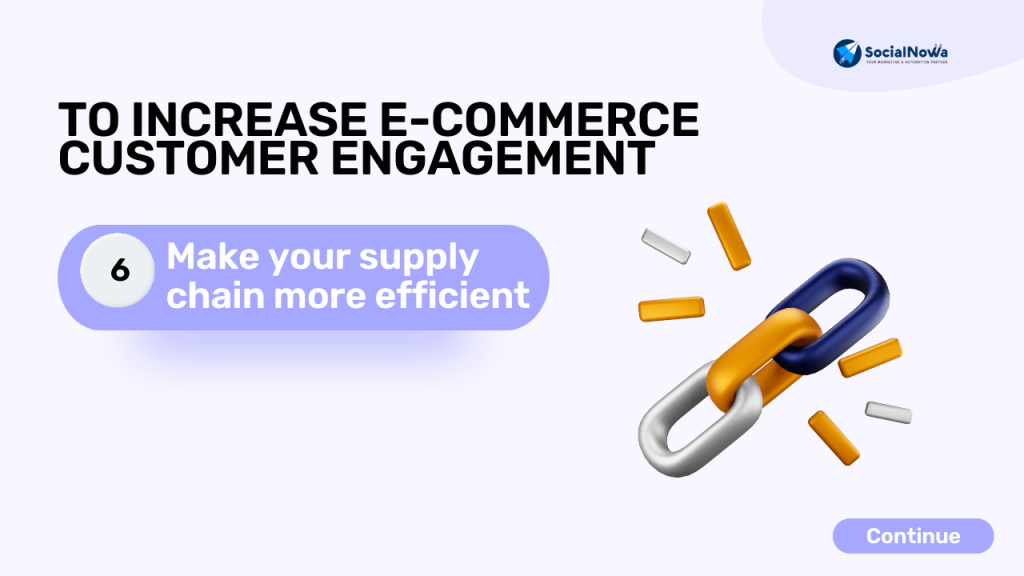 Another option is to consolidate inventory data for omnichannel sales and operations. You must, as previously stated, keep all of your channels in sync. You'll be less likely to oversell your stock as a result of this.
Your supply chain, if properly optimized, will ensure that your clients receive the full value of your brand, keeping them satisfied.
7. Make a loyalty program available | E-commerce Customer Engagement
Customers who participate in a company's loyalty program have been found to spend up to 67 % more. To encourage bigger order volumes or repeat purchases,
eCommerce store owners might use various incentives such as gift cards, discount coupons, cash back, or free shipping.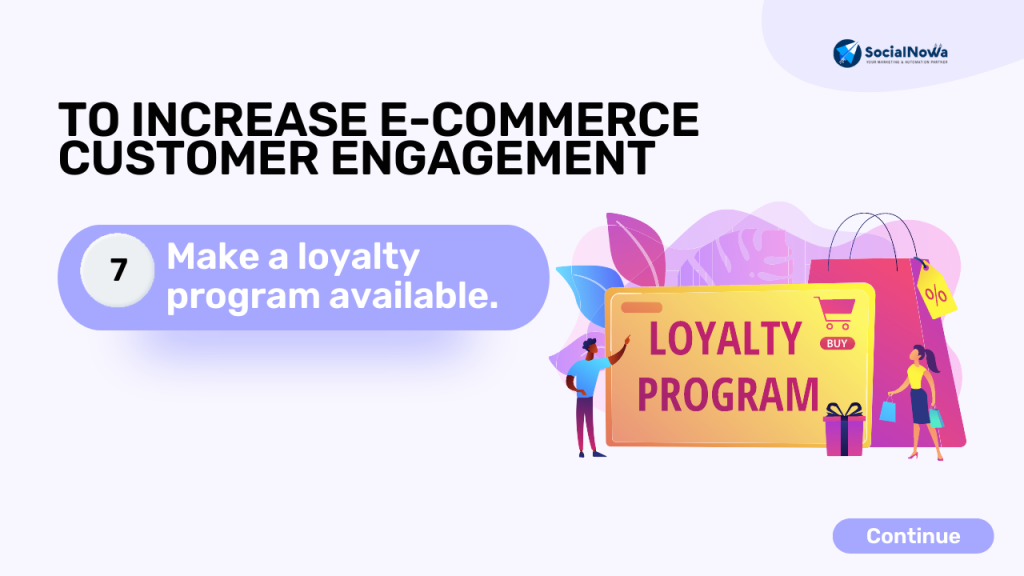 It's yet another approach to keep clients interested in your company.
If you're using Shopify to run your online store, you should think about integrating a marketing platform like Greave to assist you manage your loyalty program.
You may use it to encourage reviews and referrals, communicate information about your program using the landing page builder, and more.
8. Respond rapidly to prospects and consumers across all channels
When contacting a brand digitally, 82 percent of customers want rapid responses.
It's in your brand's best advantage to reply swiftly and responsibly when a consumer or prospective customer contacts you.
One approach to make this aim more attainable is through automation. Consider using email marketing software that allows you to send triggered and automated emails.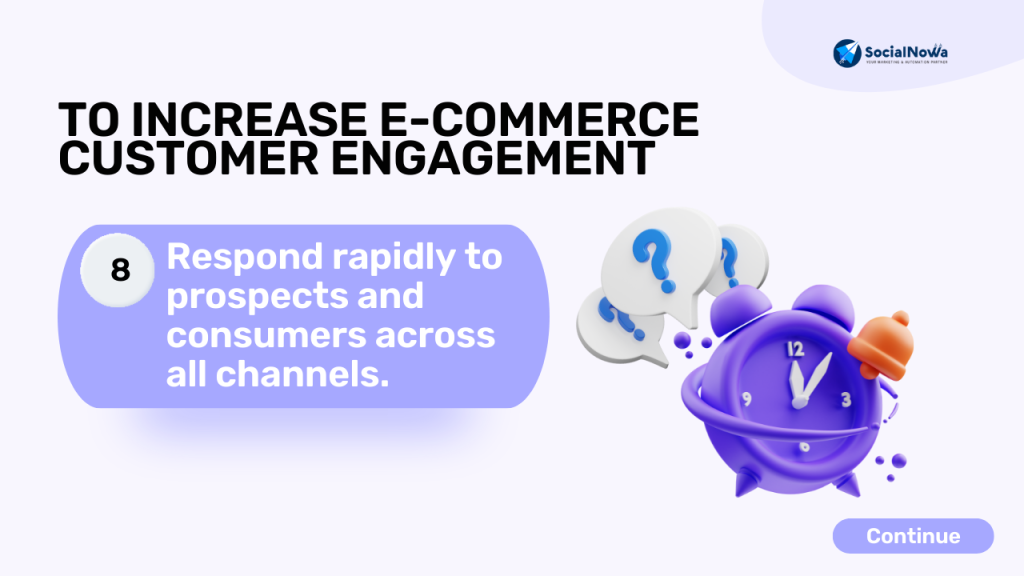 You could also consider installing a chatbot on your website to provide users with immediate responses to common issues and concerns.
Make sure your brand is reachable and responsive across all channels, regardless of how you go about it. It will demonstrate to customers that you care about their happiness and that they are a priority, resulting in increased engagement and trust over time.
Last Thought
Ecommerce enterprises that solely focus on selling will lose a significant number of clients.
Consumers today want personalized experiences and to be treated as people. Customers will flock to websites that have invested in eCommerce personalization in the future.
If improving customer engagement is a priority for your eCommerce firm, you should employ personalization strategies that will have a big impact on client lifetime value (CLTV).
Customer data can help you offer personalized discounts, recognize returning consumers, and predict their needs.
It's worth the effort to provide a personalized customer service experience because it can offer six times more transaction rates than generic communication.