Introduction
The average time it takes your company's support team to respond to a customer's, a request or complaint ticket via contact form email, social media DM, live chat, or any other channel is known as customer service response time.
The more familiar you are with response time statistics, and the faster you answer and meet the client where they are at the moment, the more likely they are to become a five-star fan.
What is the average time it takes for a customer to respond?
The overall time it takes your support team to reply to a client enquiry is known as customer response time. While exceptional service encompasses a variety of factors, one of the most important is reaction speed.
According to customers, the most significant attribute of a positive customer experience is a quick reaction time. response time is the most important aspect of the customer experience.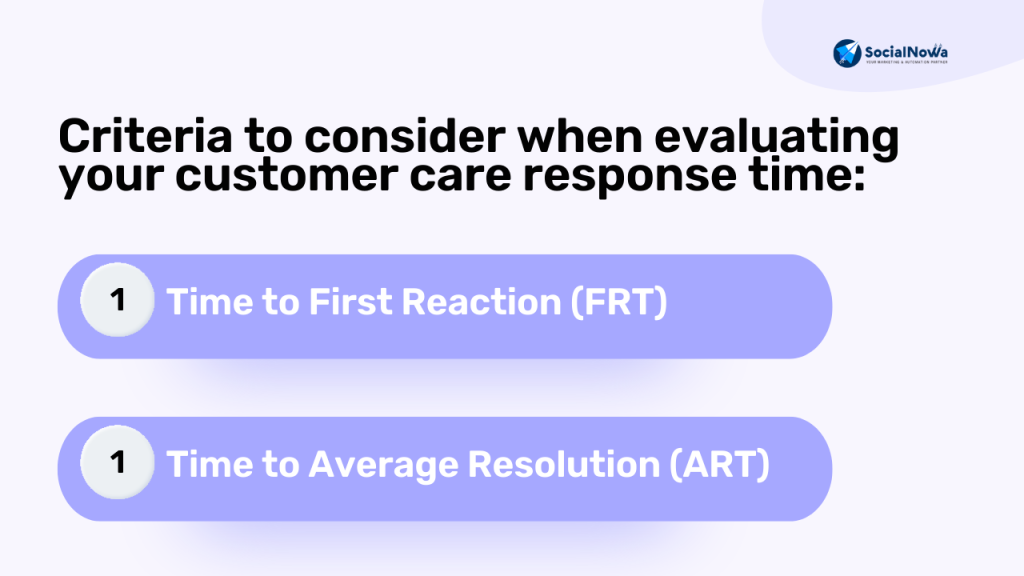 Here are two key criteria to consider when evaluating your customer care response time:
Time to First Reaction (FRT)
Time to Average Resolution (ART)
8 Techniques for Shortening Customer Service Response Times
Your team will be able to reply to client questions more quickly with live chat assistance.
It is quick, simple to use, and allows you to significantly cut response time.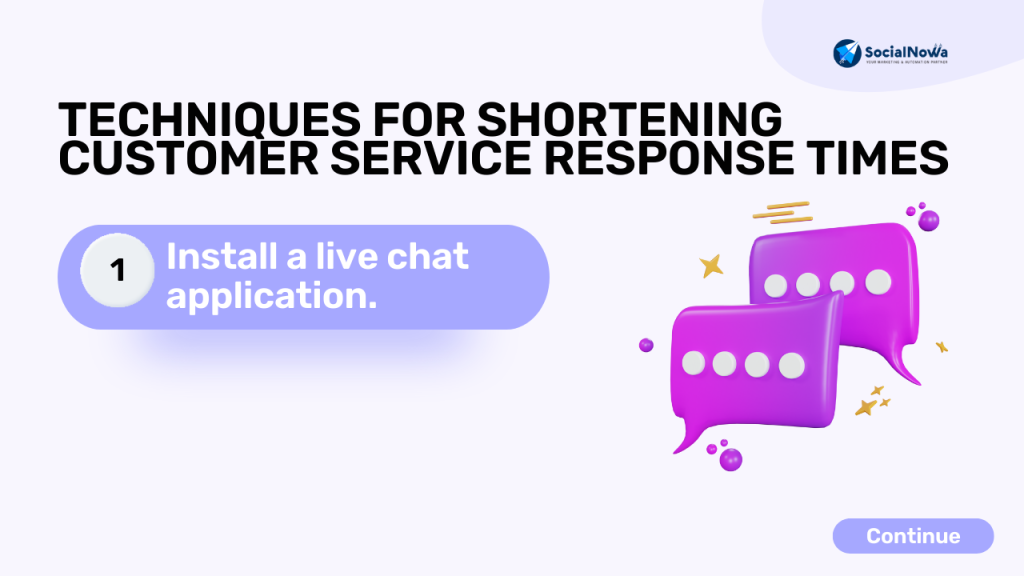 1. You may assist consumers 24 hours a day, seven days a week.
2. You have the ability to manage several customers at once.
Aside from that, live support chat software allows you to interface with ticketing software, which helps you avoid long email responses.
Every missed chat with your operators is turned into a support ticket. That means you'll never miss out on a chance to help.
You can also employ features to reduce your response time (such as the ones listed below):
(a)Greetings from the chat room
Customers will receive a notification before starting a chat with your operators if they use greetings.
You may use this proactive messaging option to start interactions with clients before they even contact you with a problem.
Being proactive lays the groundwork for a successful partnership.
(b)Routing of chats
It can be aggravating for customers to have to wait for the appropriate operator in the queue to respond to their questions.
It not only lengthens the time it takes for a company to respond to a customer service request, but it also makes customers impatient.
(c)CRM (Customer Relationship Management) Software
You won't just be able to save leads, sales data, or a customer's purchase history with the finest sales CRM.
It would also assist your operators in keeping track of customer information, getting to know them better, and developing a solution that meets their demands.
(d)Service Desk
You can connect your live chat with help desk software to make it easier for your workers to respond to clients when they return online.
You'll never miss an opportunity to contribute this way.
(e)Base of Information
Before a customer starts a discussion, assist them in finding answers to their questions.
You may link your live chat to a knowledge base to display relevant support articles in the chat widget and cut your ticket count by up to 80%.
(f)Maker of Surveys
Use your live chat and survey maker in tandem to collect client input on issues that haven't been resolved adequately.
 2. Set up a help desk software program | Improve Customer Response Time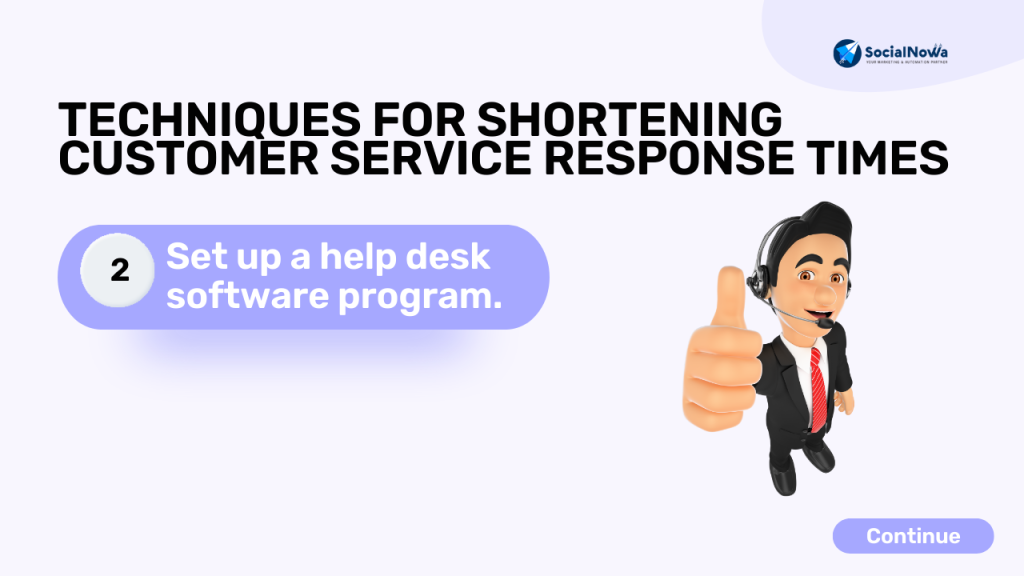 (a)Analyze data on response time patterns.
It's crucial to keep track of how much your response time has shrunk.
You can filter the reports portion of this software depending on a certain time period.
This will show you the average response time data trends, which will show you how much your response time has decreased over time.
A great tracking system allows you to have access to meaningful data patterns and work toward developing strategies that will allow your agents to respond faster.
Keep track of what causes the first response time data to be affected in the first place.
There could be a variety of reasons for this. However, using help desk ticketing software to better comprehend them might be beneficial.
You can filter and examine the agent reports to understand what is preventing them from responding to your consumers immediately.
You can, for example, use a help desk to implement the following best practices:
(b)Use Ready-Made Responses
Using help desk prefabricated responses, assist your agents in sending prompt responses to consumers.
This would allow them to react promptly to typical questions and save time and effort.
(c)Email Responder on Autopilot
Your clients may require confidence that you are investigating their complaints.
So, remember to answer with a "thank you" note to let them know they'll get a response within a certain amount of time.
This strategy informs clients about the next stages and reassures them that you are working to resolve their problems.
In the email, you can also include the expected response time.
3.Keep tabs on your customer service representatives' performance | Improve Customer Response Time
Calculating the average first response time of your customer service professionals and the entire support team on a regular basis would be beneficial.
You'll be able to see how quickly your team responds to client inquiries and what obstacles they face in their work.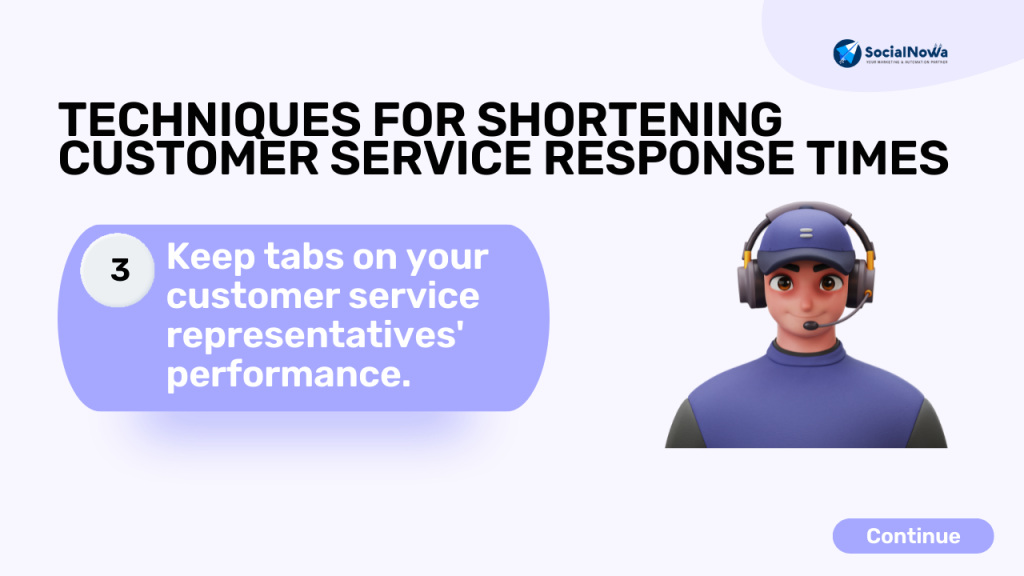 You can use this as a reference to see how well your team is doing.
If your aim is to answer a query within eight hours, but it takes your reps twelve, you must address the issue and find a way to shorten the response time.
4. Create a knowledge base that your customers can access 24×7.
Adding a knowledge base to your support suite is another approach to assist your company cut response time.
Your company can benefit from a knowledge base repository in the following ways: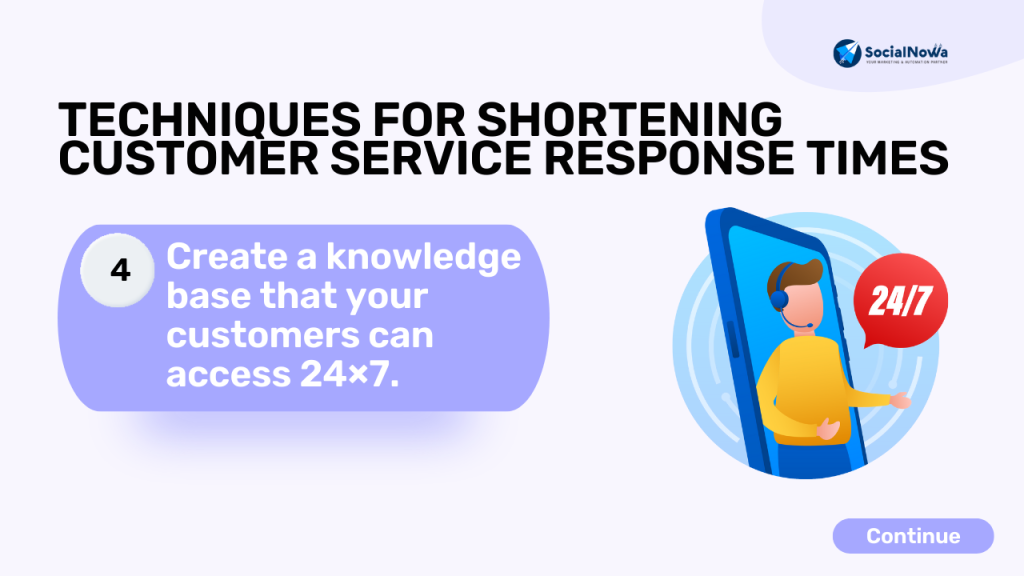 Help customers avoid having to contact support operators every time they have a simple question about your services or products.
Assist support operators in overcoming fatigue and focusing on complicated queries.
Allow clients to seek help 24 hours a day, seven days a week.
Customers may self-help with a comprehensive information repository, and they can get solutions faster than they expect
5. Form specialized groups | Improve Customer Response Time
Remember how we talked about sending customers to the appropriate department for a faster resolution?
You must ensure that the appropriate departments are in place for this to occur.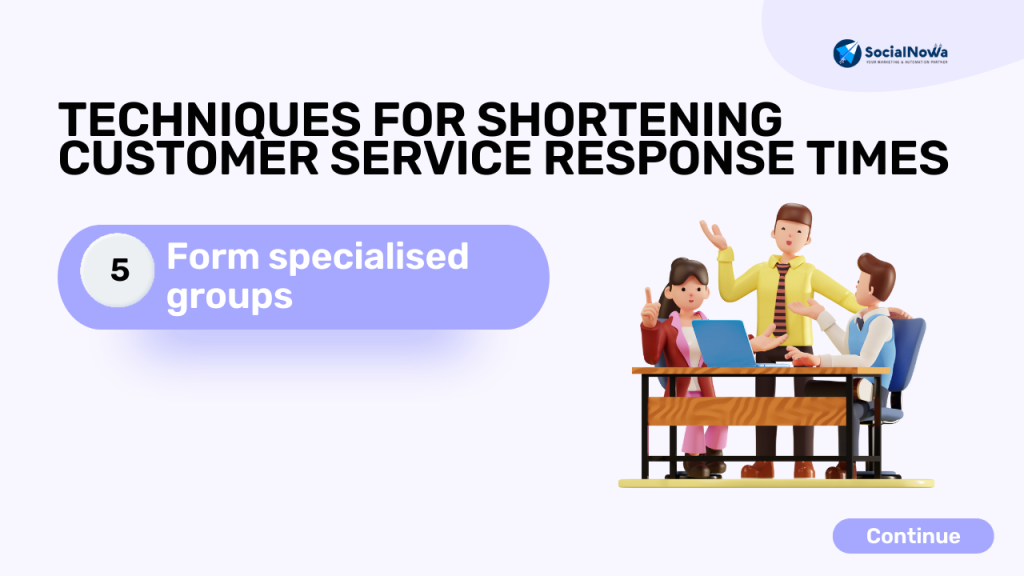 These departments enable you to fine-tune chat routing even further.
You can set up different departments and have incoming chat inquiries routed between the operators in each one.
To ensure that your clients contact the proper operator and receive immediate responses, you can divide these departments based on your products,services, niche
(such as support, billing, accounts, sales, and marketing), and other criteria.
6. Use an IVR system to help with call support.
There's no denying that messaging platforms have improved their reliability when it comes to receiving immediate responses from businesses.
Call support, on the other hand, is still relevant. Many clients still call a company for assistance.
When calling a company for help, customers are no longer afraid of being put on wait for an extended period of time or not receiving the response they expect.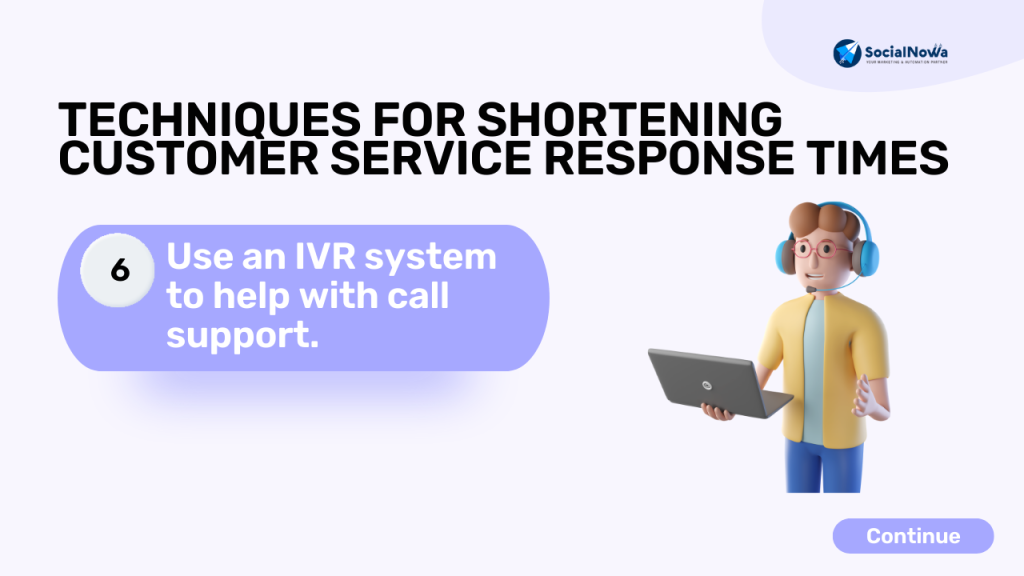 That's because interactive voice response (IVR) solutions have streamlined their customer service experience.
You can do the following with an IVR system in place:
Customers should be sent to the appropriate department.
Assist clients in receiving a quicker response from the support team.
Assist agents in handling more incoming calls.
As a result, including it into your support system can help you drastically cut customer service response time.
7. Launch a Multi-channel Reaction | Improve Customer Response Time
Customers nowadays expect to be able to communicate with organizations in multiple ways.
They want the option to contact firms on the channel of their choosing because they are engaged on several channels.
A multi-channel response system can be quite beneficial to your company.
To create enjoyable experiences across all platforms, you should regard all communication methods, such as live chat, email, and social media, as one united entity.
With a multi-channel customer service platform, you give your consumers the freedom to contact your brand via any channel they choose,
and your operators the freedom to handle inbound support questions without delay.
8. Use Chatbots to Add a Touch of Automation
Did you know that by speeding up response times and answering up to 80% of typical inquiries, Chatbots may help businesses save 30% on customer support costs?
Incoming questions are answered more quickly by chatbots. By including a chatbot into your website,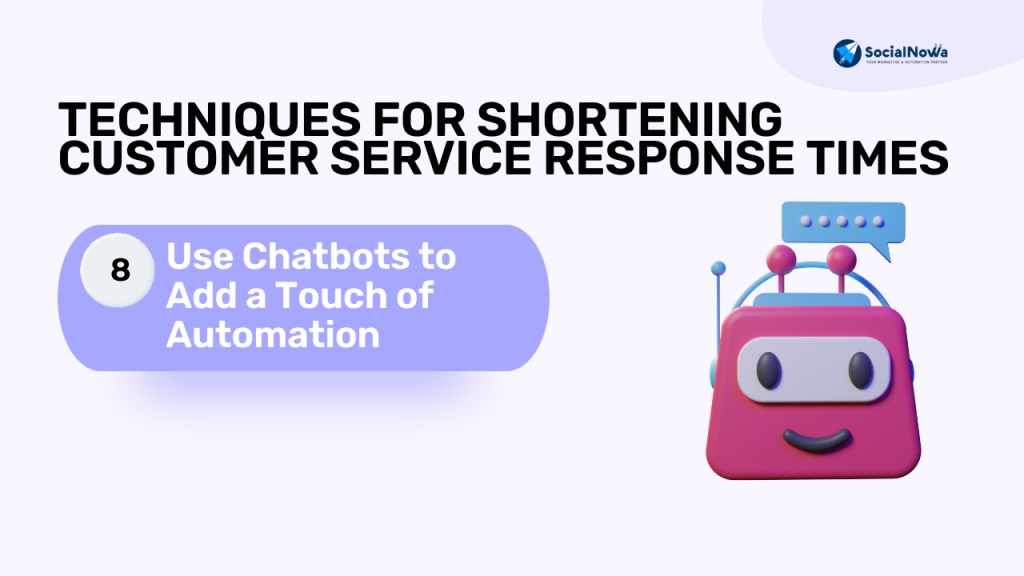 you can make it easier for your company to respond to common questions and guarantee that none are overlooked.
The best thing about employing a chatbot is that it can handle inbound support requests even if agents aren't available.
It serves as your consumers' first point of contact and responds to their questions quickly.
Is it really that important to have a quick customer response time?
A speedy customer response time is critical for your company's success.
The market research firm Forrester revealed that the most important quality of customer service is that a company respects its customers' time, according to almost three-quarters of those polled.
According to Forrester's research, more than half of their participants would abandon an online purchase if they ran into a problem for which they couldn't find a quick solution.
One of the most effective ways to improve customer satisfaction, establish a loyal customer base, and attract new consumers is to reduce your customer response time. ‍
Response time for customer assistance is standard.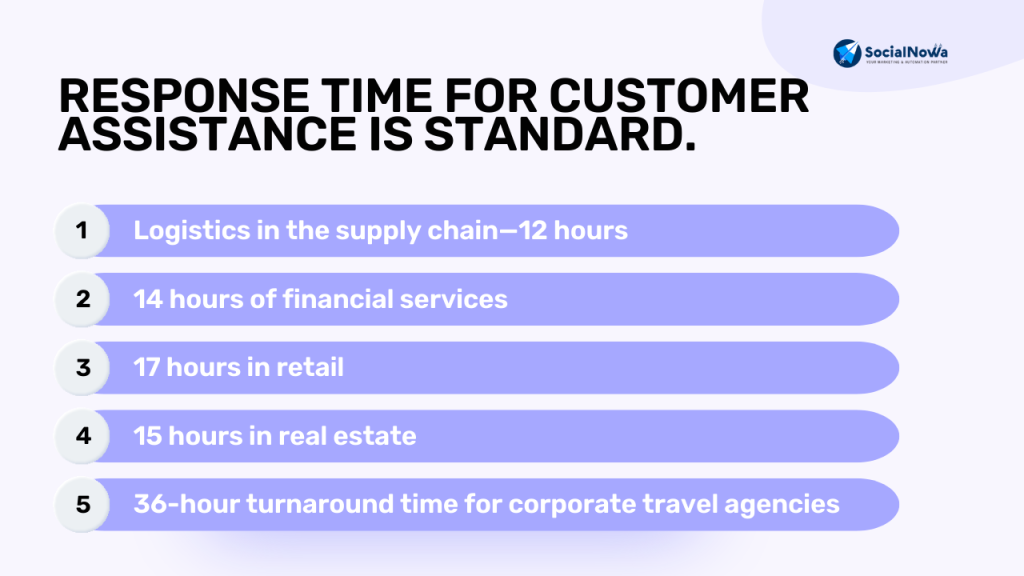 Logistics in the supply chain—12 hours
14 hours of financial services
17 hours in retail
15 hours in real estate
36-hour turnaround time for corporate travel agencies
Final Thoughts
Always strive to humanize the process as much as possible while trying to deliver speedier client response times.
The capacity to comprehend and interact with consumers is what distinguishes customer service workers from chatbots.
Always make sure that your customer service representatives are active listeners so that they can provide the best answer.
Improved customer response time entails not just a faster response rate, but also providing the appropriate answers in shorter time frames.
Every organization should seek to improve customer satisfaction by providing faster customer response times.