A marketing strategy known as sequence messaging is one that "drips" or sends out over the course of time a pre-written collection of messages to messenger bot subscribers. Messenger bot subscribers can get both promotional and non-promotional messages with a tag message sequence if this feature is enabled and used. It does this by utilising the BOT API to send the messages. The subscribers will be automatically assigned to your sequence campaign depending on the entry point (engagement plugins) or post-back click that they used in order to join your list. Nevertheless, you also have the option of directly assigning it or changing the campaign.
Make a New Attempt at the Sequencing #
You will see a new block titled "sequence message settings" if you navigate to Messenger Bot > Bot Settings. This will display all of the sequences that are currently set for use on that page. To add a new sequence, click the Add Sequence button. In addition, a suitcase symbol will be displayed next to each sequence setting on the list. Clicking on this icon will provide expanded action buttons for things like editing, deleting, and seeing reports.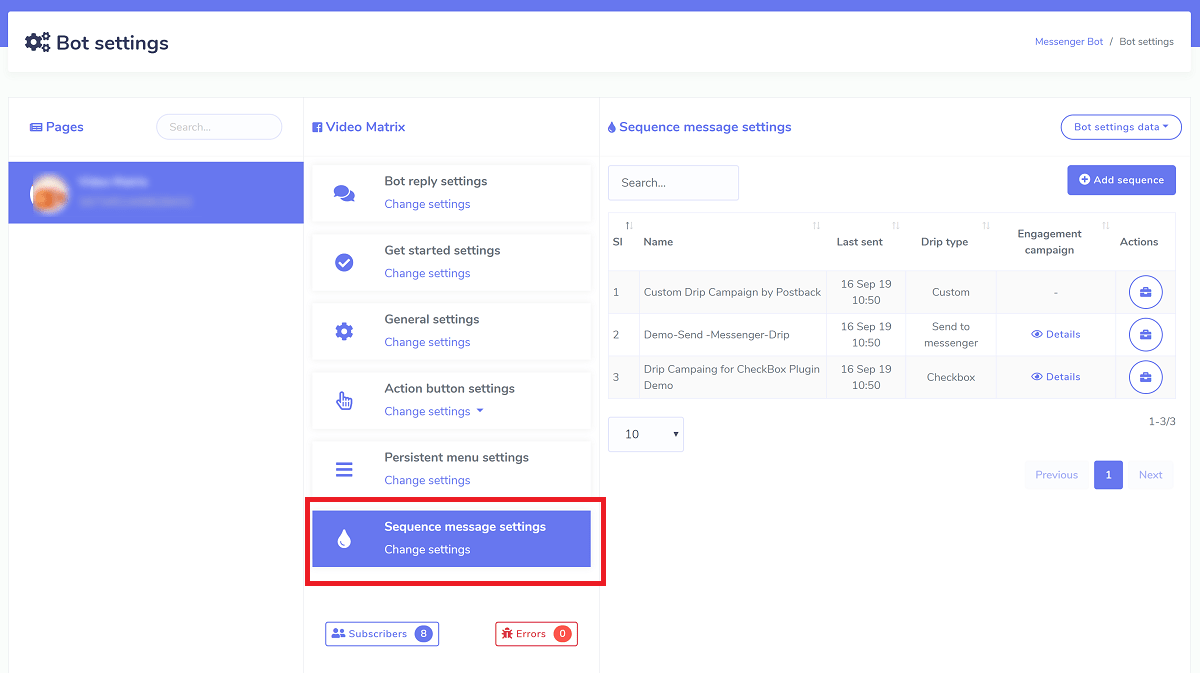 Sequence Type
There are a total of six different sequences to choose from. Needs to be a type sequence that is the default for each page. There is no limit to the number of sequences of different types that can be created.

DEFAULT SEQUENCE #
In the event that another more advanced sequence cannot be located, any new subscriber will be placed in this sequence. The creation of a default type sequence is mandatory, and you are only allowed to make one instance of this type.
CUSTOM SEQUENCE #
It is very helpful to assign a sequence manually to a subscriber from Subscriber Manager > Bot Subscribers > Action or specify a sequence while creating a postback from Messenger Bot > Postback manager. You have the ability to create multiple unique sequences, and it is also very useful to create multiple sequences.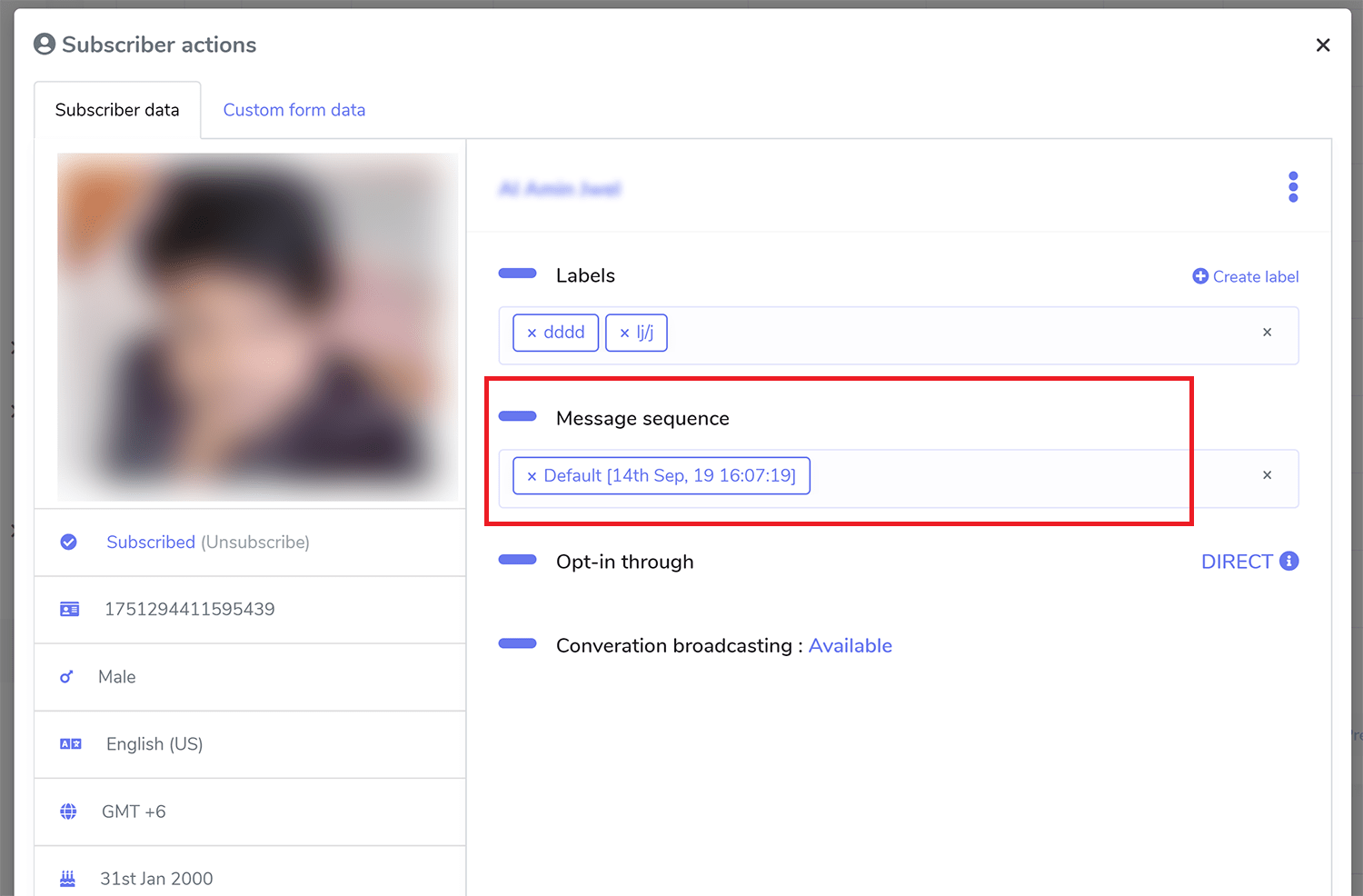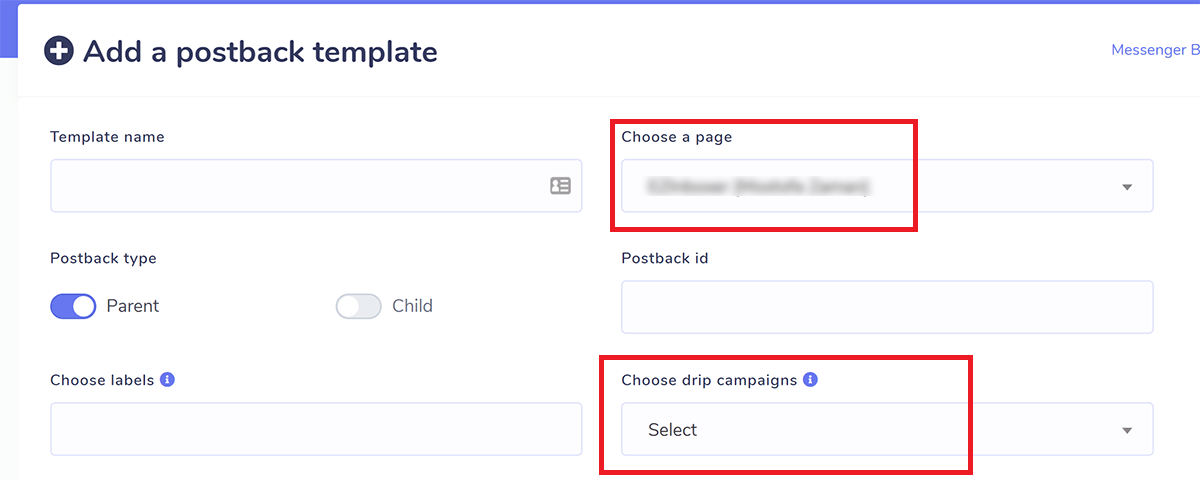 RE-TARGETING OF MESSAGE SUBSCRIBER ENGAGEMENT (SEQENCE BASED ON ENTRY POINT) #
The rest of types are for messenger engagement tools. As for example say we are using checkbox type. Clicking it will show your checkbox plugin list and you can select one. When a visitor will come through that checkbox plugin, he/she will be assigned under this sequence campaign automatically. Sequence message campaign will be assigned for checkbox plugin only after replying back of the message sent for checkbox OPT-IN.The rest of the types are same as checkbox type.
SEQUENCE TIME #
Under the "24-hour promotional" sequence, you have the ability to transmit any type of promotional content. It is acceptable for pages to deliver promotional messages to subscribers who have communicated with the page within the last twenty-four hours.
When an individual reacts to a company using one of the acceptable activities indicated in the messenger conversation entry points, the 24-hour time limit begins a new countdown from the beginning. Because of the implementation of the eligible subscriber calculation algorithm in our system, which uses a 23-hour time frame to reduce risk, the number of targeted subscribers may be lower than the actual count of subscribers.
Make careful use of the daily non-promotional sequence in conjunction with the message tag. The message must not include any form of advertisement or promotional content, and it must make use of the proper tag that is relevant for the purpose of delivering communications to the individuals in question. If you use the message tag on your page without a valid reason, it is possible that the messaging option on Facebook will be disabled for your page.
You are allowed to send a maximum of 30 messages in this sequence, with the days 1 through 30 serving as the range. You have the ability to choose the exact time of day that the message will be sent out for daily non-promotional campaigns. Messages will begin to be processed by the system at the beginning of the day's first hour, and processing will continue until the end of the day's final hour. The least amount of time that must pass between each step is one hour. If the list of people who have subscribed to this campaign is quite vast, you should choose a longer time period in order to ensure that all of the messages are sent correctly.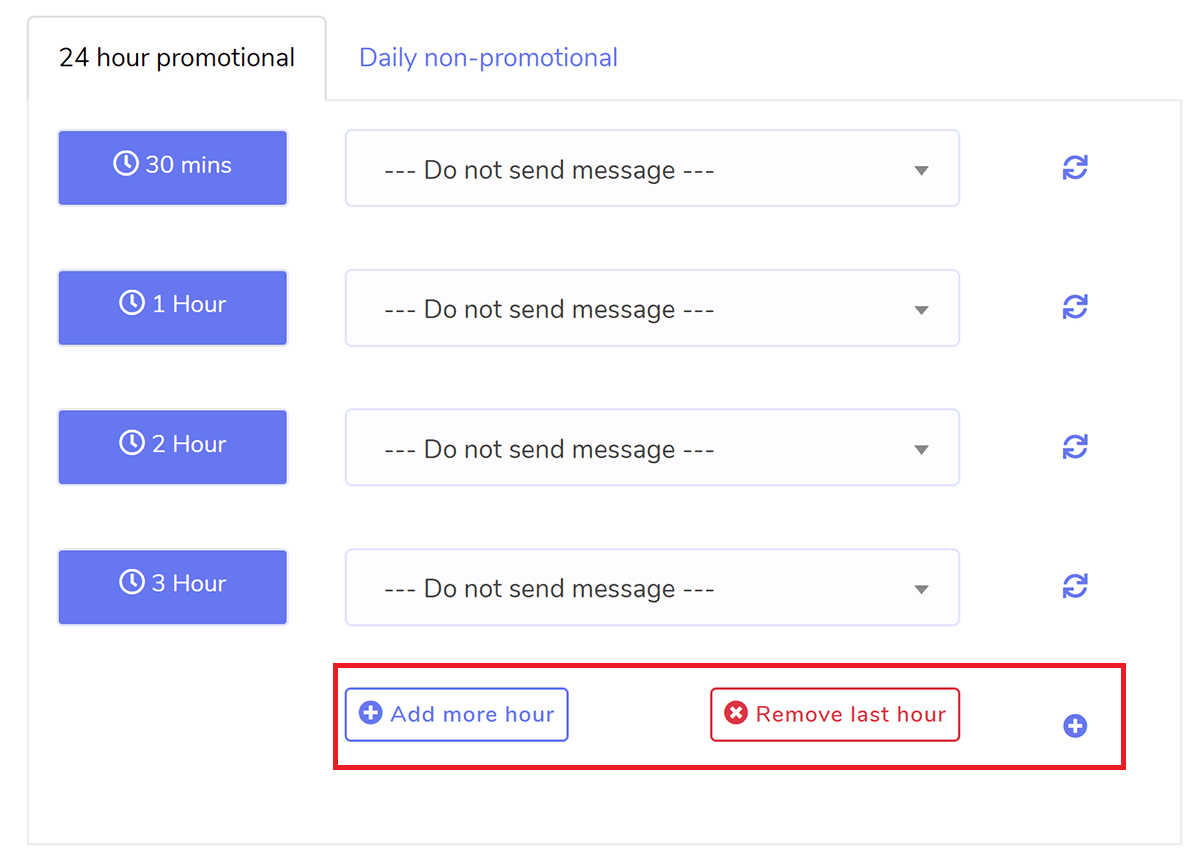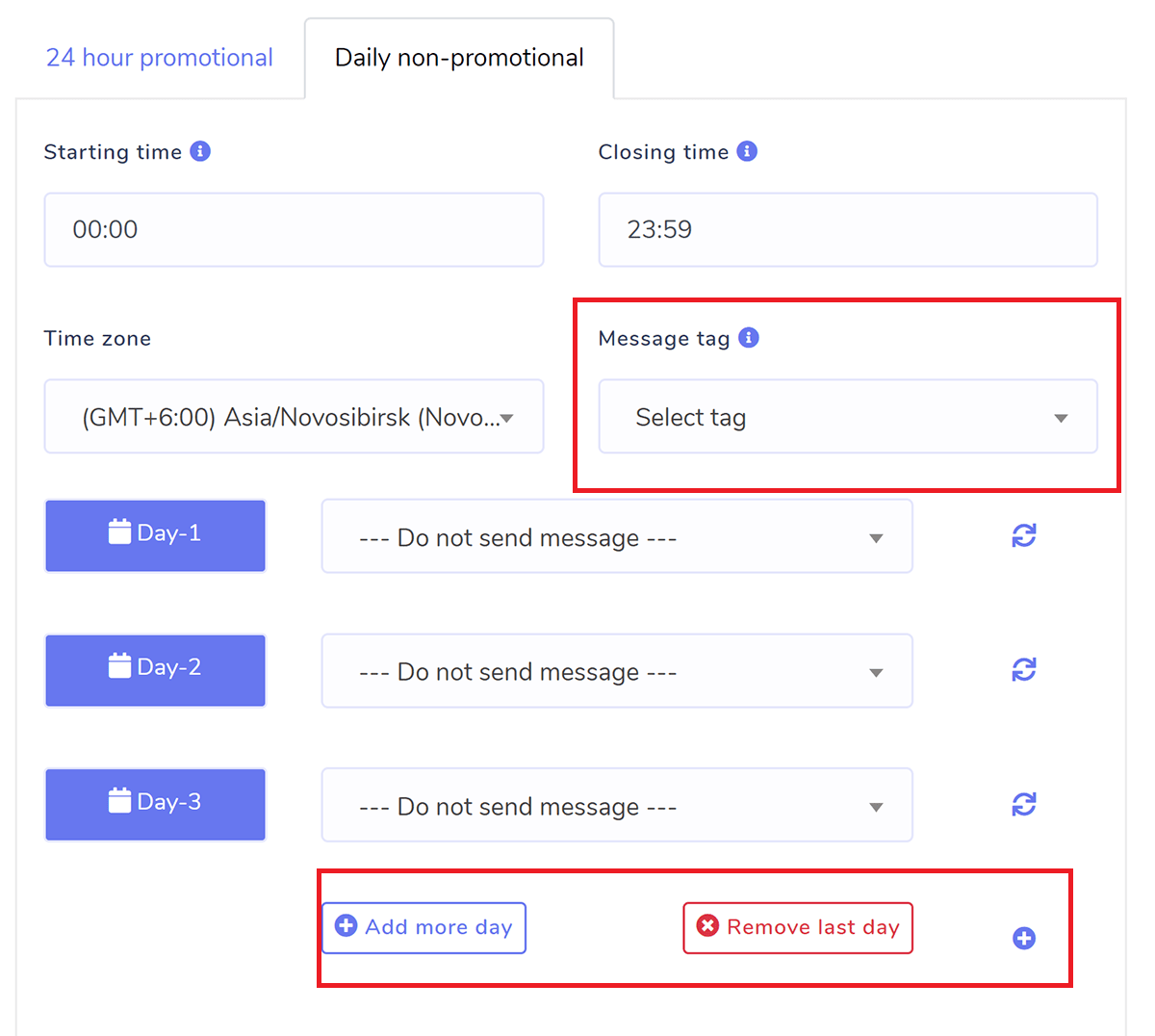 REPORT #
The following is an example of what the report of hourly and daily sequential messages will look like respectively. It will display the report for each hour or day of each send, as well as the status of the send and the delivery, along with any error messages that may have occurred.