In the following section, we will become familiar with the features that are included with the SocialNowa Chatbot Visual Flow Builder. So let's start.
To access the Bot Manager option, click it on the left side of your dashboard.
After that, select the Facebook page that you would like the bot to be created for by clicking the Create new flow button on again.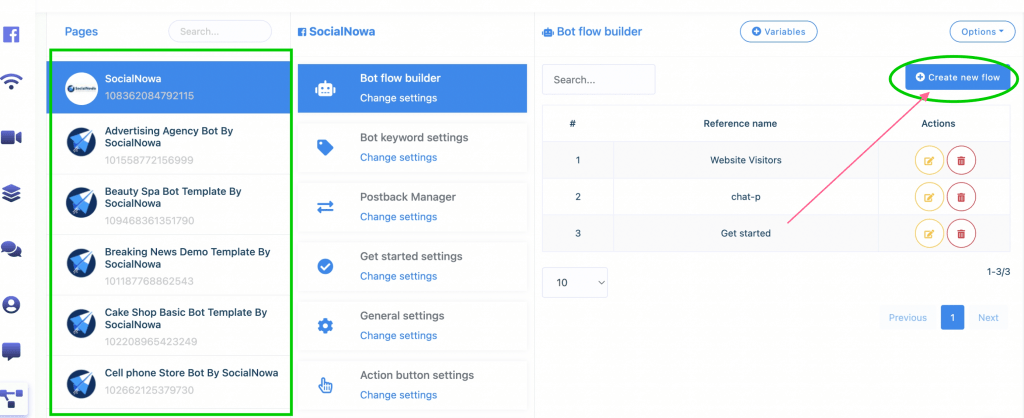 At this point, you should click the OK button.
After that, it will lead you to the flow builder interface, which looks like the following image: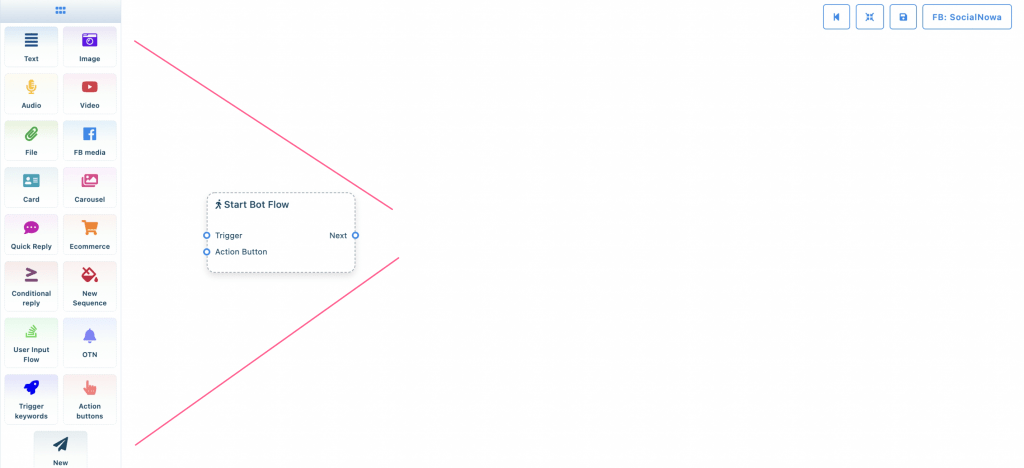 You should now be able to see the doc menu with a red highlight. You can place the Text component anywhere on the editor by dragging it from this doc menu and dropping it there.
Components can be found within the Docs Menu. You are free to access them however you see fit while creating your own bot flow. irrespective of how lengthy the bot flow actually is. Therefore, you are free to reuse those components on multiple occasions.
The docs menu includes the following submenus and submenu components:
Text
2. Image
3. Generic Template
4. Carousel
5. Carousel Single
6. Audio
7. Video
8. File
9. Facebook Media
10. Ecommerce
11. User Input
12. OTN
13. Buttons
14. Quick Replies
15. New Postback
16. OTN
The dock menu can be moved over the editor. Grab the dock menu's header by the mouse pointer or any position but the components and try to move the mouse position. Thus you can put it where you like to.
To minimize the dock menu, click twice on its header. You will see a tiny red box after minimizing the dock menu. Click twice on it to reopen the dock menu again.
The docs menu can be brought inside the editor if needed. If you want to move the mouse position, you should grab the header of the doc menu with the mouse pointer or any place other than the components. As a result, you are free to position it however you see fit.
Simply clicking twice on the header of the doc menu will minimize it. After you have minimized the doc menu, you will notice a very little red box. If you double-click on it, the doc menu will open back up again.